Support H.R. 1: FOR THE PEOPLE ACT
In The News
See the Archive for articles, letters or news items that are more than 6 months old.
• Certification of the Presidential Election
Tuesday, January 5, 2021
The role of Congress this week is to confirm that the votes sent are the ones the electors certified. Congress has no legal ability to change those results. Read the statement on the joint session to certify the presidential election: HERE
---
• THANK YOU!
Sunday, December 13, 2020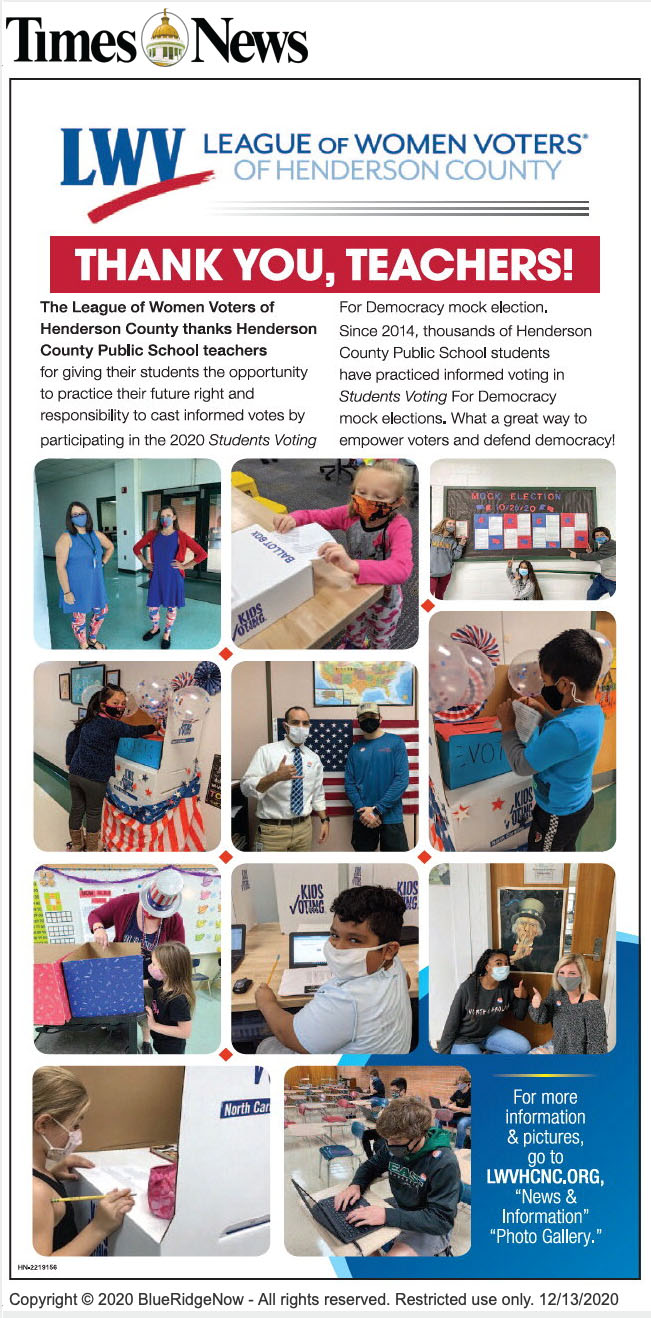 ---
• Students Hold Mock Election to Learn About Voting
Friday, October 30, 2020
Henderson Co. students participated in mock elections sponsored by Students Voting for Democracy. Read the article in the Hendersonville Times-News.
---
• LWVHC Student Video Contest Winner Turns Political Conflict Into Award Winning Civil Dialogue
Thursday, October 29, 2020
Read and listen on Blue Ridge Public Radio
---
• That Essential Element: Leadership
Sunday, October 25, 2020
Read LWVHC member and Times-News columnist Mary Garrison's Op Ed column HERE.
---
• Don't Panic: VOTE
Friday, October 23, 2020
Read LWVHC letter to the editor in Times-News HERE.
---
• Analysis of Ballot Fraud Reveals No Threat
Wednesday, October 21, 2020
Read Times-News article HERE.
---
• Election Information & LWVHC
Thursday, October 8, 2020
Listen HERE to WTZQ fm radio interview with Caren Kessler & Rachel Poller.
---
• KUDOS TO OUR STUDENT VIDEO CONTEST WINNERS!
Wednesday, October 7, 2020
Check out the 3 winning videos empowering youth voters in our 1st LWVHC Student Video Contest. 1st prize: Bruno Saucedo-Carrasco; 2nd prize: Caroline Pope; 3rd prize: Garrett Jennings
All the winning videos are available on our YouTube channel. Here is additional information about the 2020 Short Video Contest.
After starting the video, move your cursor over the screen to see the controls. To watch full screen, use the icon in the lower right corner.

First place winner: Bruno Saucedo-Carrasco
Second place winner: Caroline Pope

Third place winner: Garrett Jennings
---
• An Uphill Battle
Wednesday, October 7, 2020
Read Times-News article "NC Organizers Work to Energize Latino Vote a Month from Election" HERE. LWVHC volunteers spread the word with 700 postcards (see article photo.)
---
• League of Their Own
Thursday, October 1, 2020
Read Bold Life article HERE.
---
• Climb Out Of That Well Of Election Malaise
Sunday, September 27, 2020
Read Times-News op ed by LWVHC member, Mary Garrison, HERE.
---
• Literacy Council/LWVHC Provide Voter Education Classes
Sunday, September 20, 2020
Read Times-News article HERE.
---
• The Francee Sherman Student Award
Wednesday, February 10, 2021
The League of Women Voters Henderson County (LWVHC) is now accepting applications for the Francee Sherman Student Award. This annual $500 student award is in honor of Francee Sherman, Henderson County's first LWVHC President. The Francee Sherman Student Award will be given to a senior enrolled in a public school, domiciled in Henderson County, and on track to graduate in the current school year.
The mission of the LWV is "Empowering Voters. Defending Democracy." As part of the award application, students must submit an essay on the topic "Based on your experince in the 2020 General Election how would you increase youth participation in our democracy?"
Applications and instructions can be accessed via the web at www.lwvhcnc.org . The deadline for applications is March 31st.
---
• Henderson County Board of Elections Appreciation Lunch
Friday, November 13, 2020
Board of Elections staff and board appreciate LWVHC "thank you lunch"!
---
• Polls are Open in District-Wide Mock Election for Students
Wednesday, October 28, 2020
Henderson County Public Schools talks about LWV-HC's Students Voting for Democracy on its website.
---