---
ANNUAL MEETING & Preceding Events 2021 – June 17, 2021
Some candid shots from our virtual Annual Meeting where the year's accomplishments were celebrated, volunteers thanked, and business attended to. For detailed info, see: Resources---Member Tools---Other Member Resources---Annual Meeting Booklet 2021.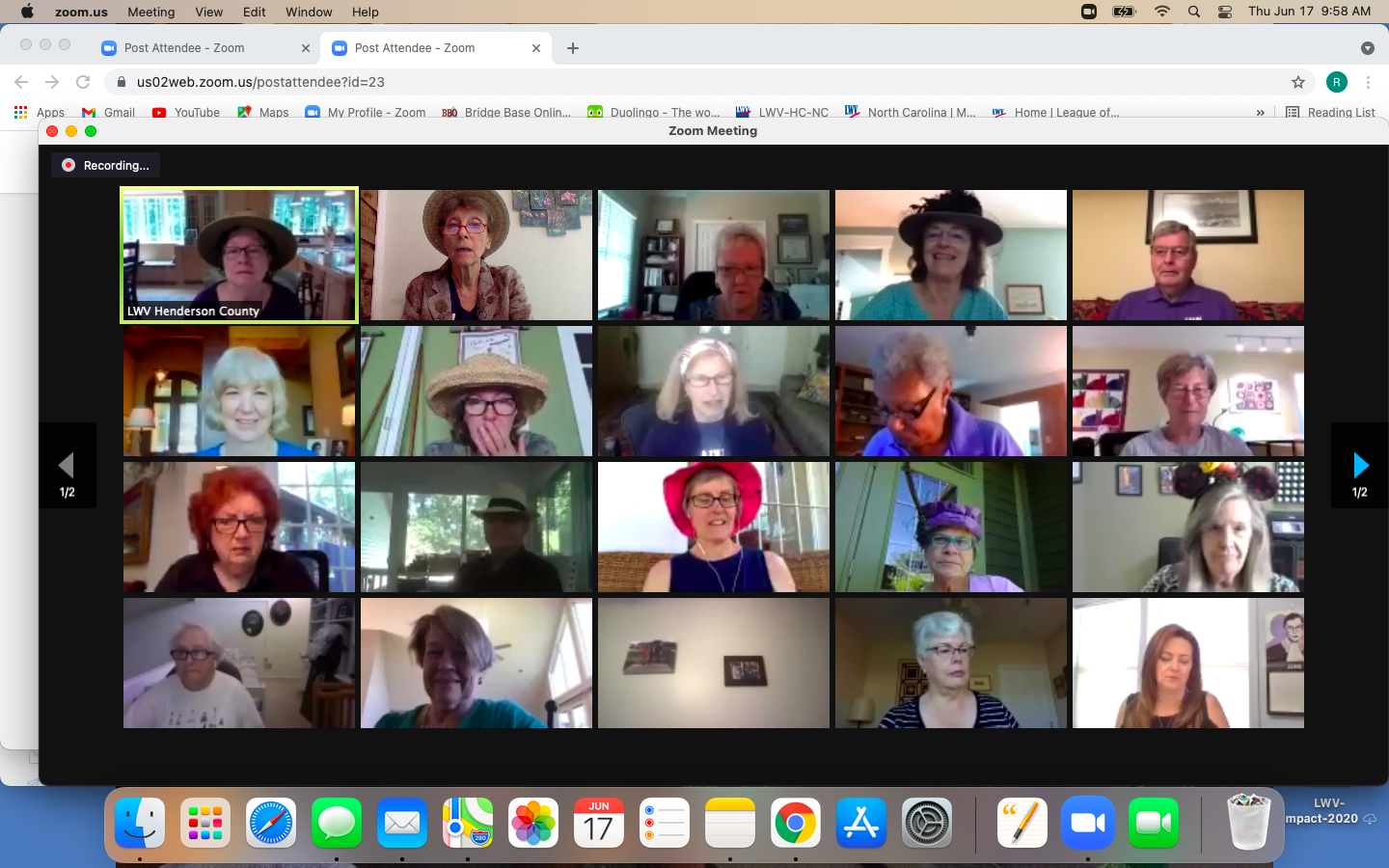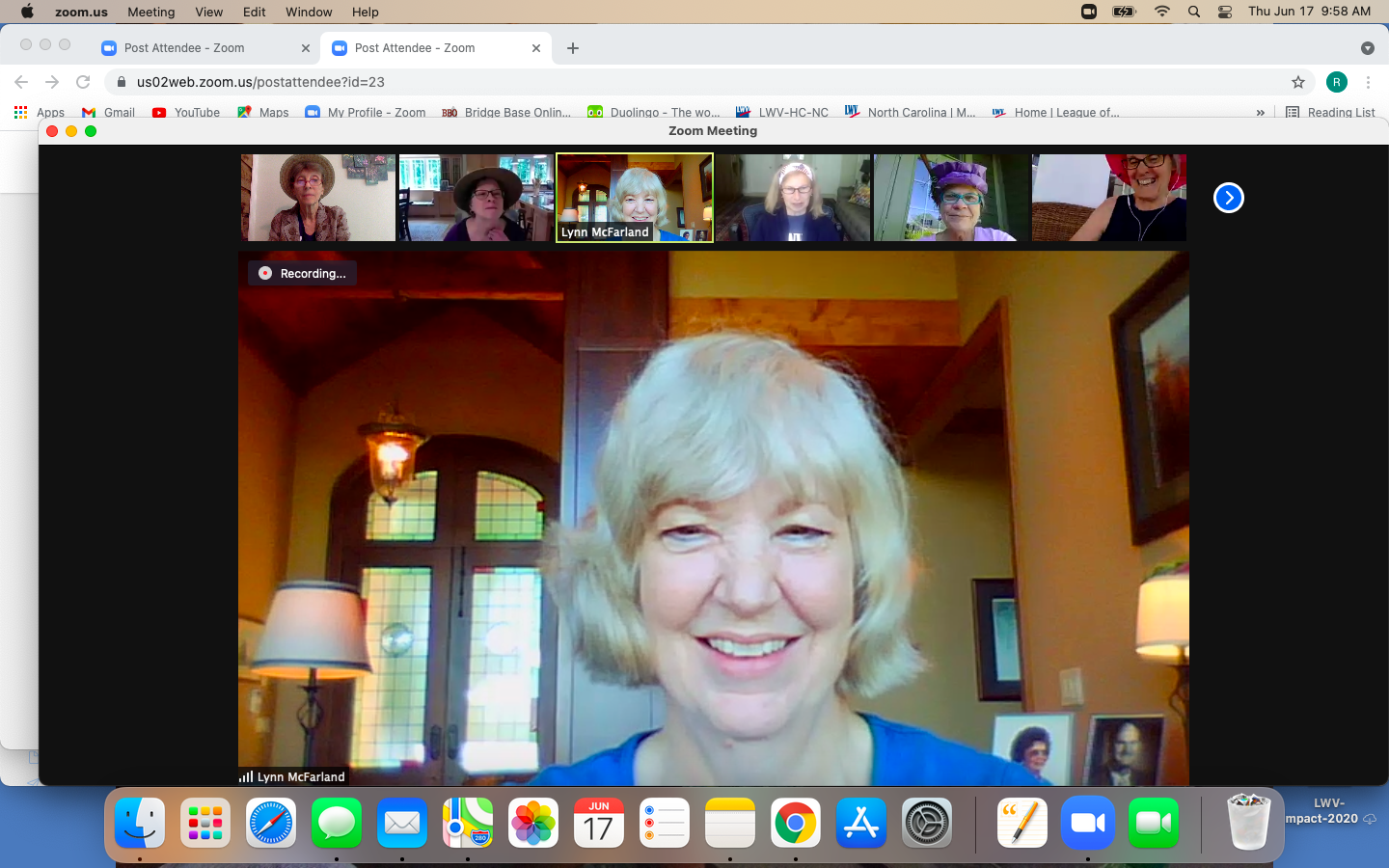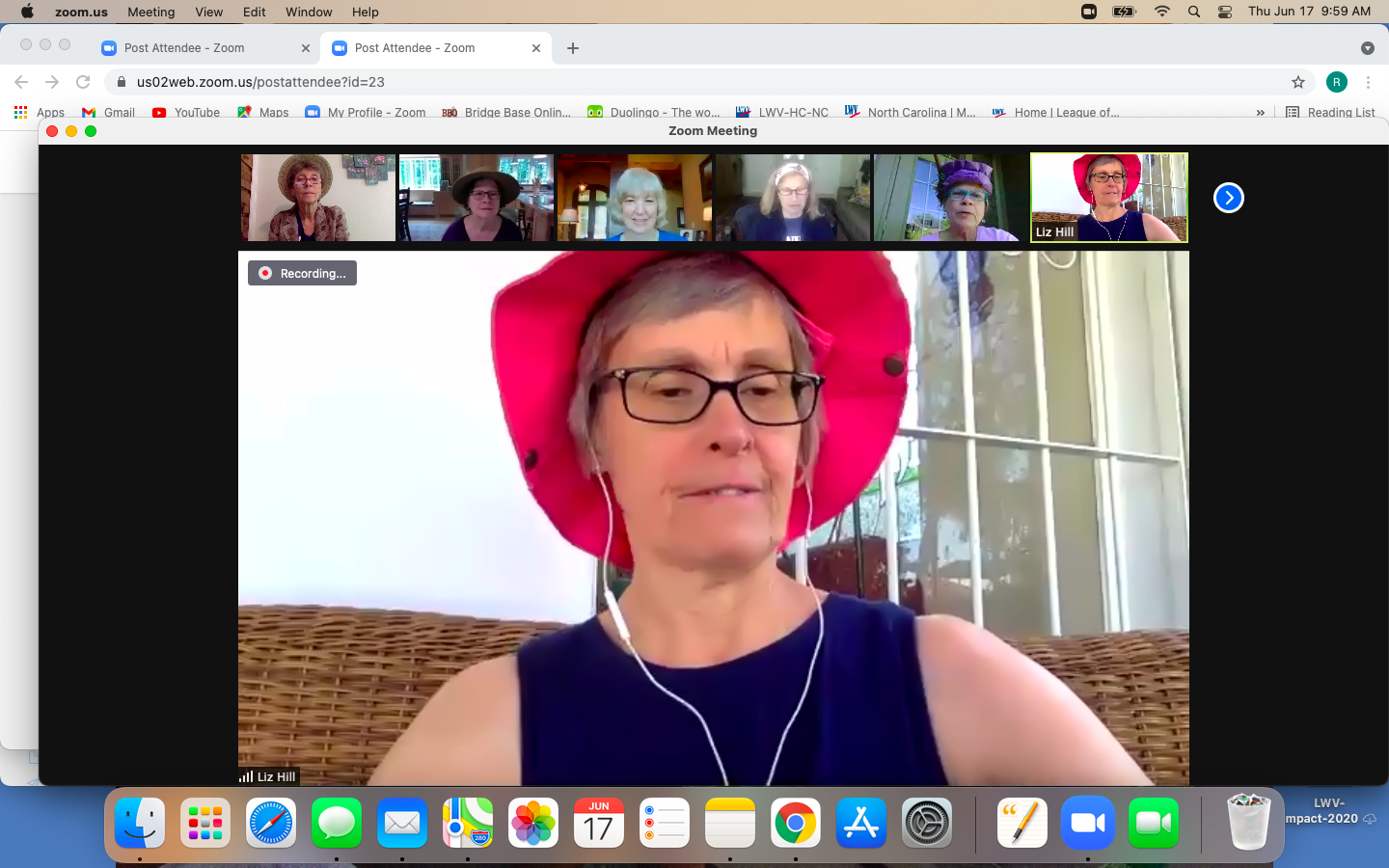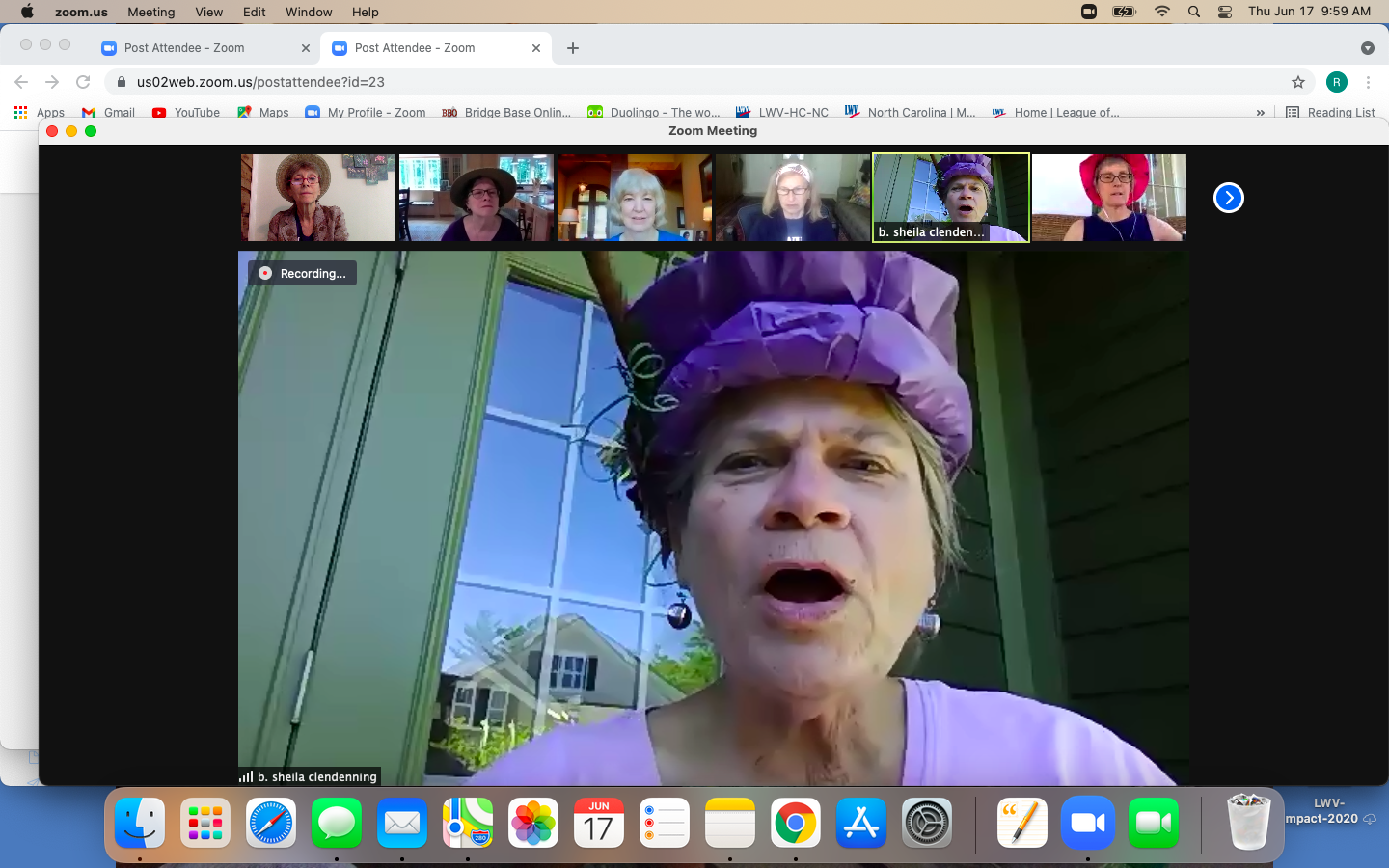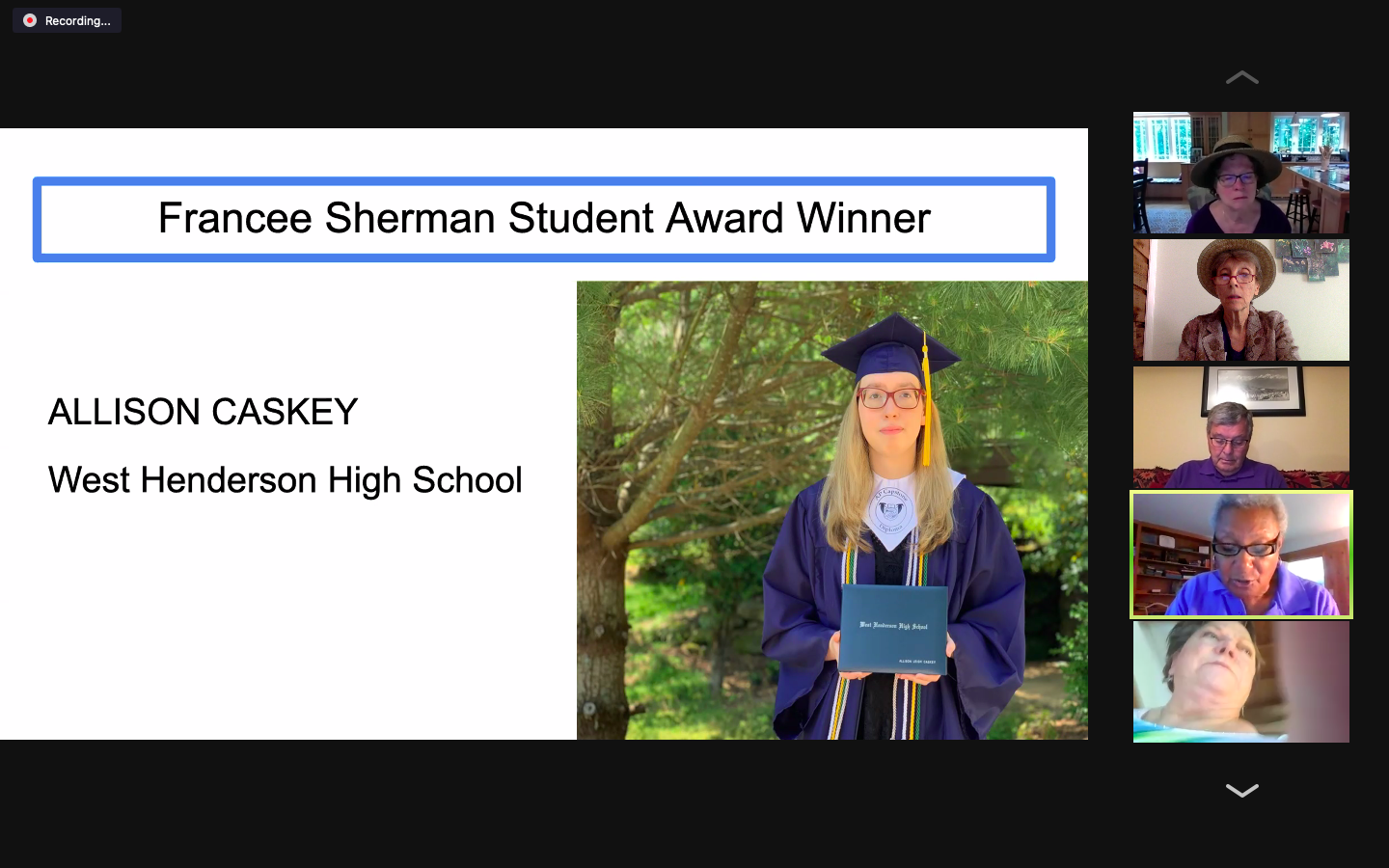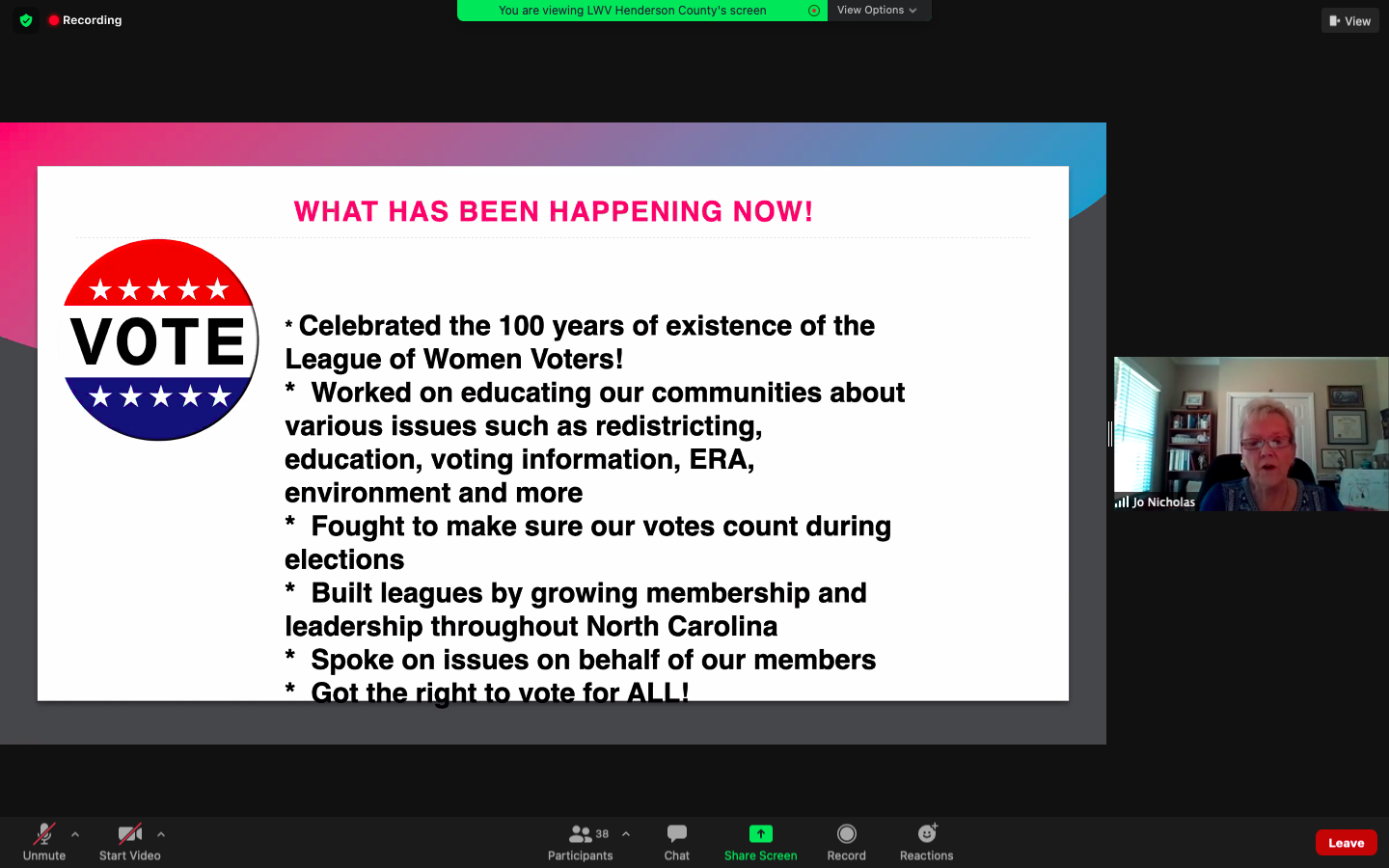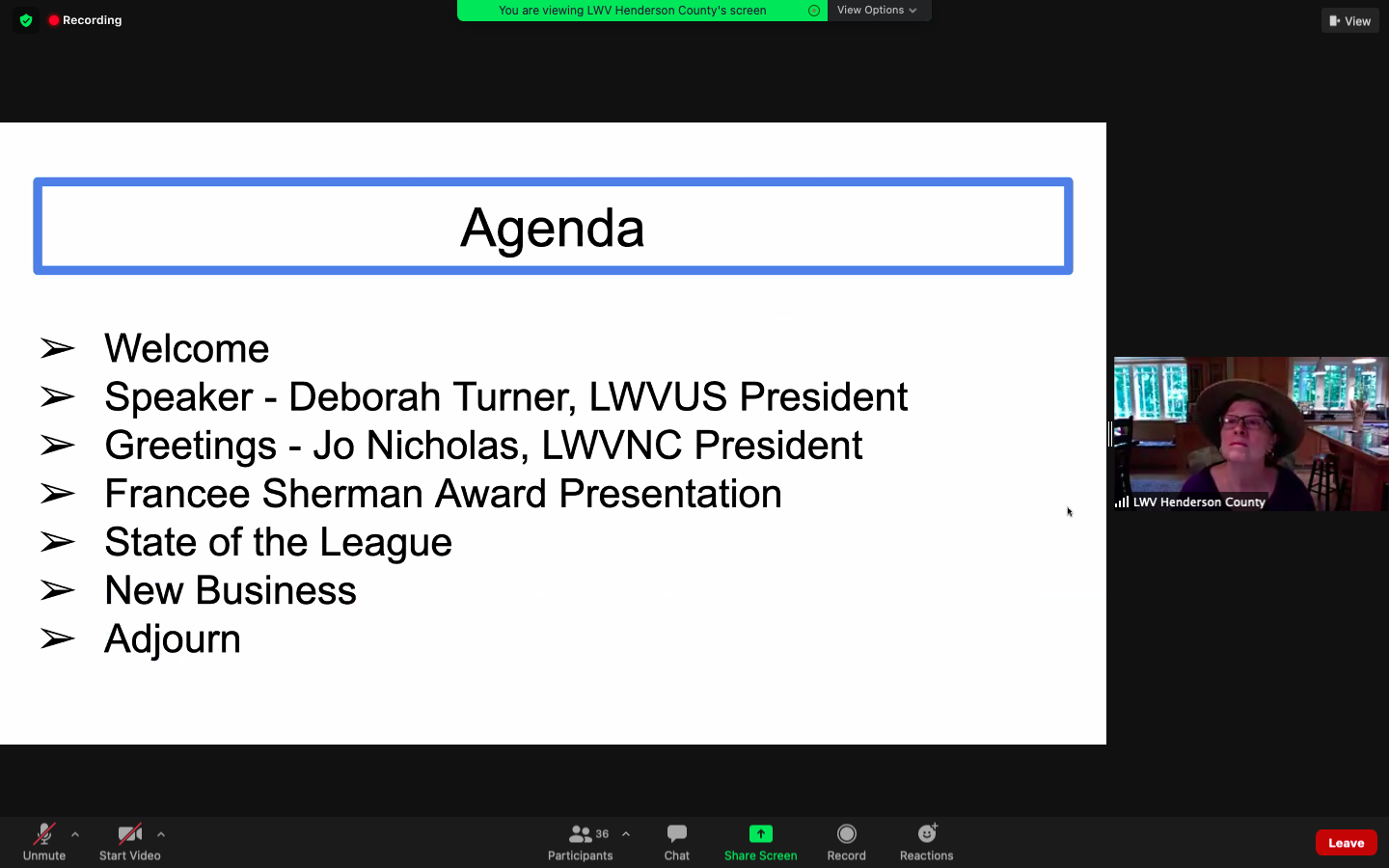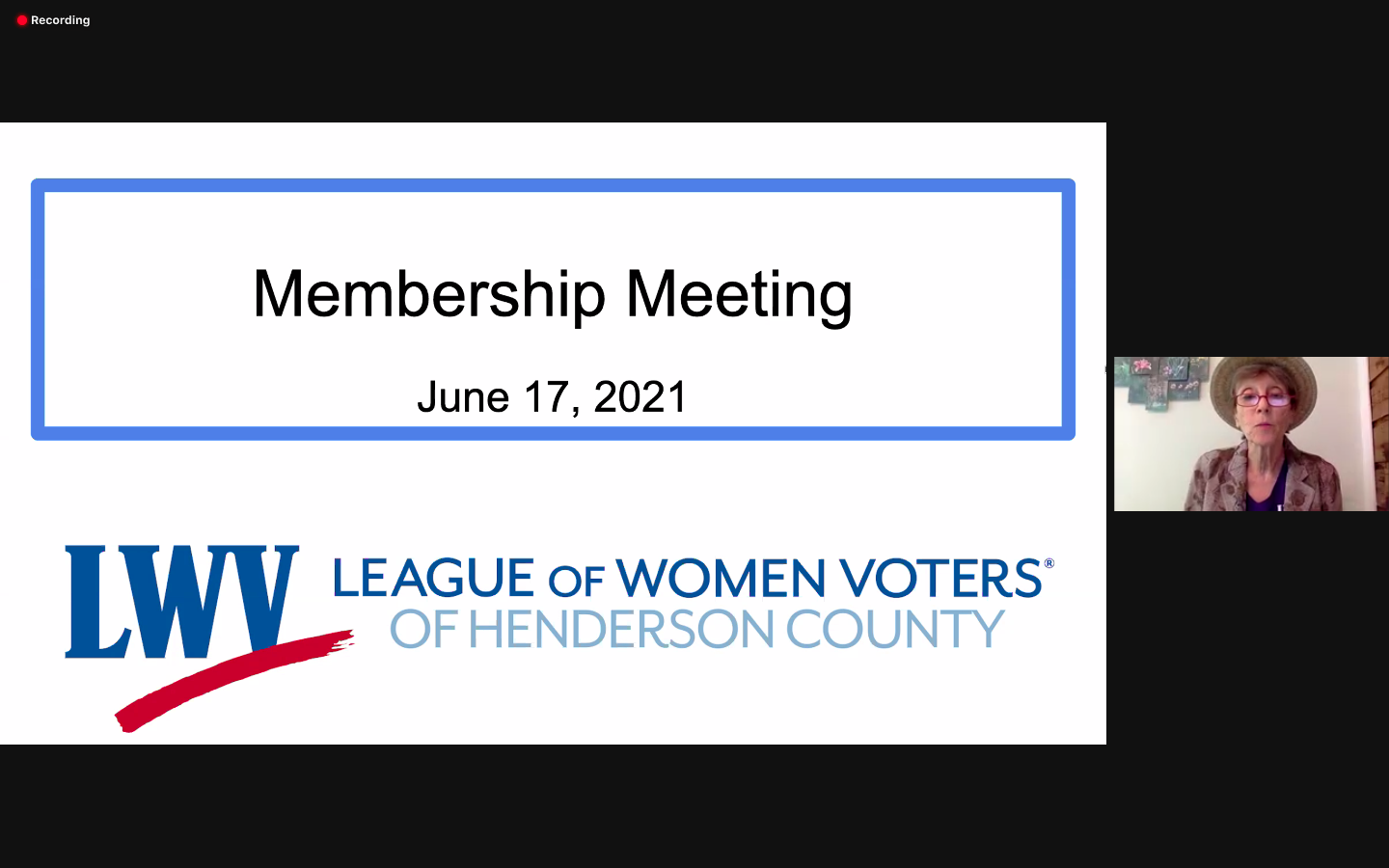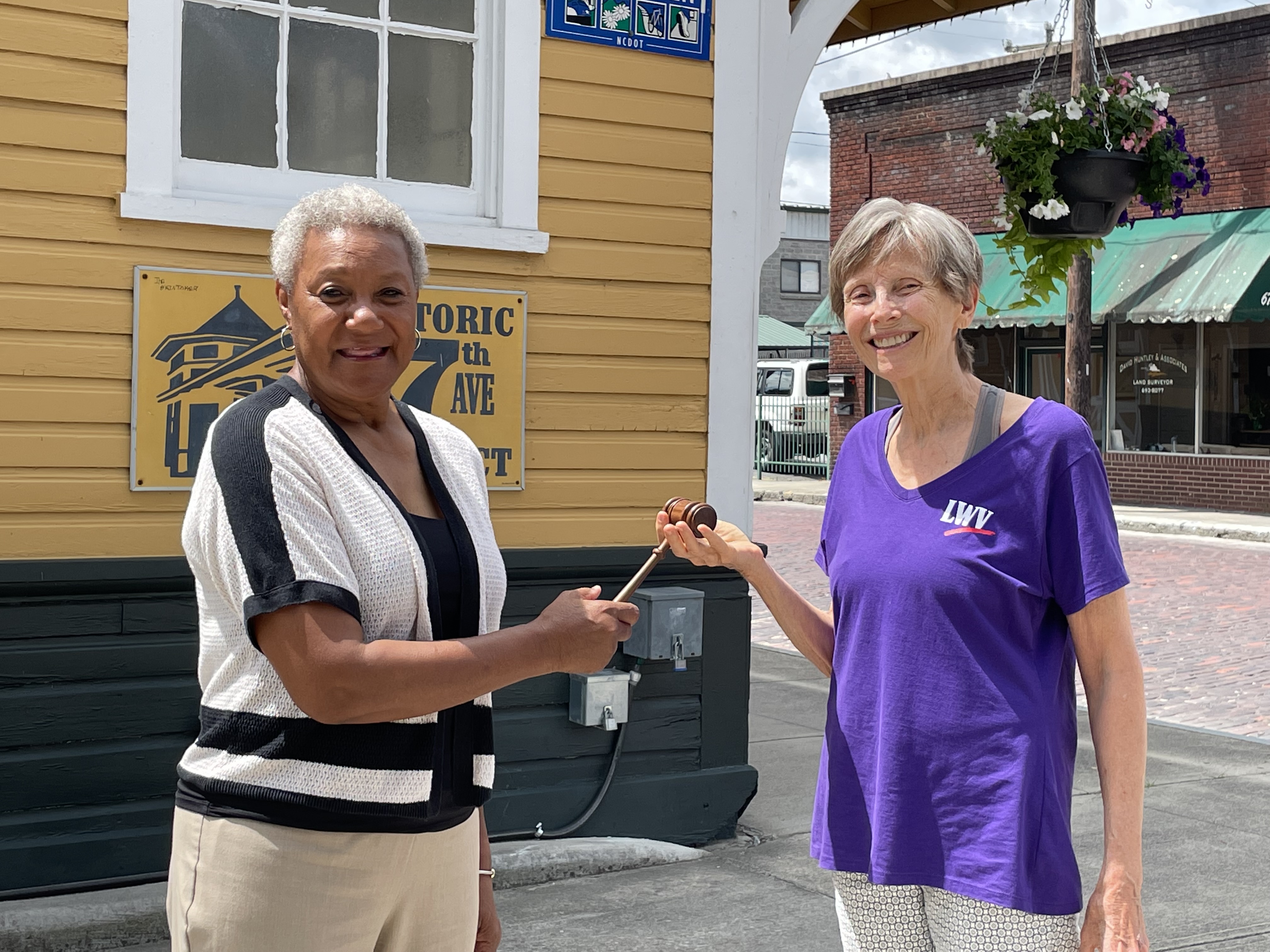 Rachel passing gavel to Brenda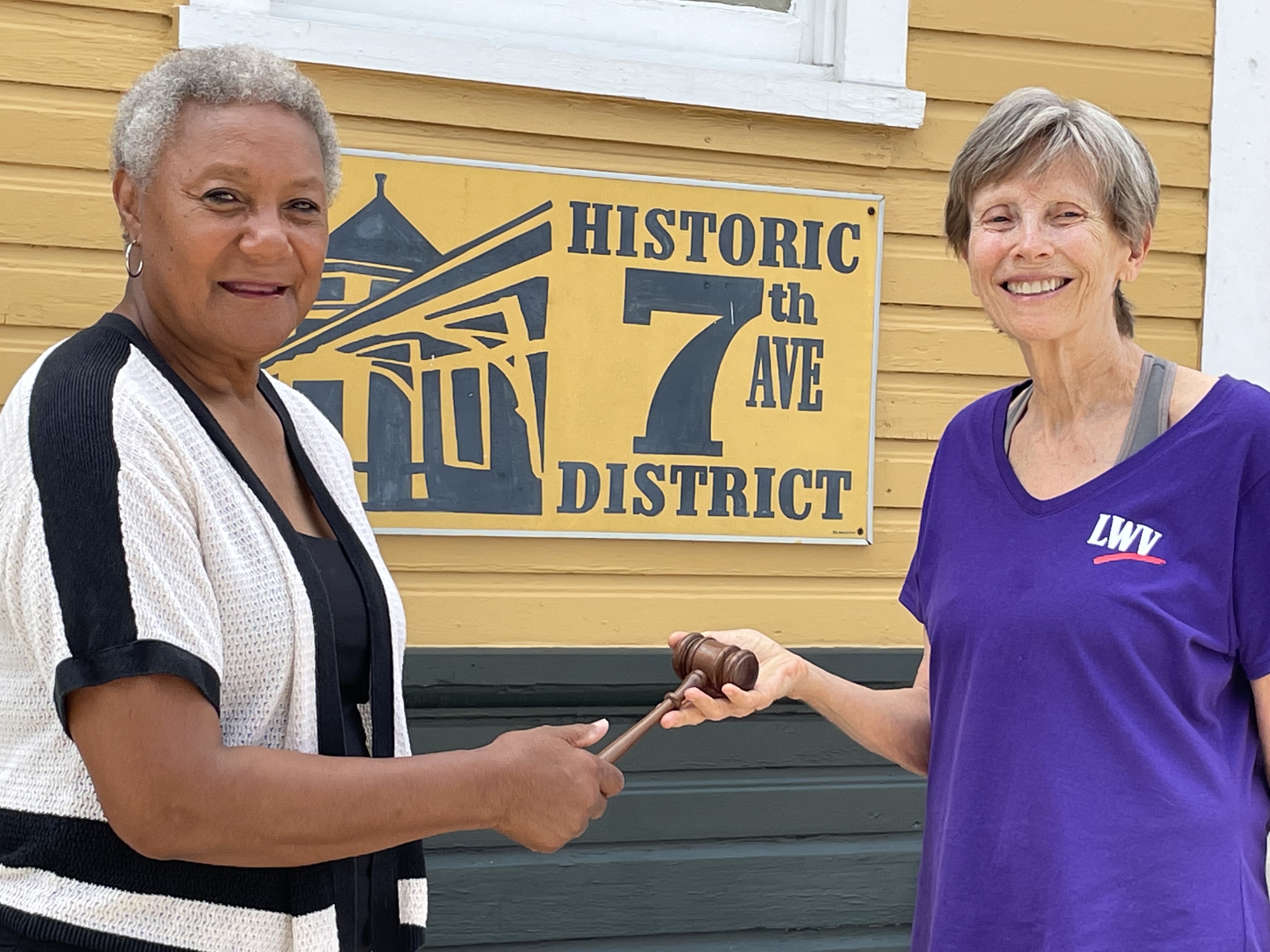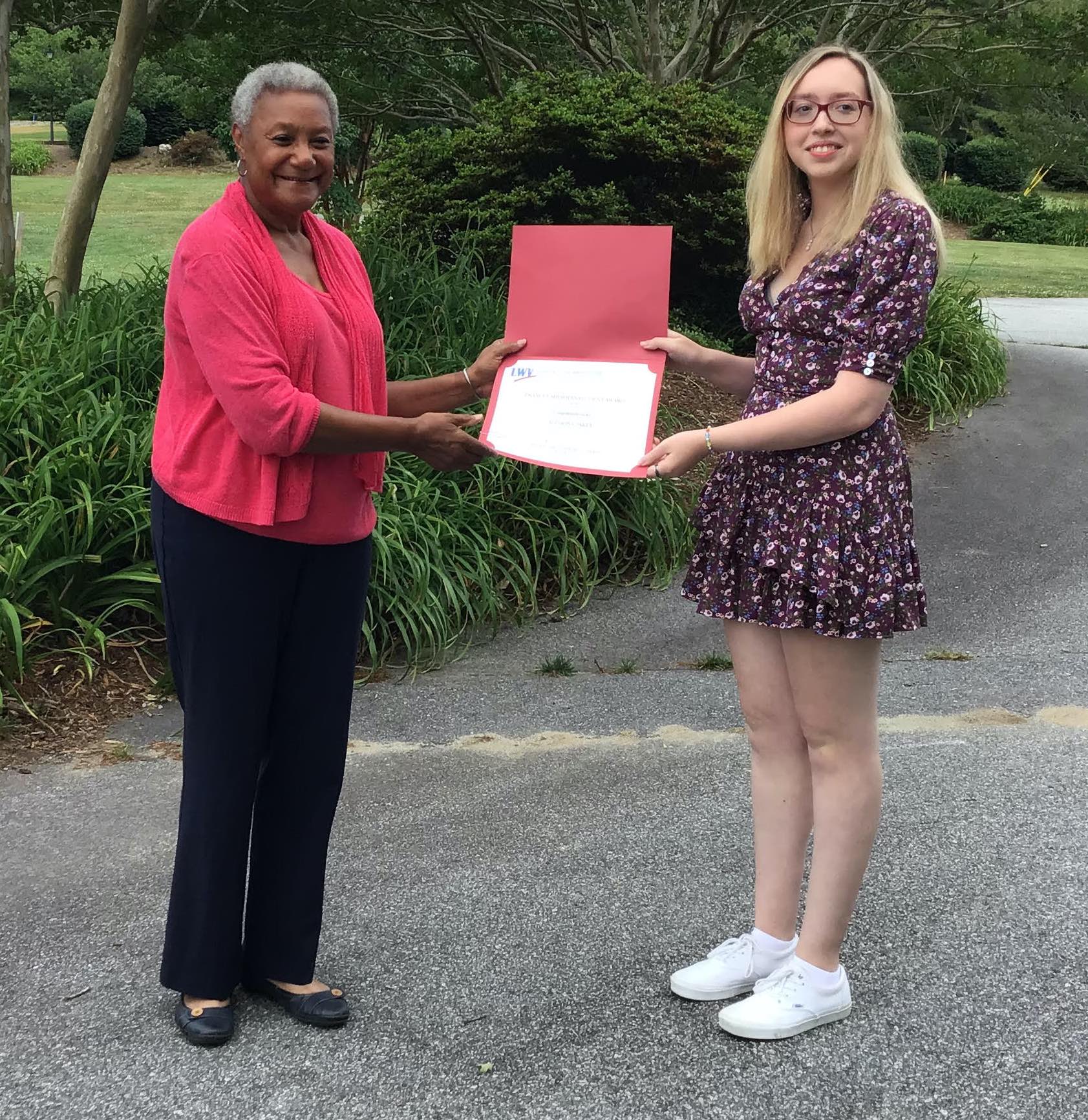 newly-elected President, Brenda Sherrer, presents Francee Sherman Award to Allison Caskey
---
Garden Jubilee – May 31, 2021
Volunteers provided voter information at Raymond's and McConnell's during Garden Jubilee weekend.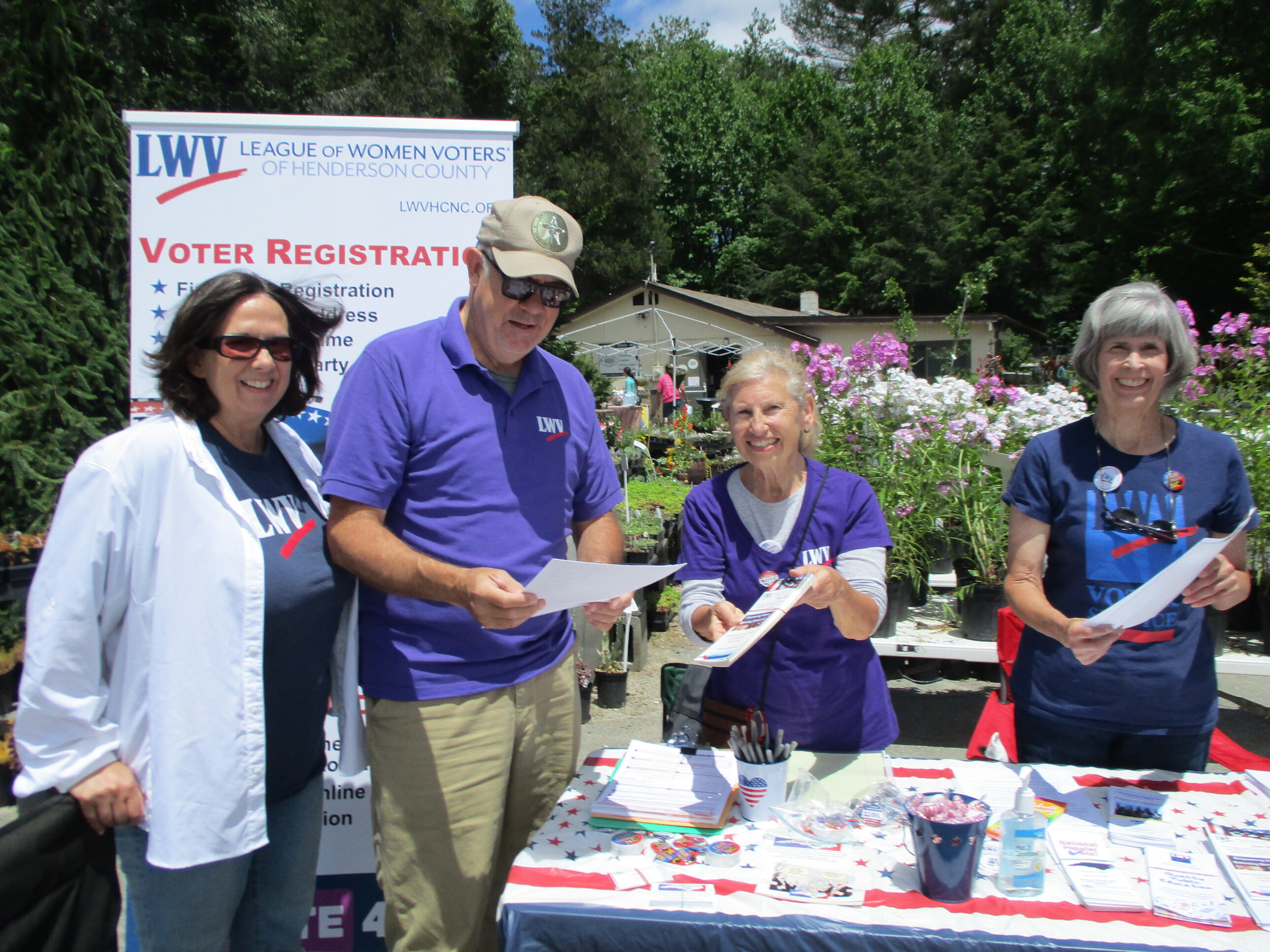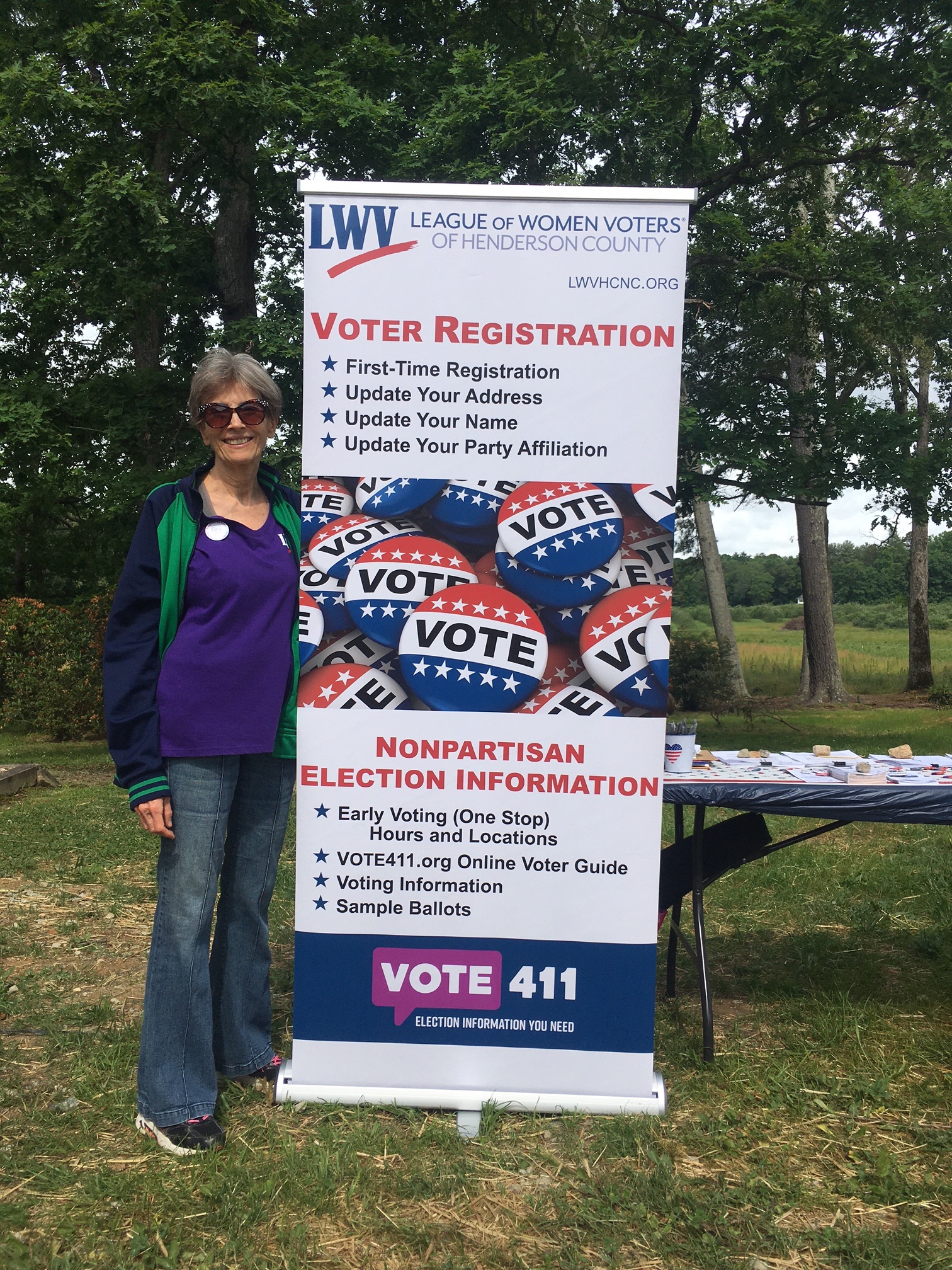 ---
Day of Action on Main Street – May 1, 2021
Board members meet the public to distribute information and register voters.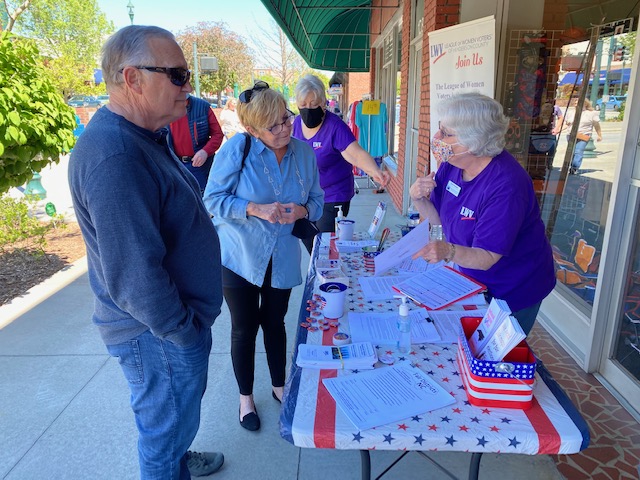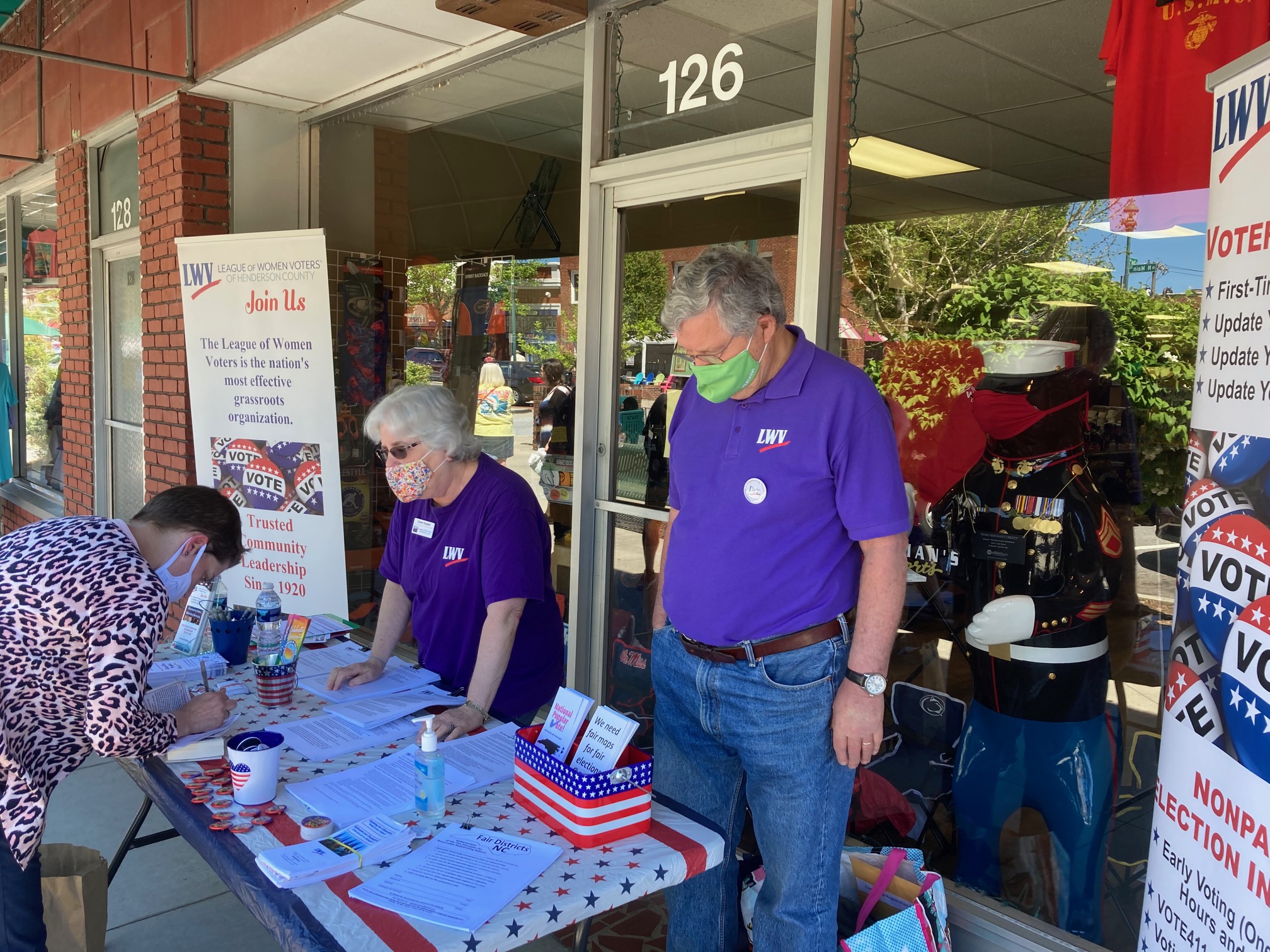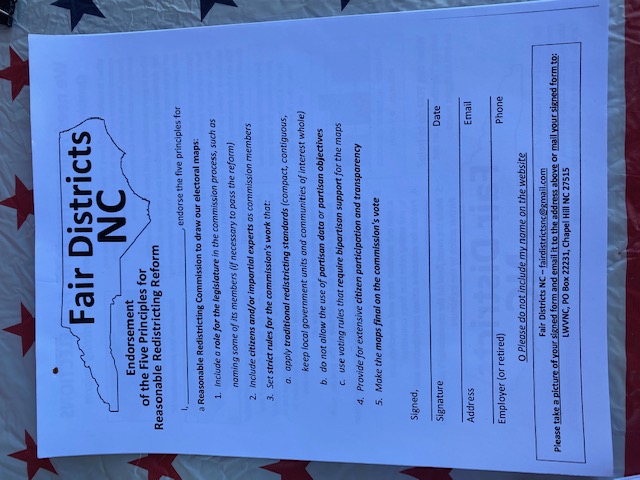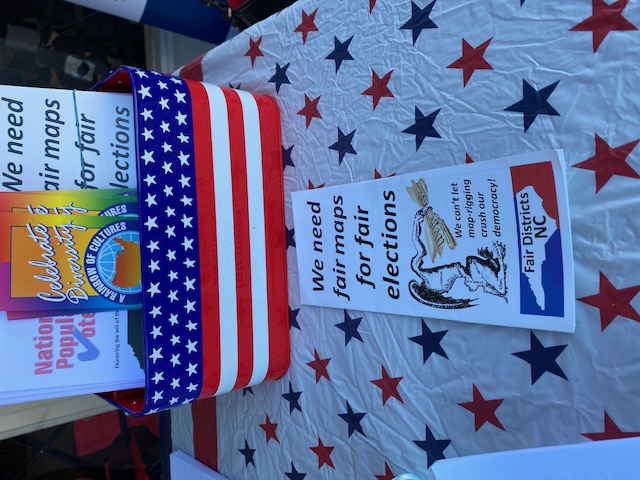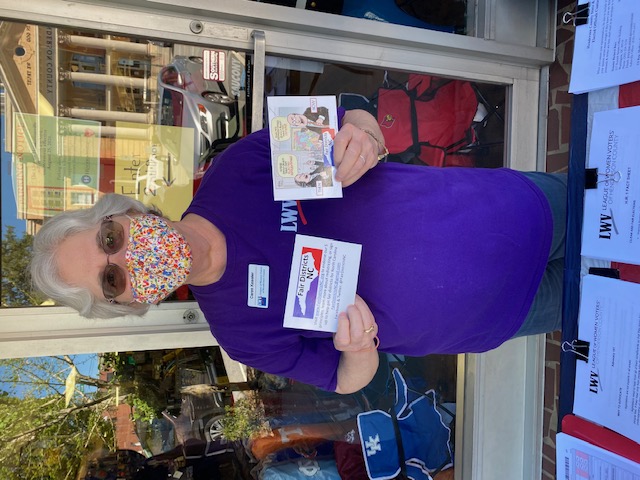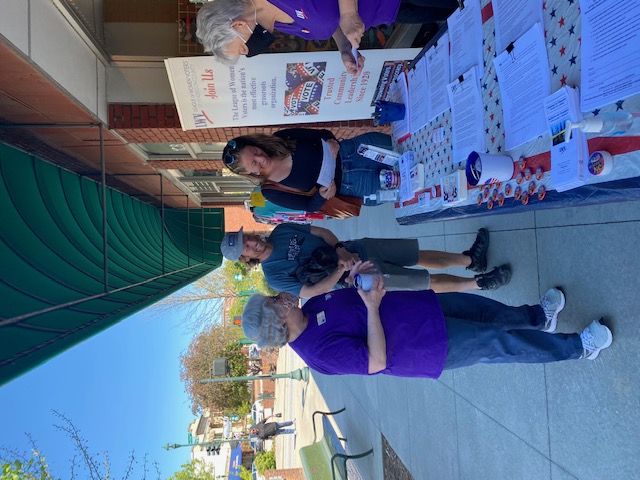 ---
Students Voting for Democracy Team Meetings – March 24, 2021
The SVFD planning team doesn't miss a beat! Here are photos of their last 2020 meeting heading into the COVID blues... and emerging triumphant and ready to work again!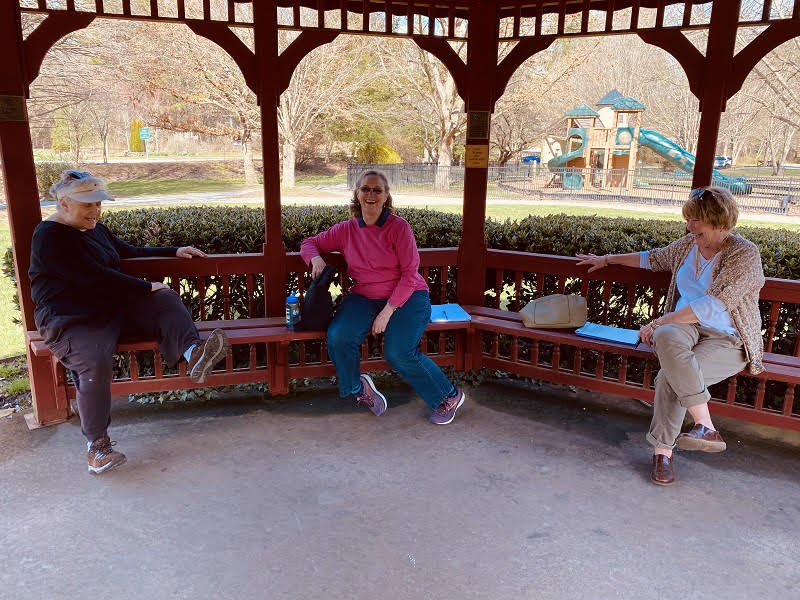 Stalwarts Renee Kumor, Sharon Burlingame, and Bette Liebzeit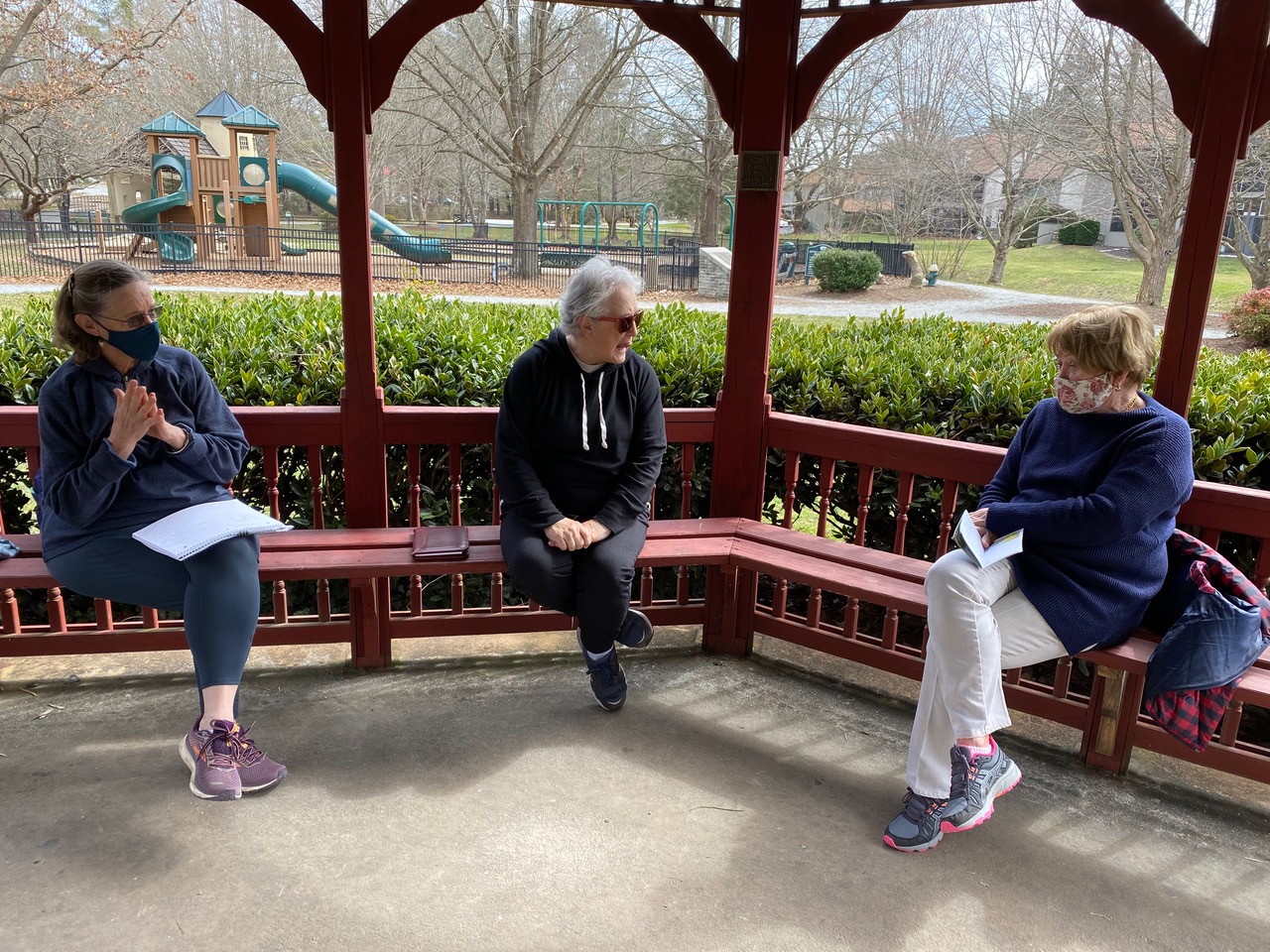 Masked and ready to roll!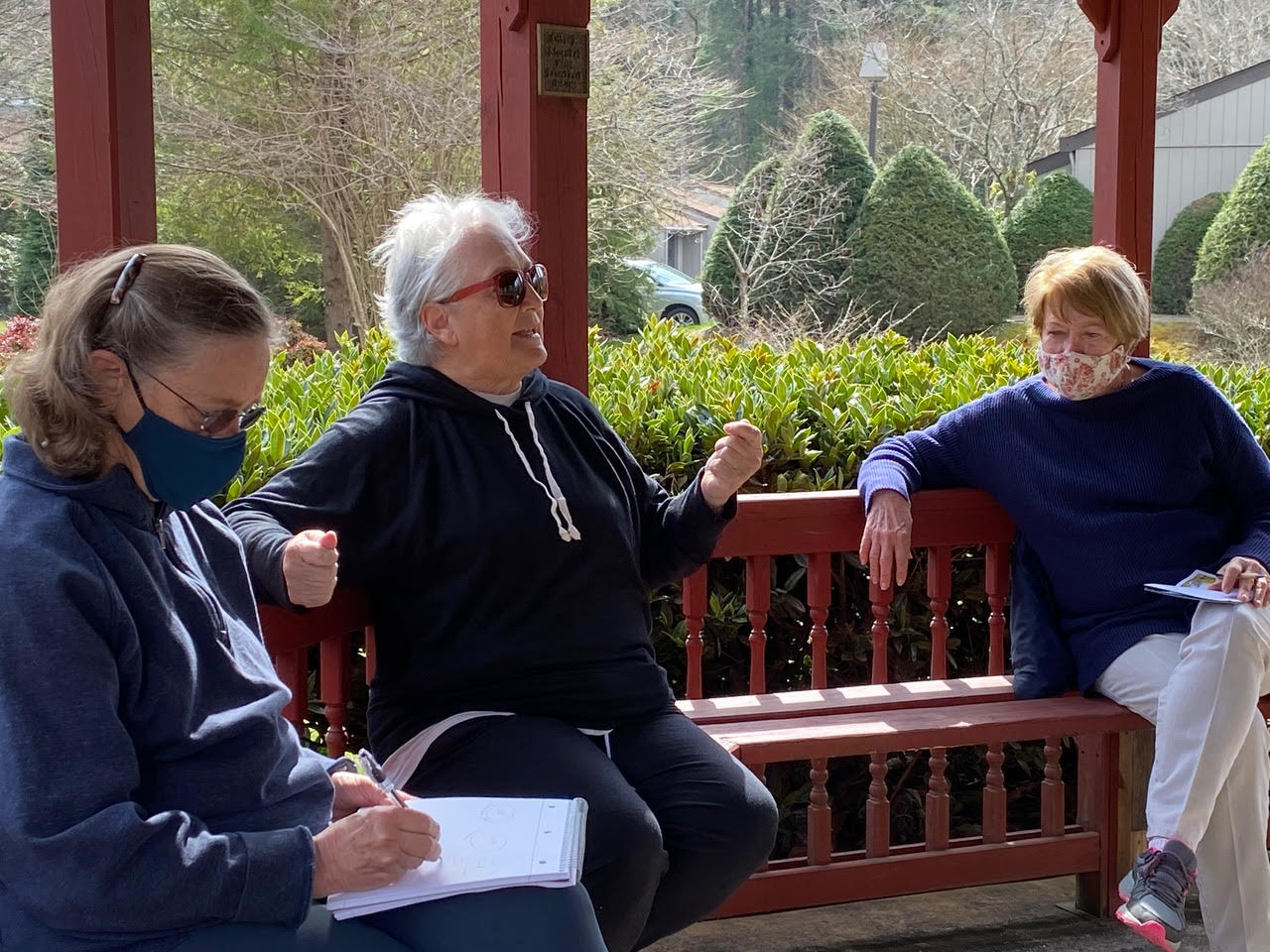 ---
December Specials! – December 20, 2020
LWVHC at work and at play: we held a mini-retreat for Board members and Team and Committee chairs, purchased flashy, new banners for Voter Services events, and celebrated the holiday season together.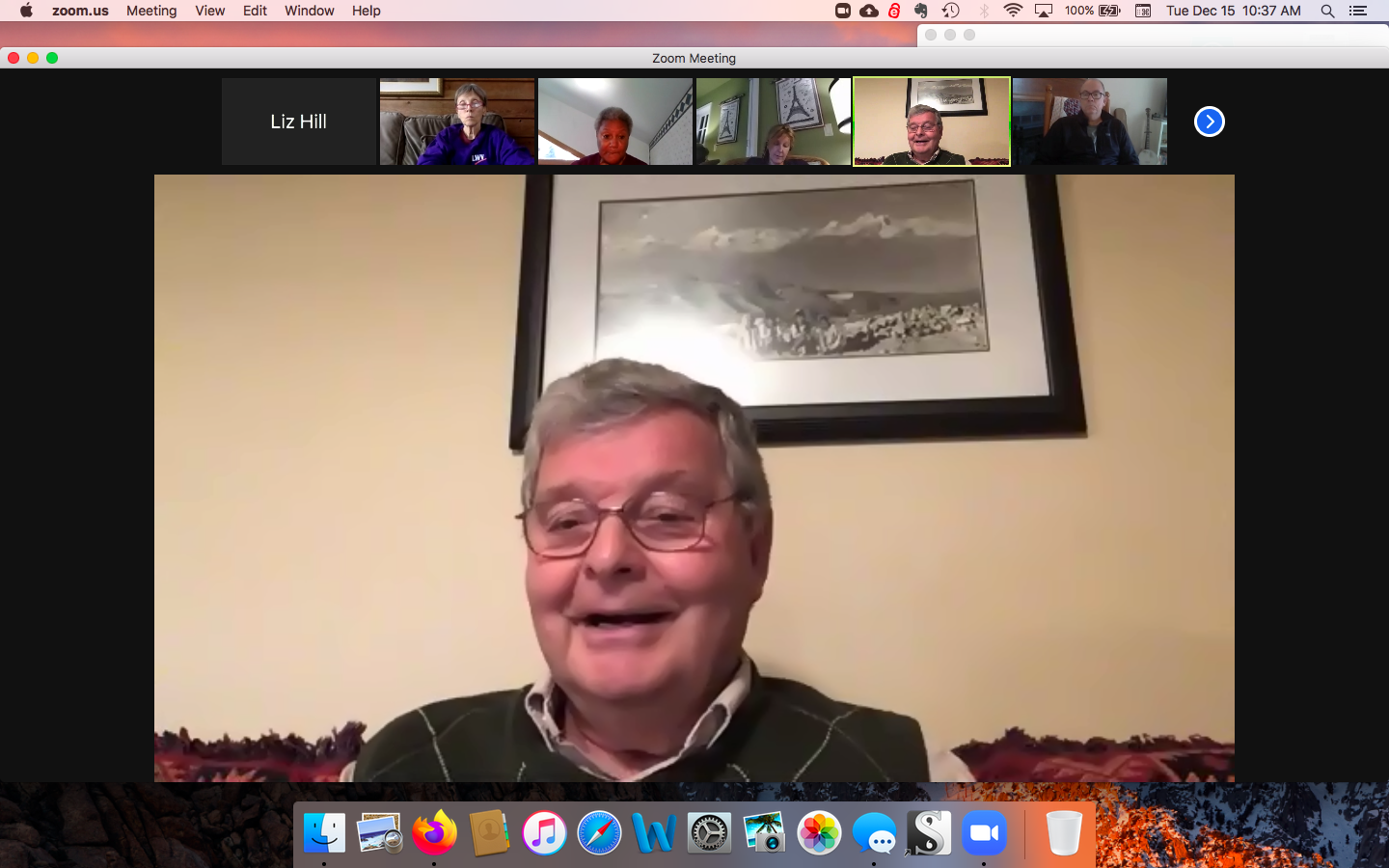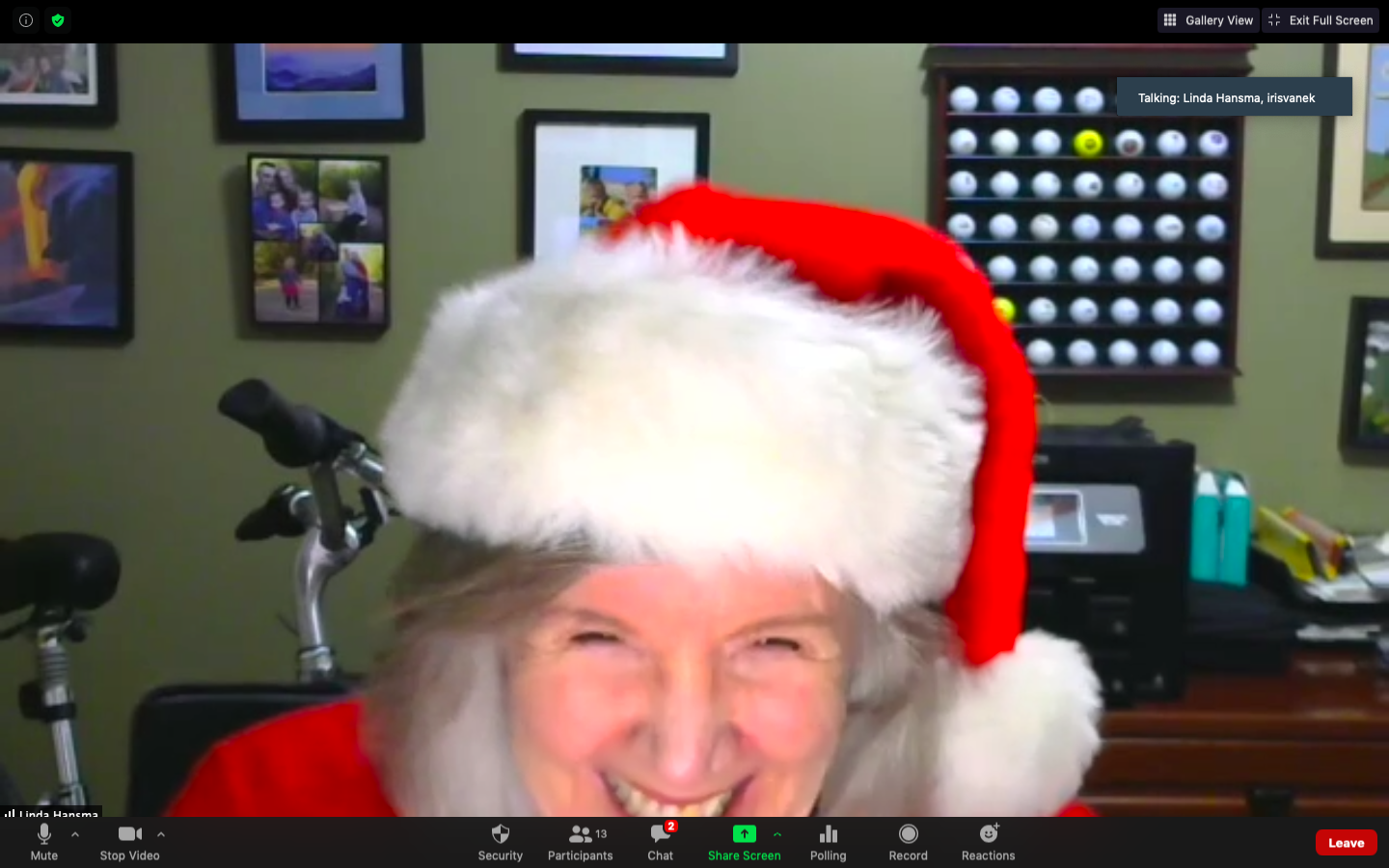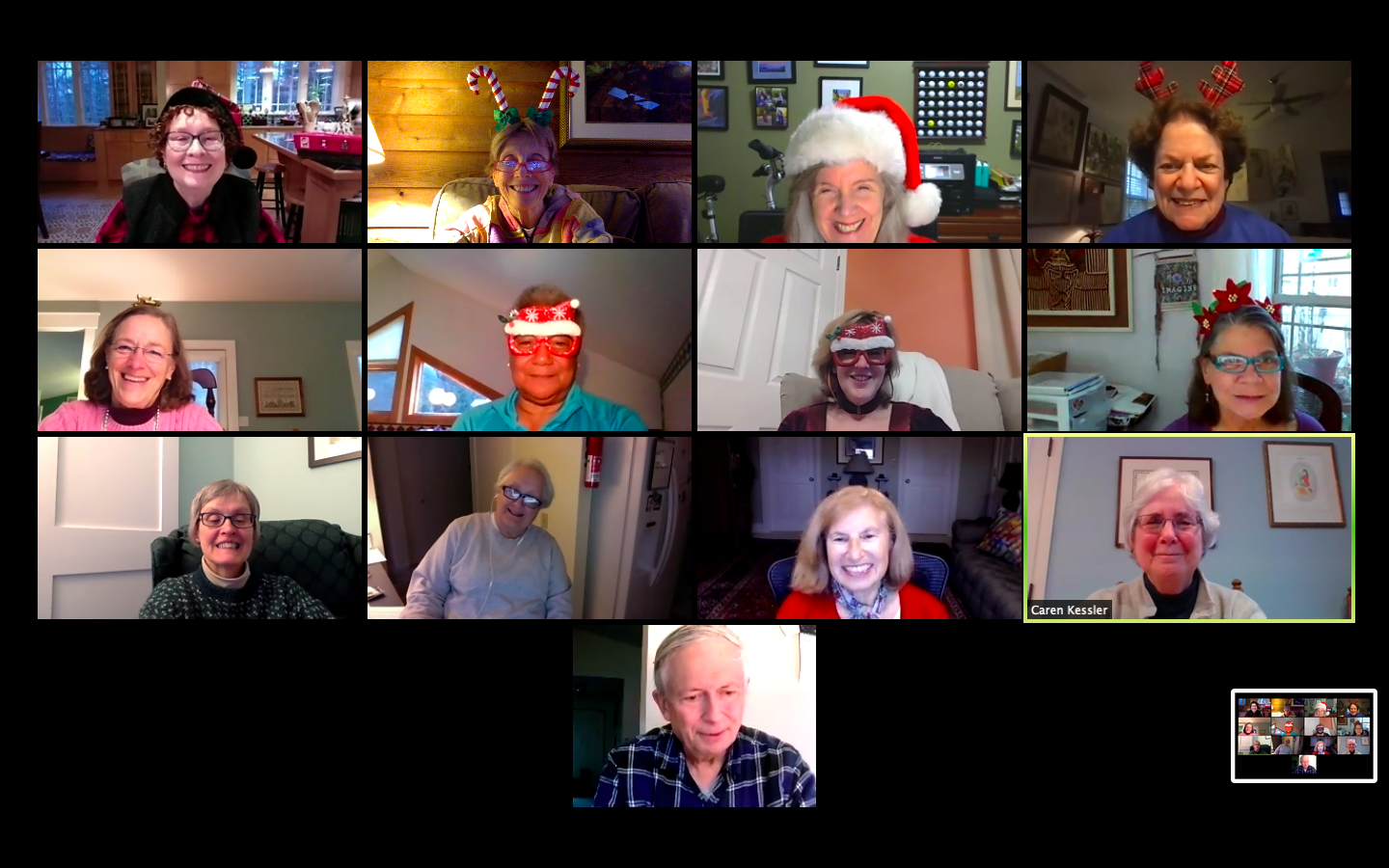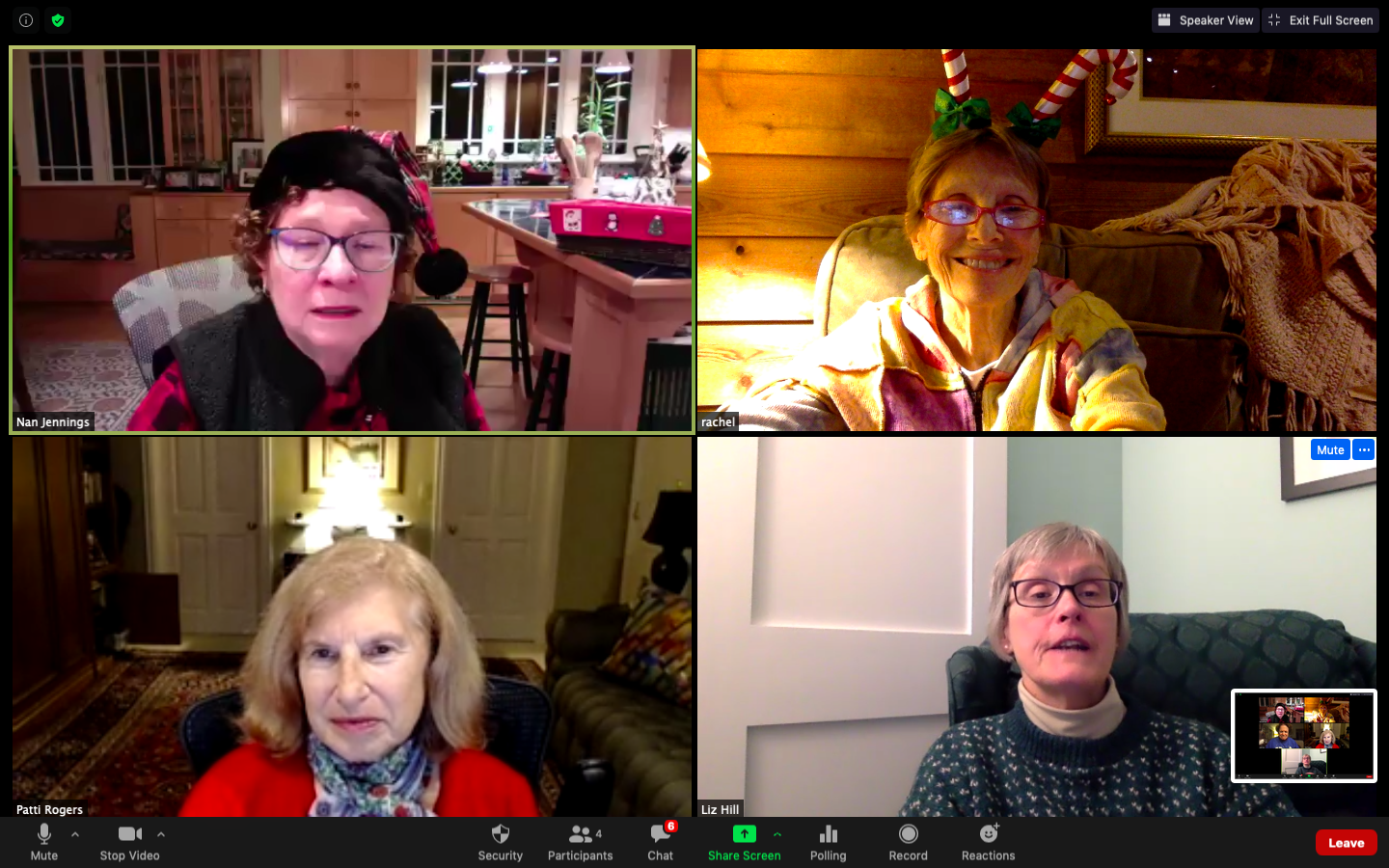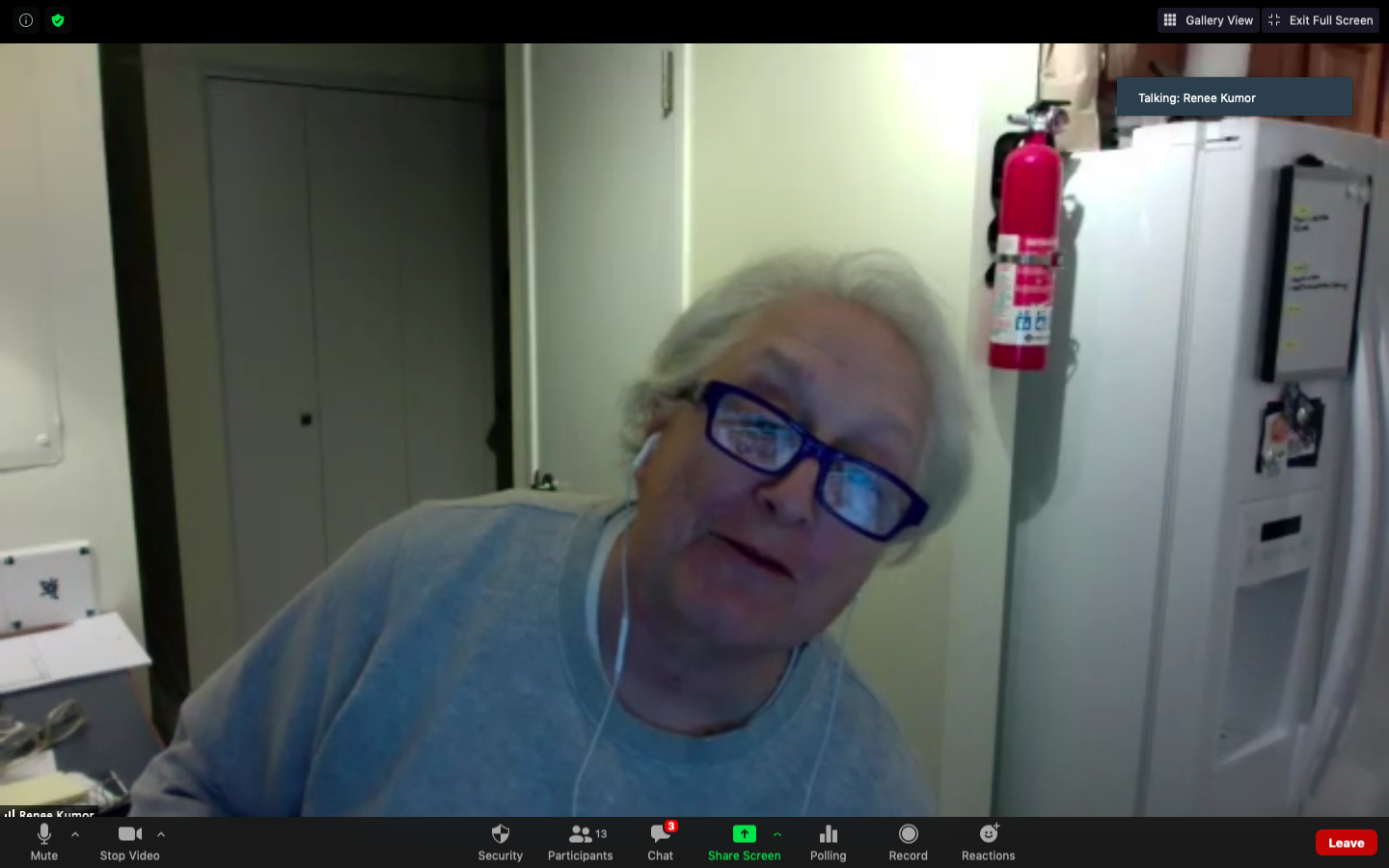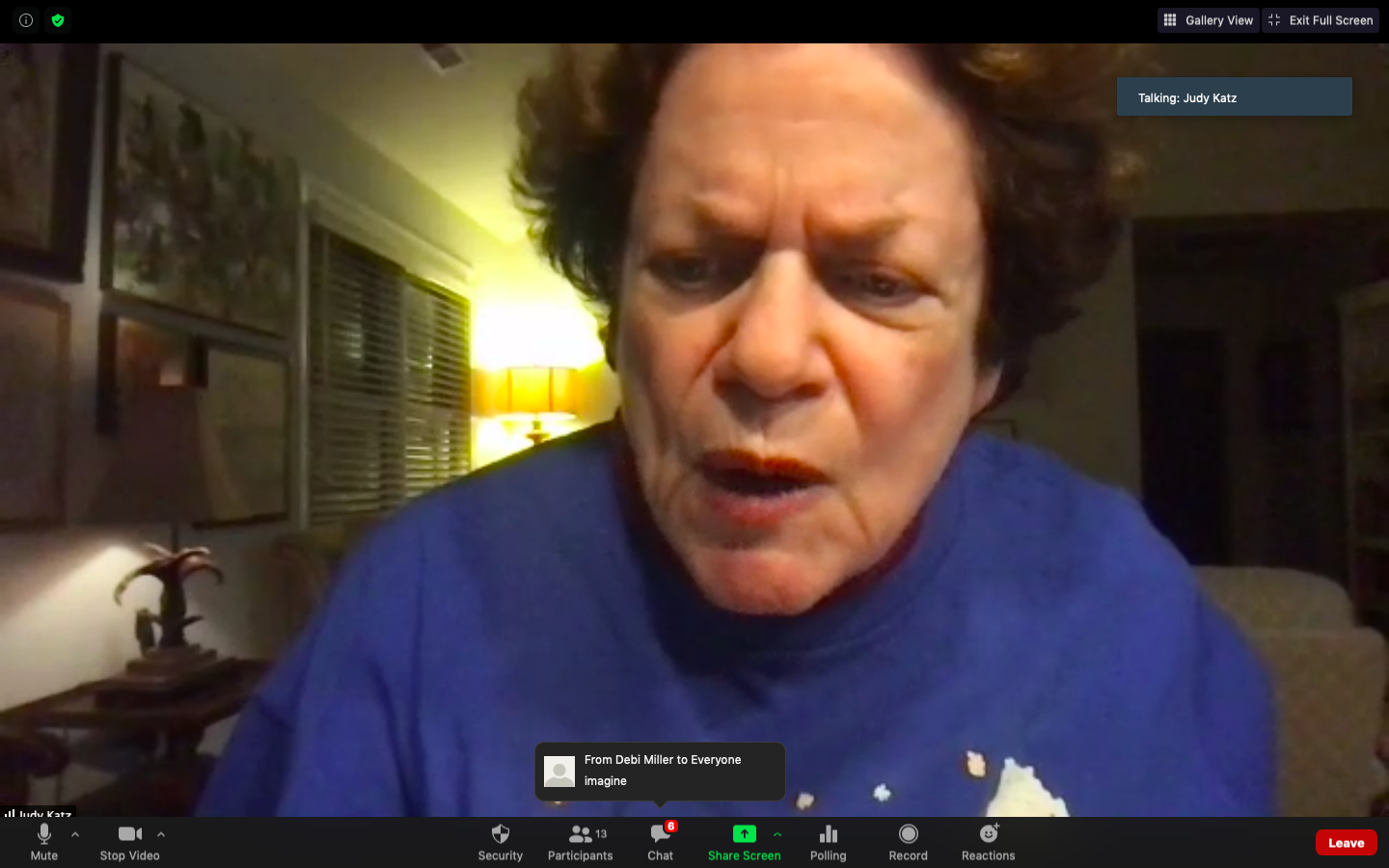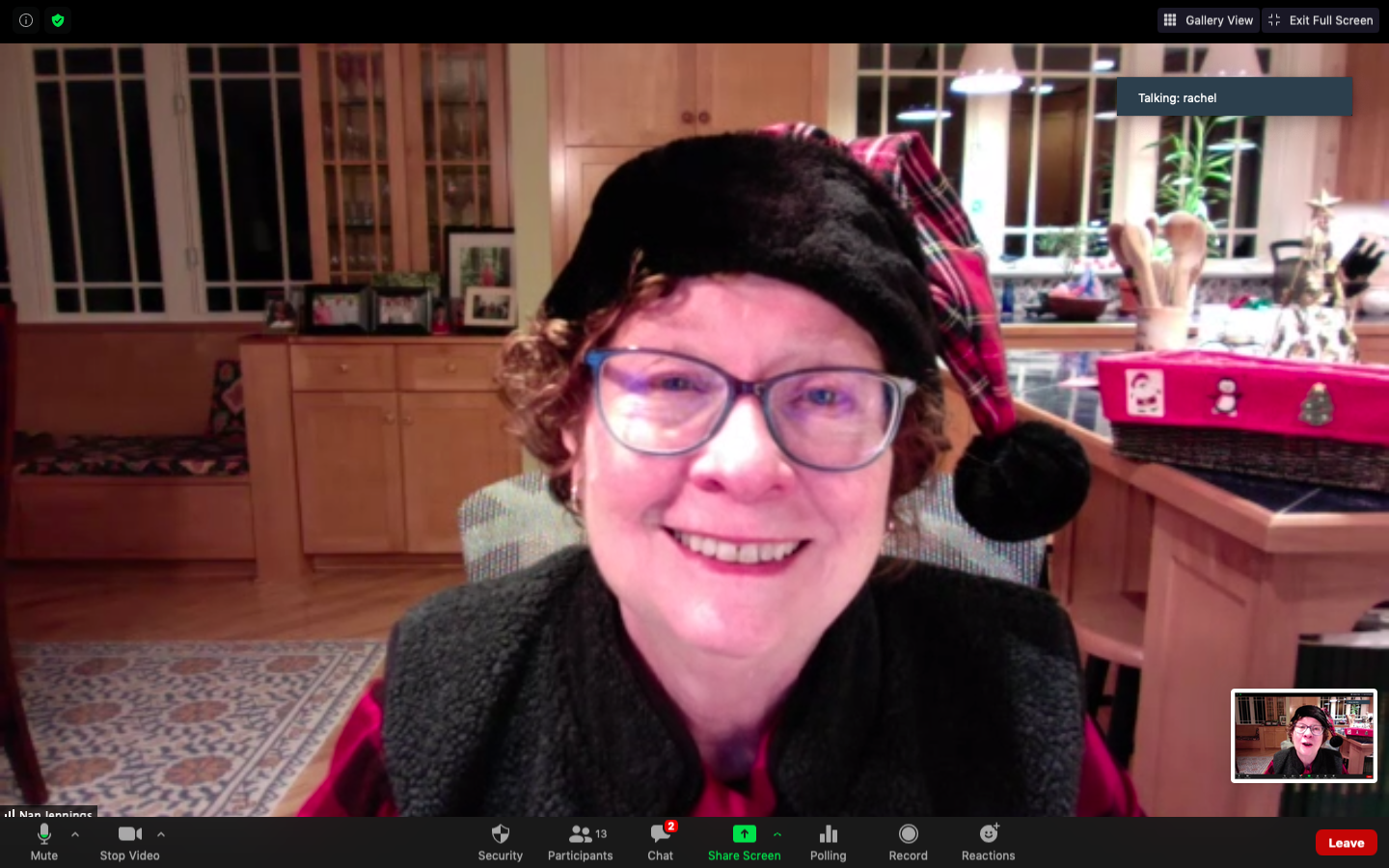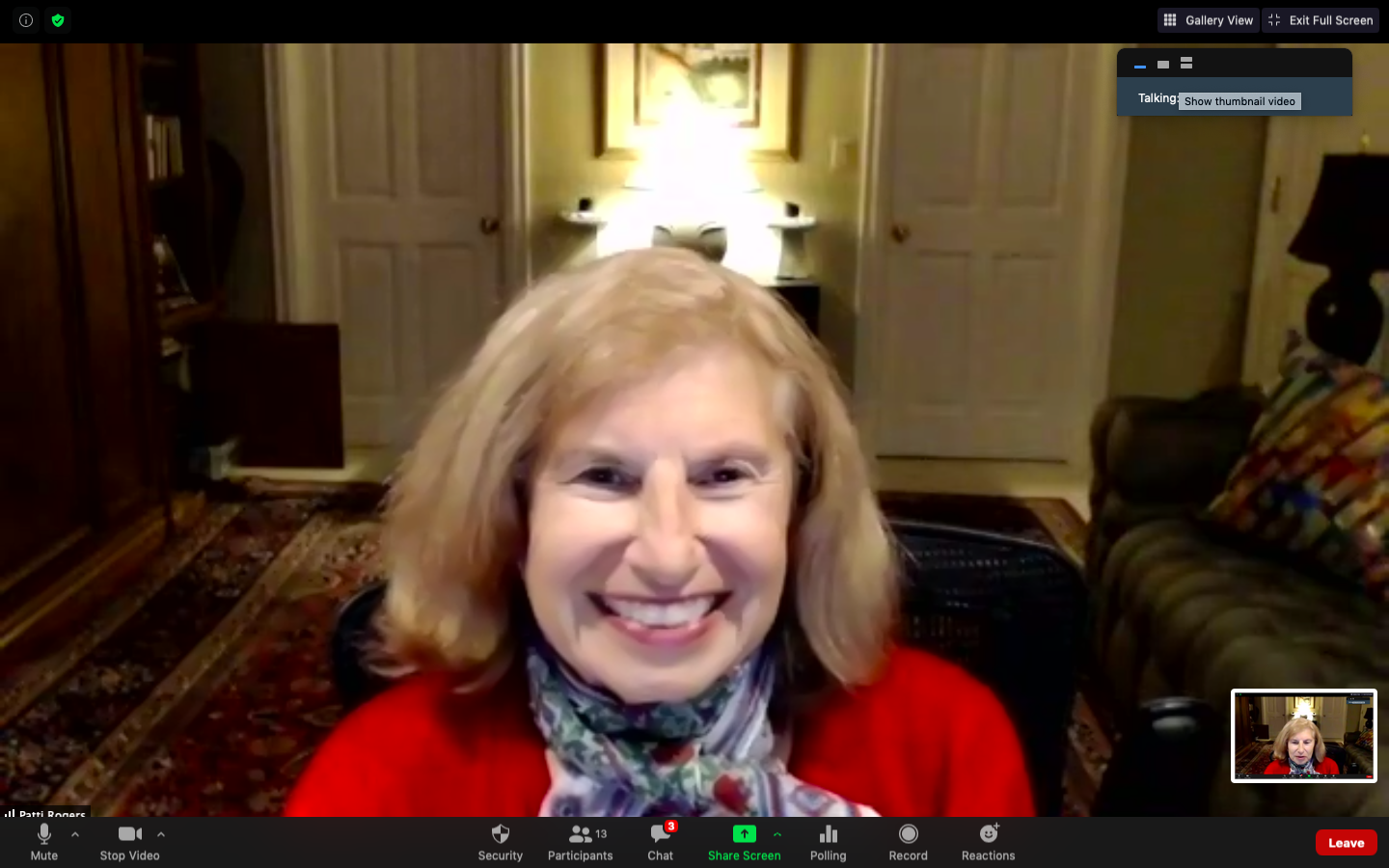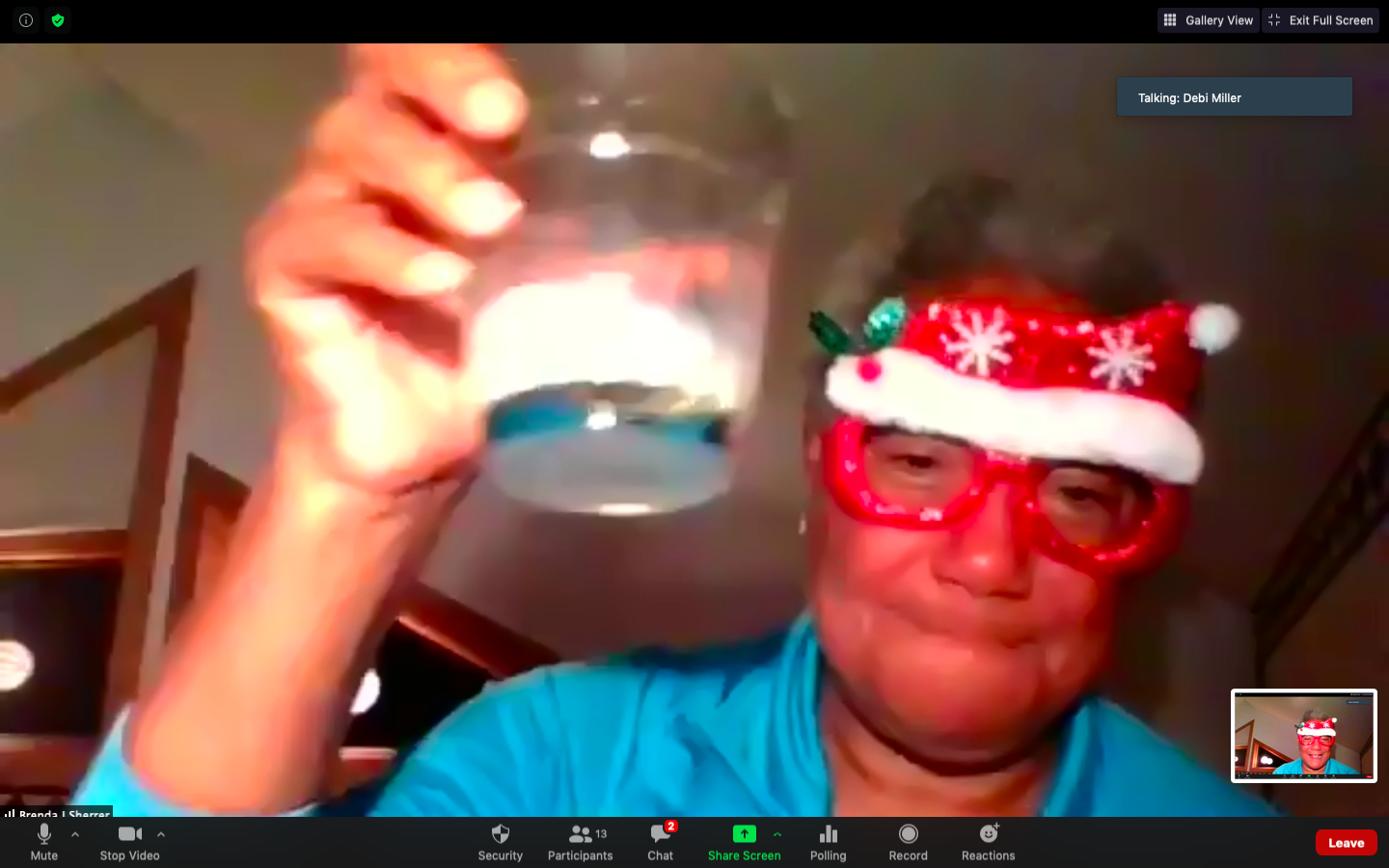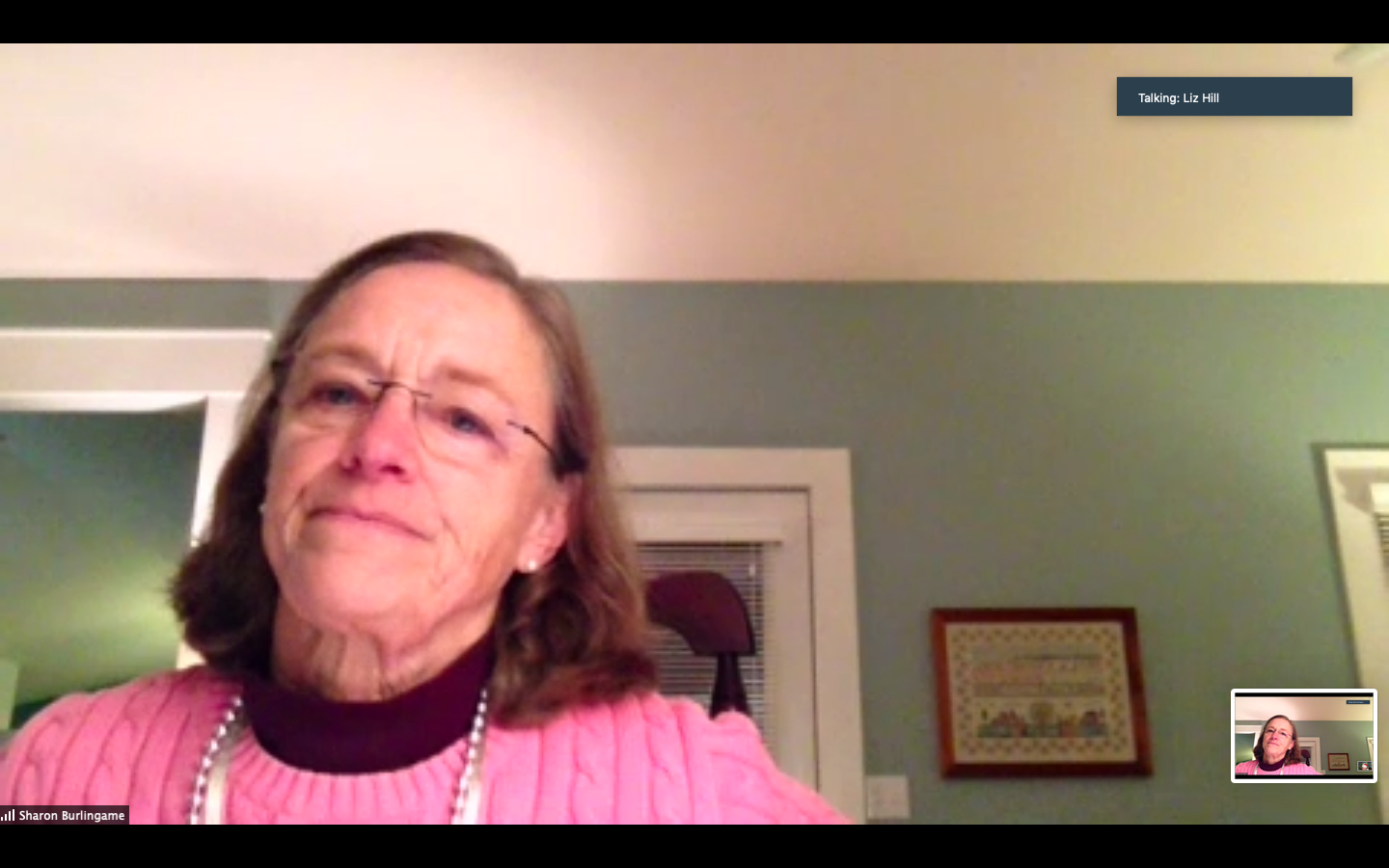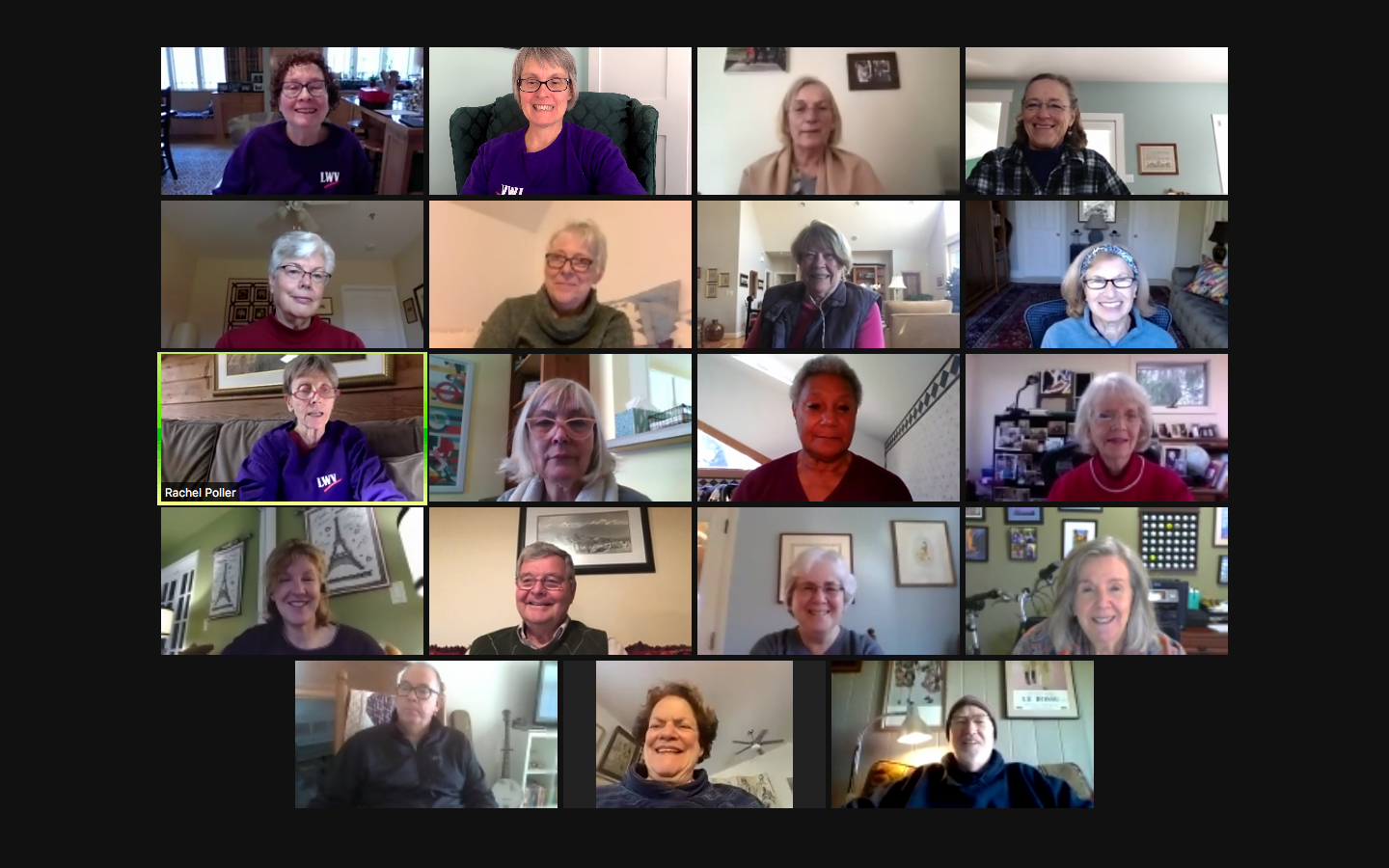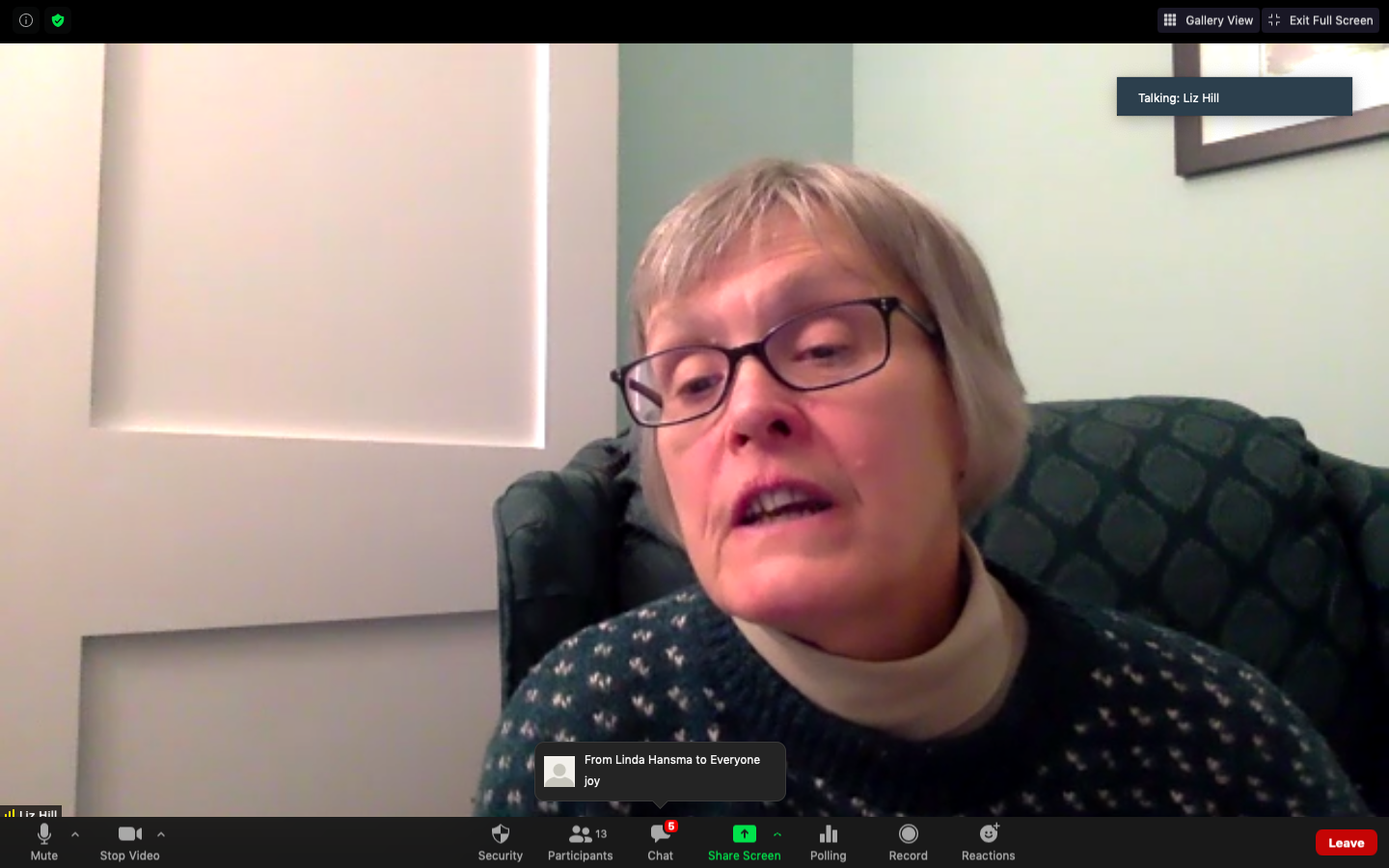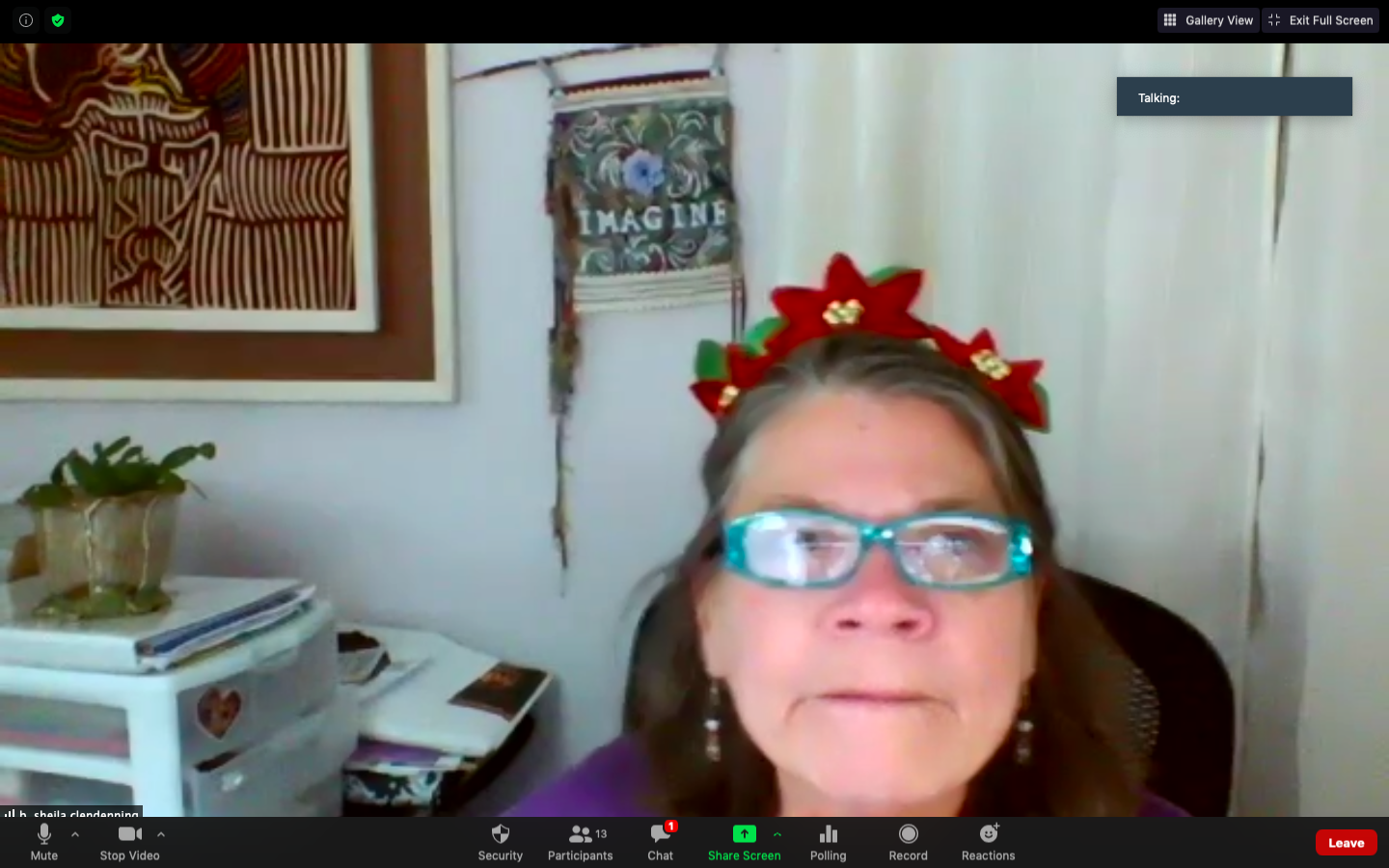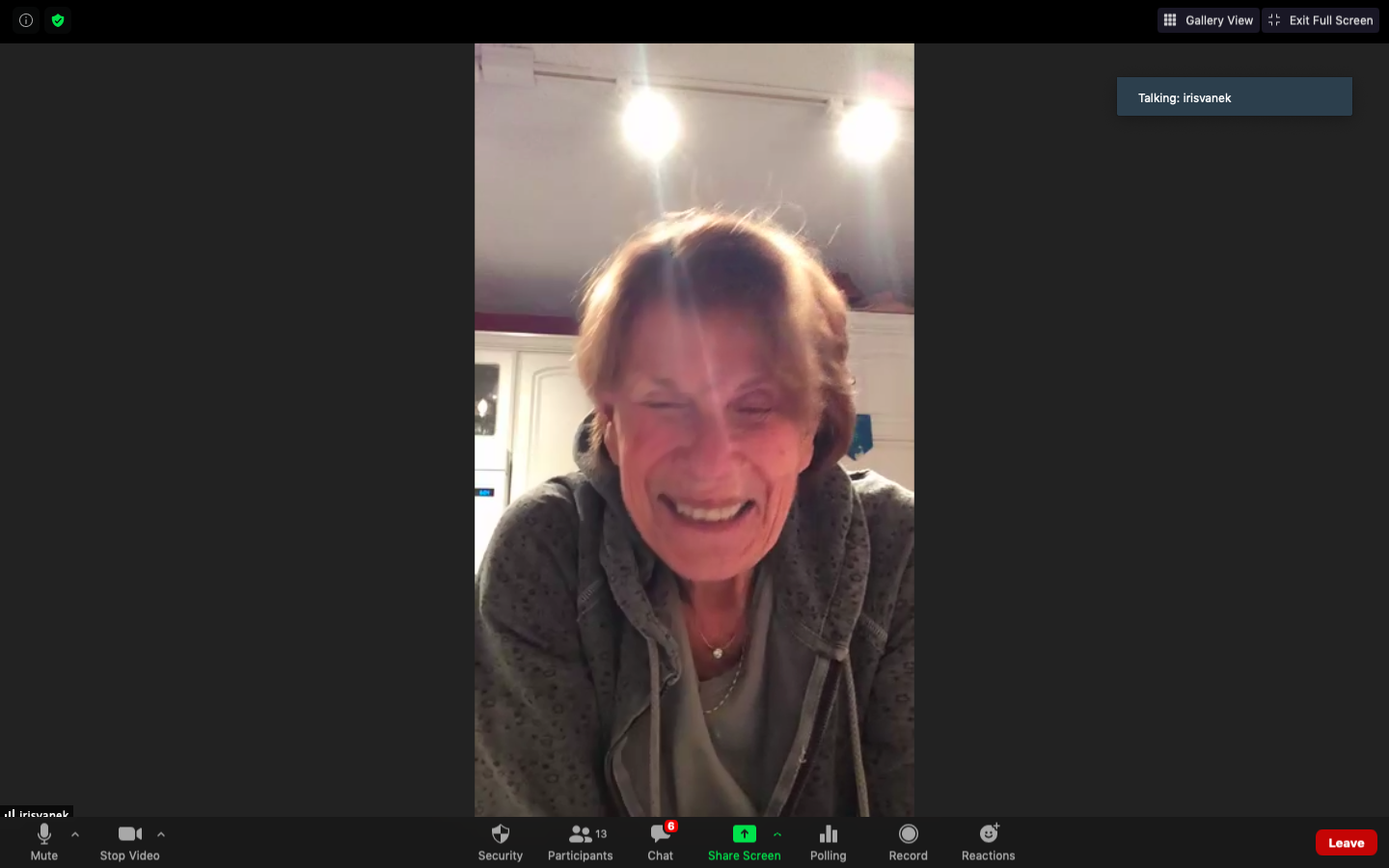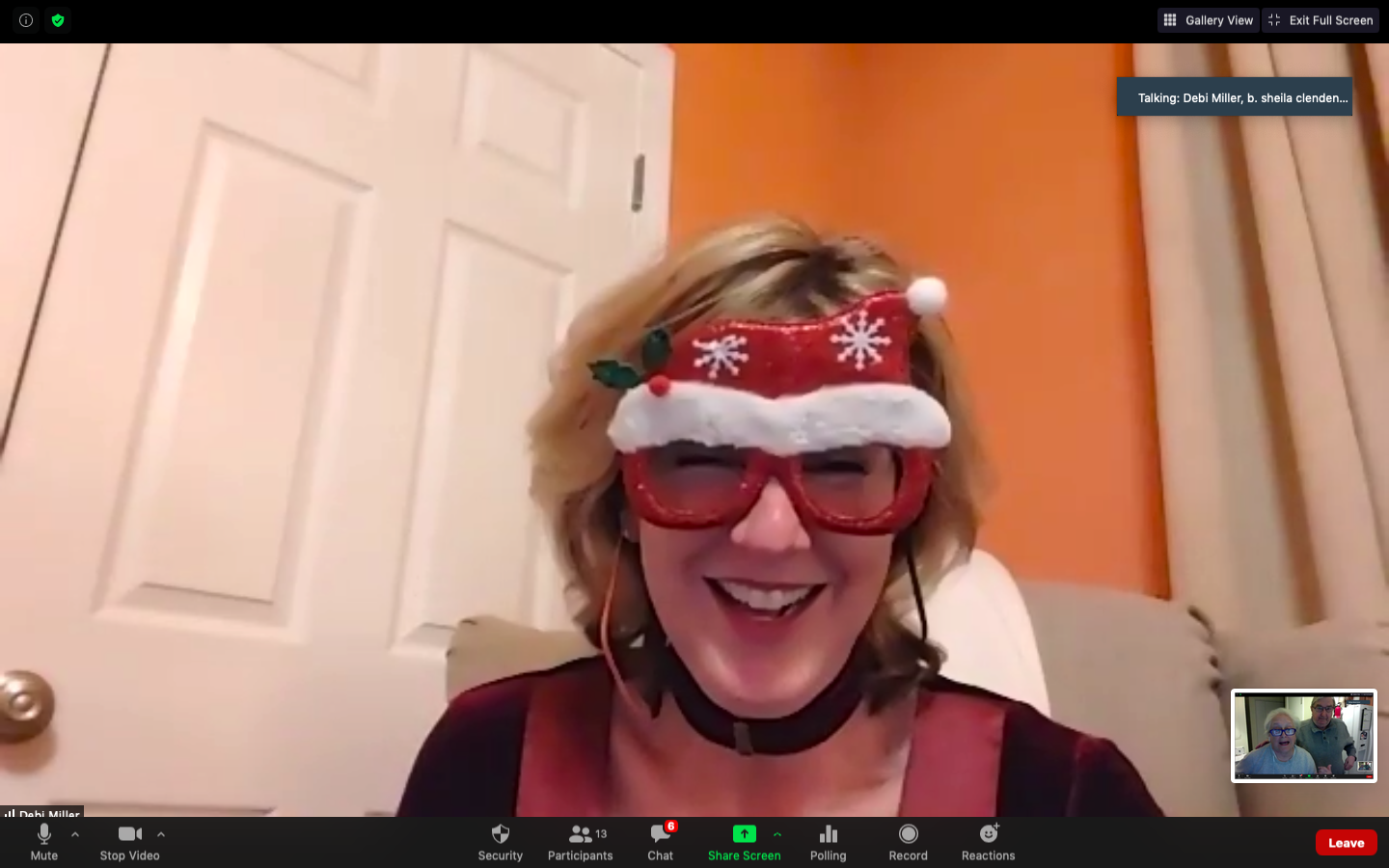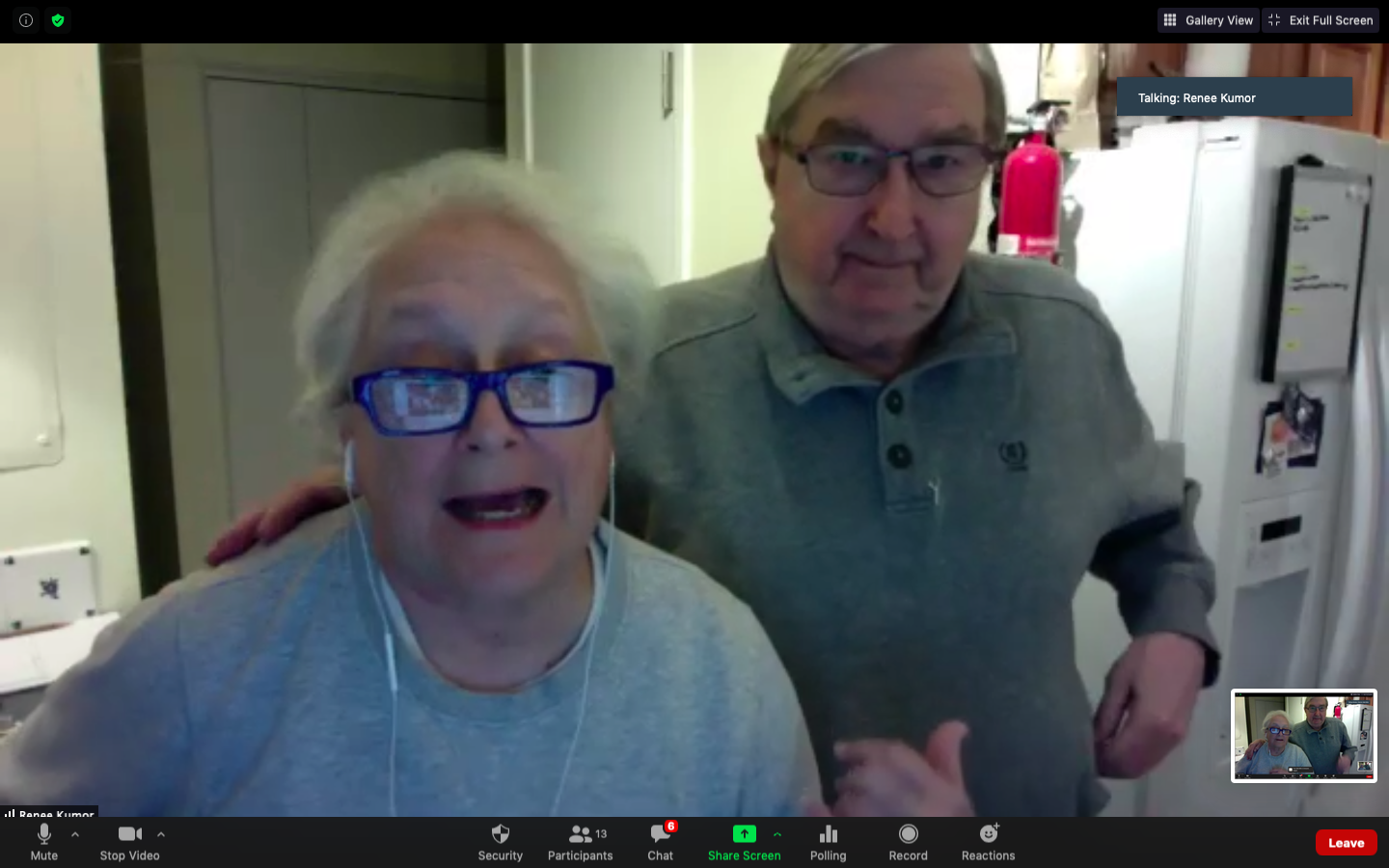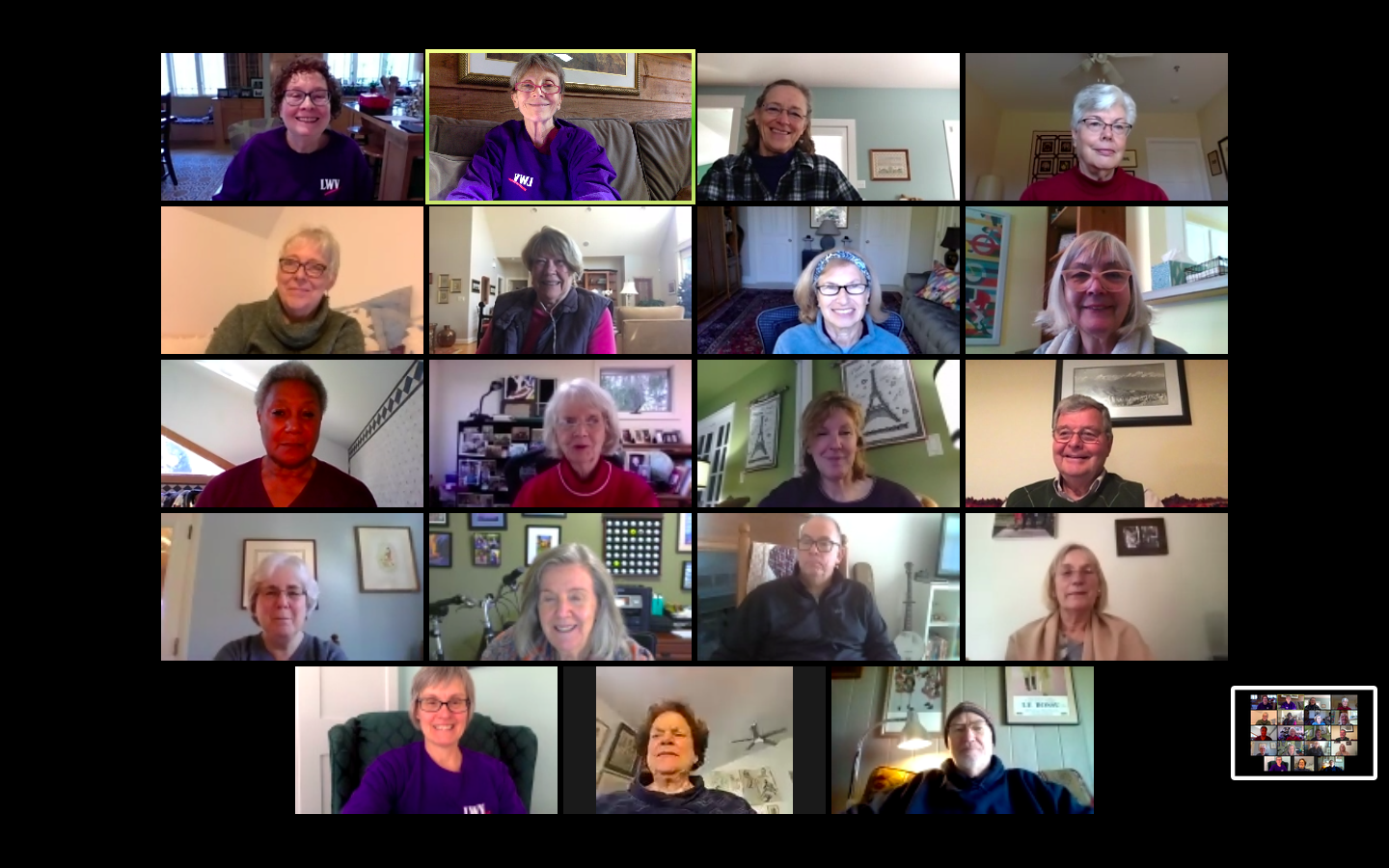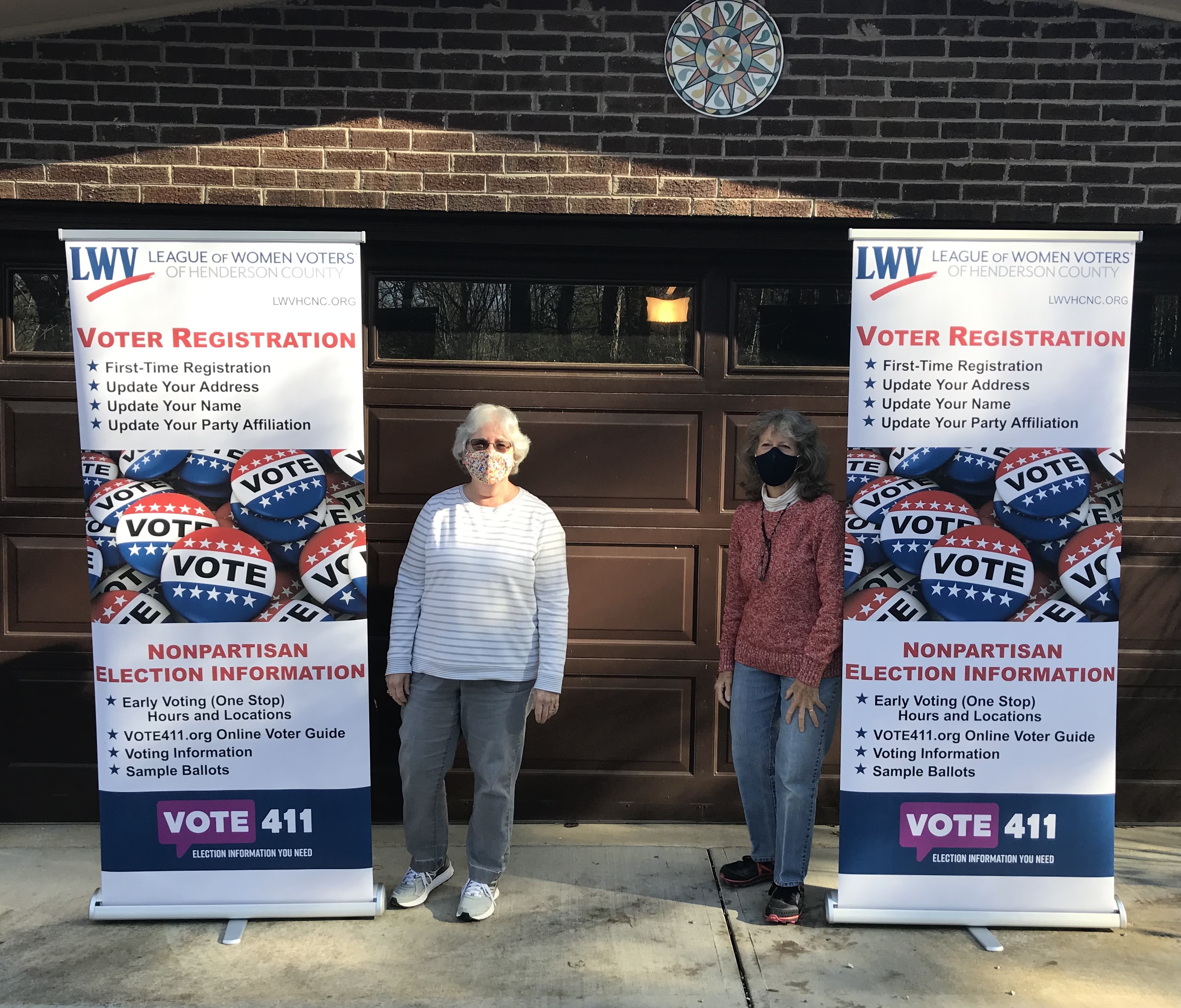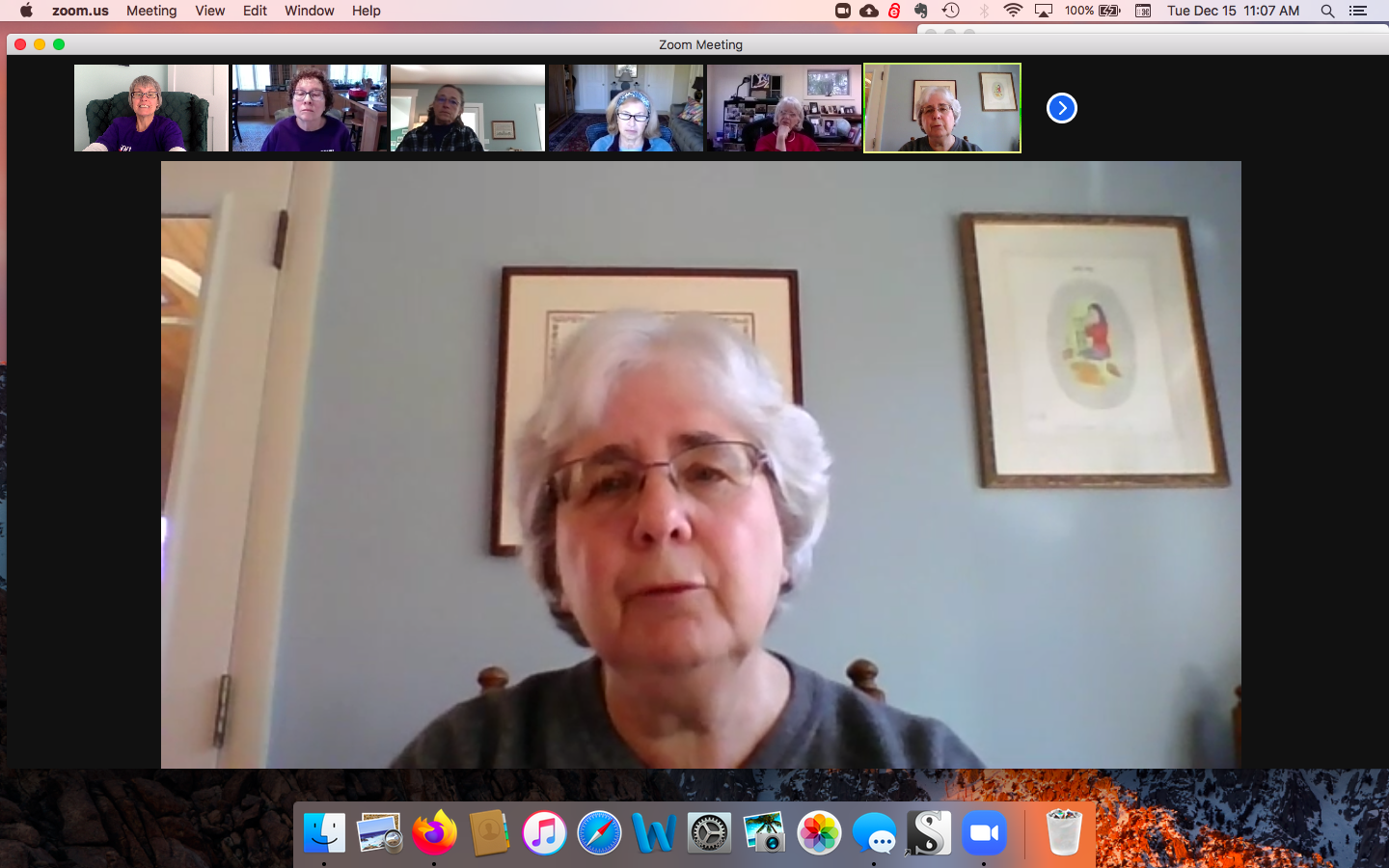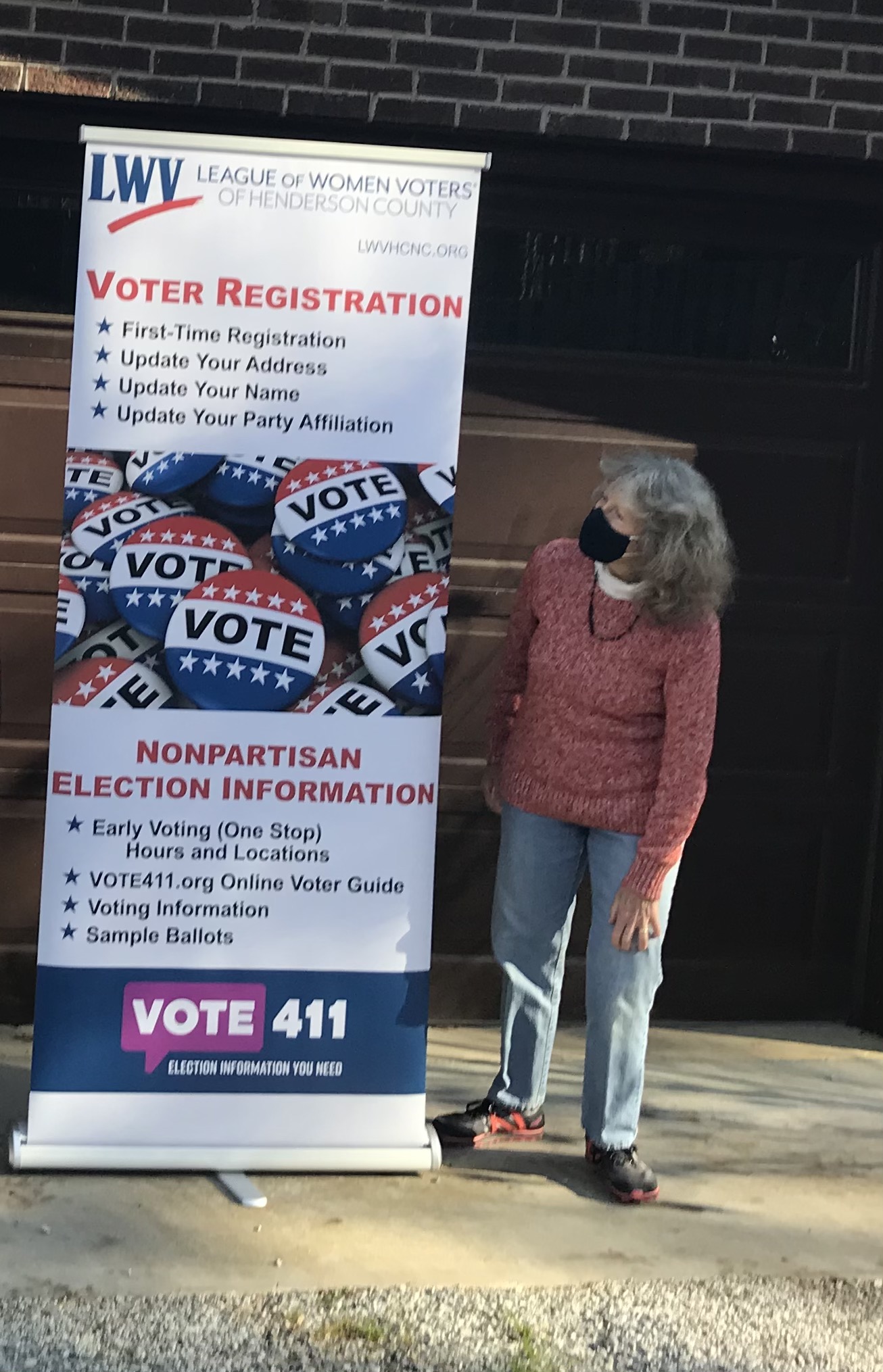 ---
Students Voting For Democracy (SVFD) 2020 – November 3, 2020
Henderson County Public School students grades K-12 participated in a mock election. Students voted for candidates as well as on issues that were designed appropriate for grade level. Students attending school virtually were able to submit online, absentee ballots!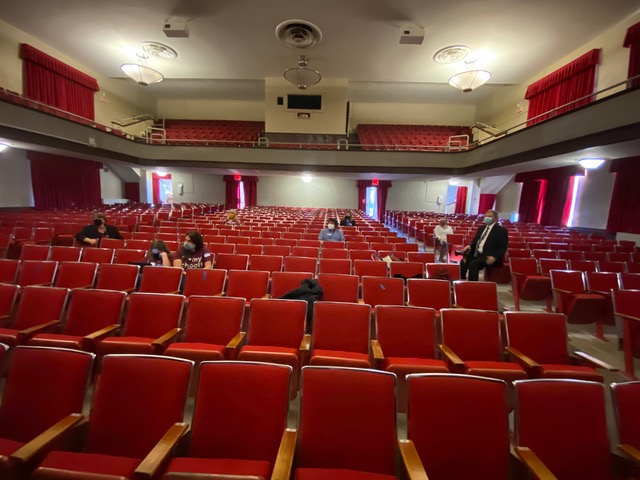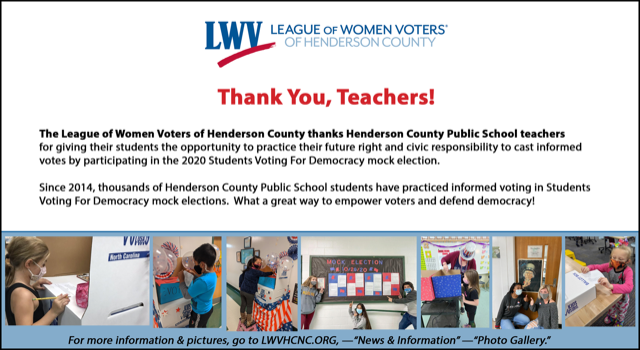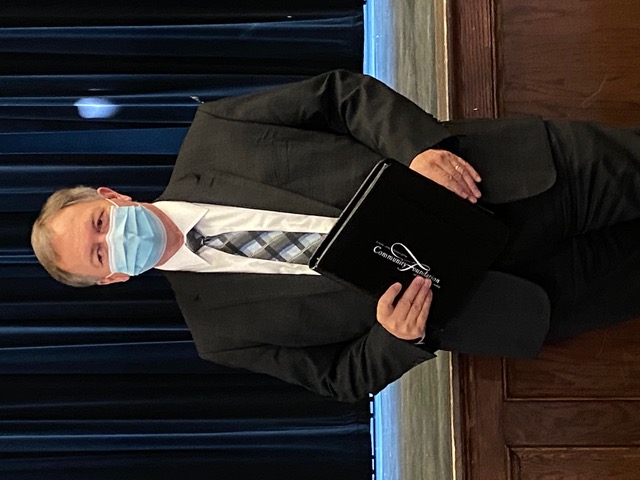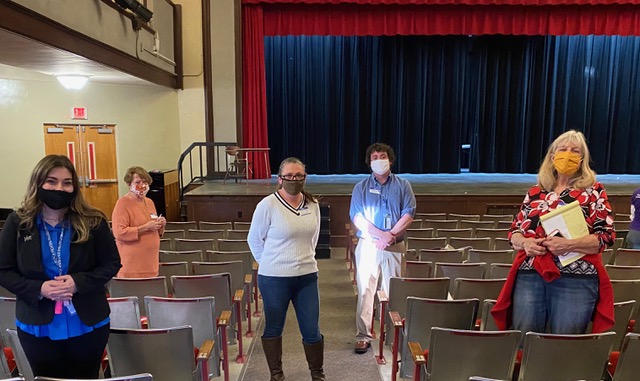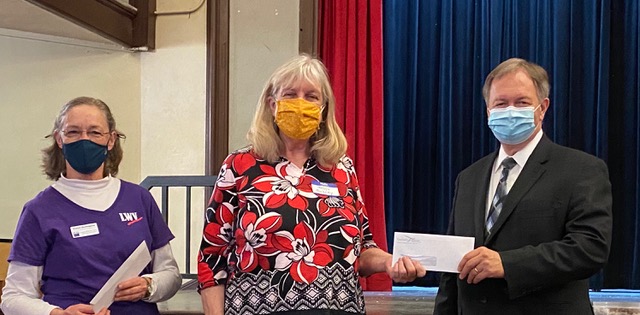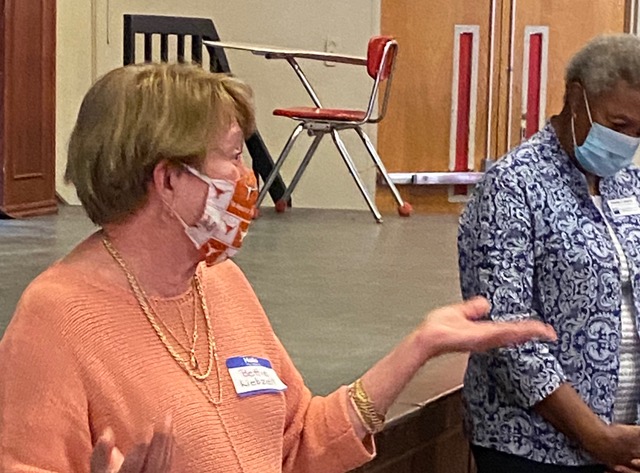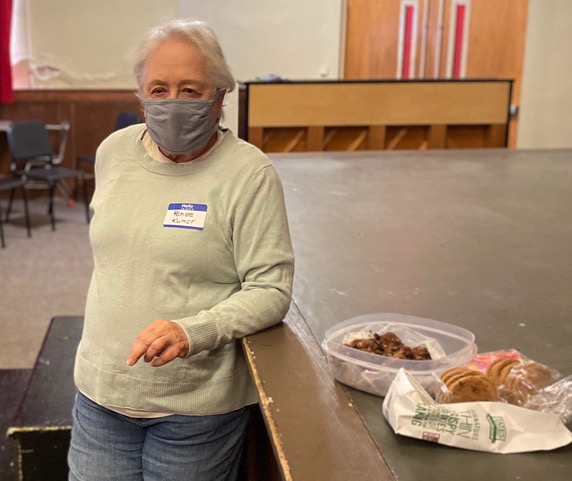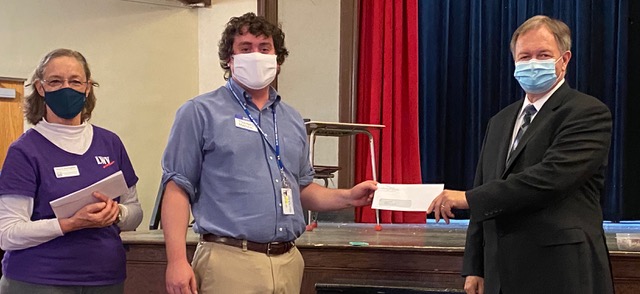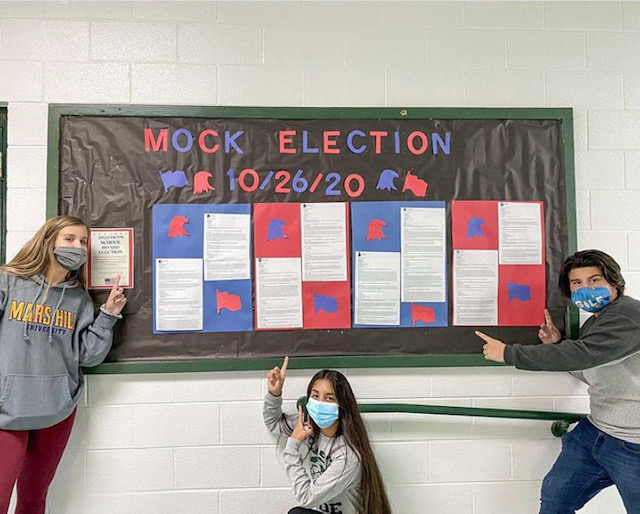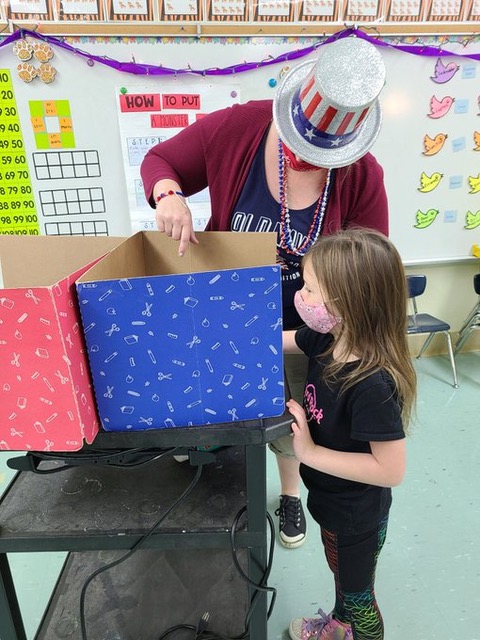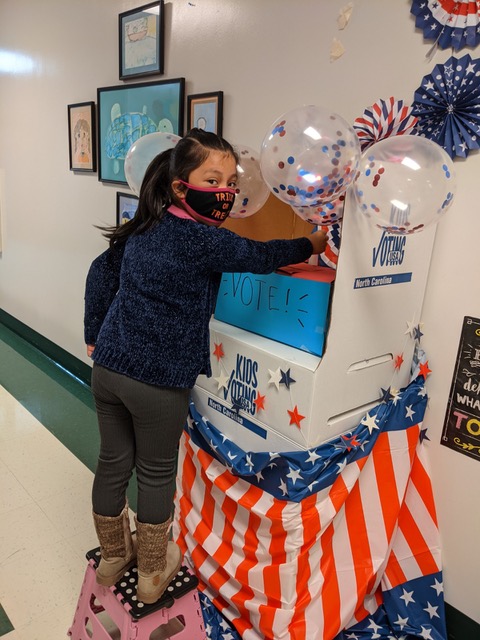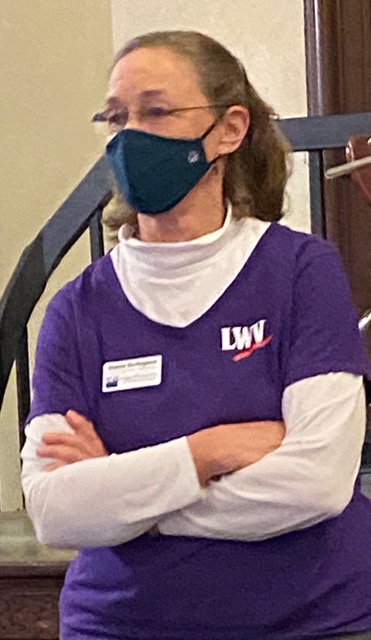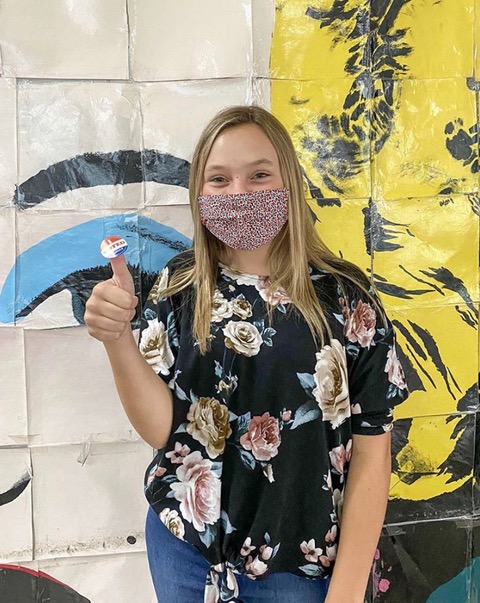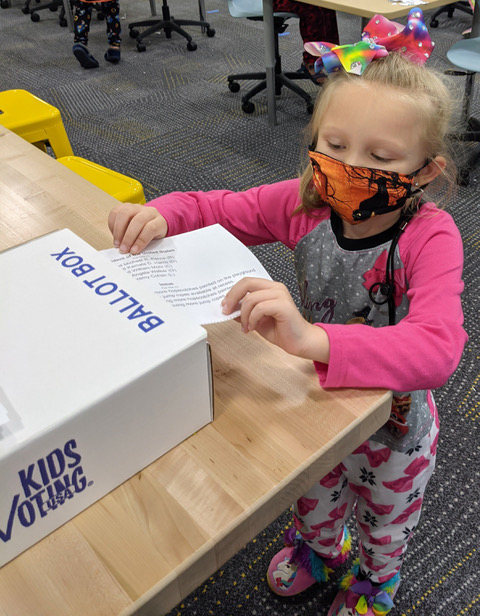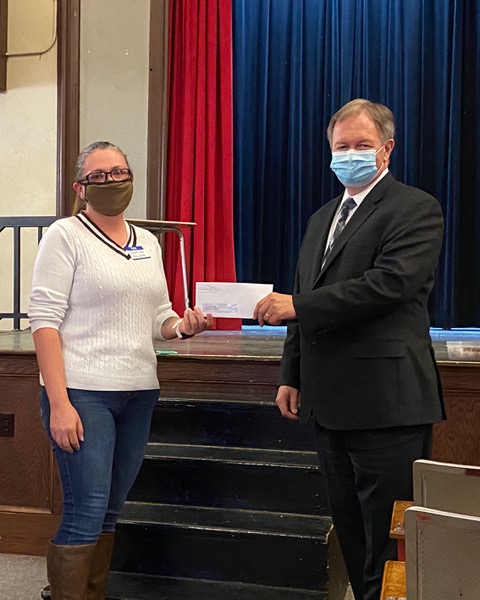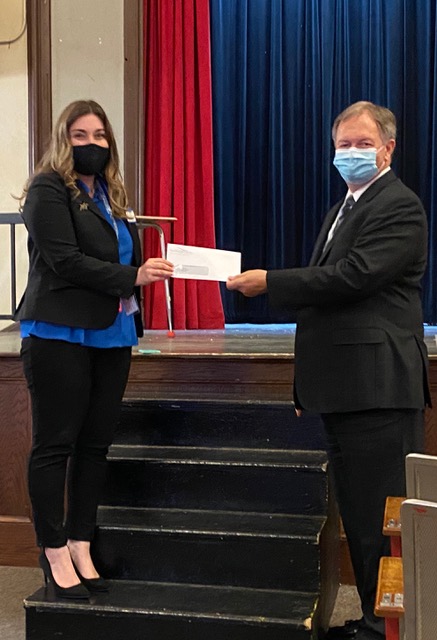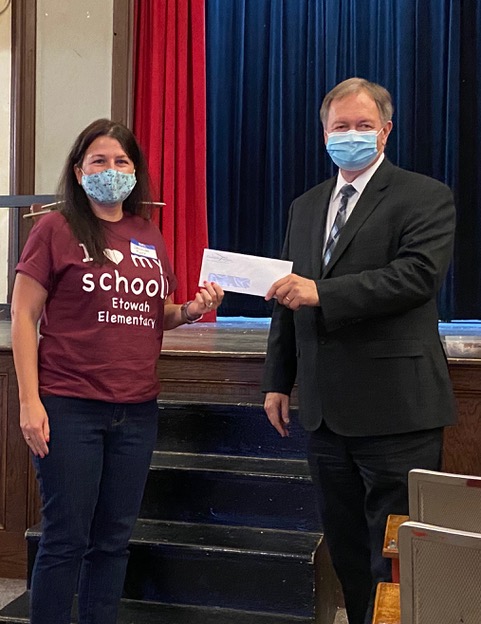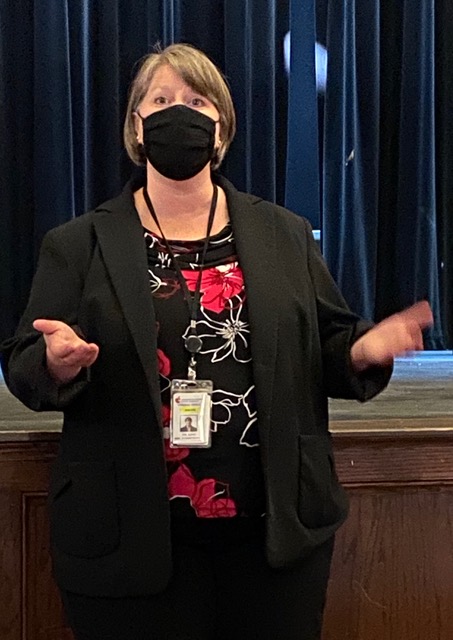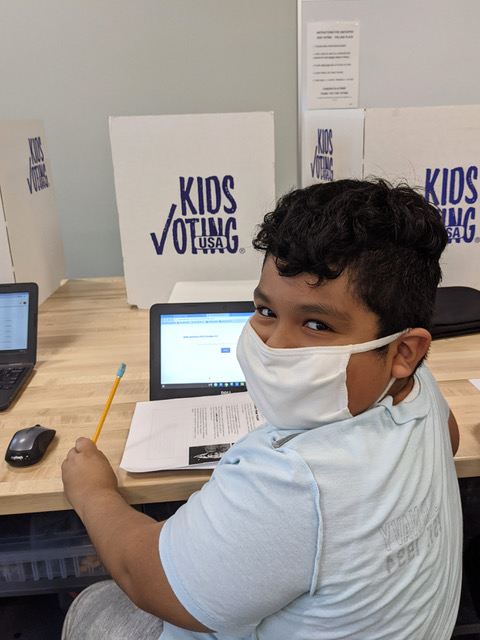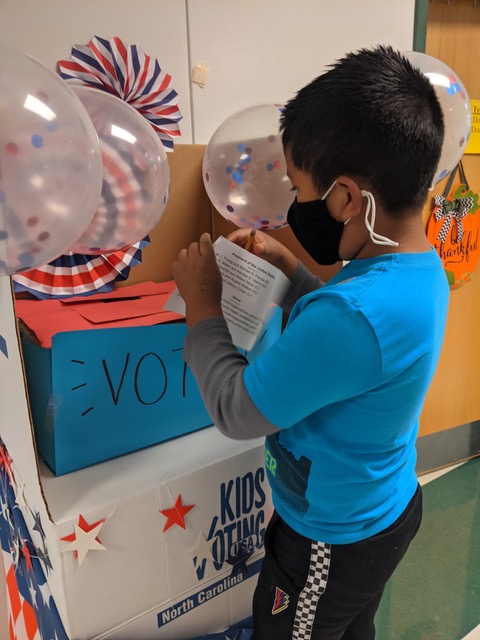 ---
Students Voting for Democracy at East Henderson High School – October 23, 2020
Emma Gilliam, LWVHC member and EHHS Senior Class President says: Thanks to everyone for putting SFVD together! At my school, East Henderson, it was a lot of fun! We made Friday the school wide education/VOTE411 research day as well as showing part of the School board forum video and Monday was school wide voting and patriotic spirit day. It was a great success! Here are some more pictures from East."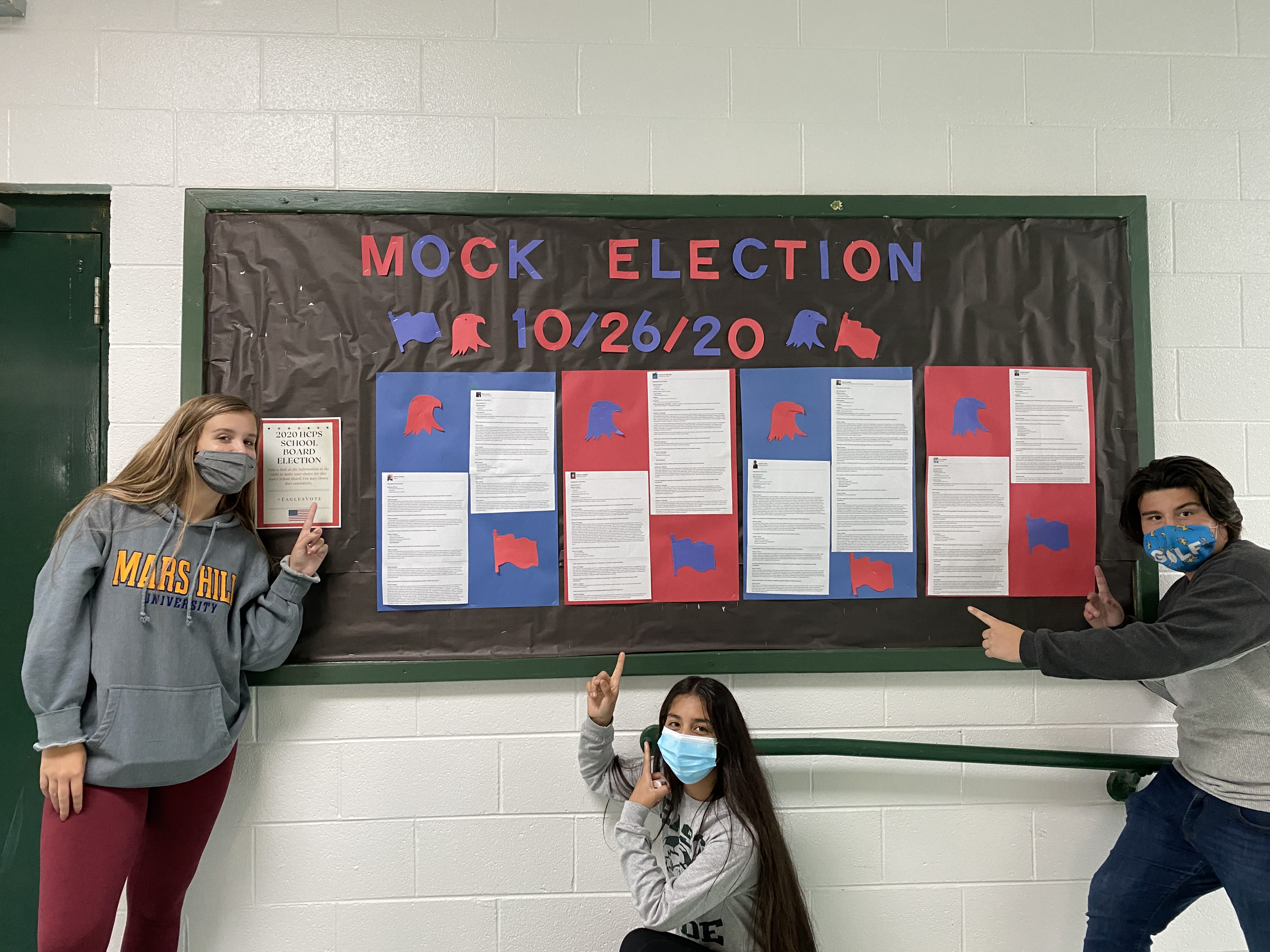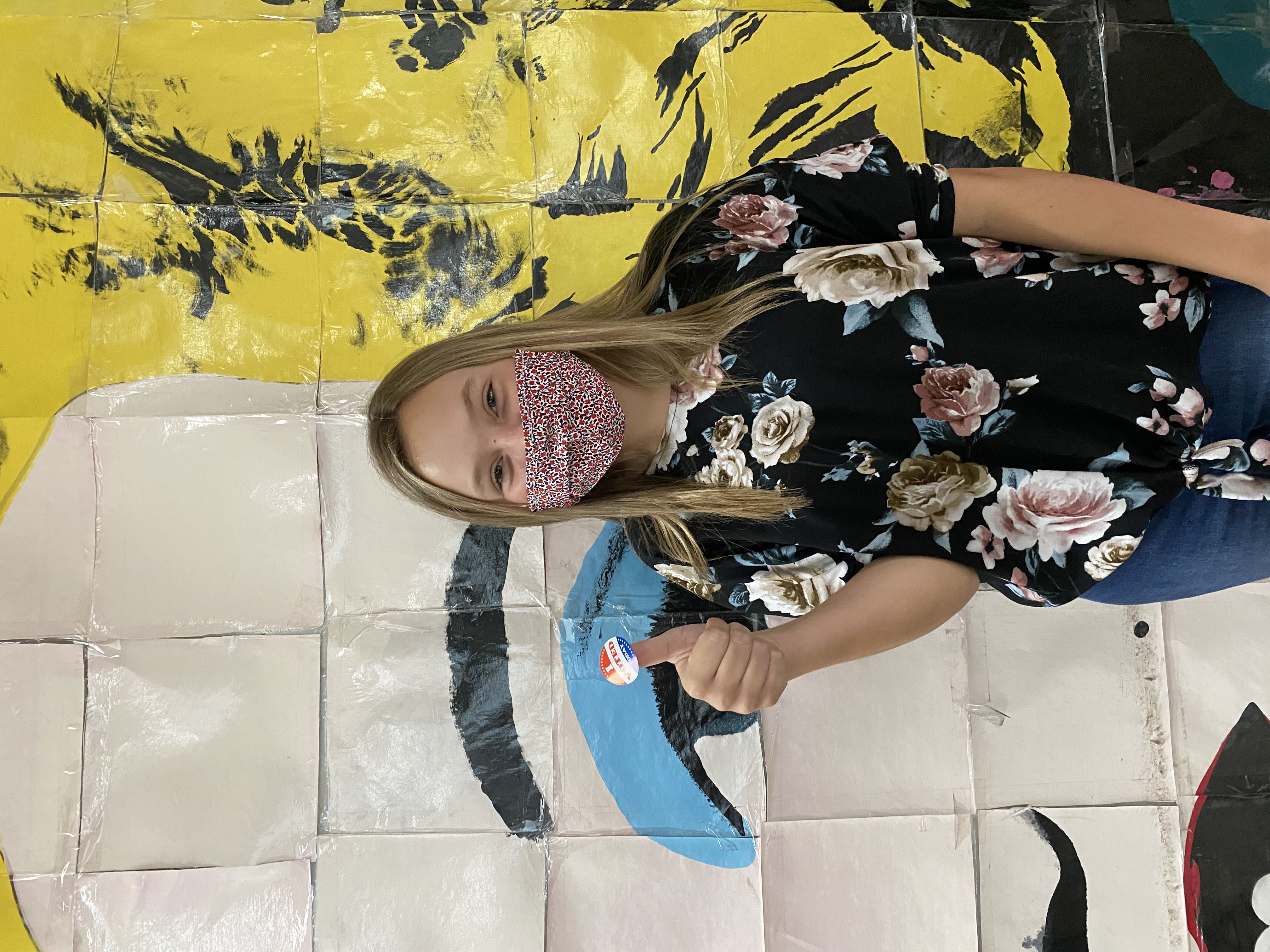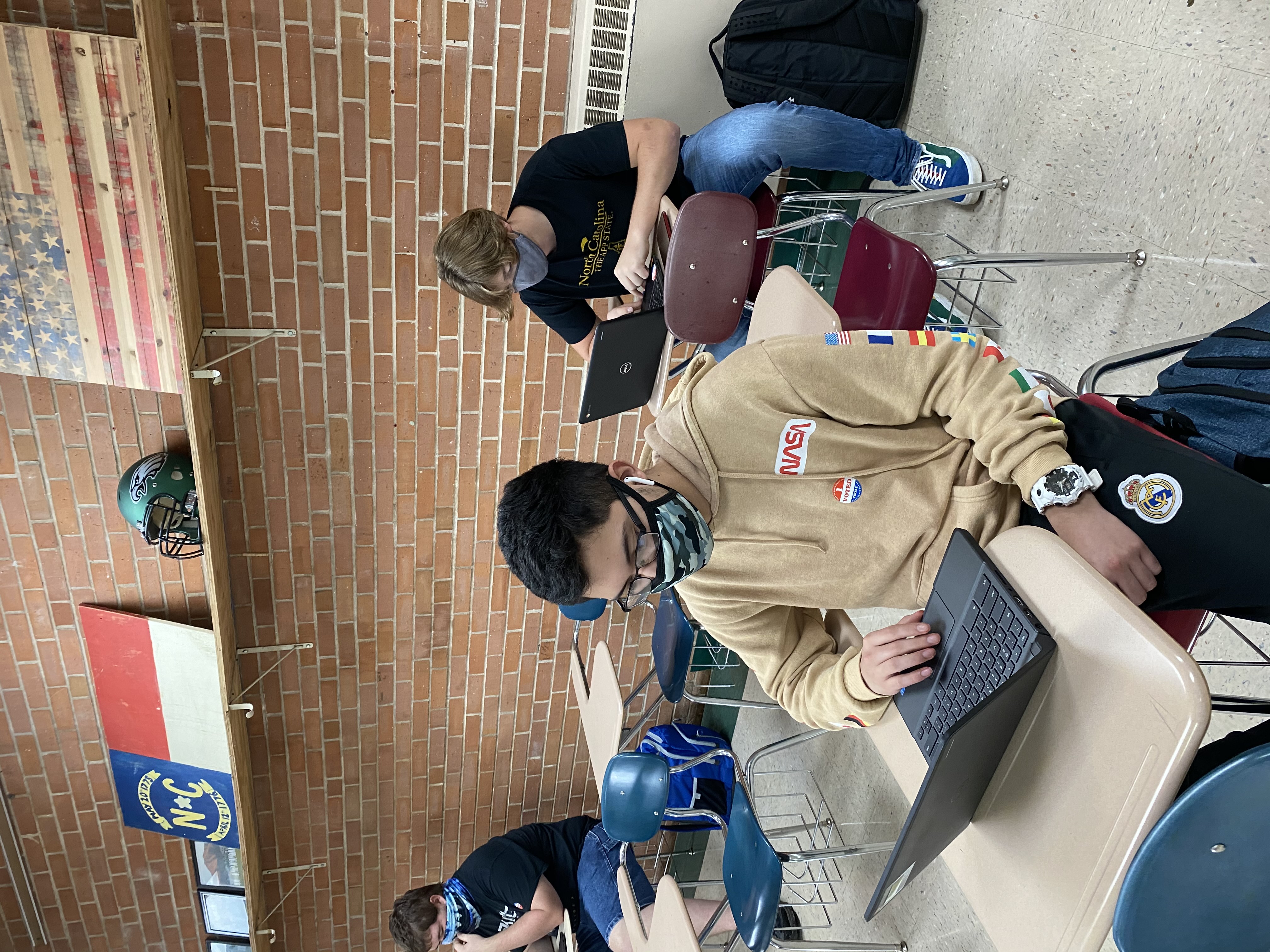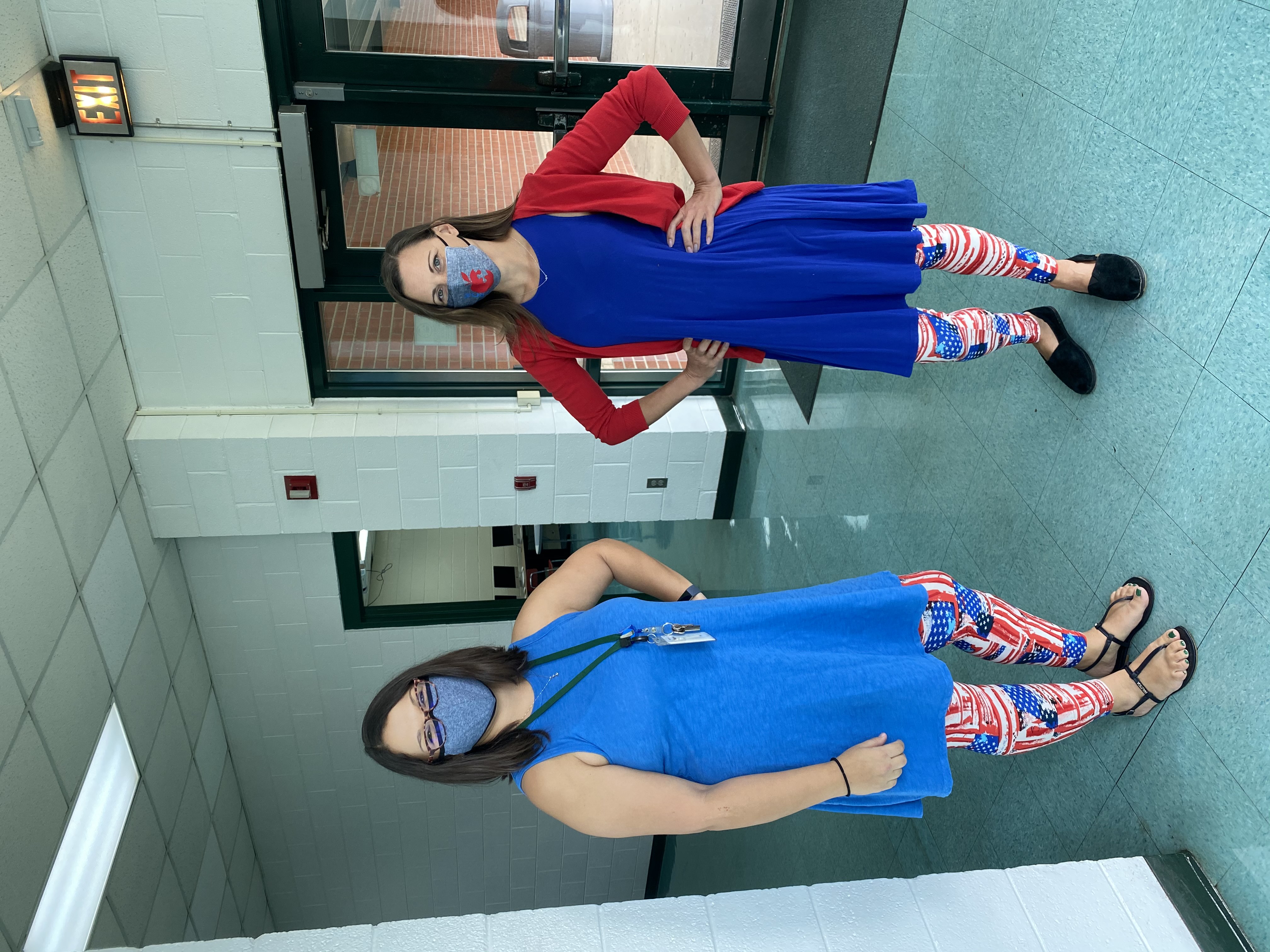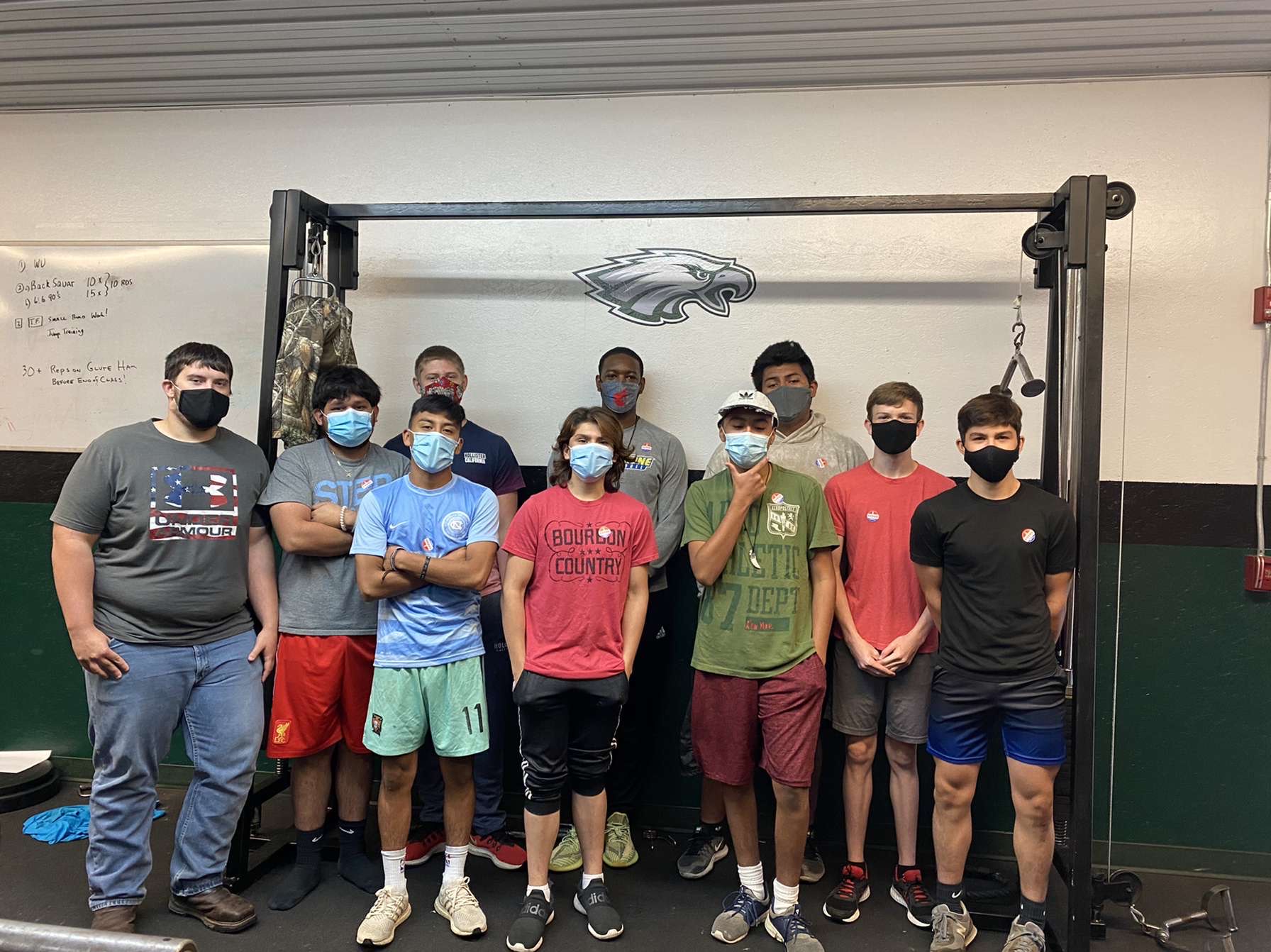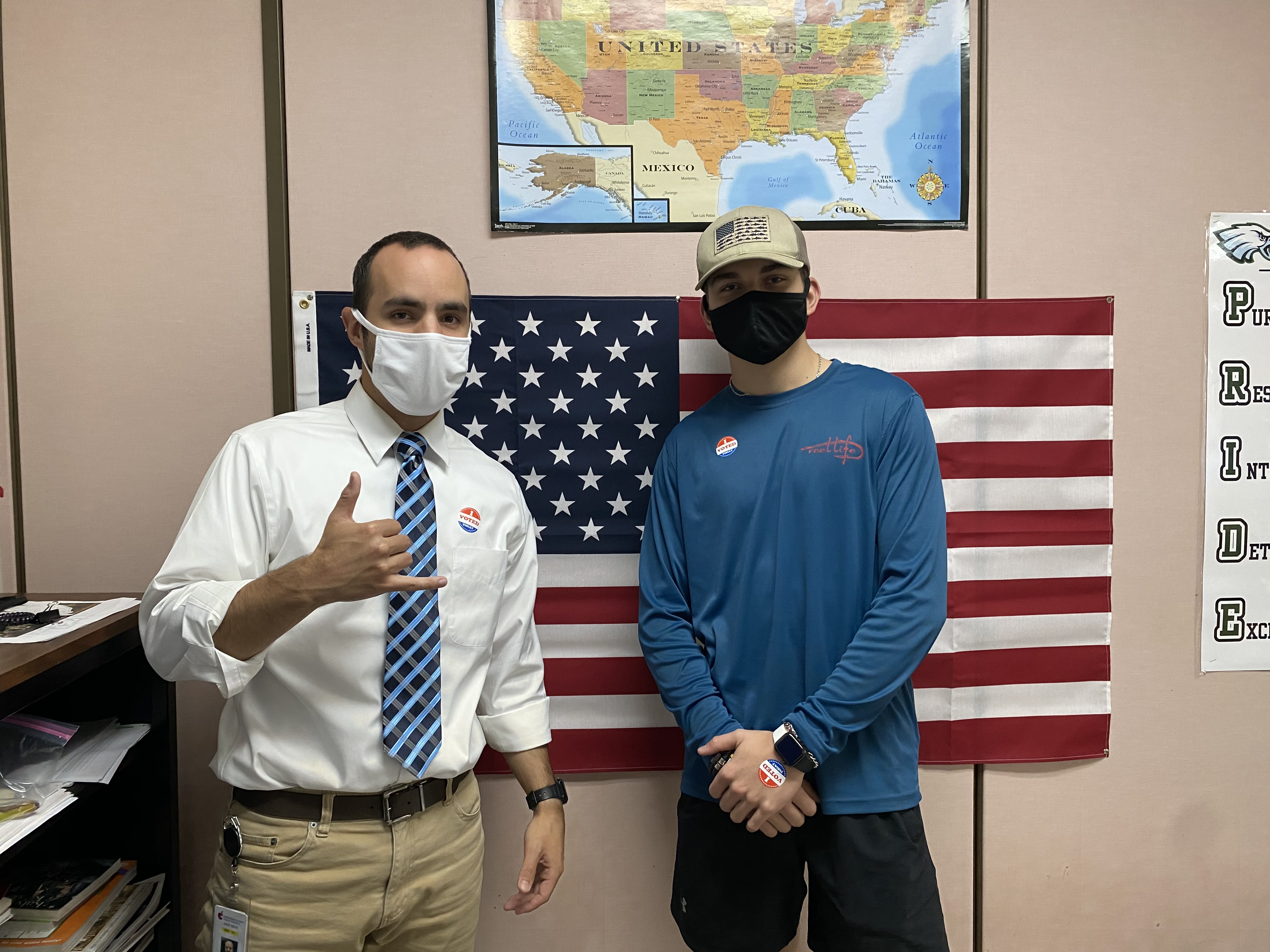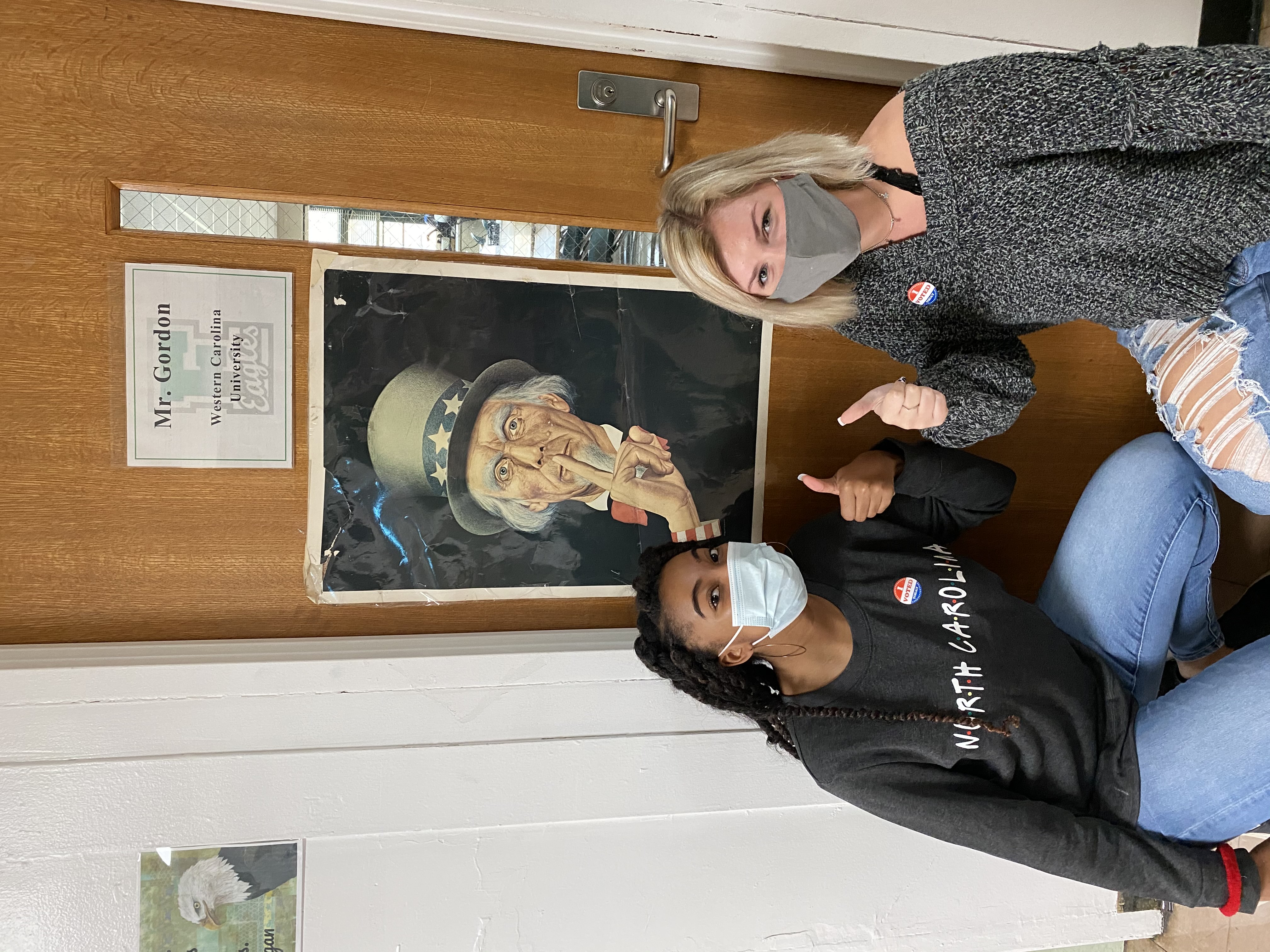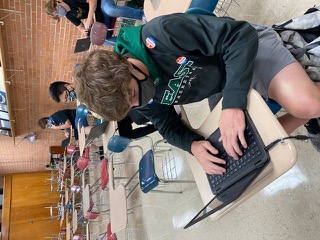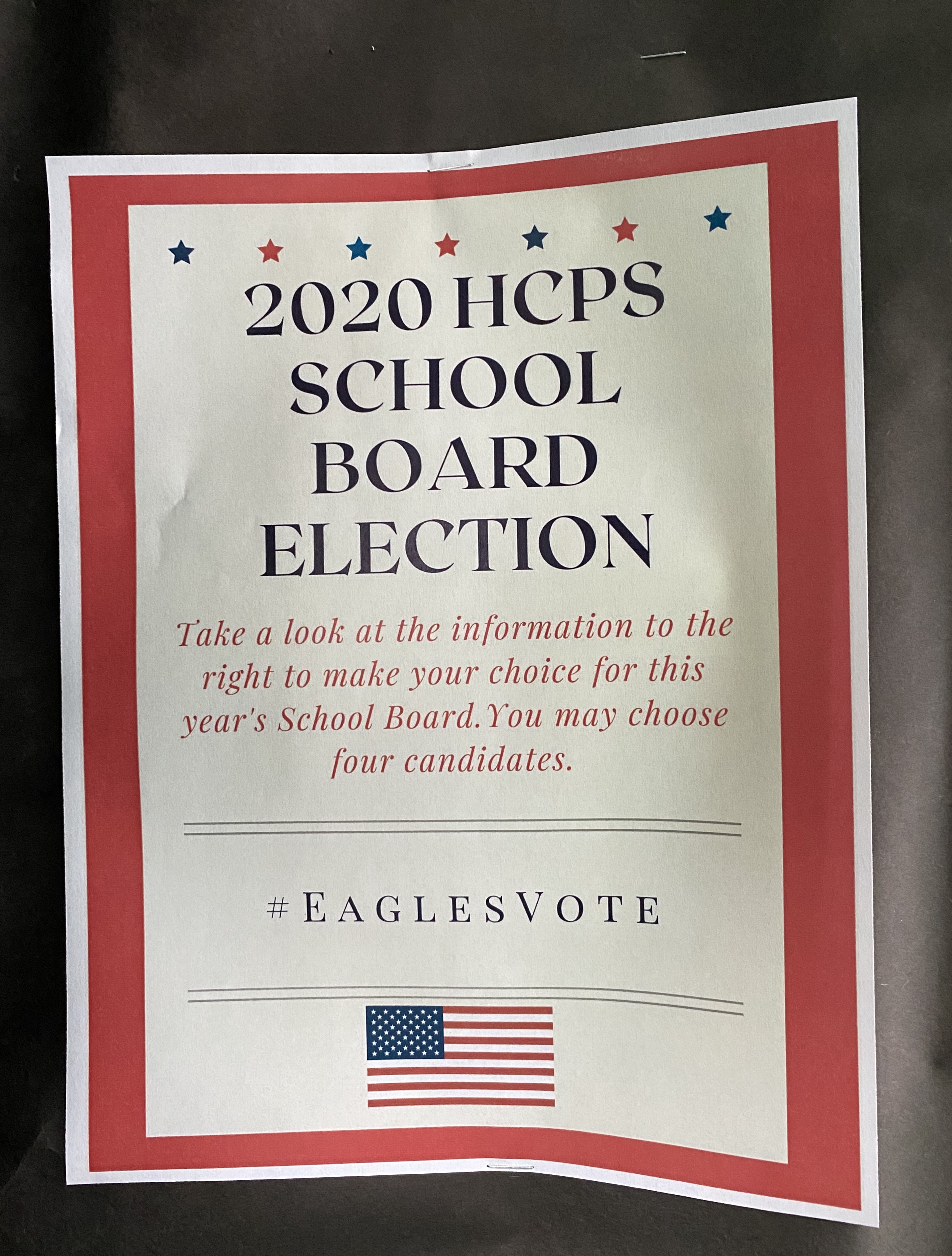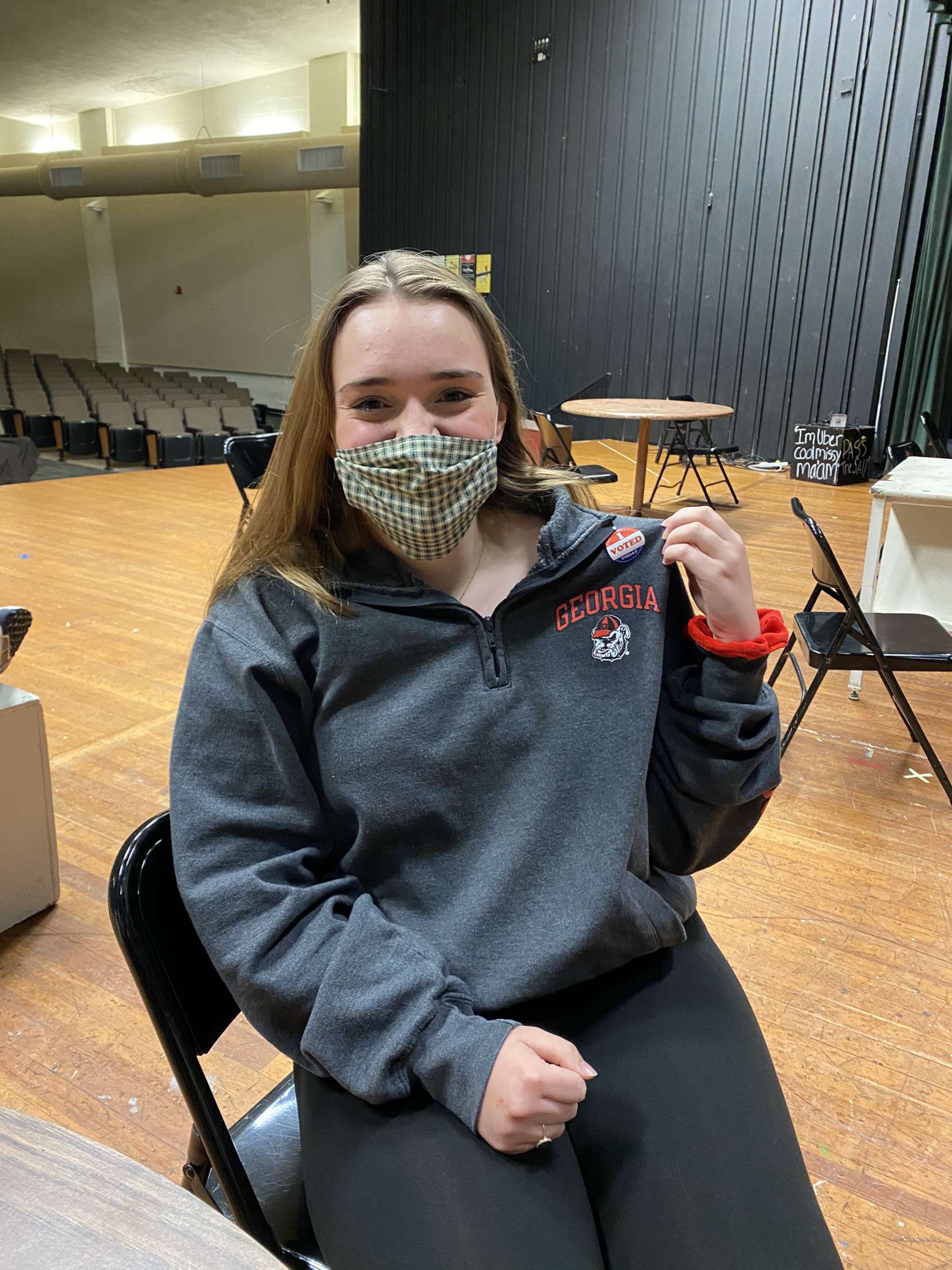 ---
VOTE411 Fall 2020 – October 1, 2020
LWVHC promotes GOTV and informed voting via VOTE411 through yard signs, billboards, advertisements, and flyers.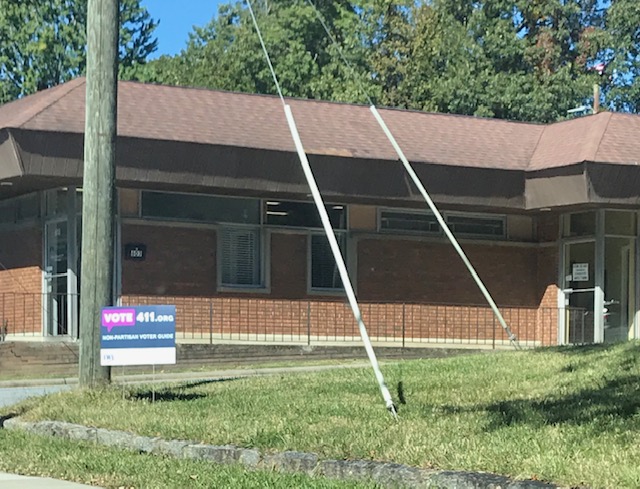 6th Ave West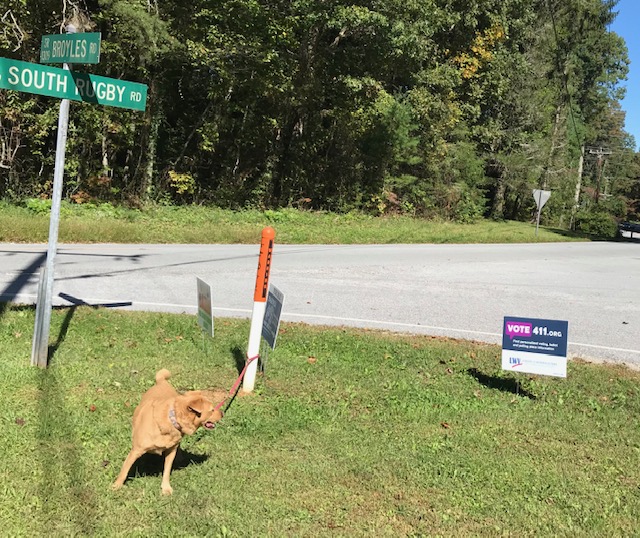 South Rugby & Broyles Rd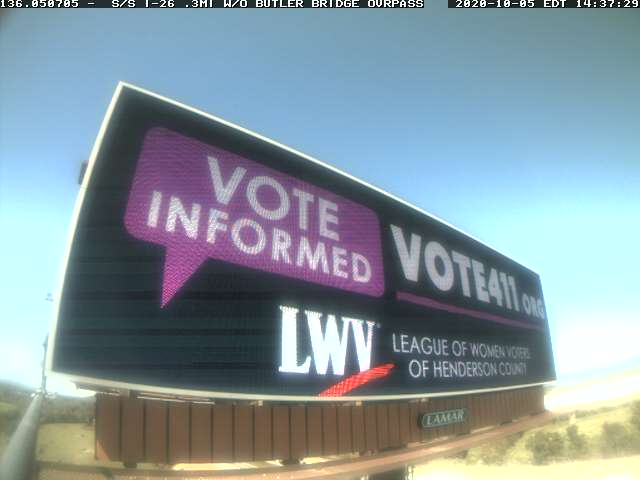 Electronic billboard I-26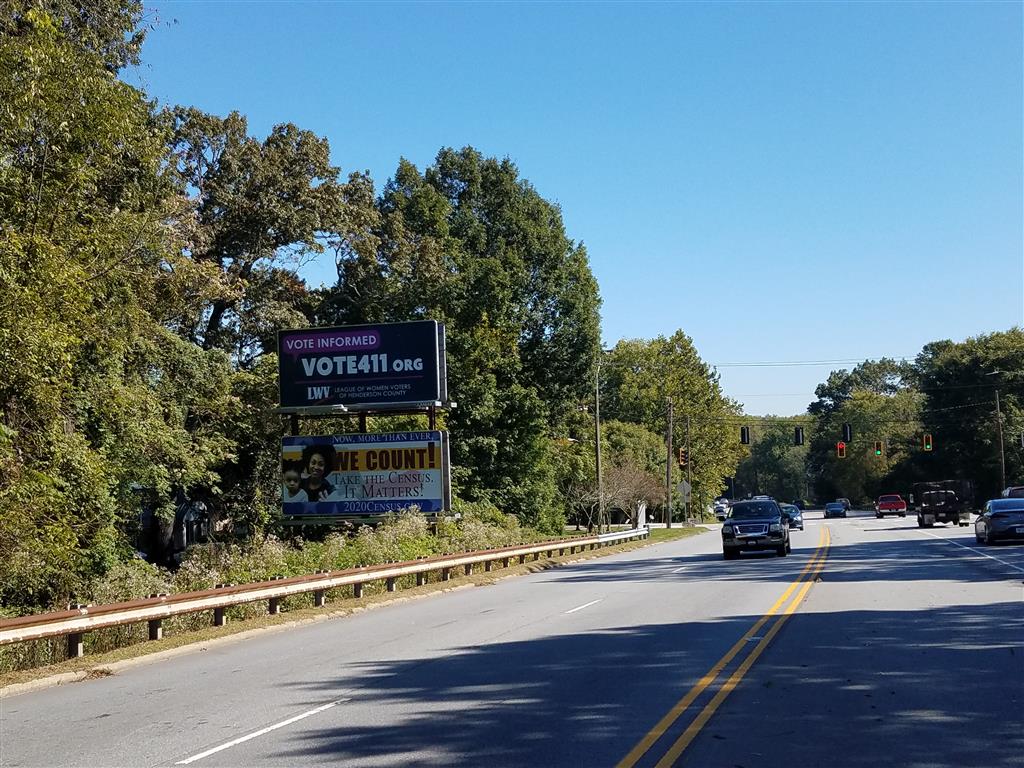 Billboard on 4 Seasons Blvd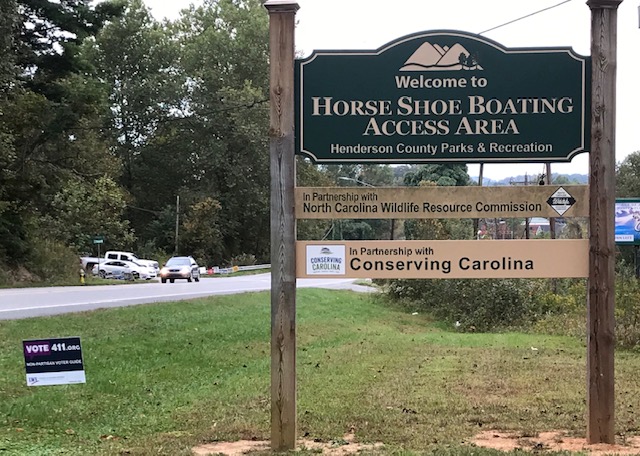 64 West entering Etowah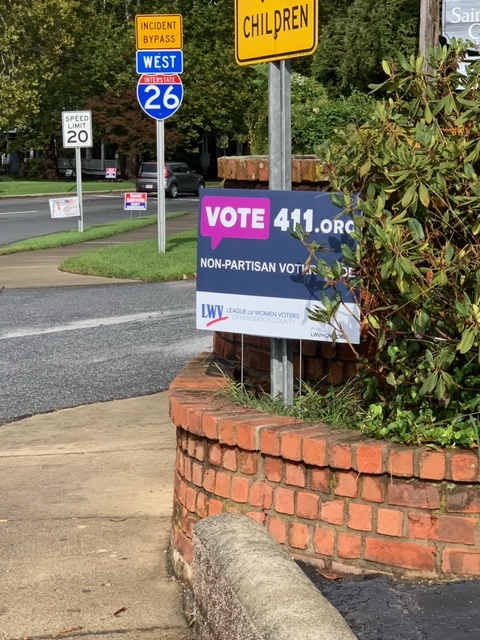 N. Main St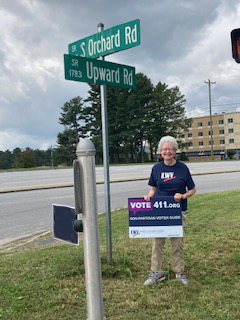 Upward & Orchard Rds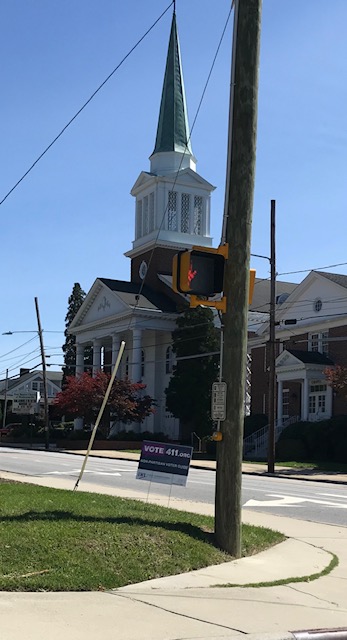 5th Ave West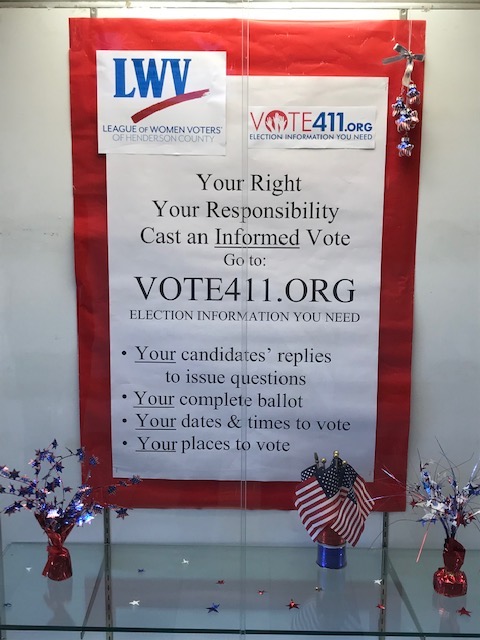 Main Library Display Case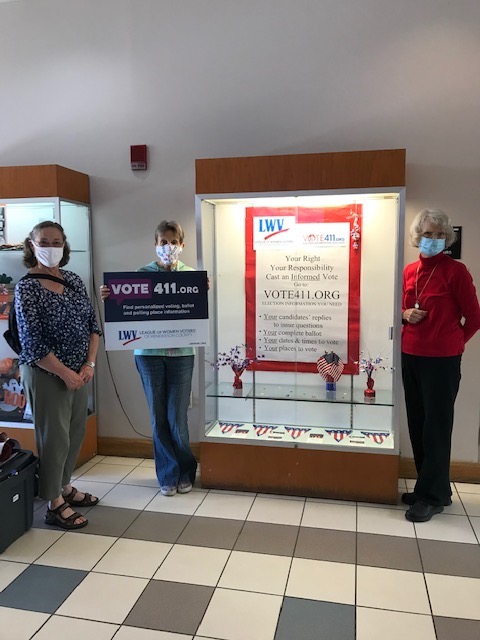 Main Library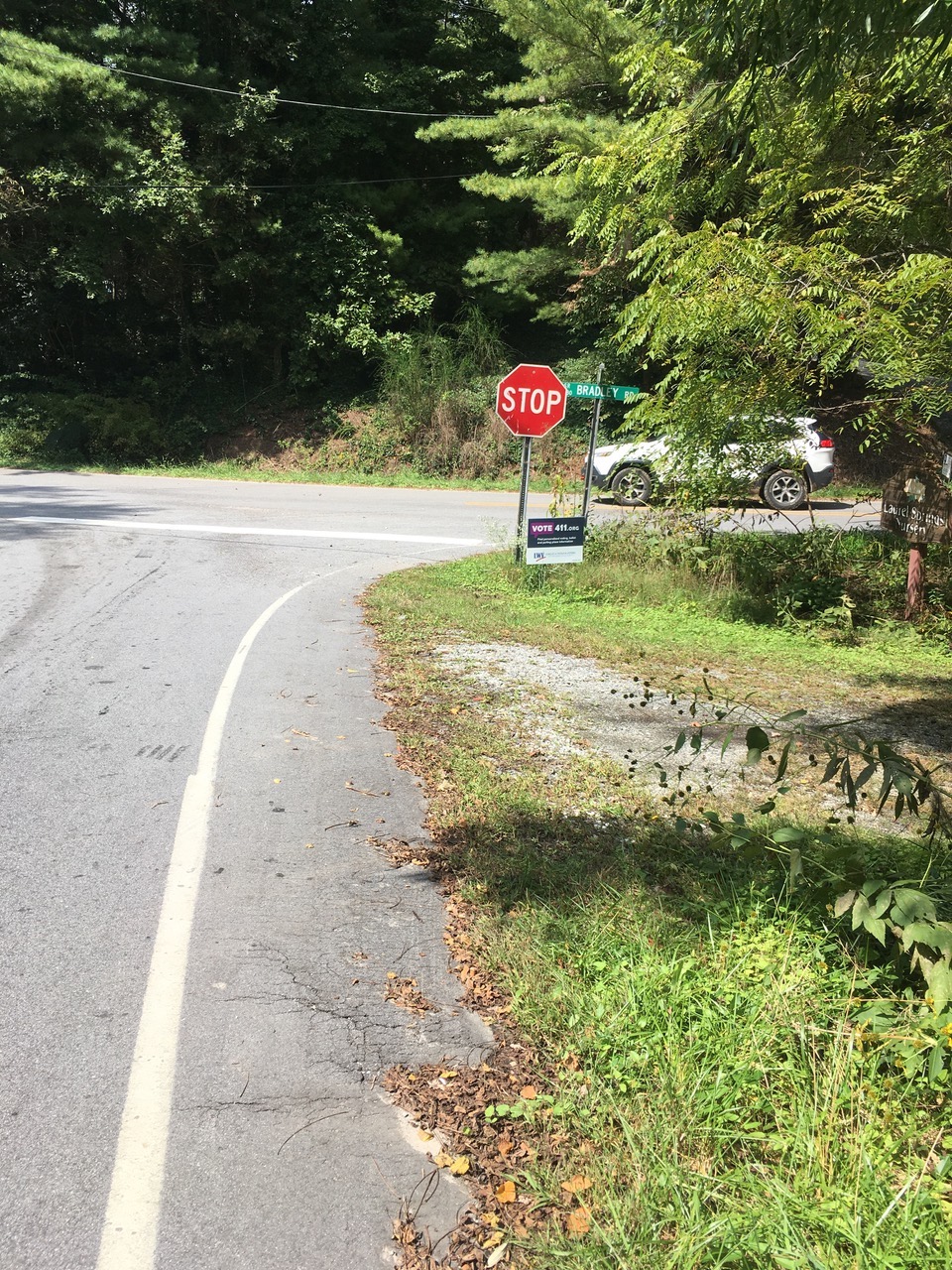 Bradley Road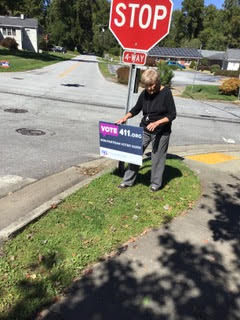 5th & White Pine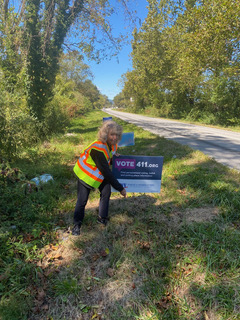 Haywood Rd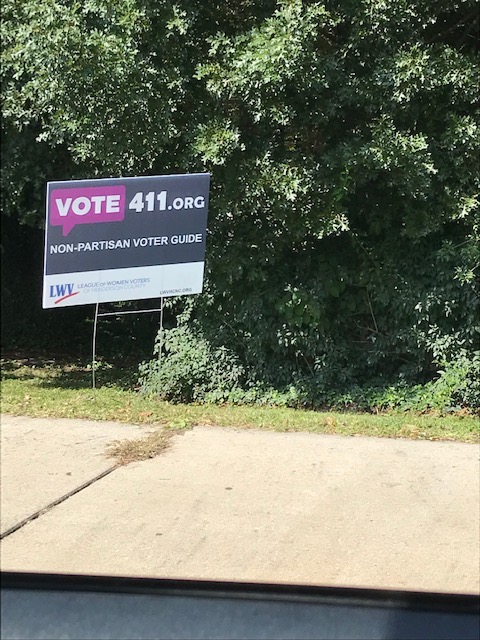 Brevard Rd & Blythe St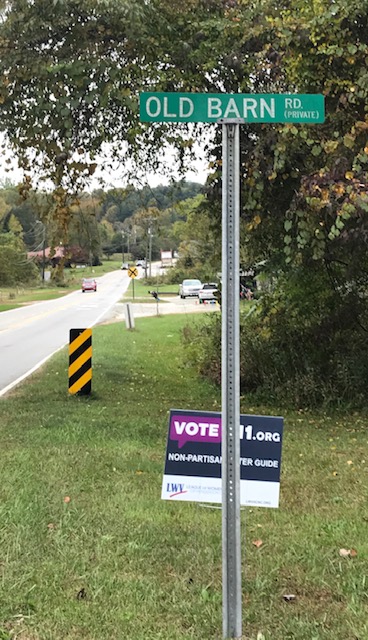 64 Horseshoe
---
2020 Voter Registrations: July/August/September – August 1, 2020
LWVHC Voter Services remains undaunted in the face of pandemic! Registration events are a huge hit throughout the summer and fall including at farmers' markets, Main St, churches, breweries, and parks.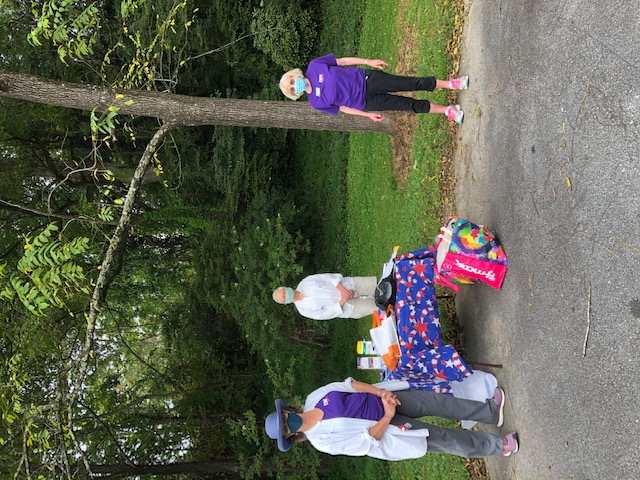 Saluda Food Pantry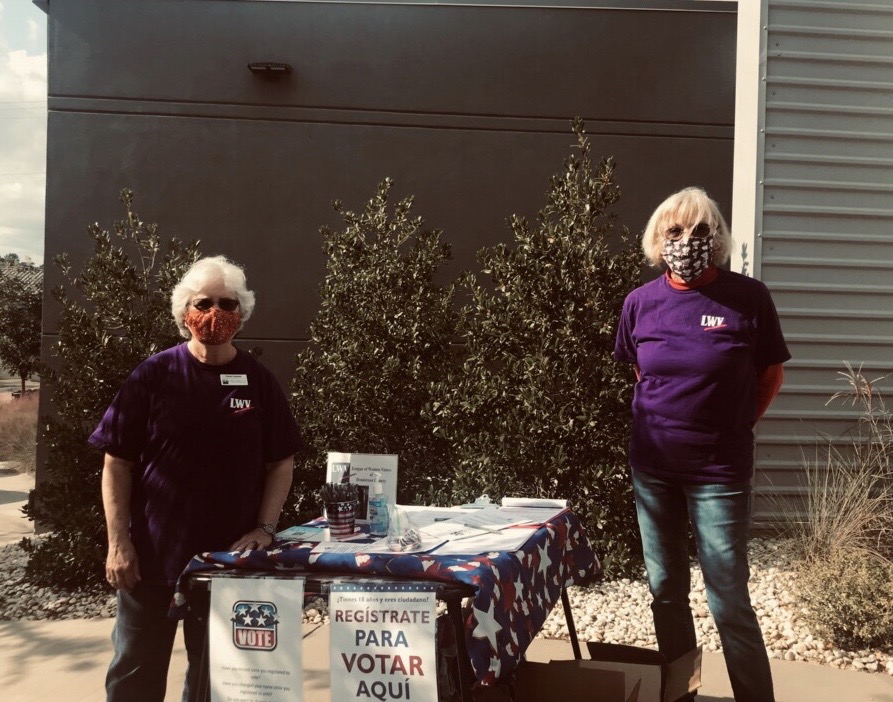 Interfaith Assistance Ministry IAM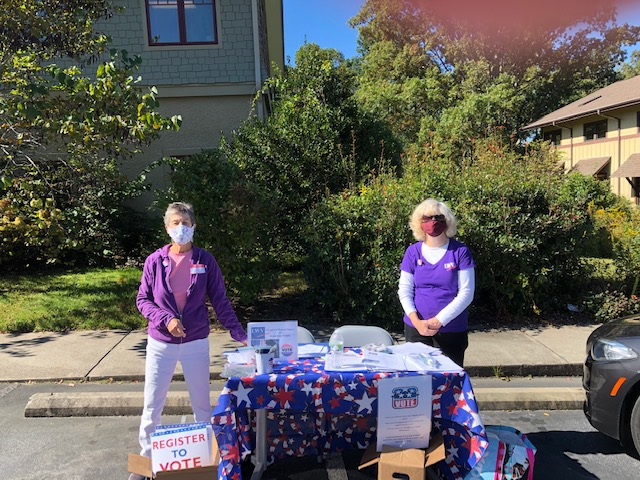 Diaper Drive Through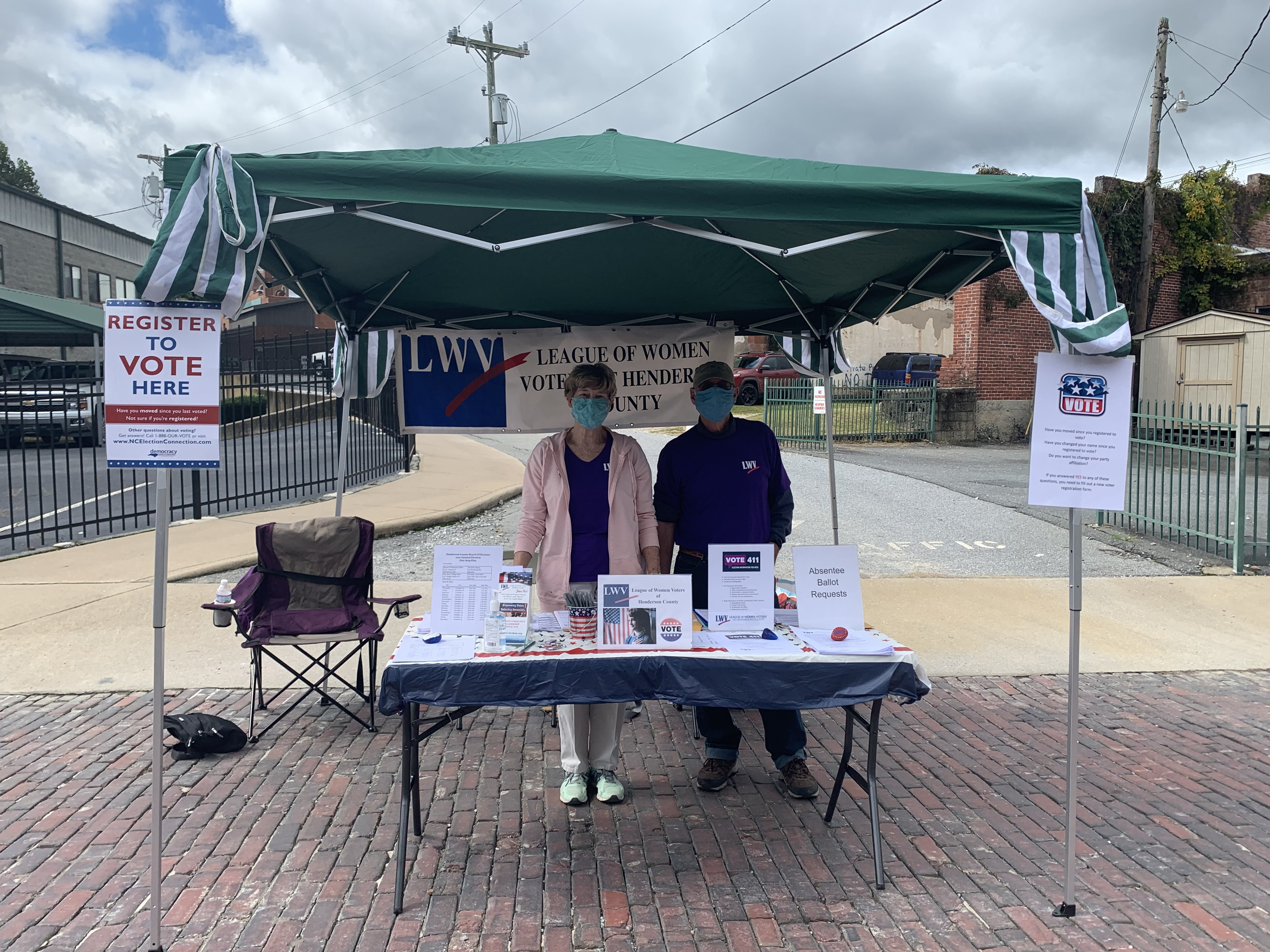 7th Ave Depot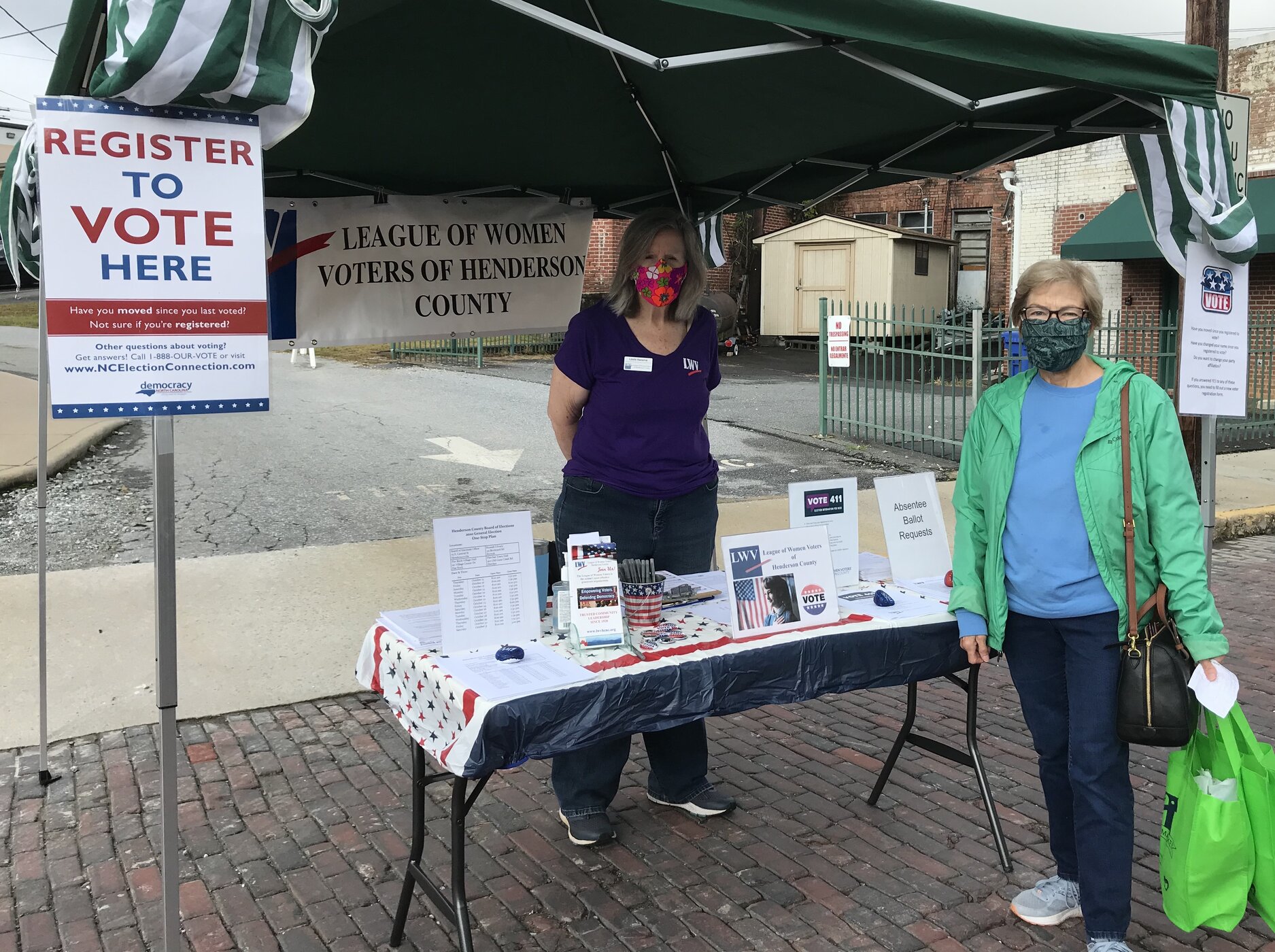 7th Ave Depot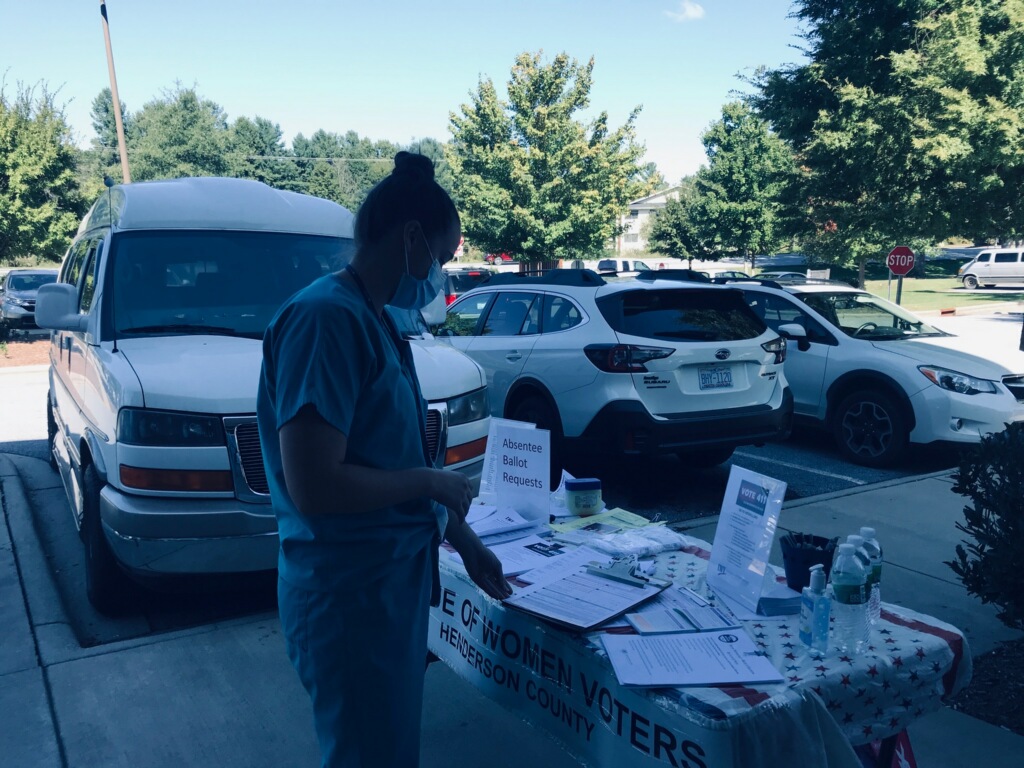 Blue Ridge Health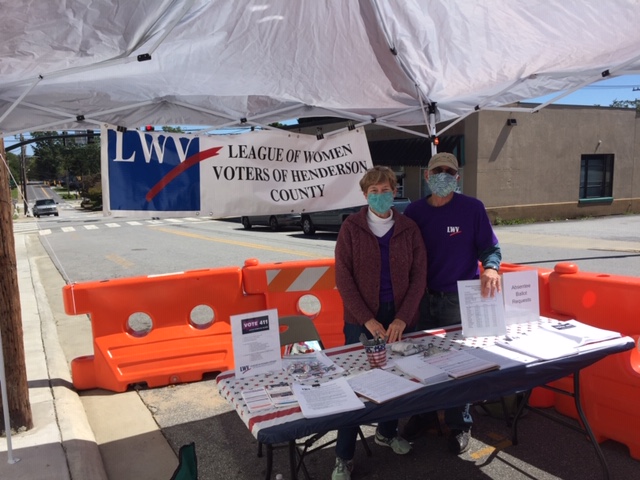 Oklawaha Brewery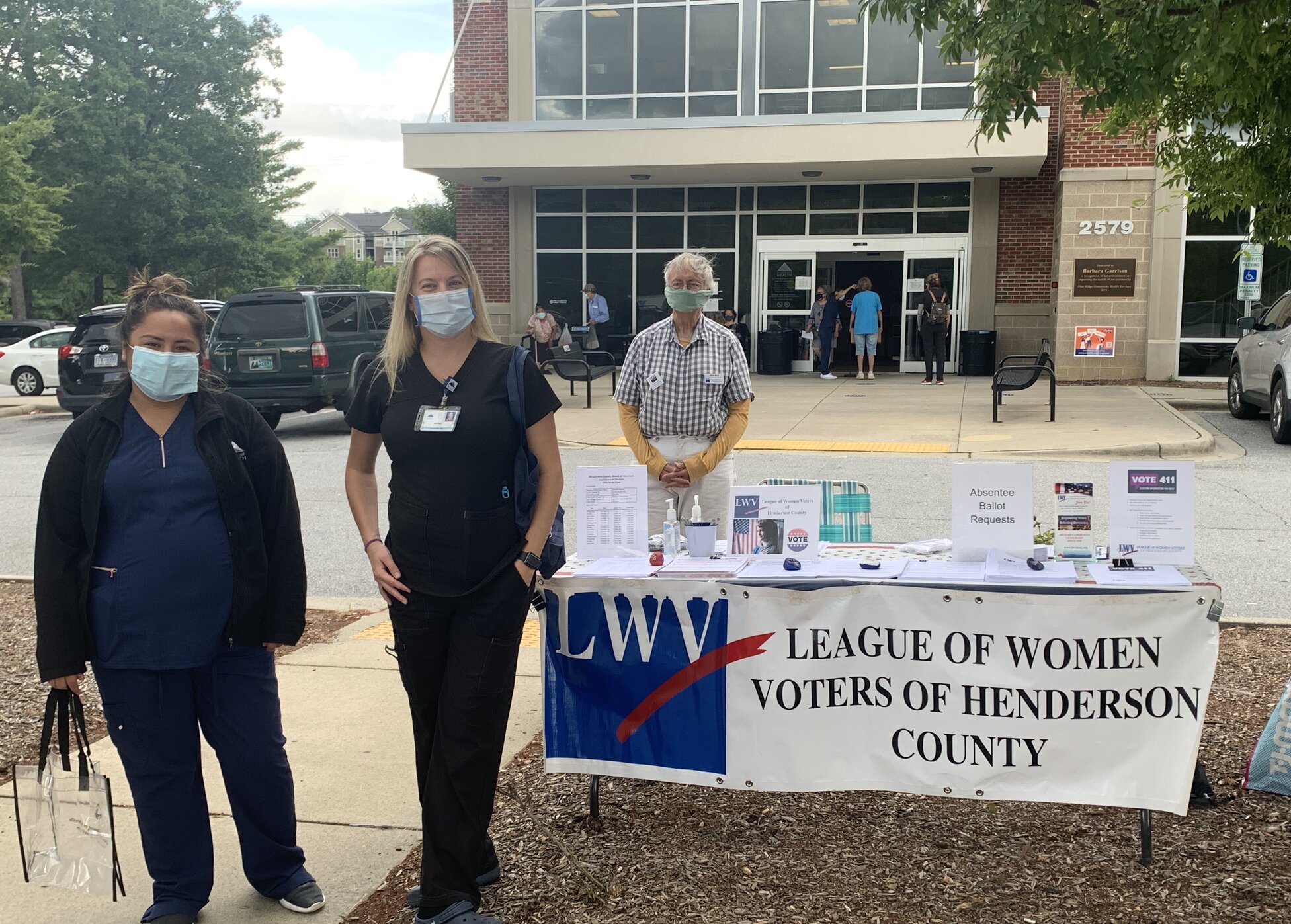 Blue Ridge Health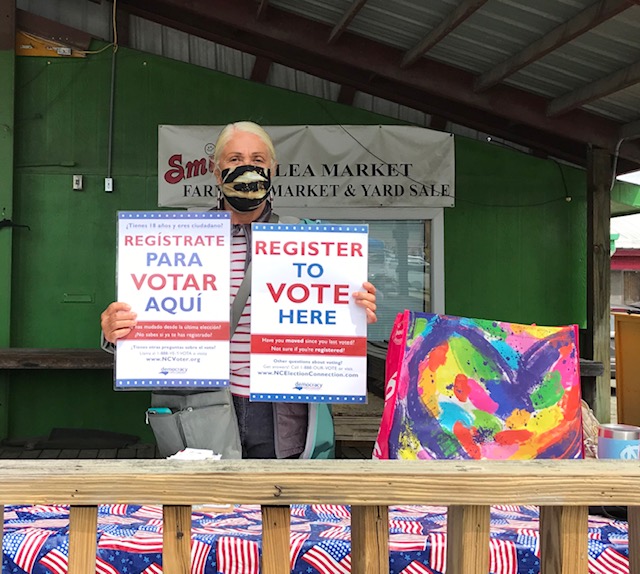 Smiley's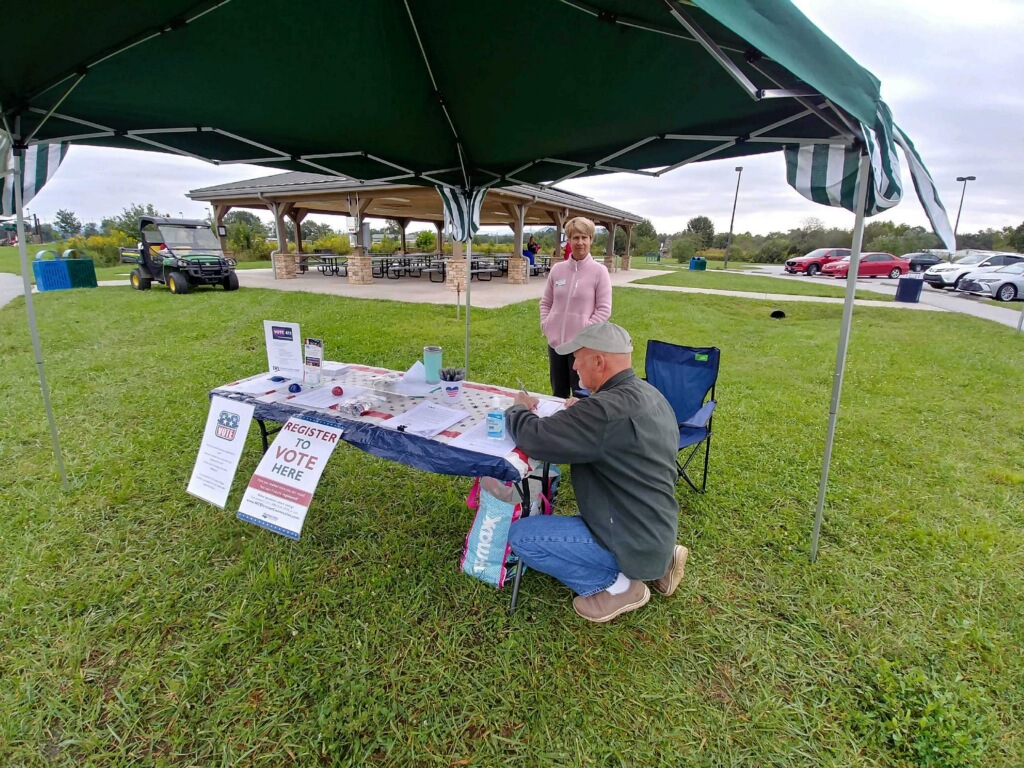 Mills River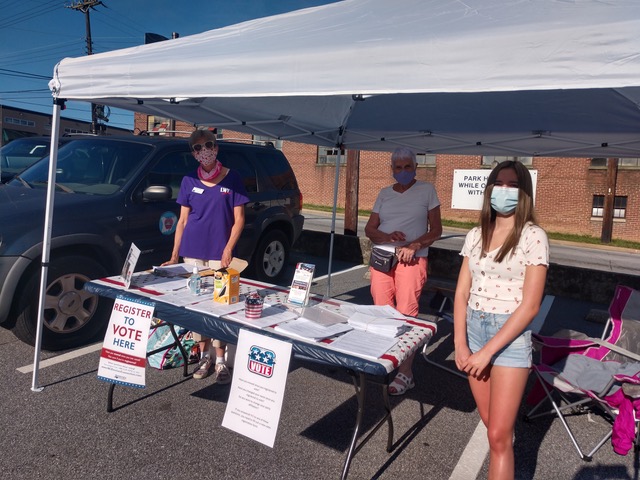 Henderson County Tailgate Market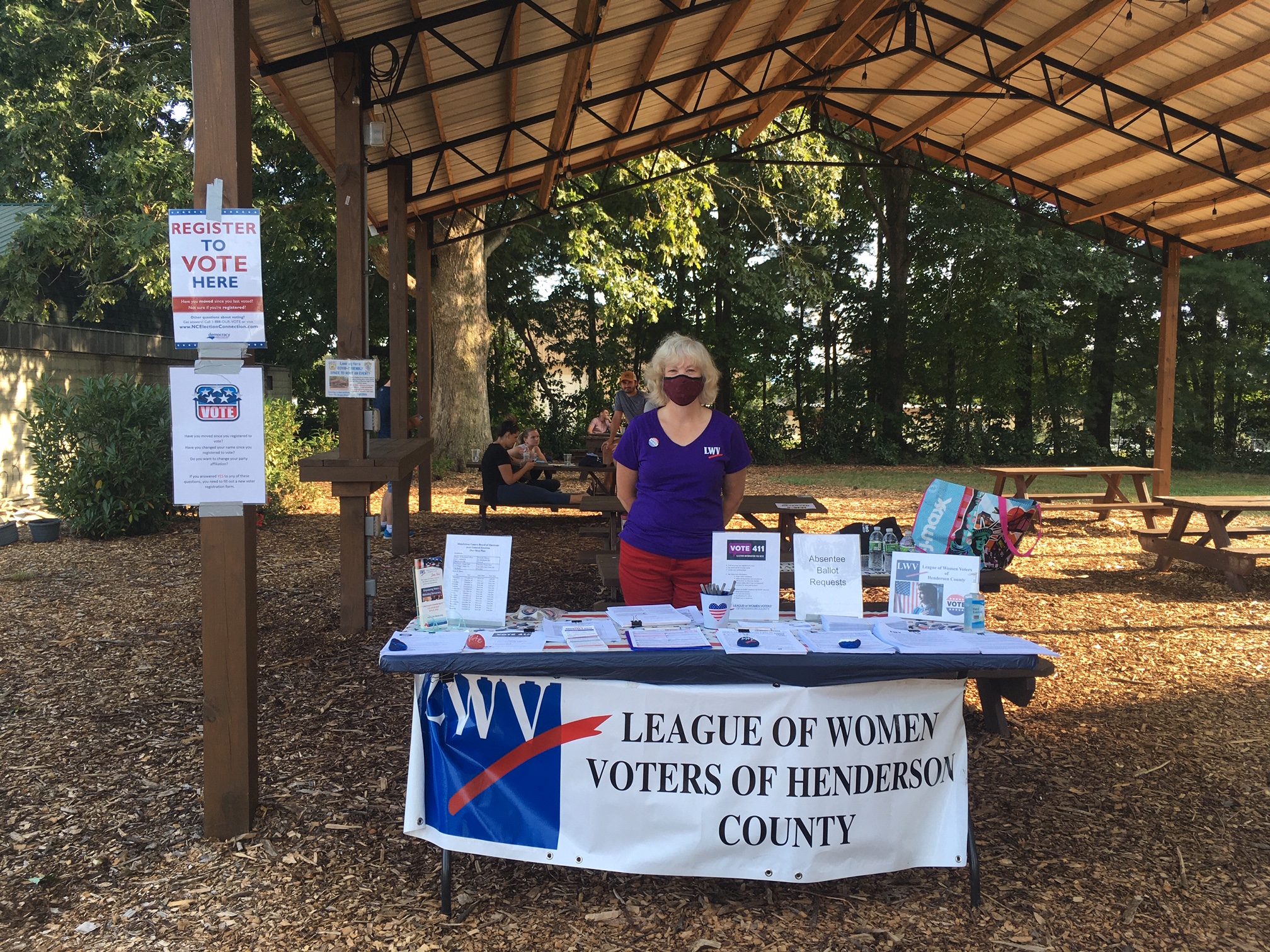 Blue Ghost Brewery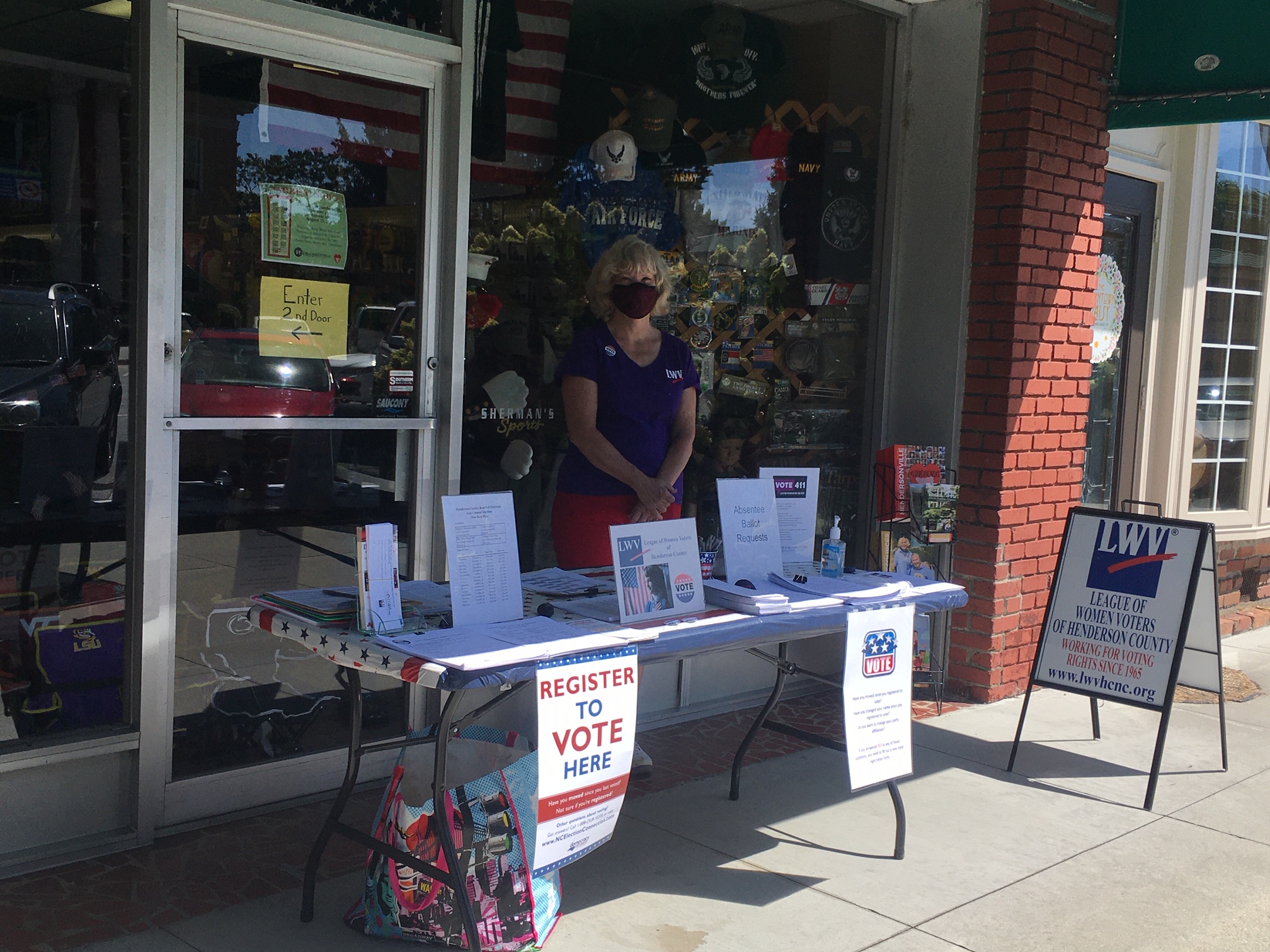 Main Street, Hendersonville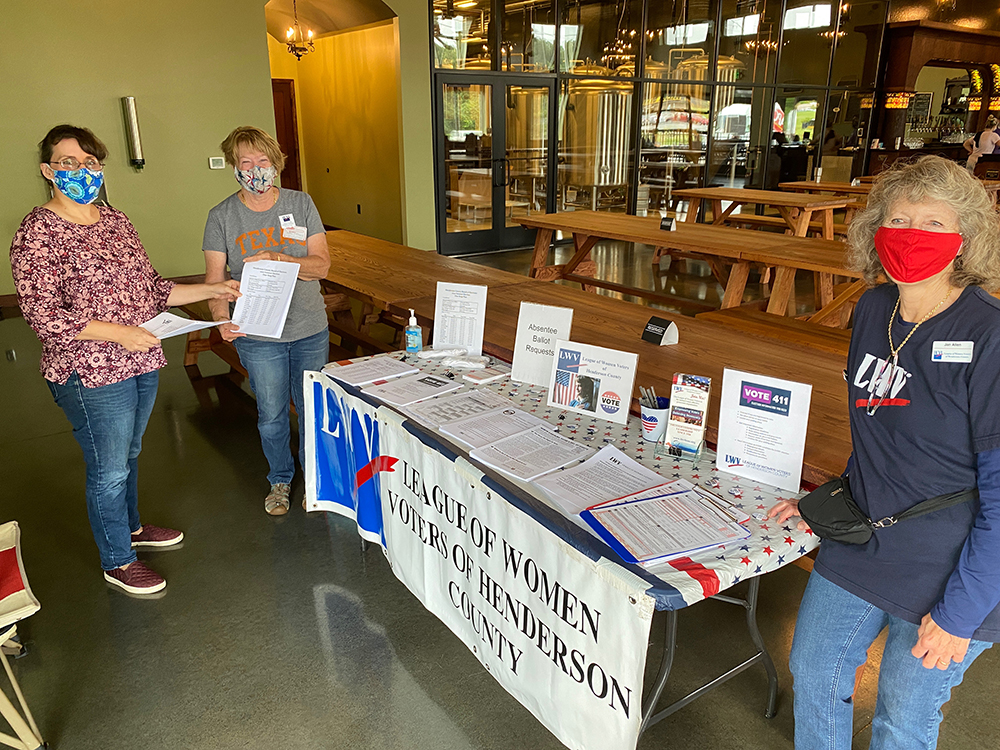 Burning Blush Brewery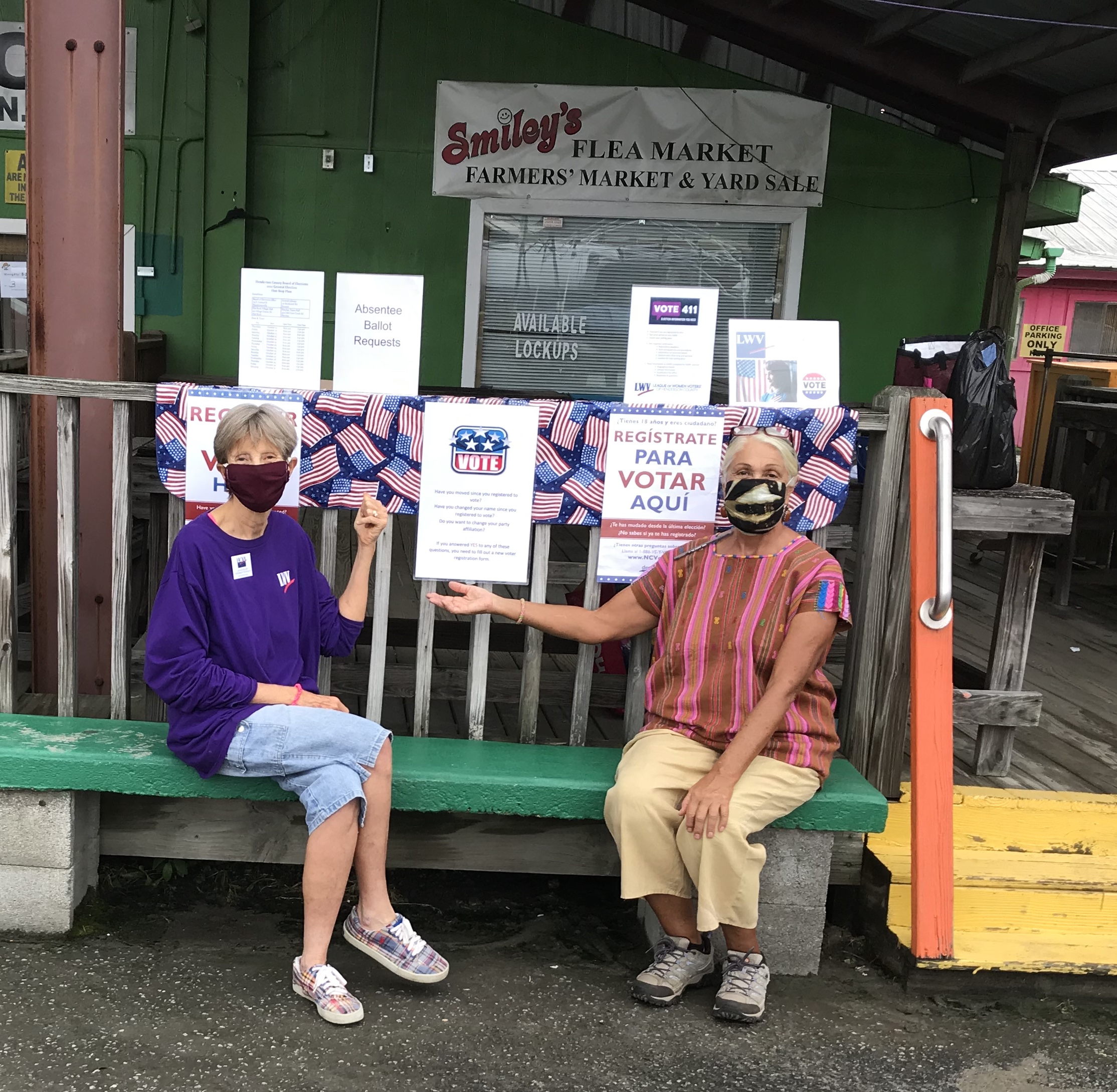 Smiley's Flea Market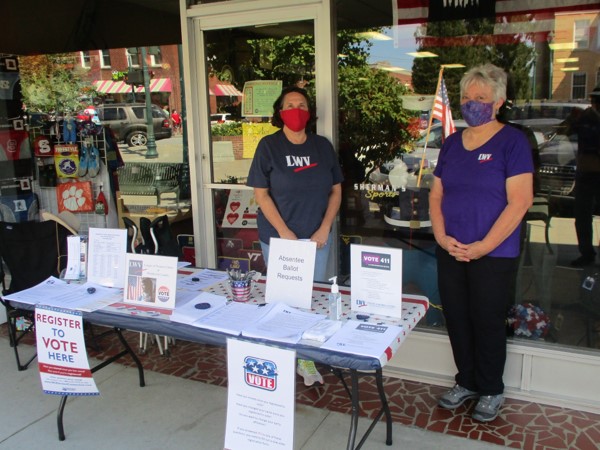 Main Street, Hendersonville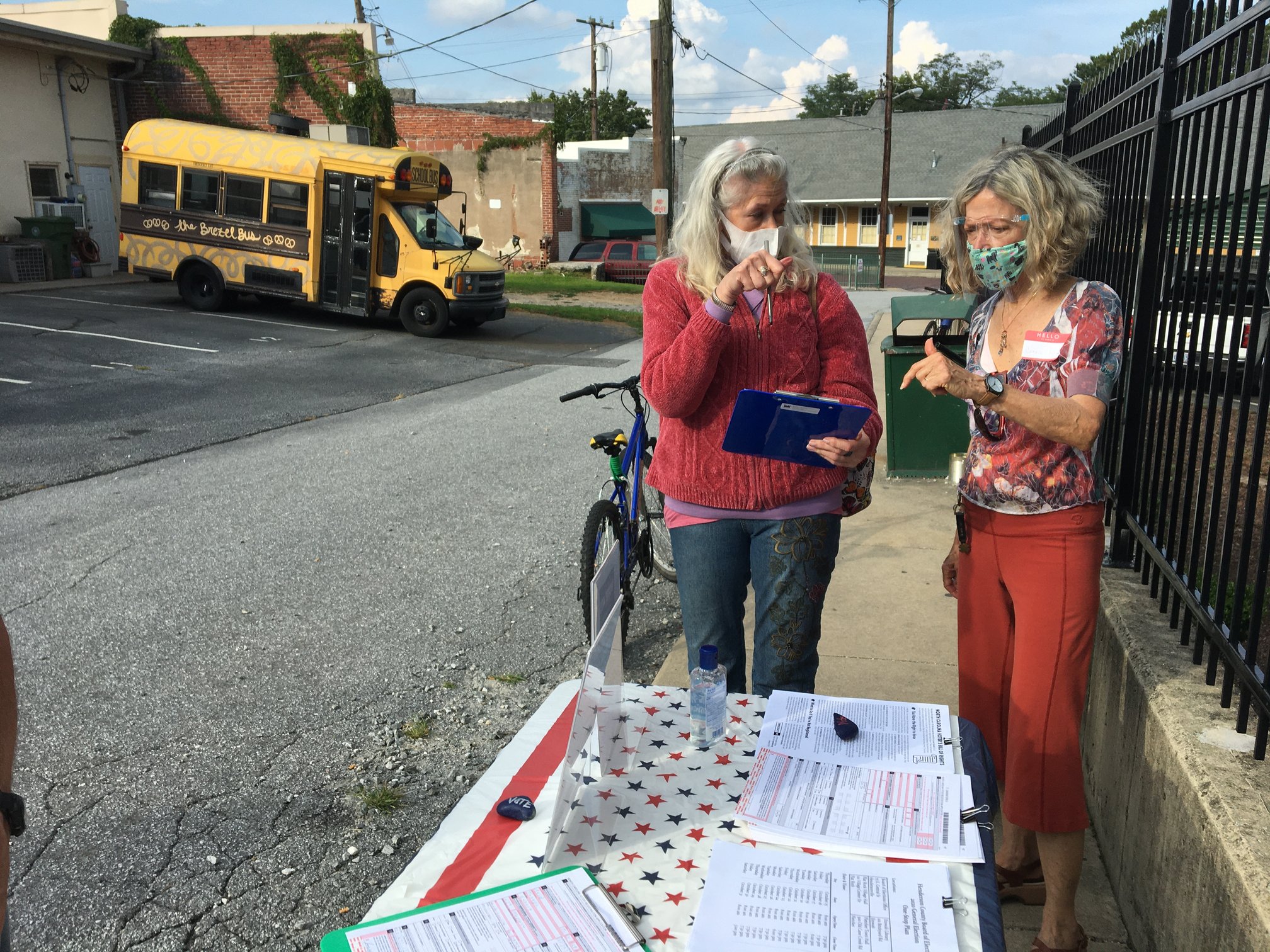 Hendersonville Rescue Mission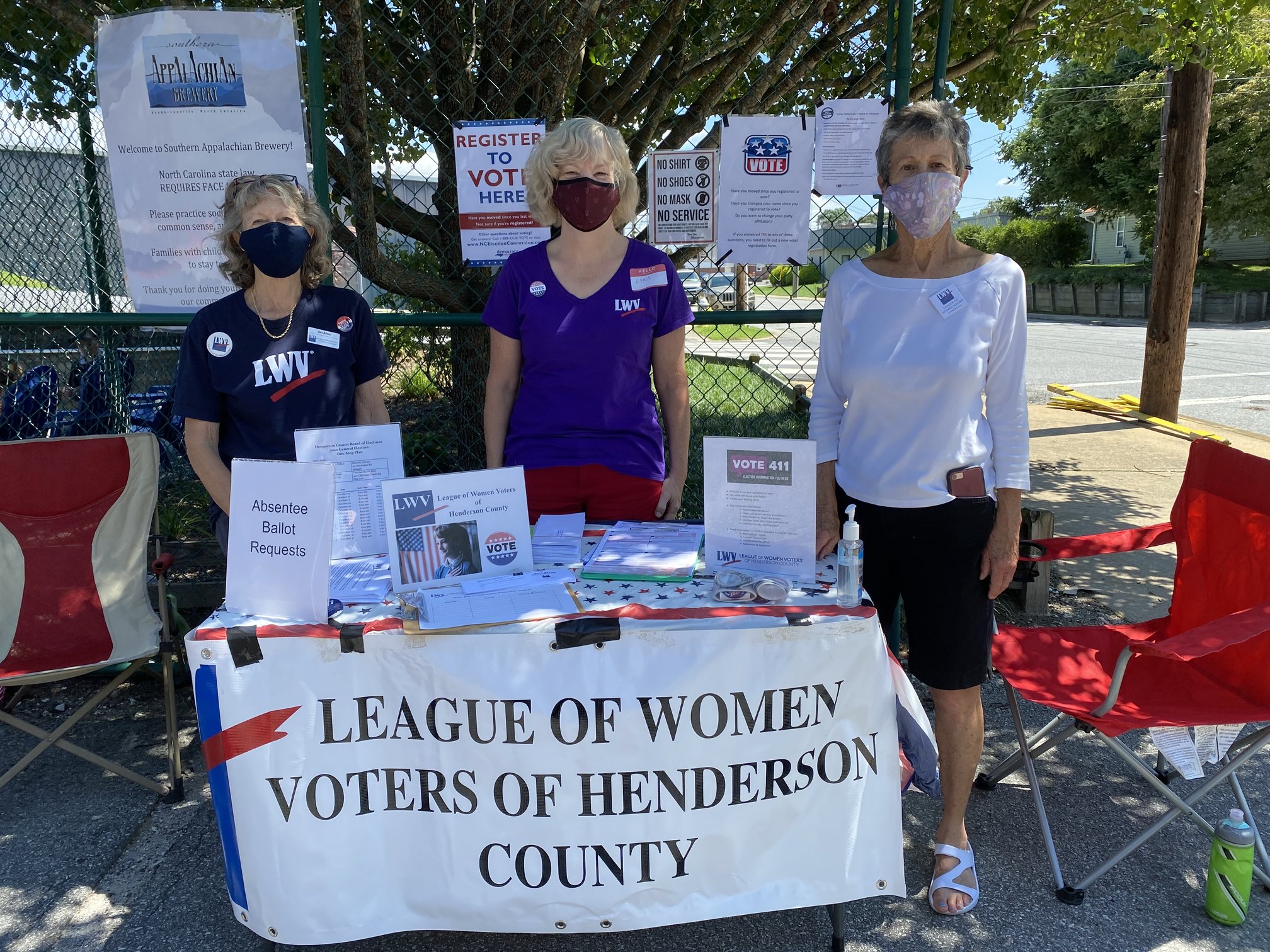 Southern Appalachian Brewery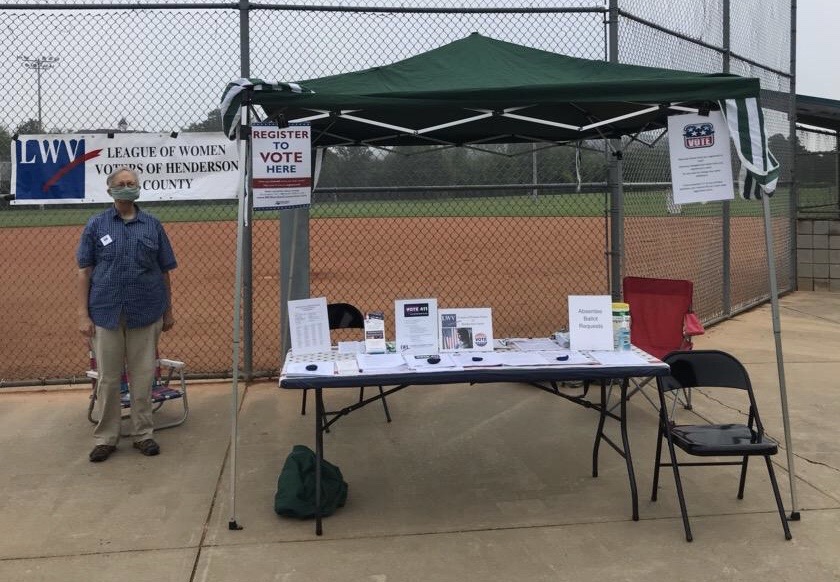 Bill Moore Community Park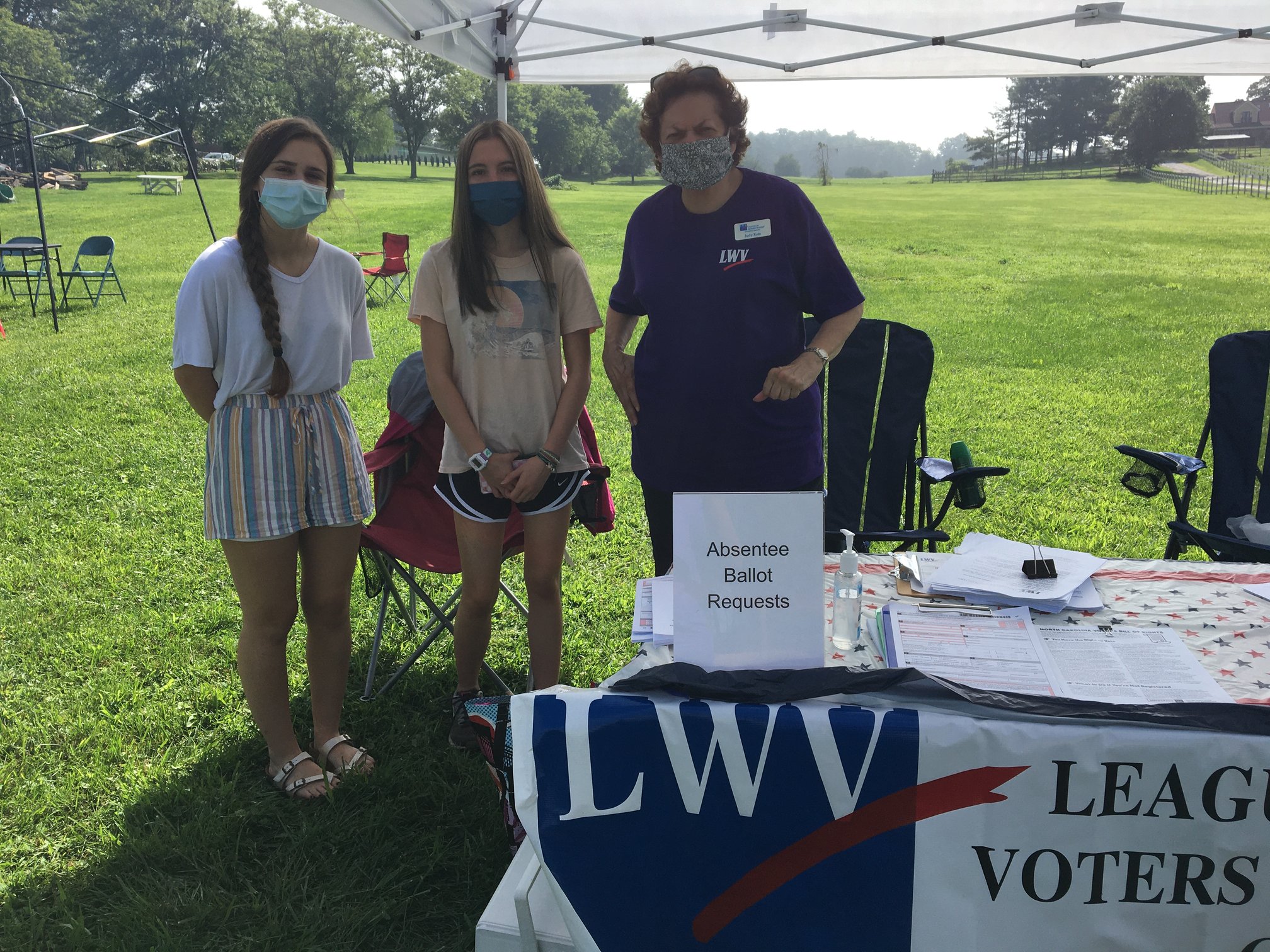 Upward Road neighborhood event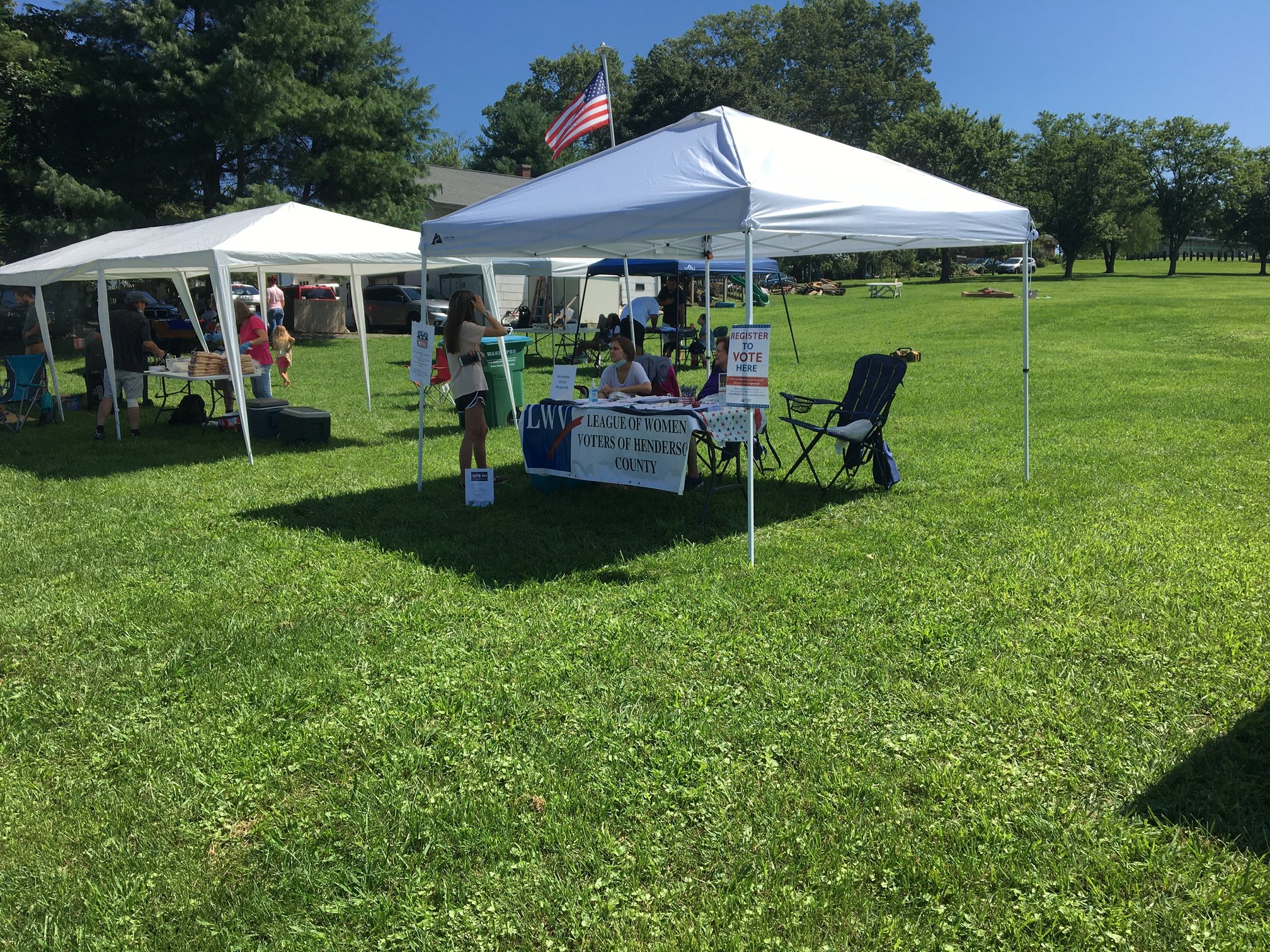 Upward Road neighborhood event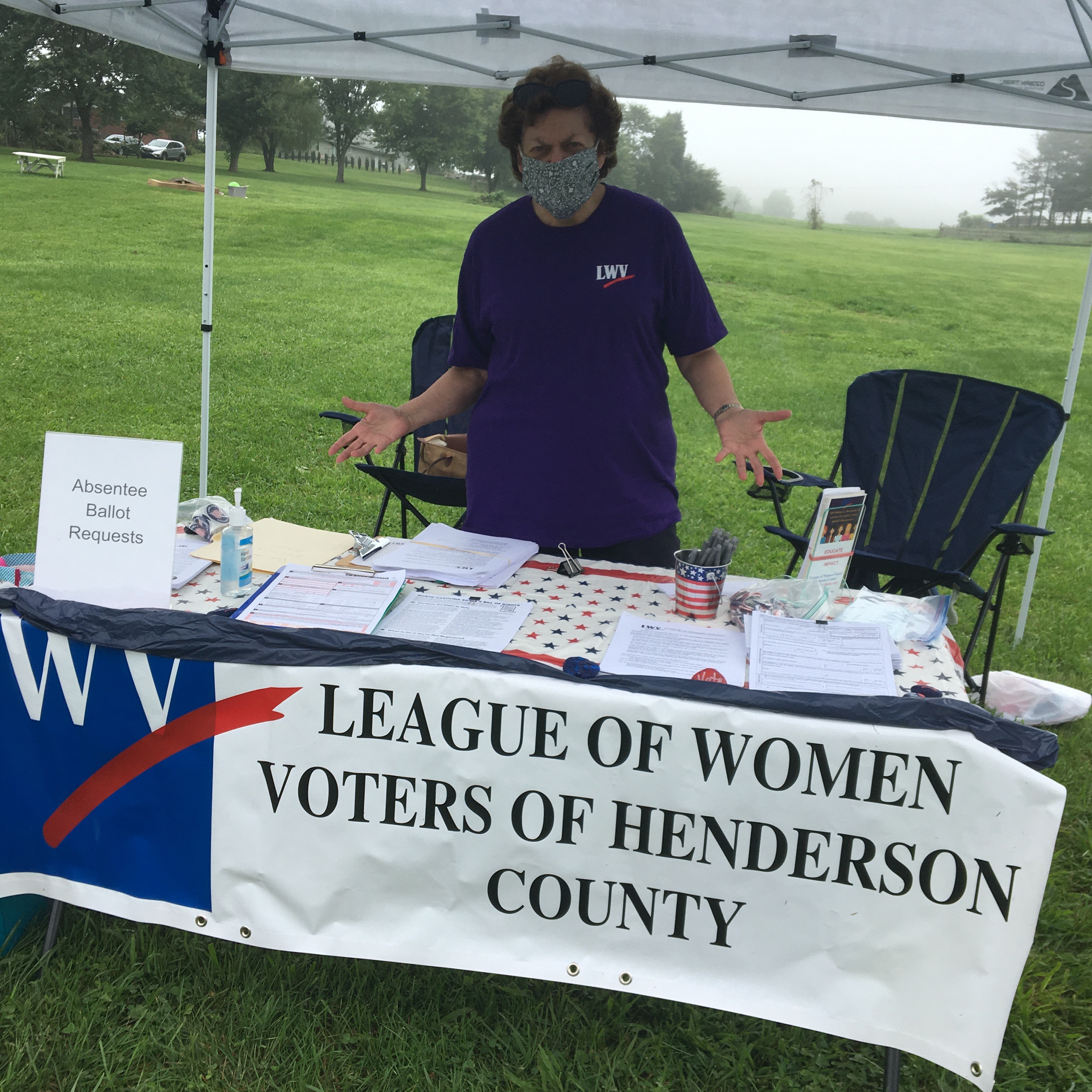 Upward Road neighborhood event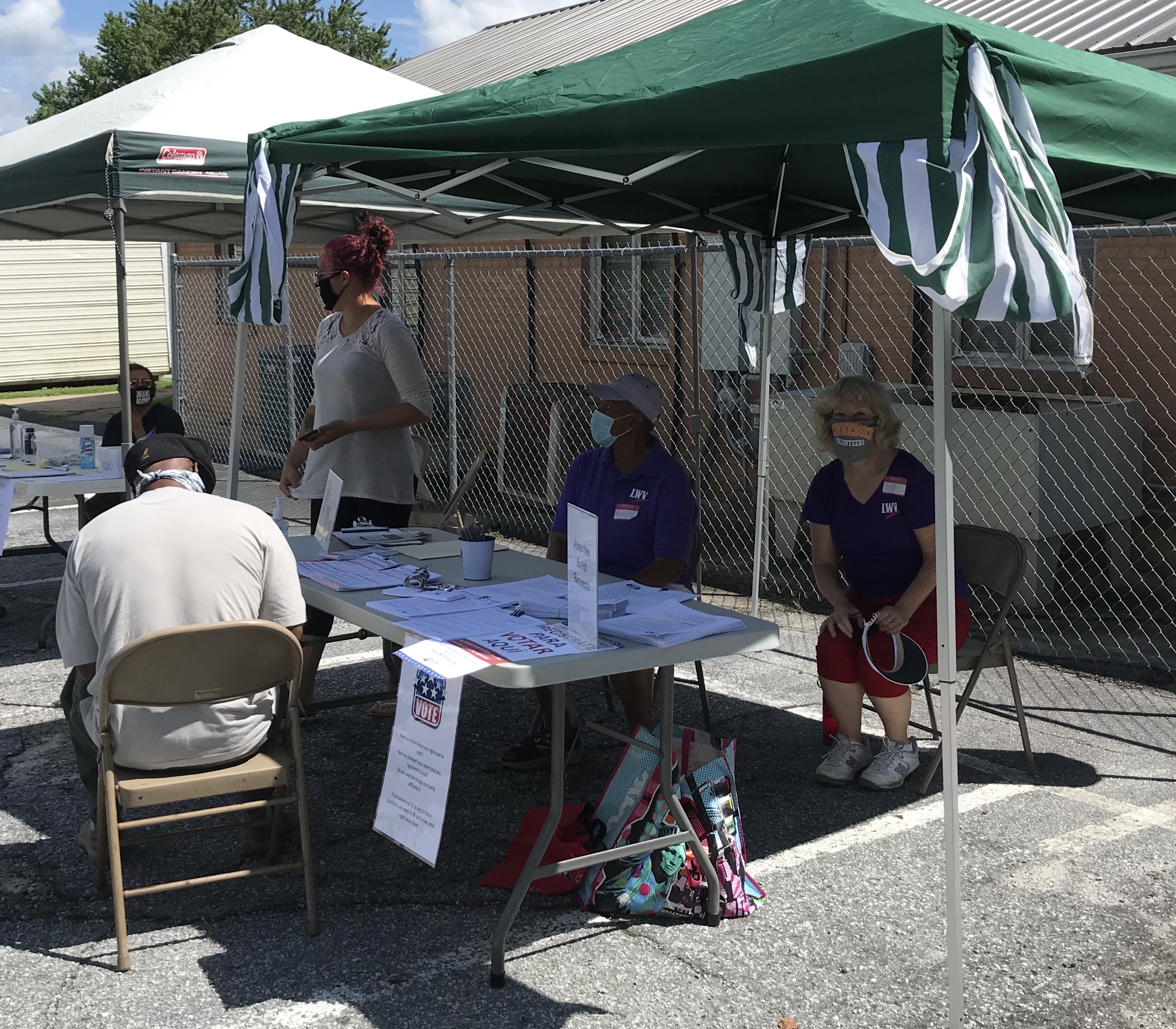 Union Grove Baptist Church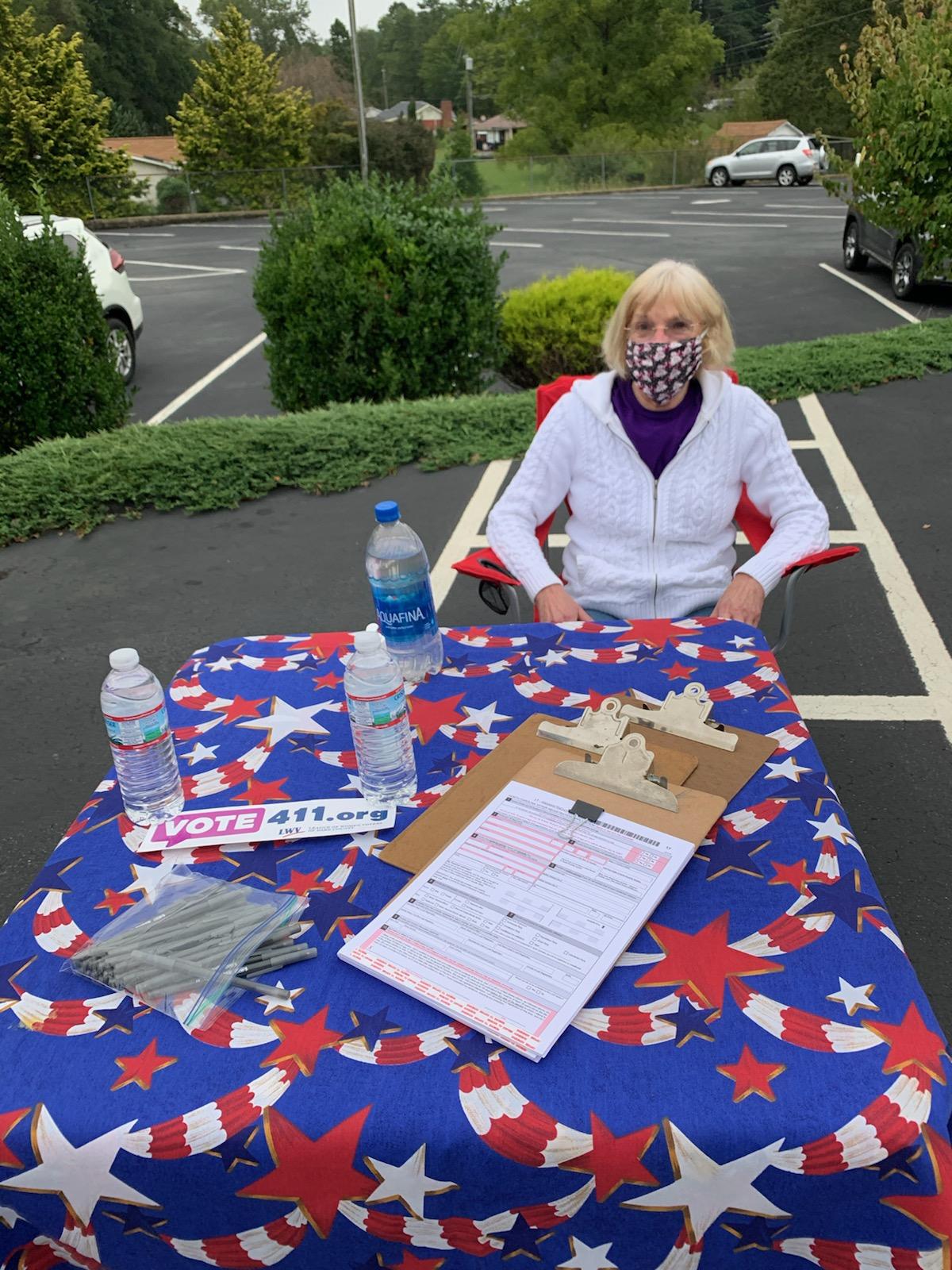 Etowah United Methodist Church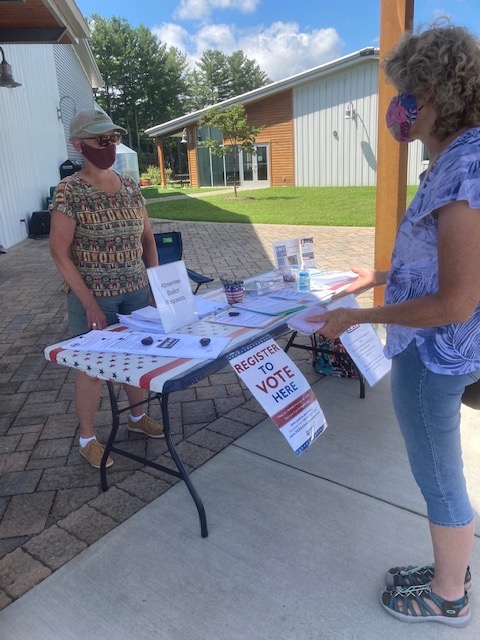 Hendersonville Community Co-op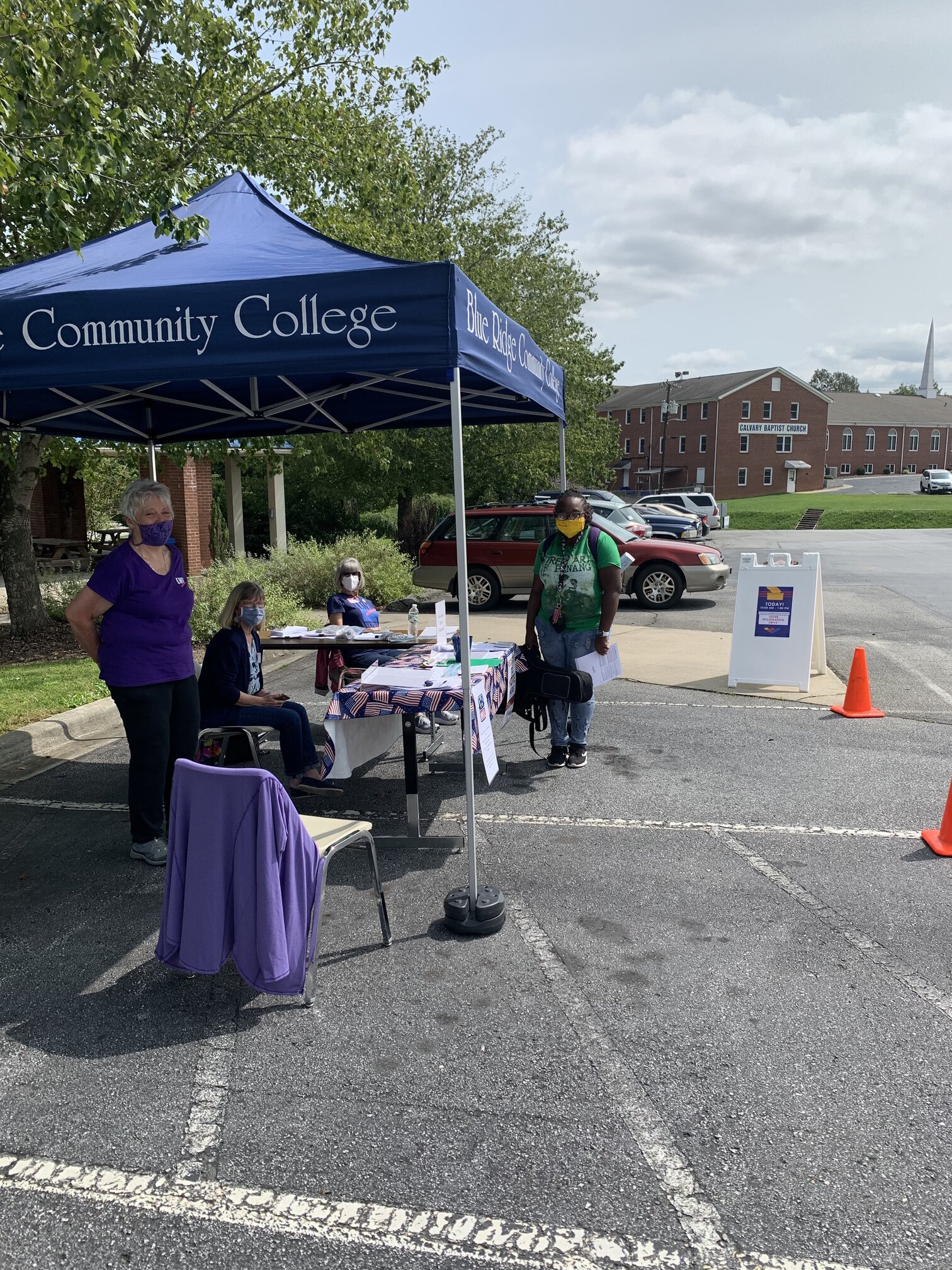 Blue Ridge Community College—Brevard Campus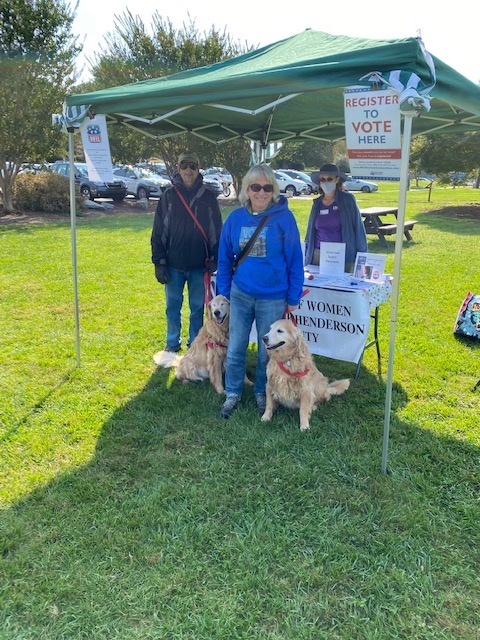 Flat Rock Park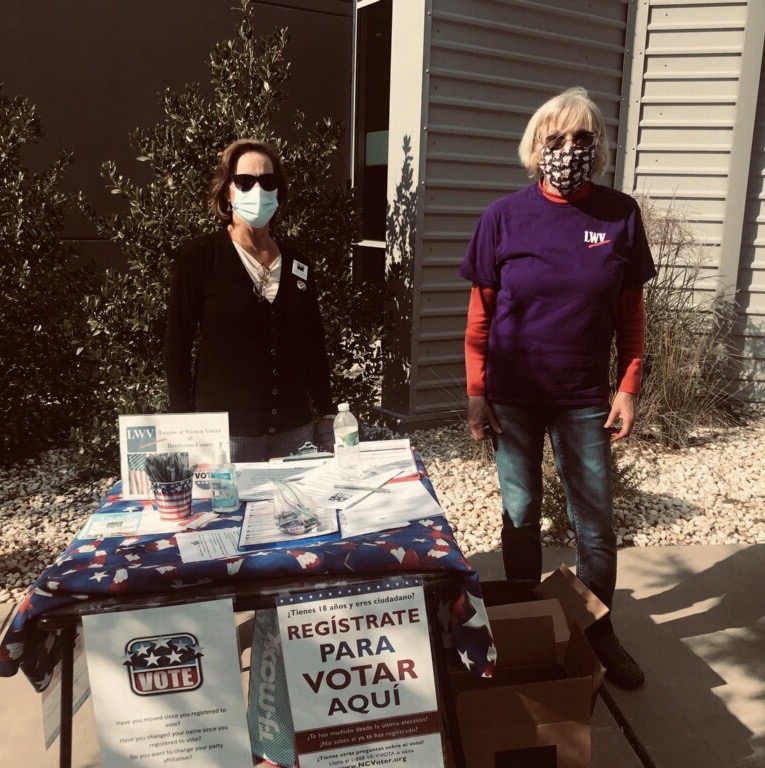 Interfaith Assistance Ministry IAM
---
LWVHC Board Retreat – July 23, 2020
We held our 2020 Board Retreat at the perfect venue: our respective homes! On July 23 Board members explored the concept of intersectionality and then discussed League responsibilities and priorities along with programs for the next 3 months. In the afternoon, team and committee chairs joined in for additional discussion and a preview of the Diversity, Equity, and Inclusion plan.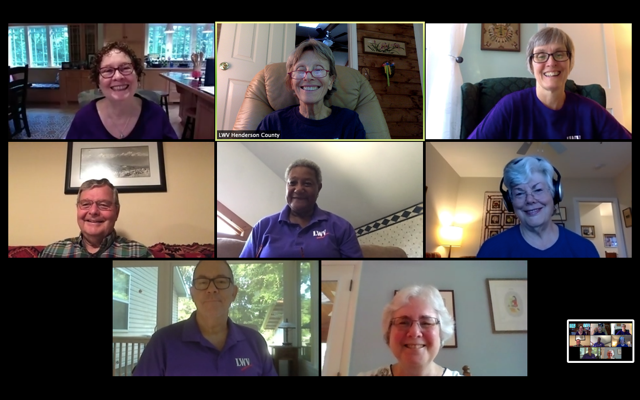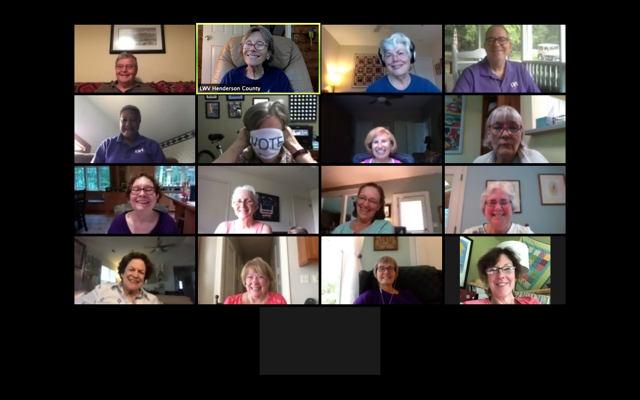 ---
LWVHC Virtual Membership Meeting – June 19, 2020
The League of Women Voters Henderson County (LWVHC) held its first virtual Membership Meeting with over 40 members logging in to Zoom. Due to Covid-19, members were treated to an online review of the League's accomplishments and then took care of organizational business and voting via electronic polls. After President Rachel Poller welcomed attendees and gave a mini-lesson in zooming, Rabbi Rachael Jackson of Agudas Israel inspired the group with her speech: "Life and Voting Are Interdisciplinary."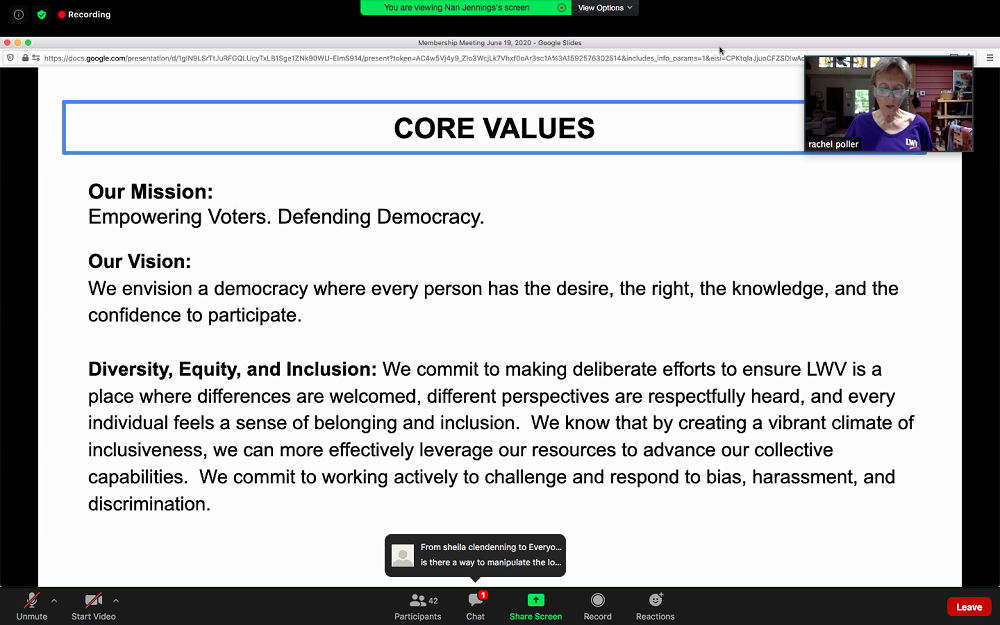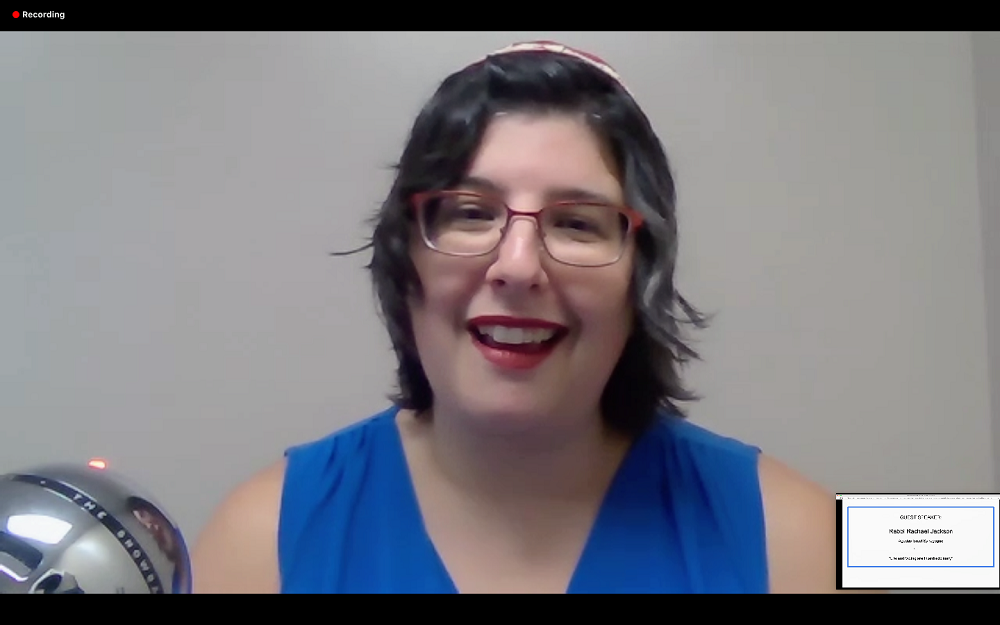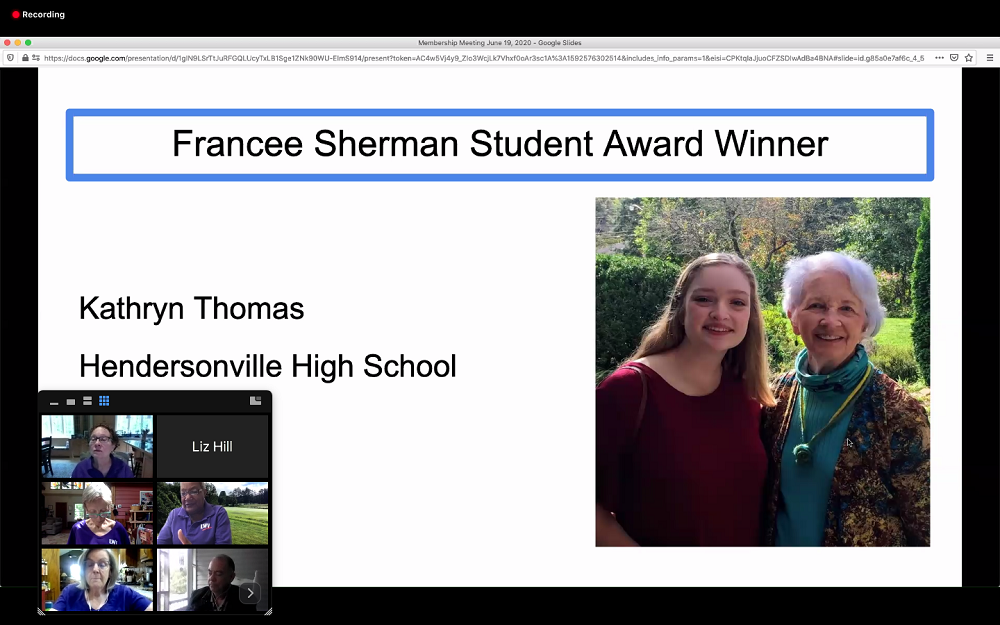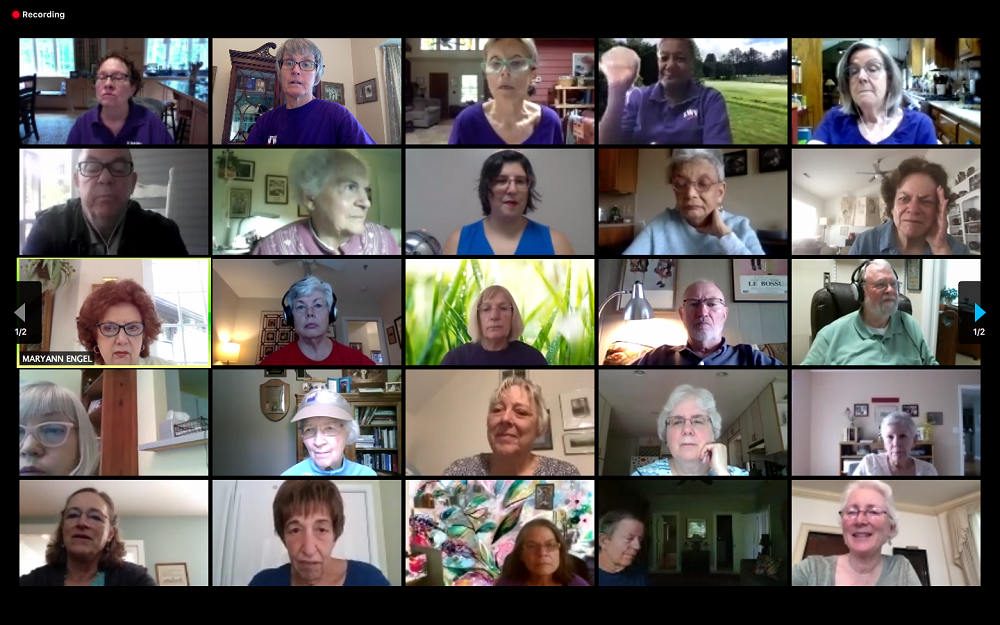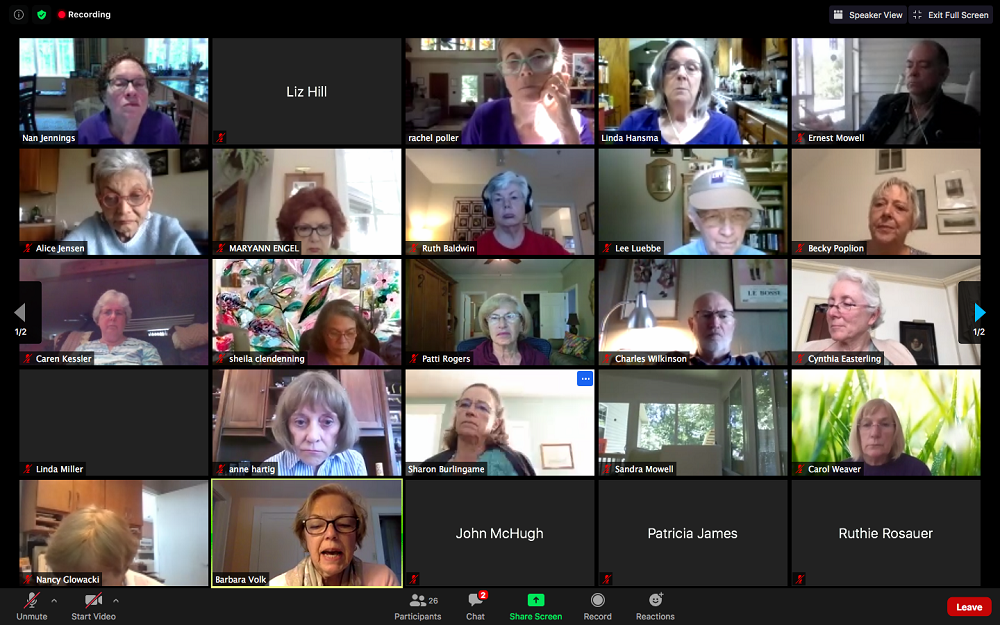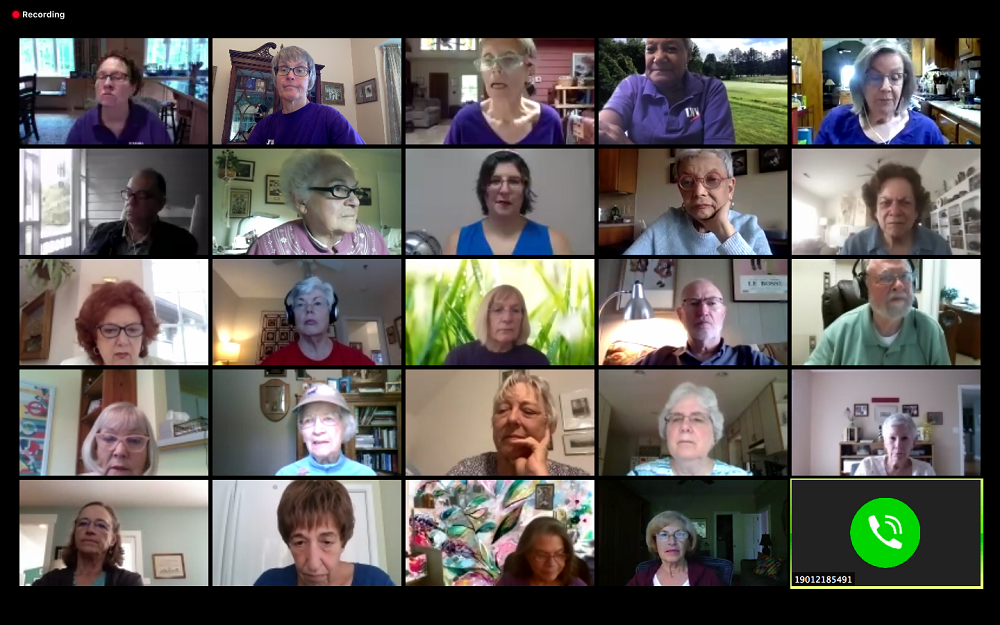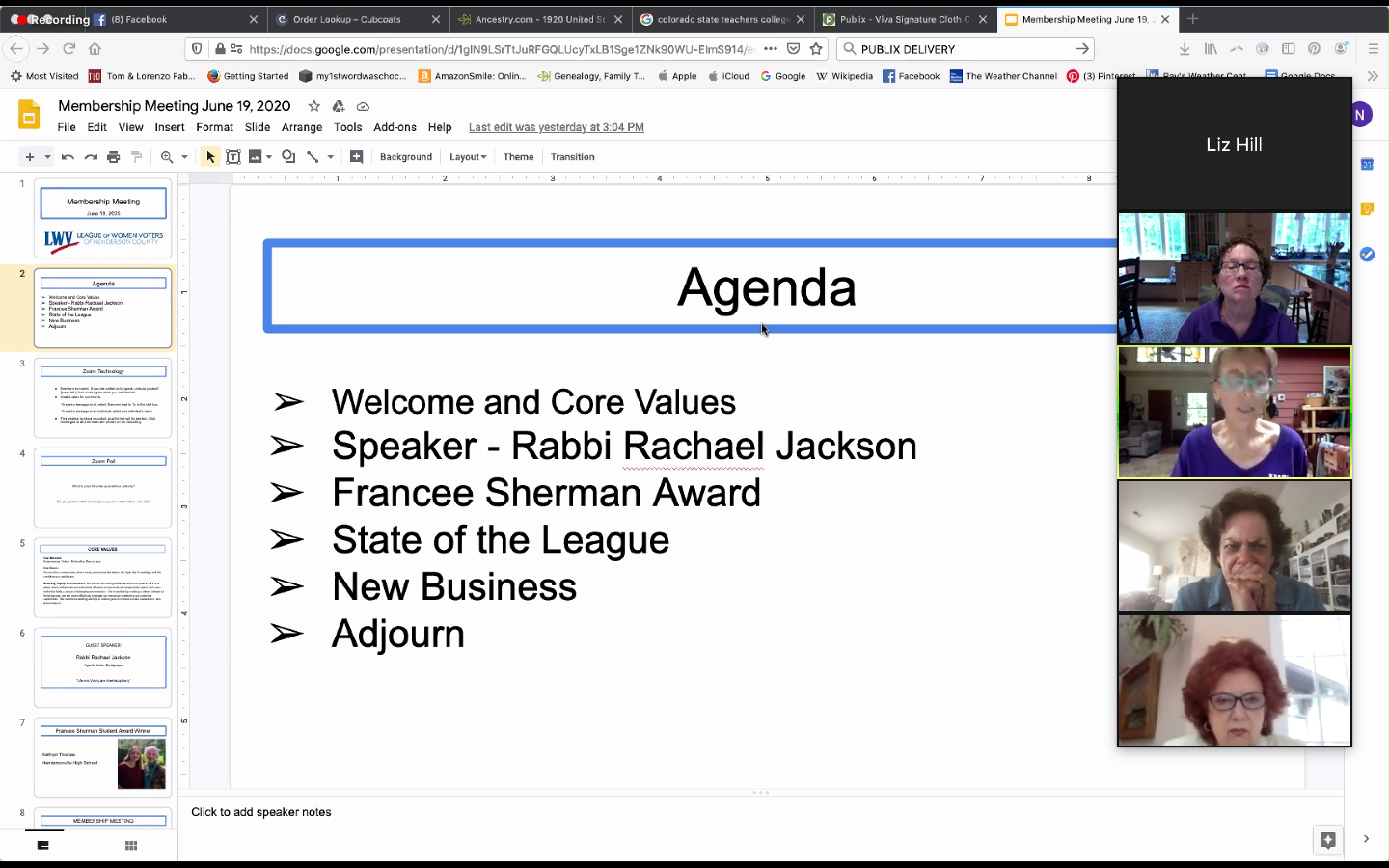 ---
"All Things Voting" Program February 27, 2020 – February 27, 2020
LWVHC held its February Program, All Things Voting, at the Main Library. Following some history of the League's founding 100 years ago, moderator Paul Goebel described the significance of the 1965 Voting Rights Act. Karen Hebb, Director of the Board of Elections, discussed election security and technology followed by Vice-President, Ernest Mowell, on the importance of the census and Asheville activist, Ron Katz, on the vital need for fair voting districts. About 40 community members attended.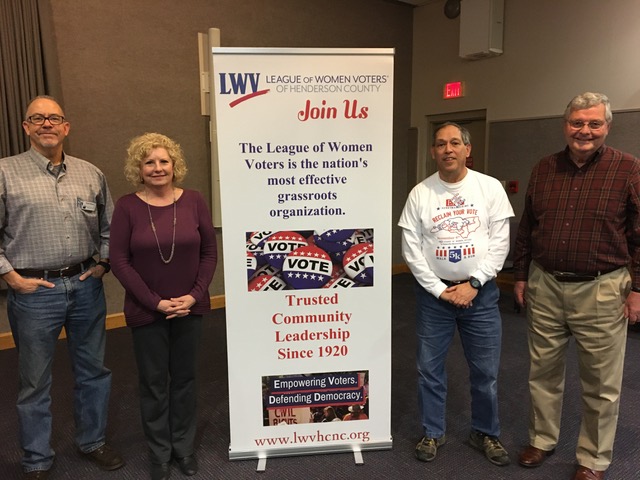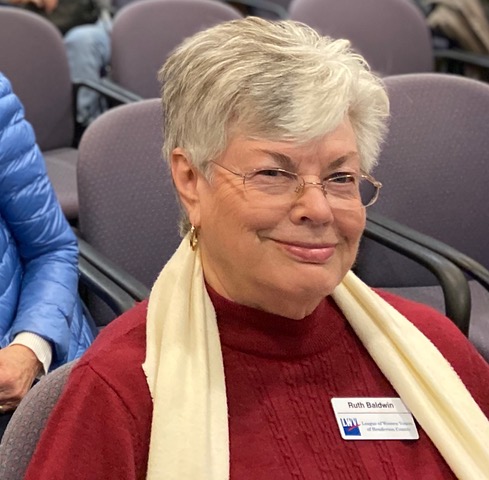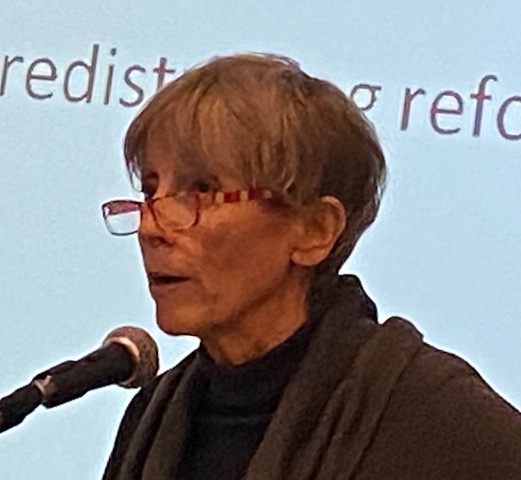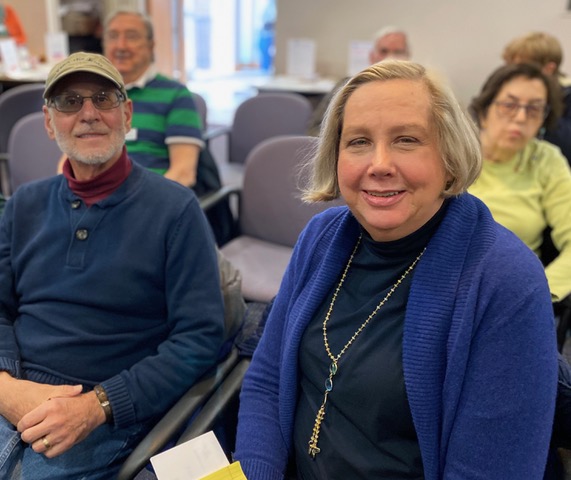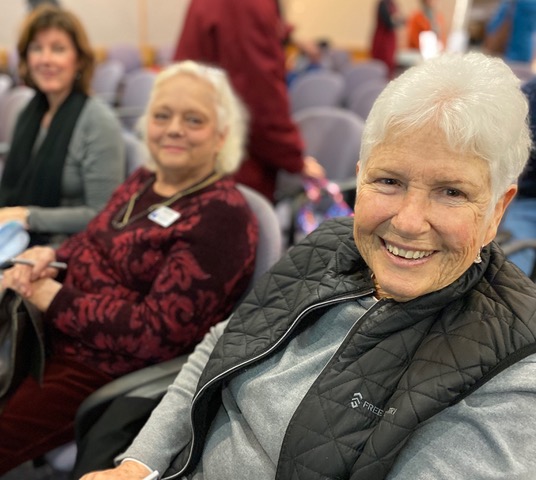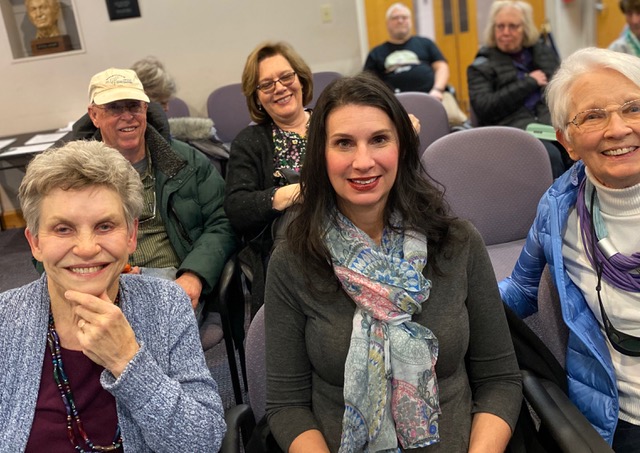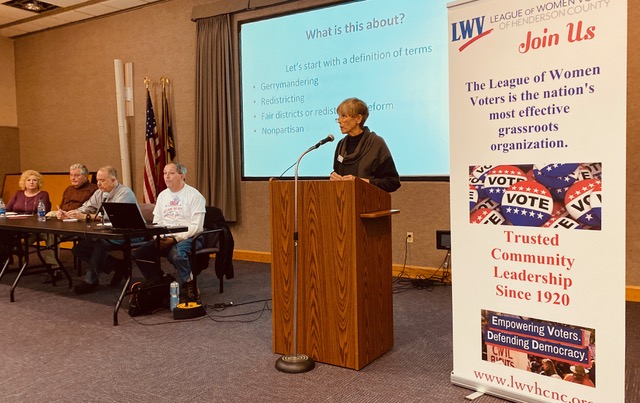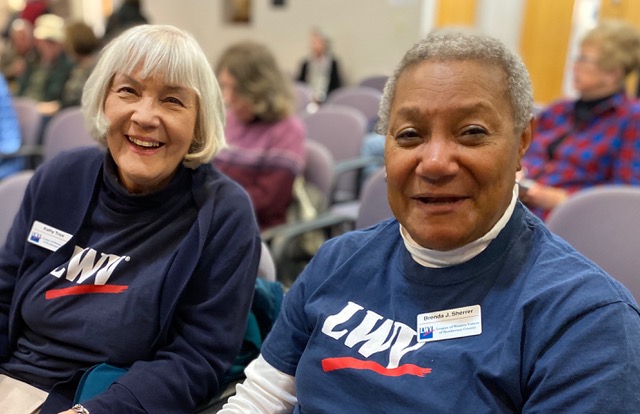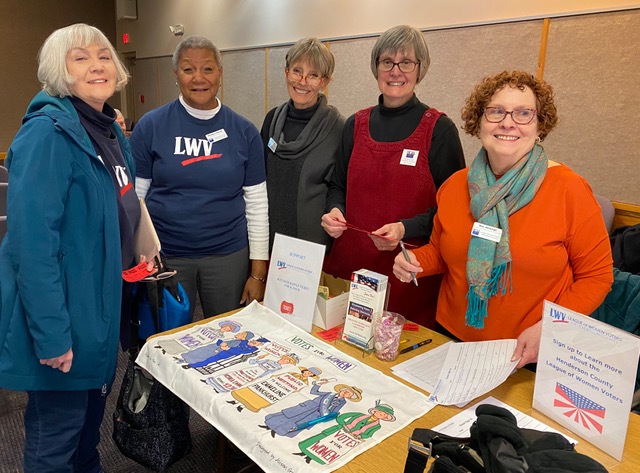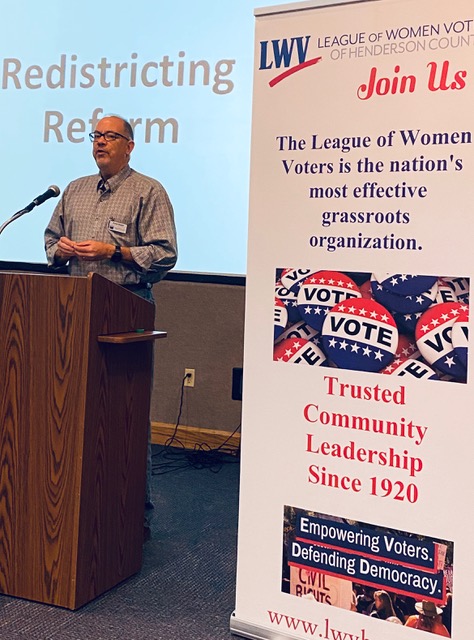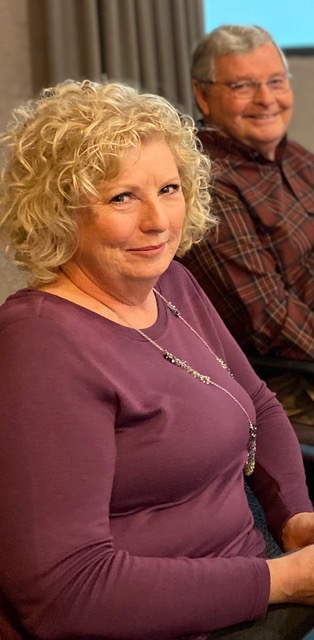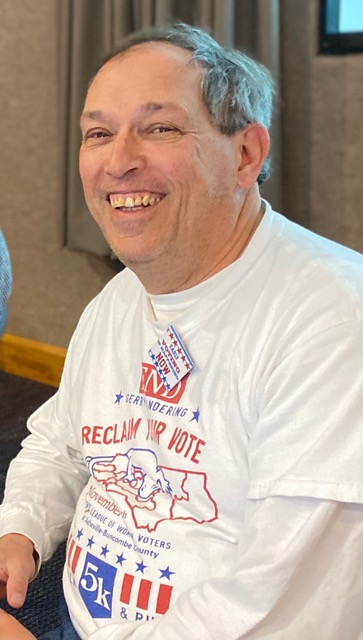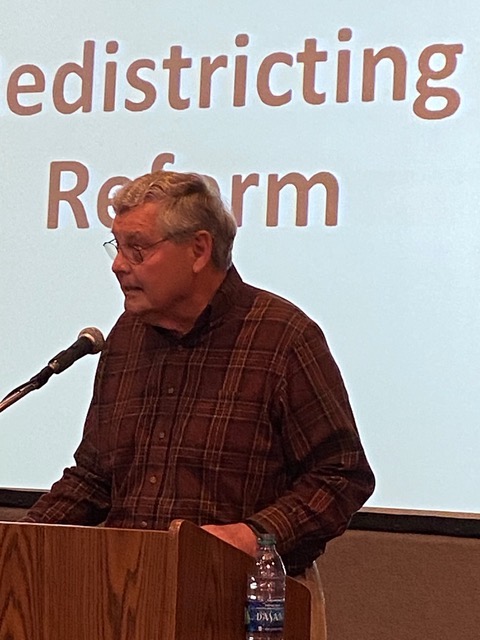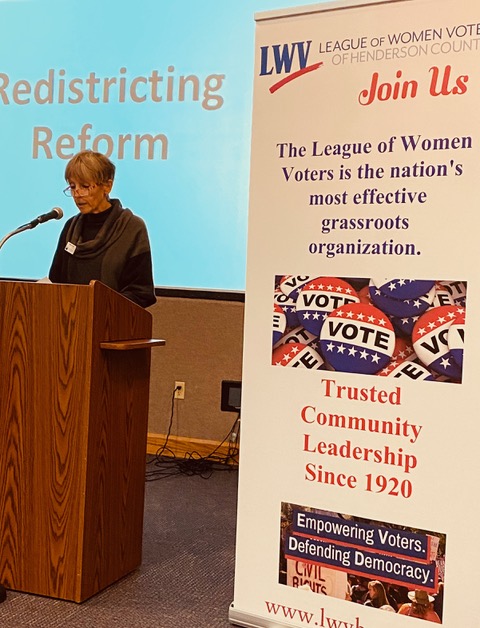 ---
League of Women Voters 100th Anniversary – February 19, 2020
At the Henderson County Board of Commissioners meeting, about 15 LWVHC members attended to hear Commissioner Rebecca McCall read a tribute to League of Women Voters on our one hundredth anniversary and to the 19th Amendment on its hundredth year giving women the right to vote. Rachel addressed the Board and summarized all that our league does for Henderson County to help empower voters and defend democracy.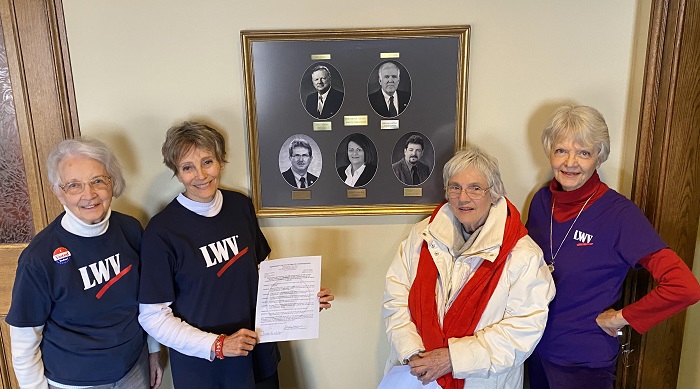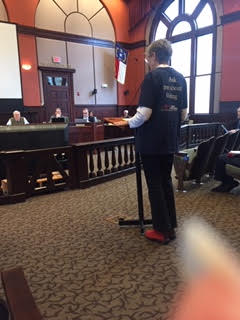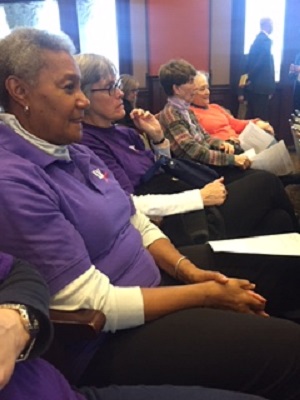 ---
"Due Process or Not? First Hand Observations." – January 16, 2020
League member Lee Luebbe and El Centro Board member, Gayle Kemp, reported on their visit to Stewart Detention Center in Lumpkin, GA. More than 50 League and community members gathered at Agudas Israel Synagogue where they learned about the conditions facing ICE detainees and their rights as well as facts and figures regarding private, for-profit prisons.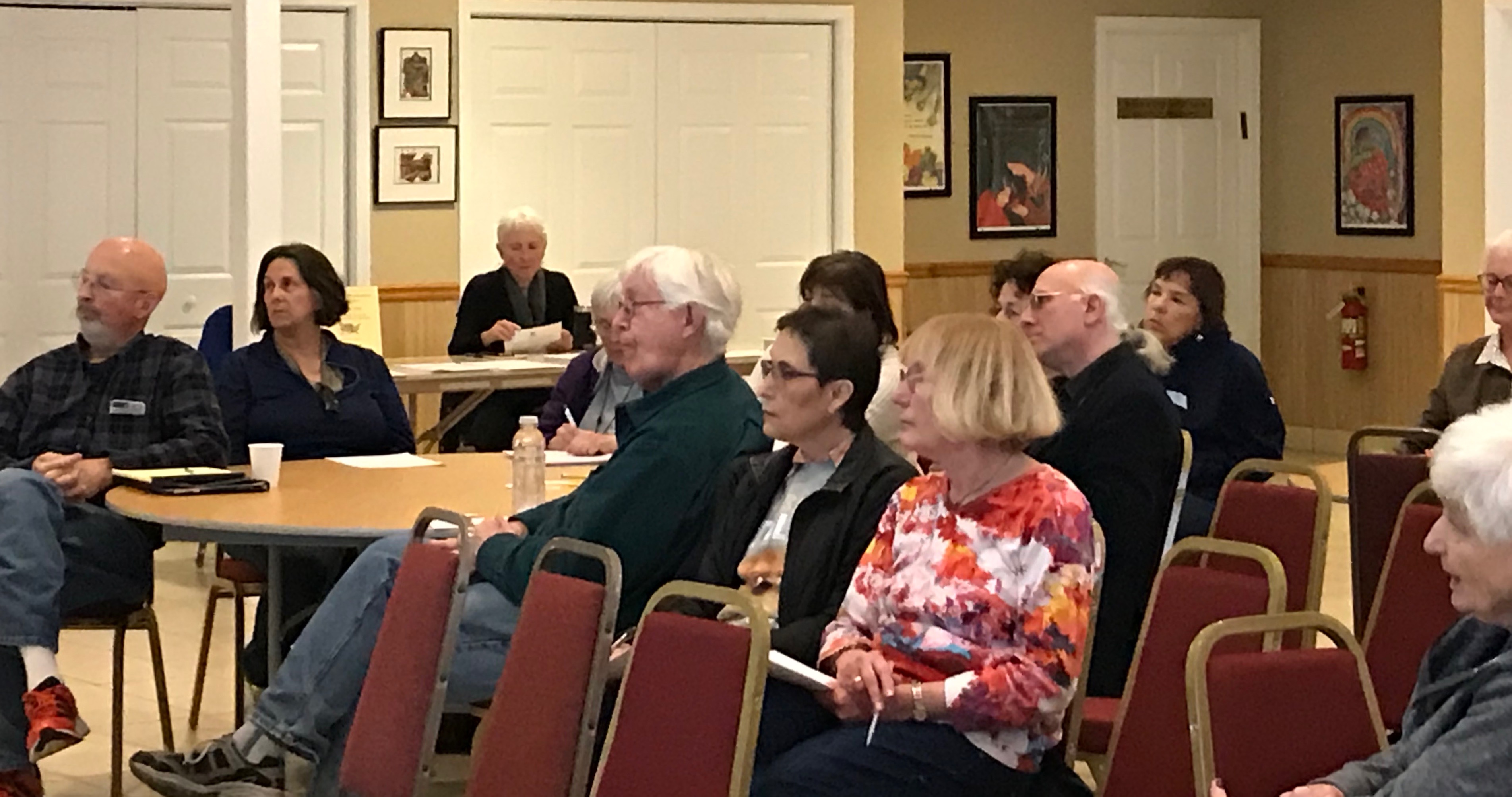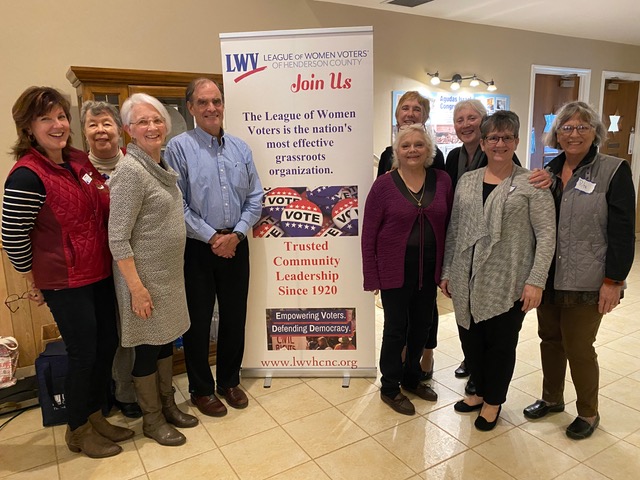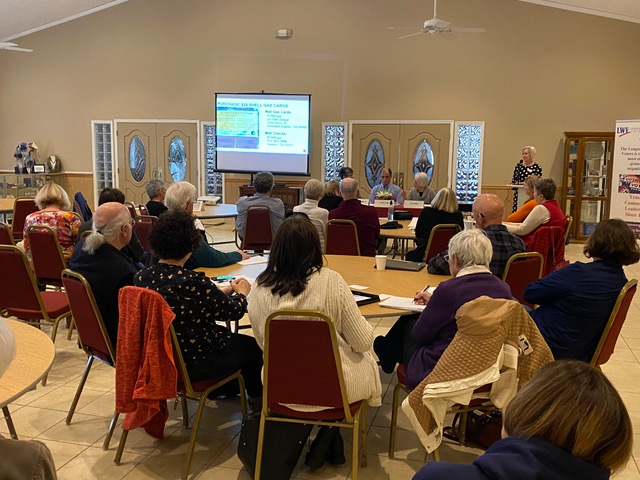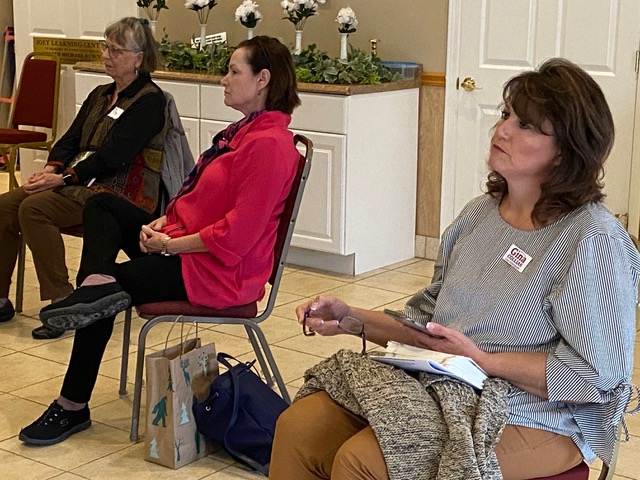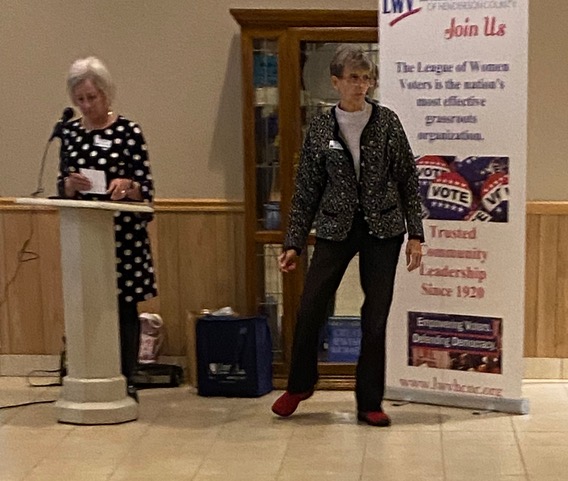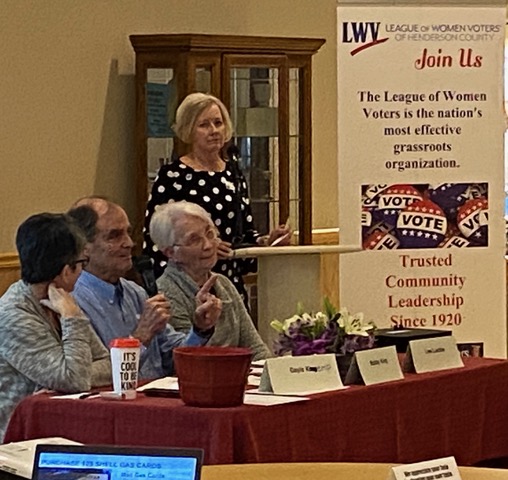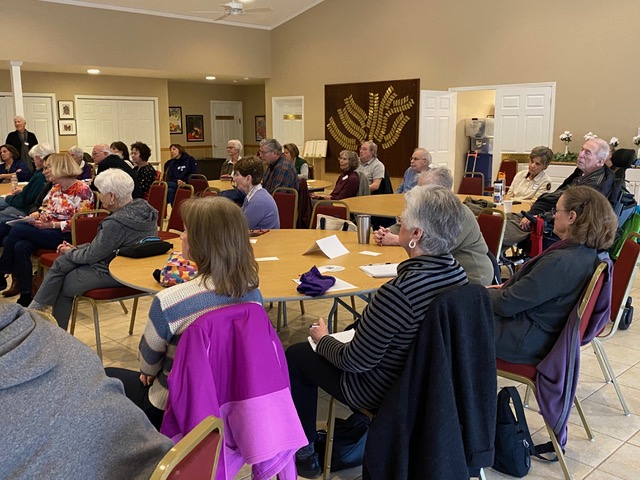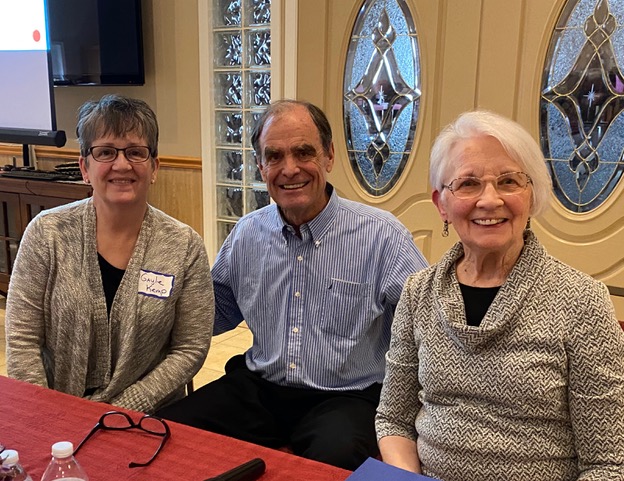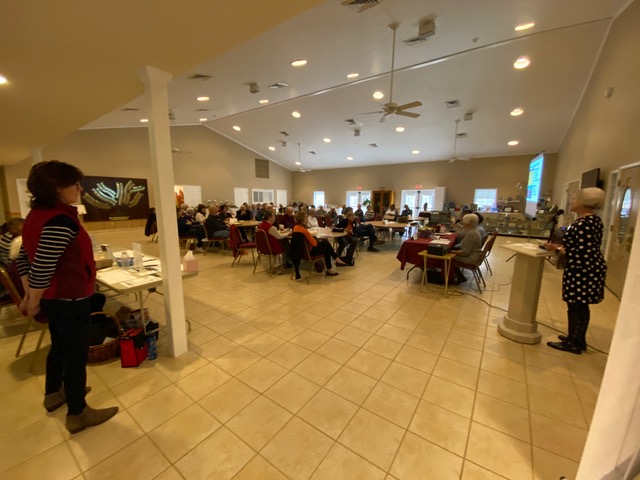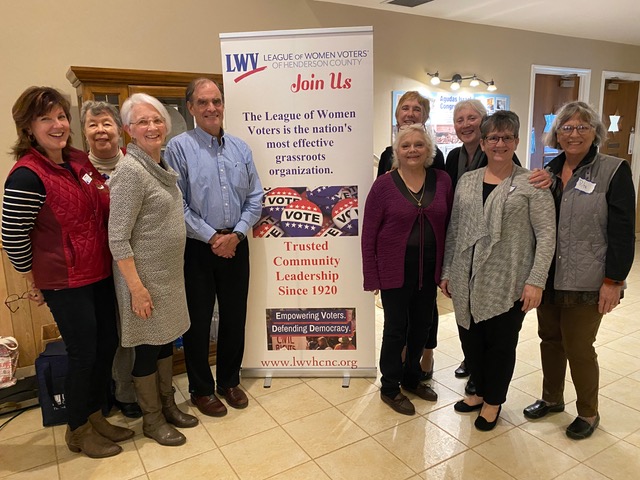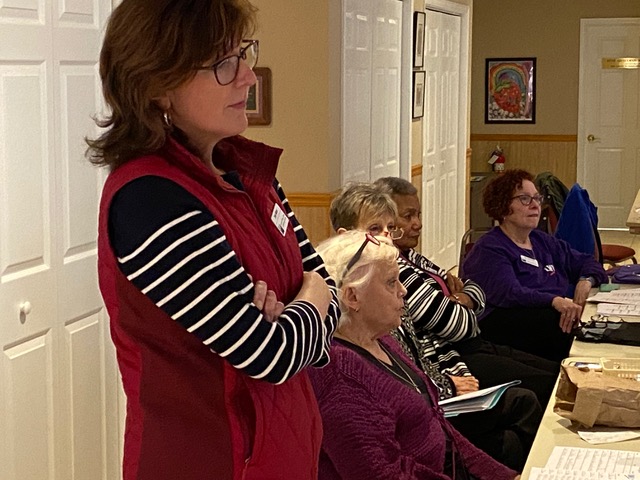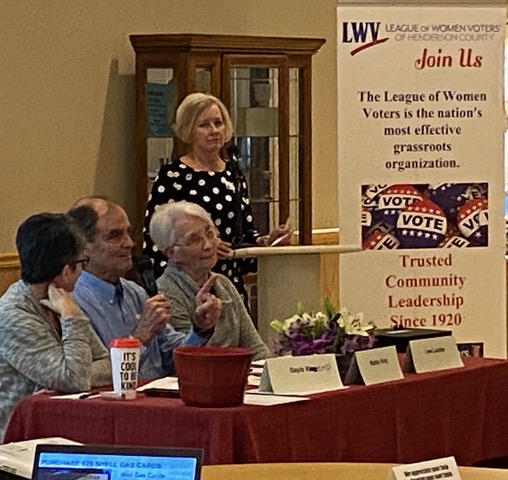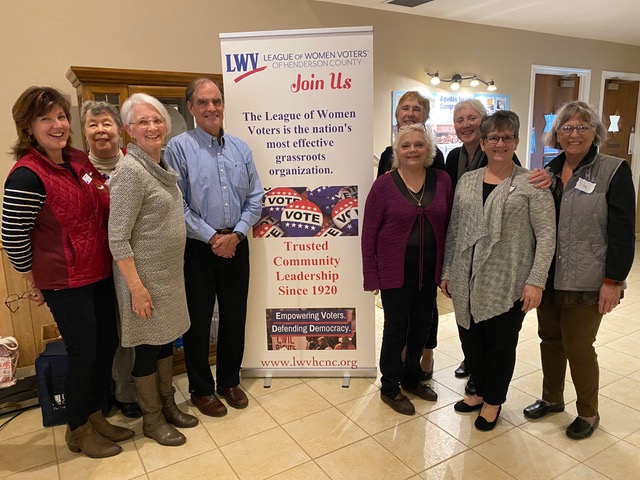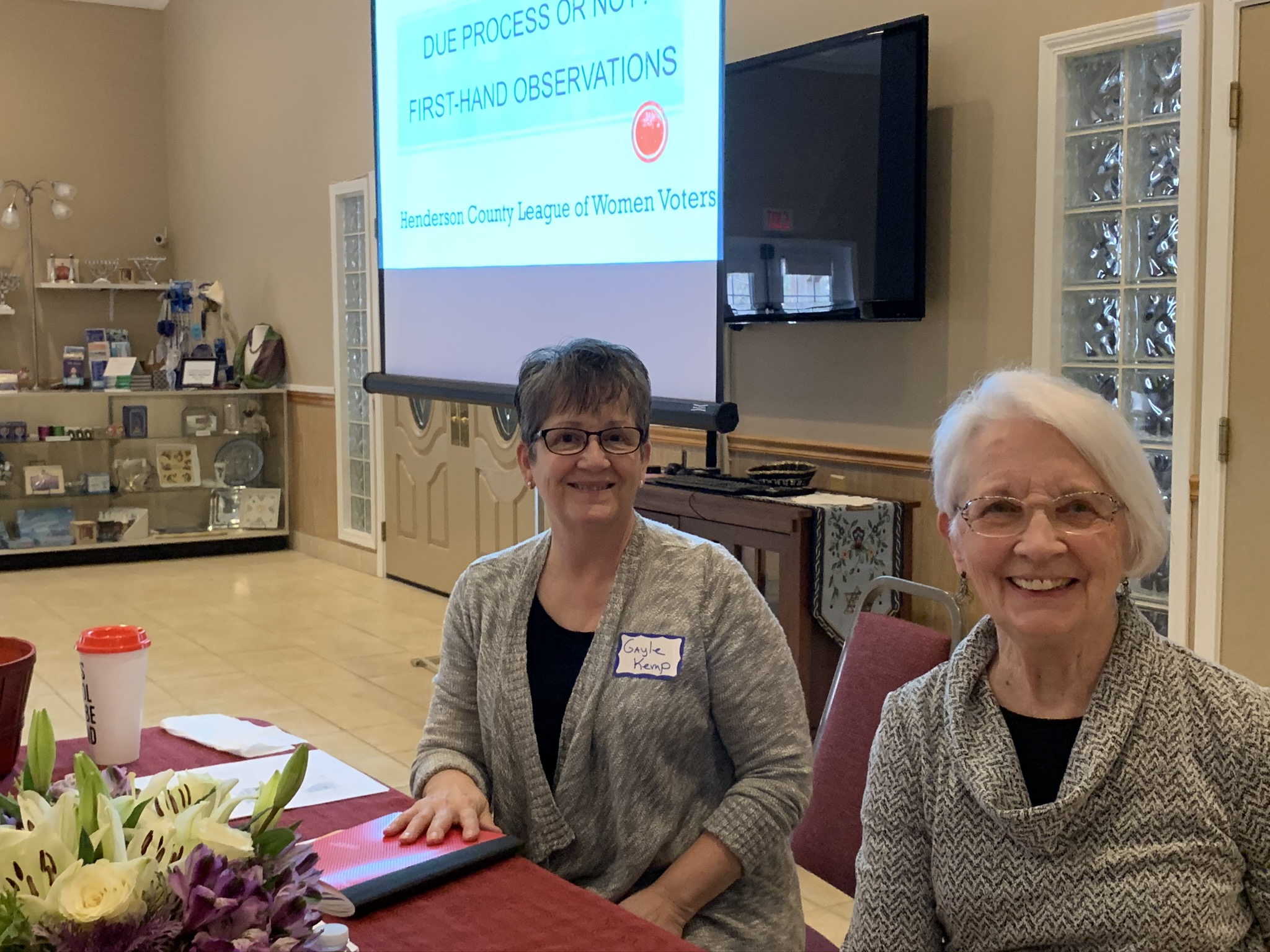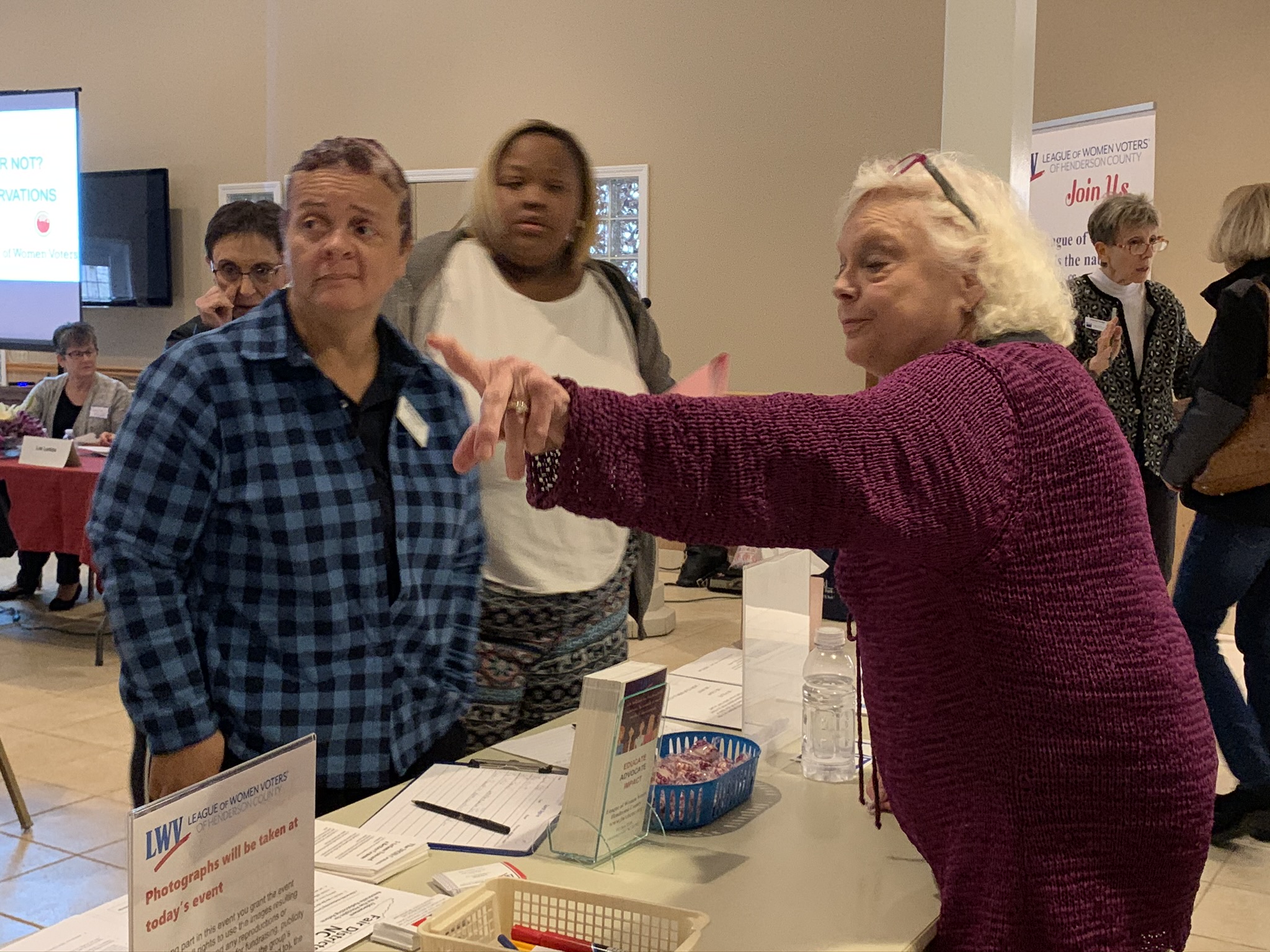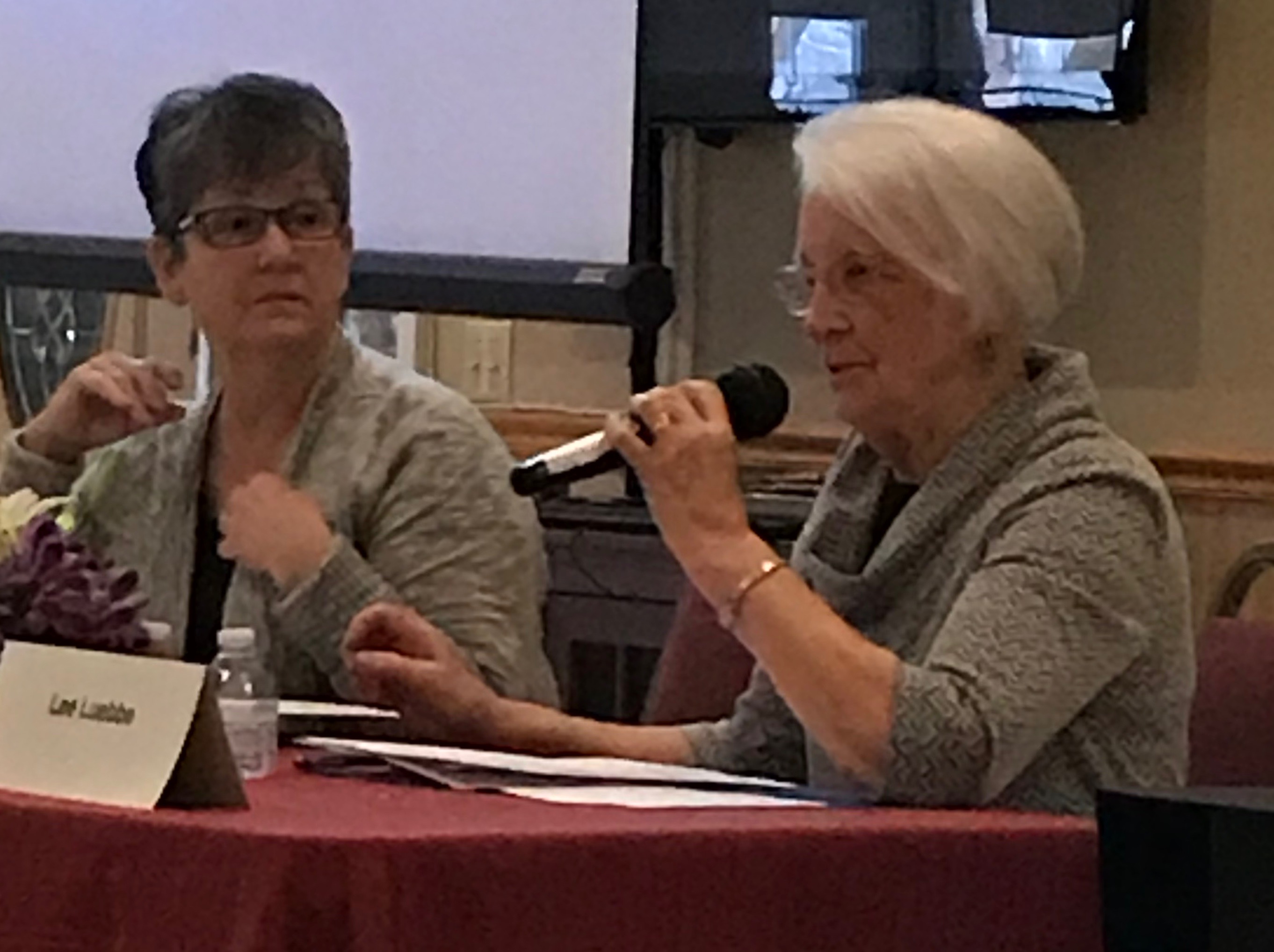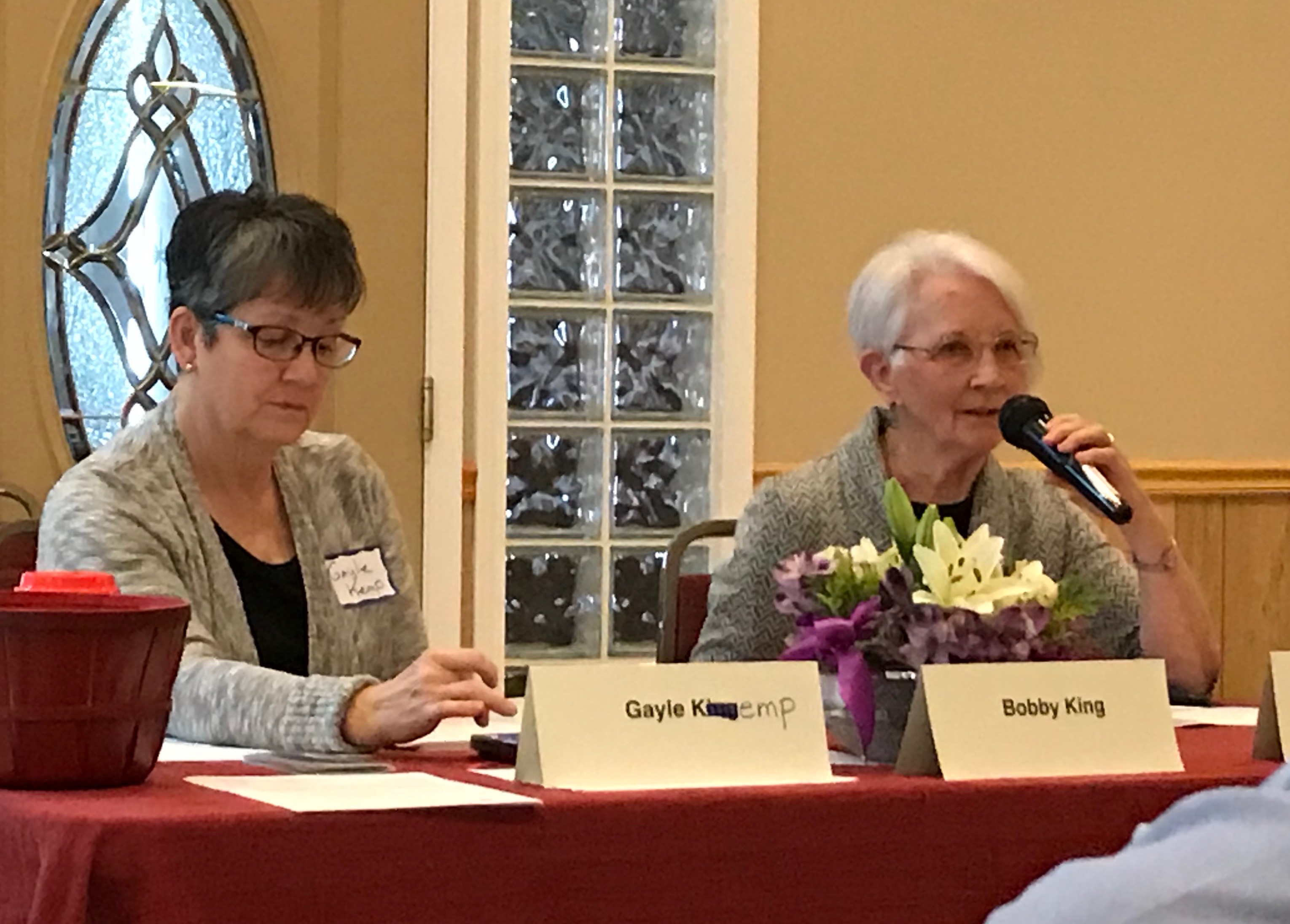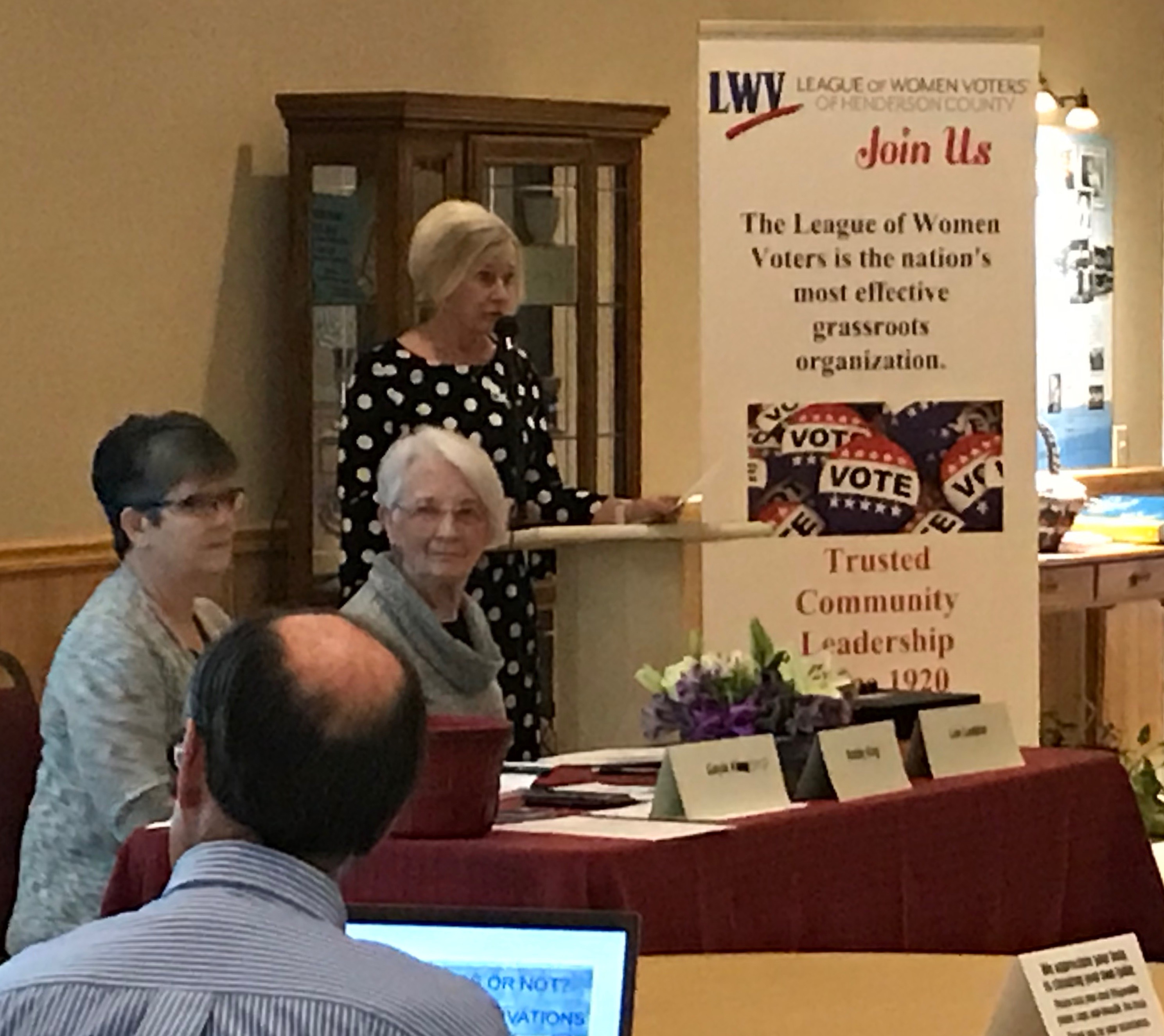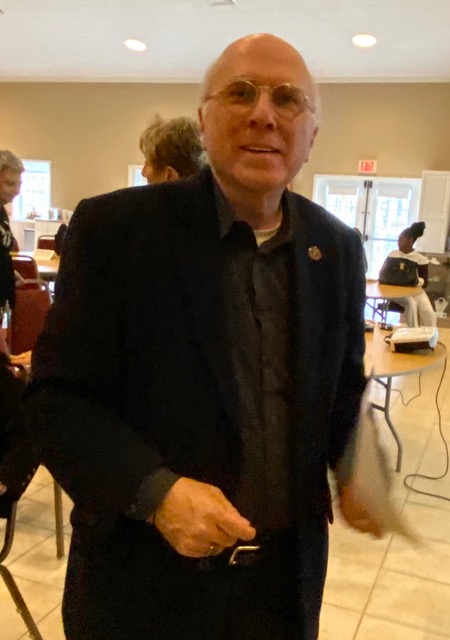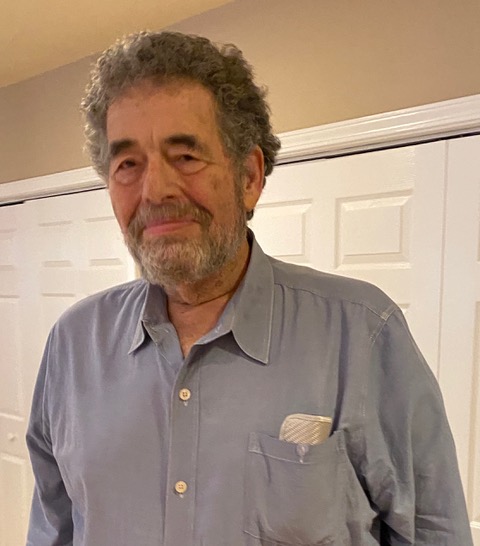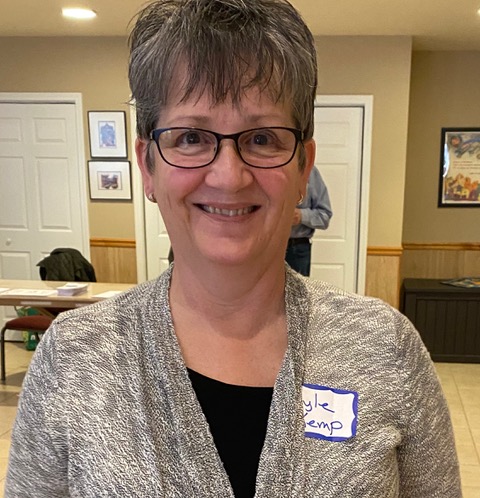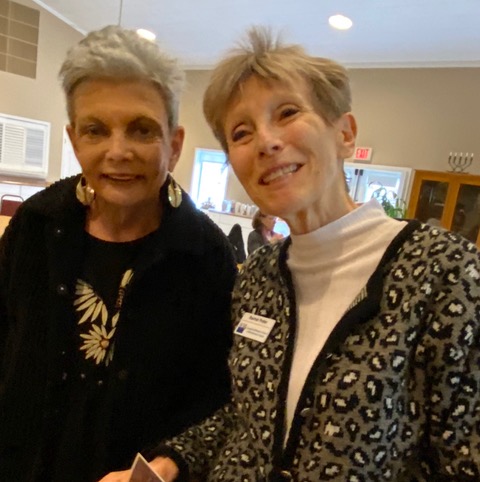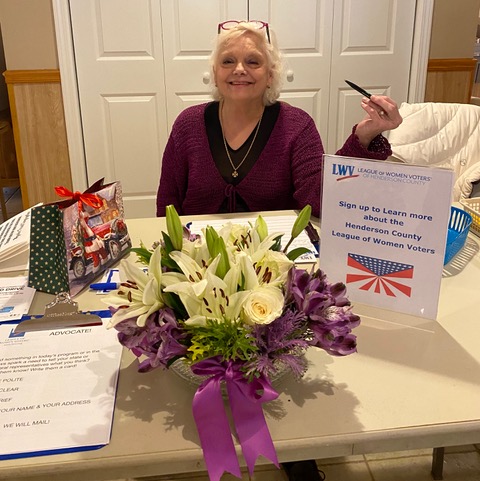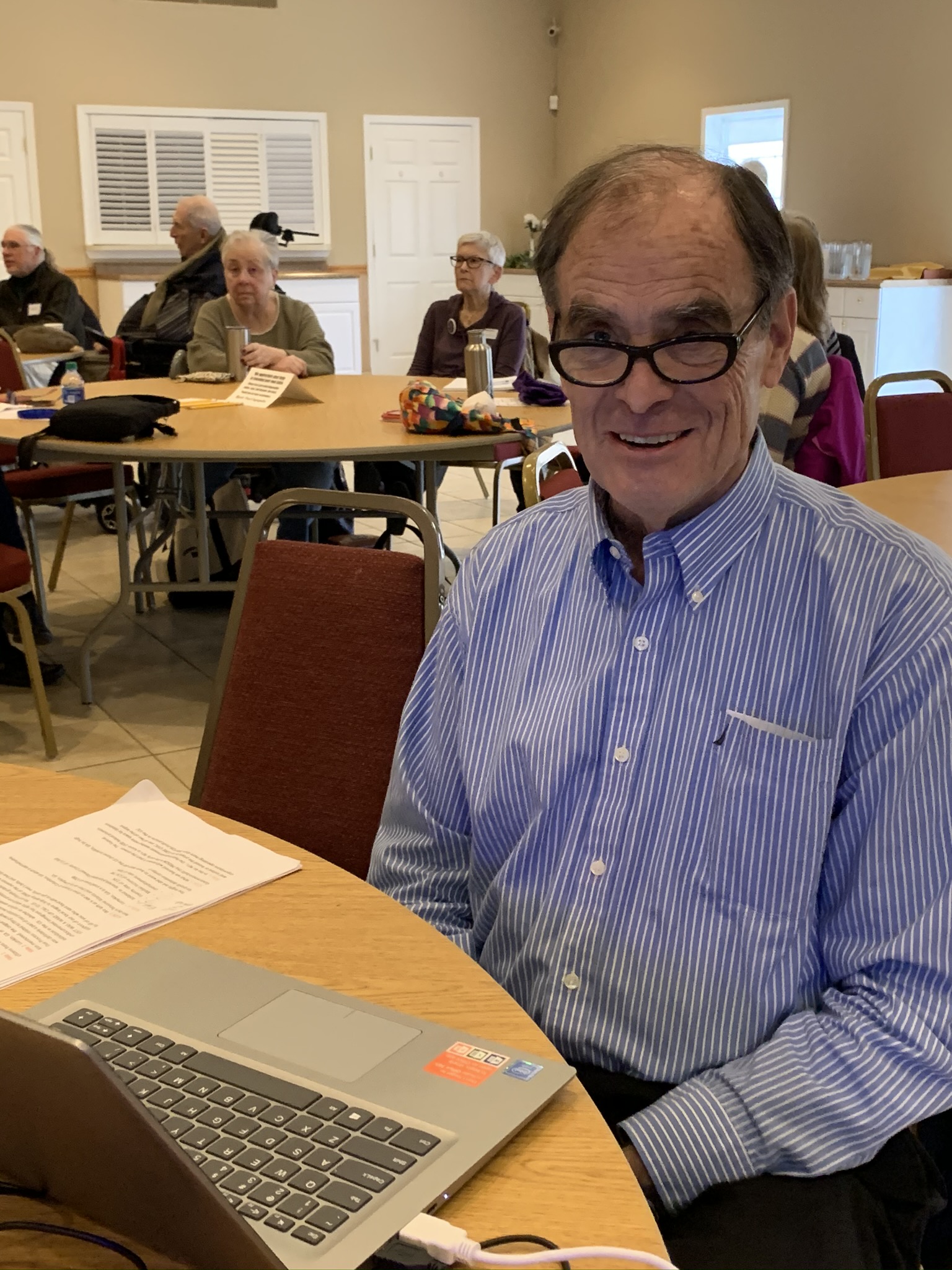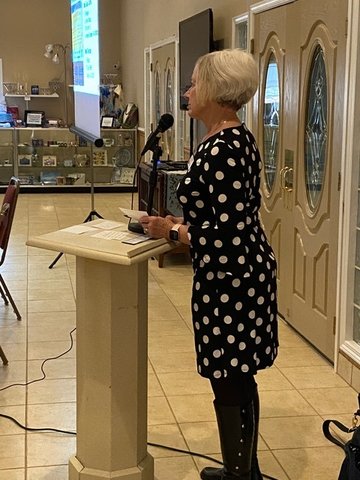 ---
Holiday Party – December 8, 2019
League members and guests rang in the Holiday season with a festive gathering at the Carriage Park Clubhouse. We shared many delicious goodies, made new friends and caught up with others. Six former LWVHC presidents were there! And, we collected about 50 books to deliver to the children in Headstart at WCCA.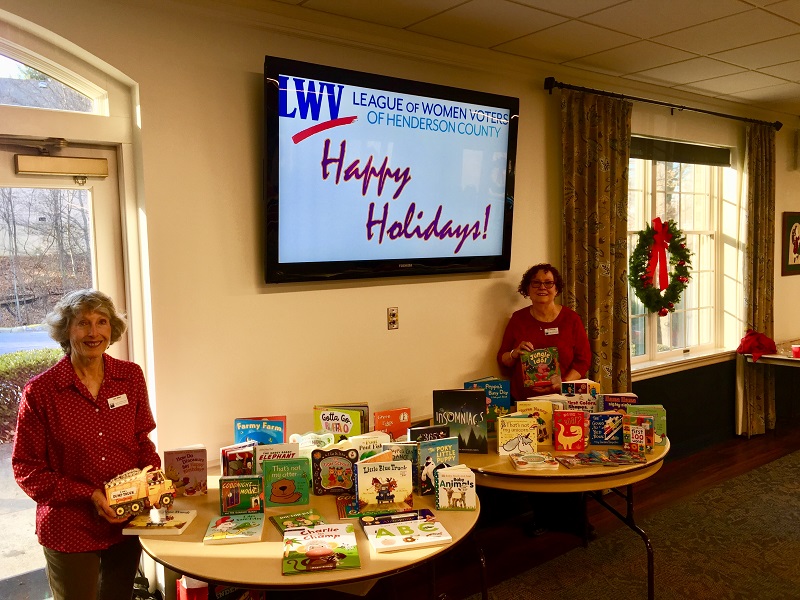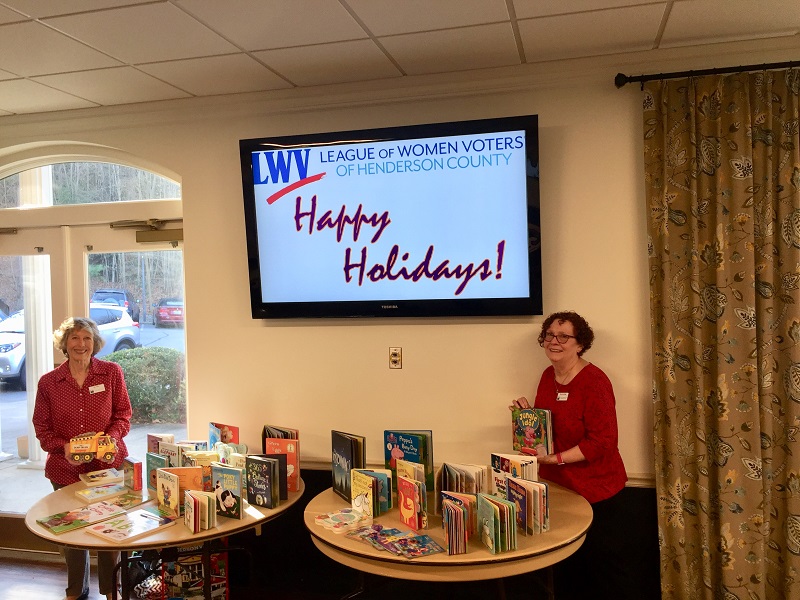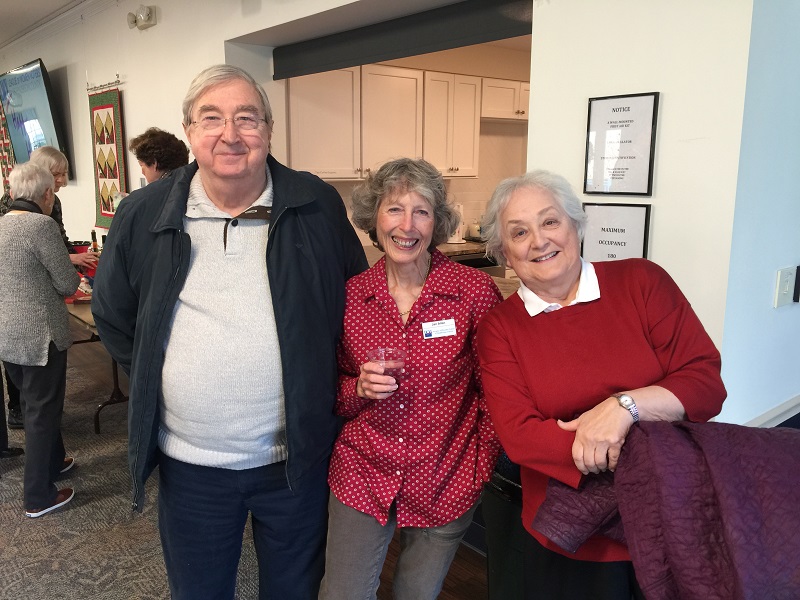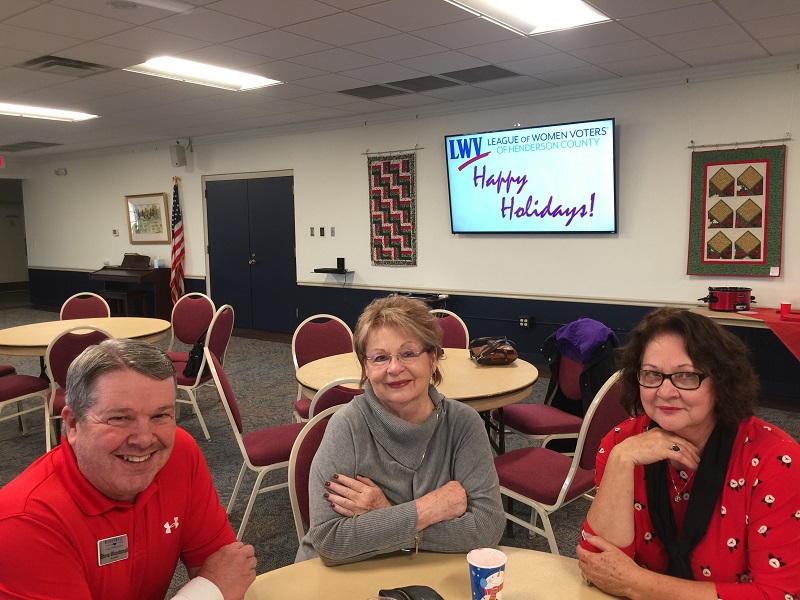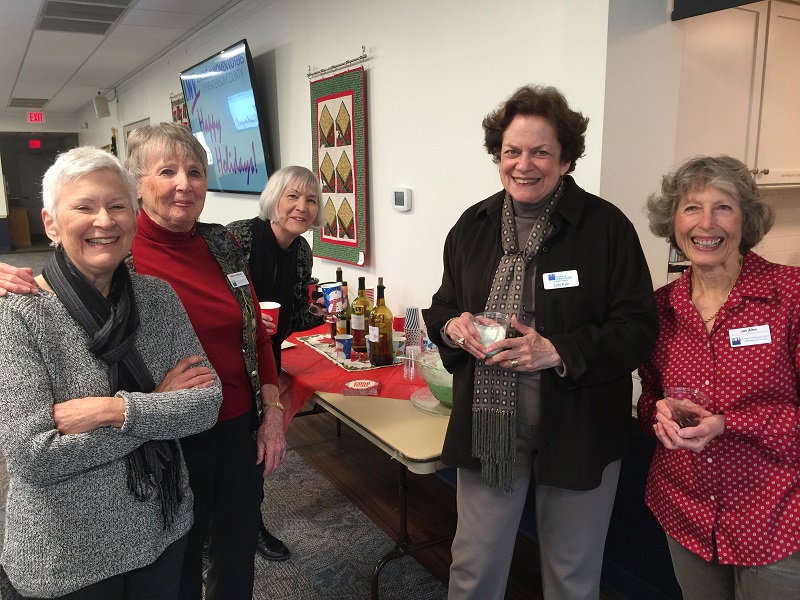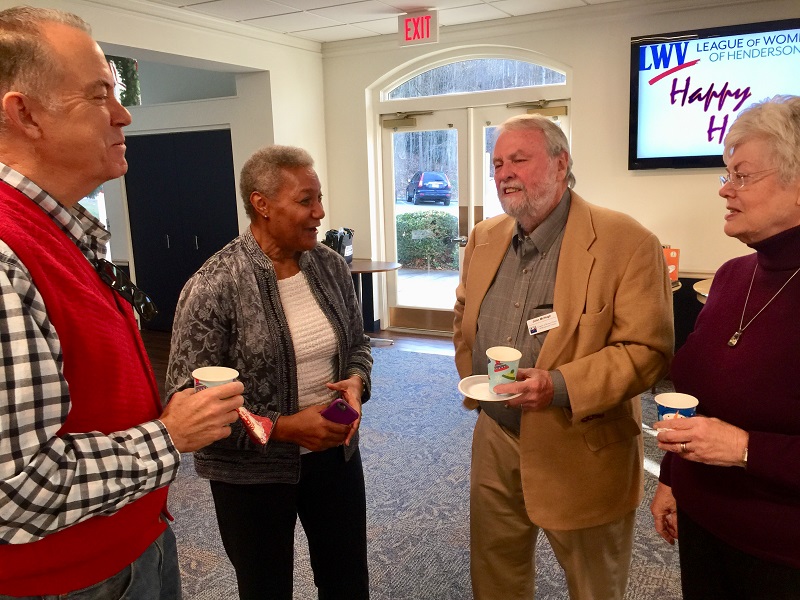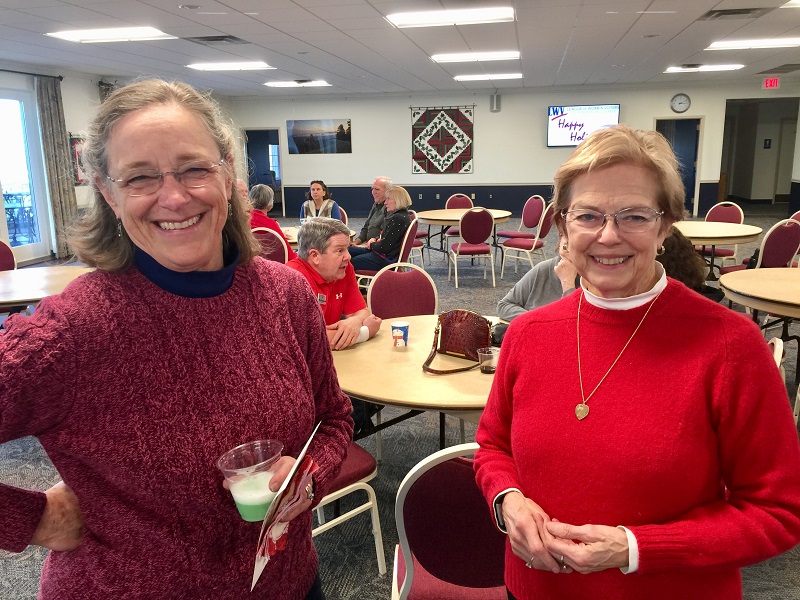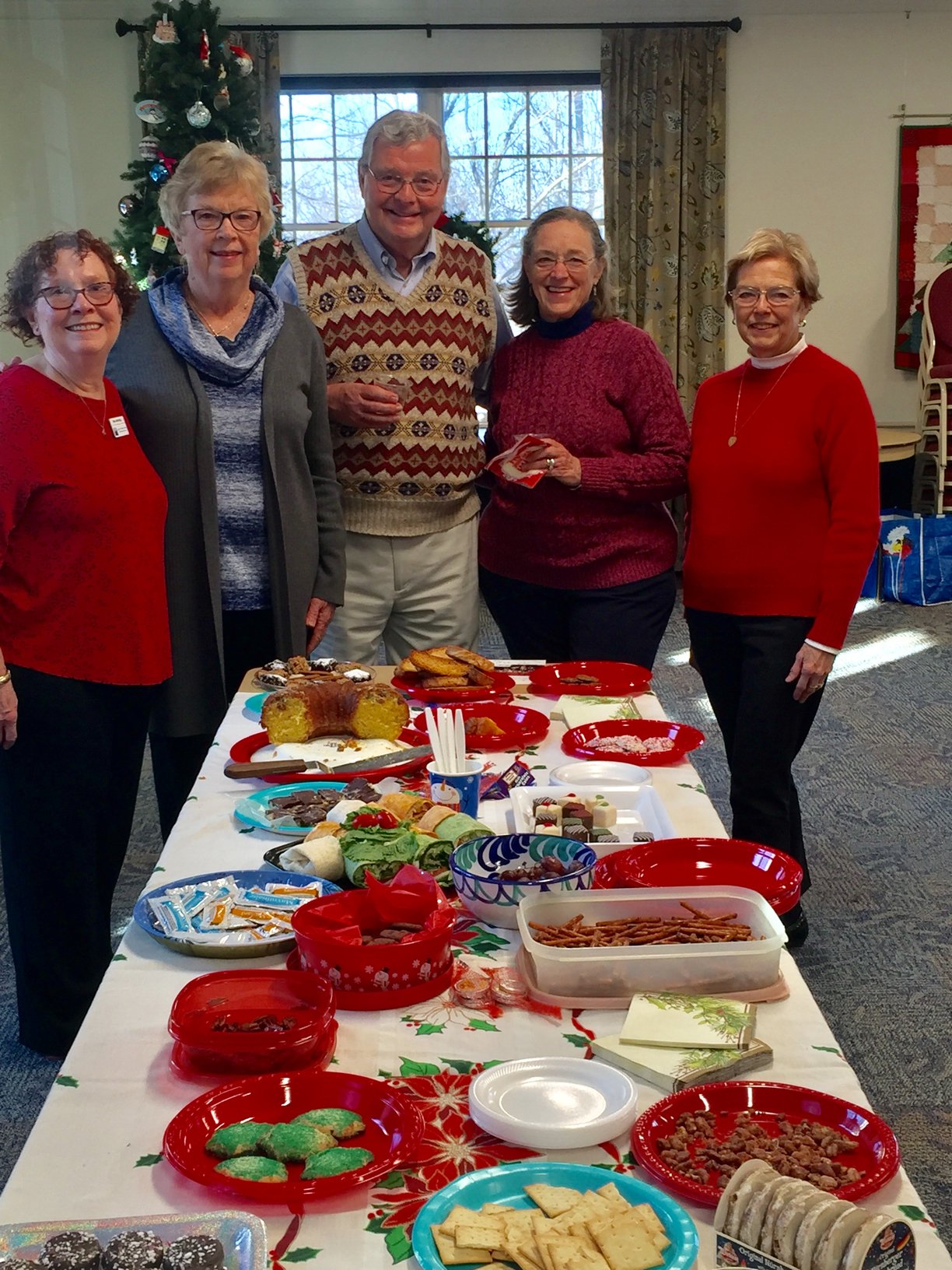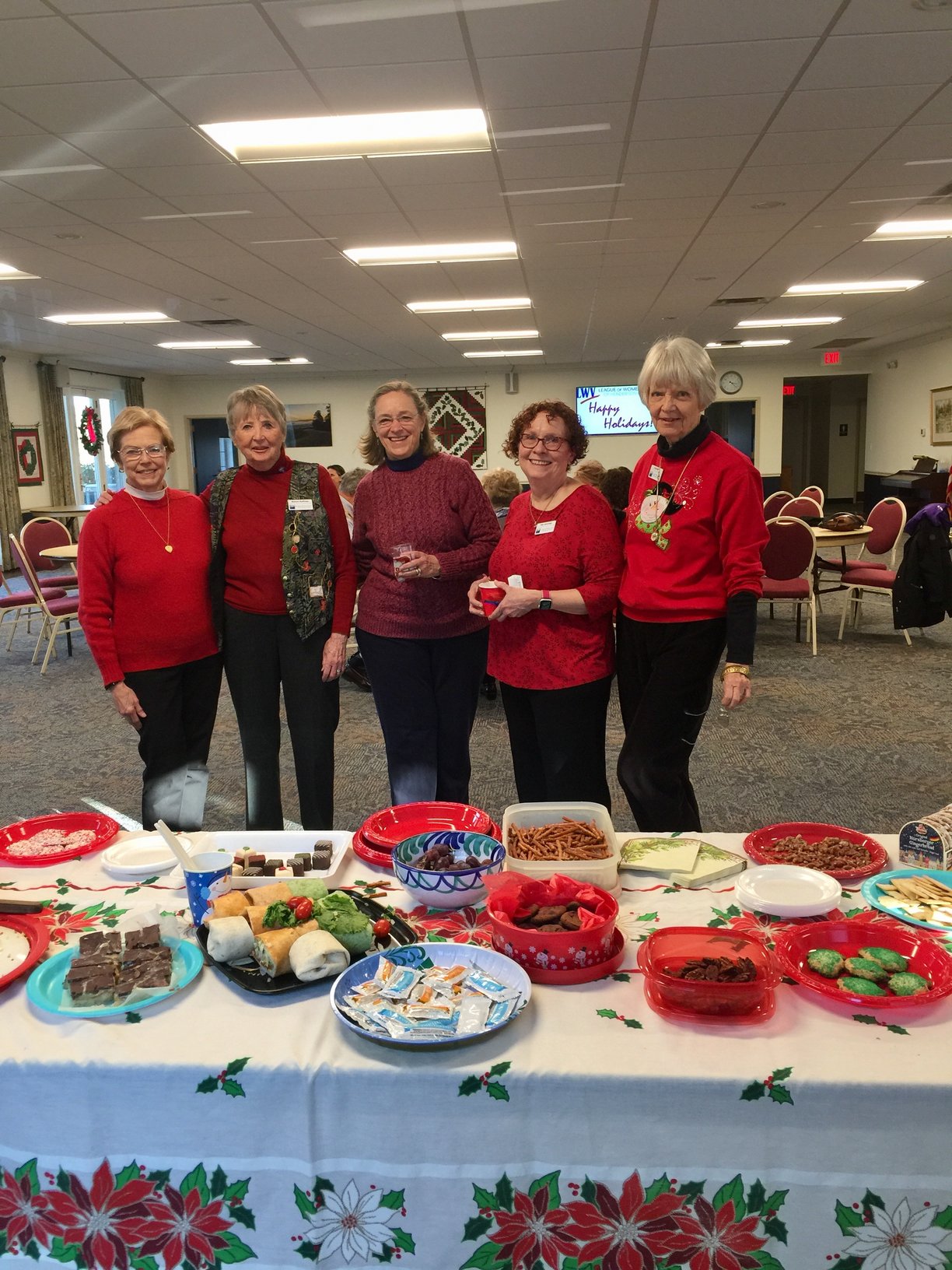 ---
Civics Education in the Public Schools Program – November 21, 2019
Assistant Superintendent of Henderson County Public Schools Jan King and Henderson County School Board member Rick Wood engaged LWVHC members and community members with their presentation and follow-up discussion of civics education in the public schools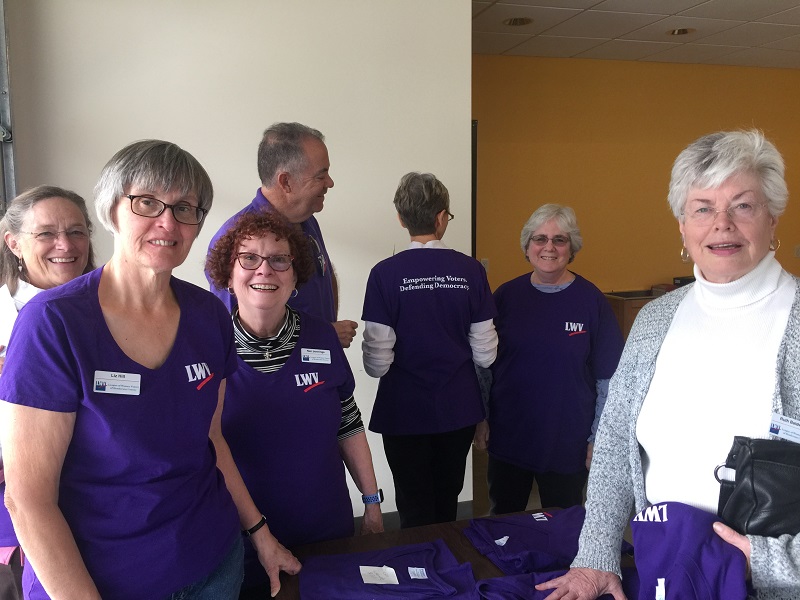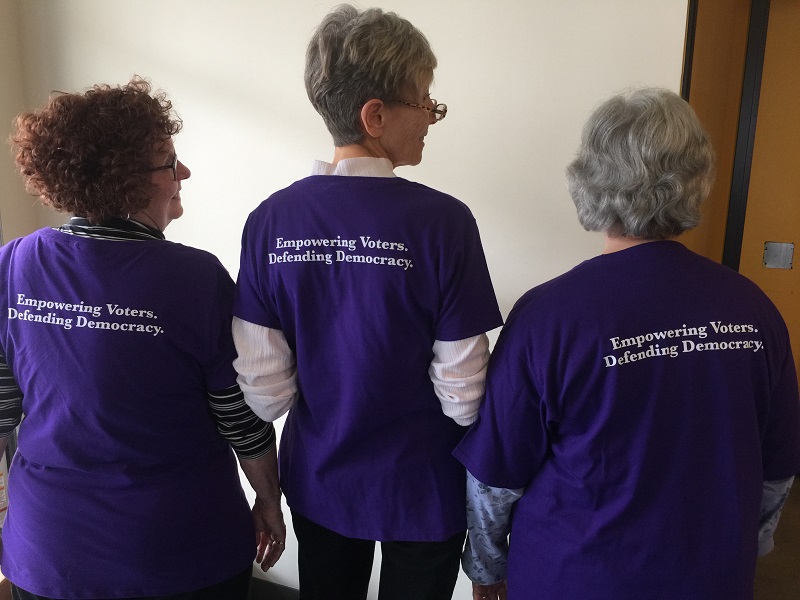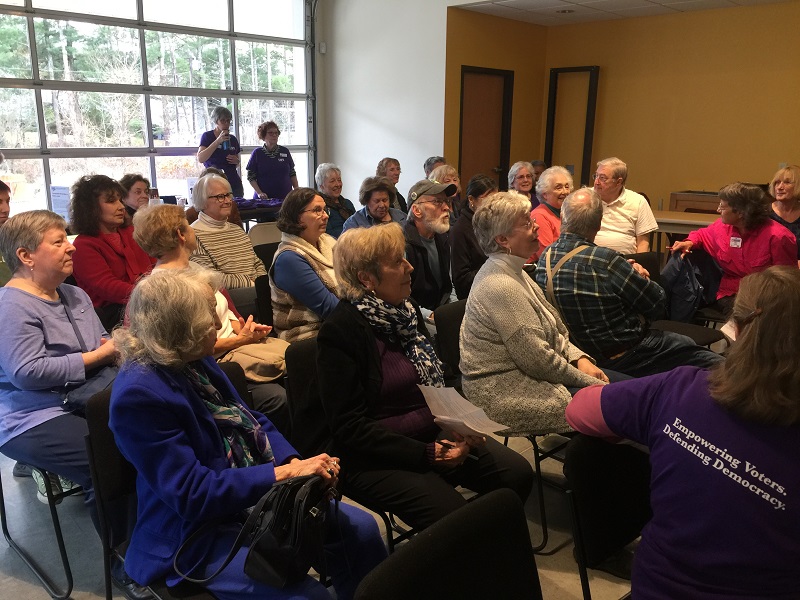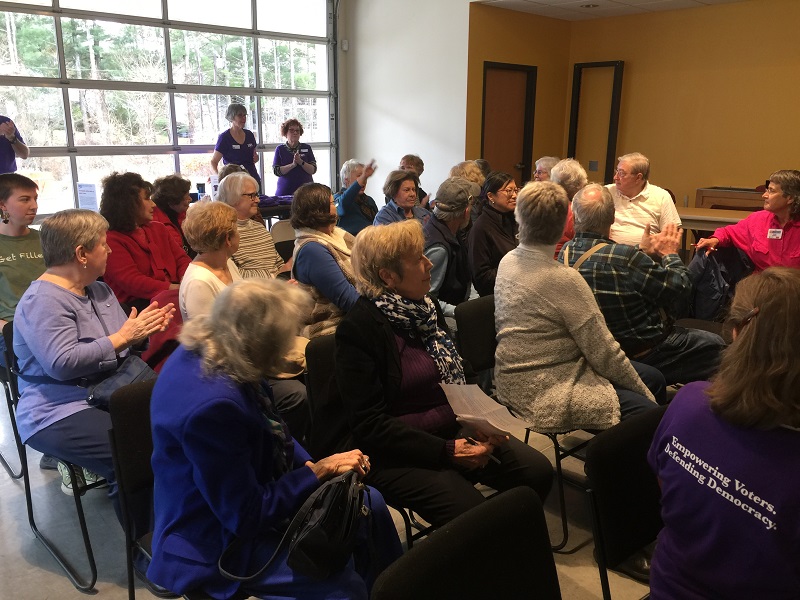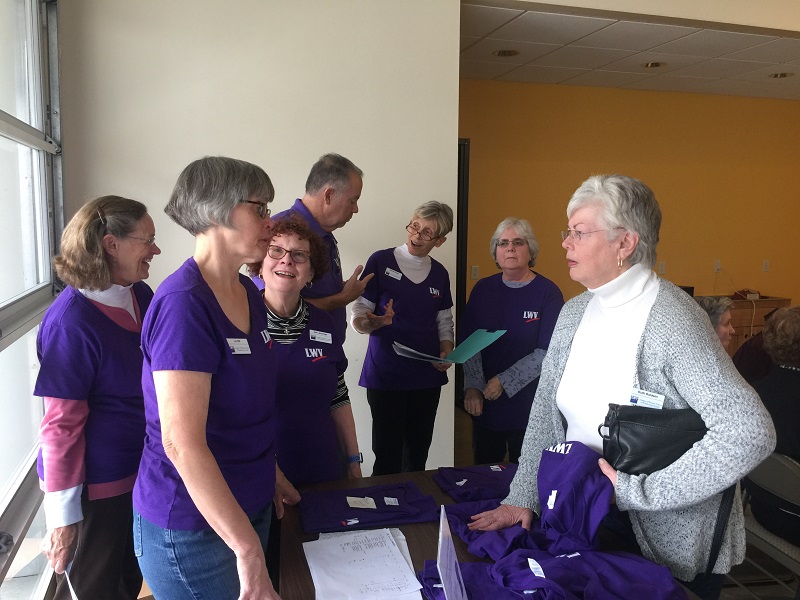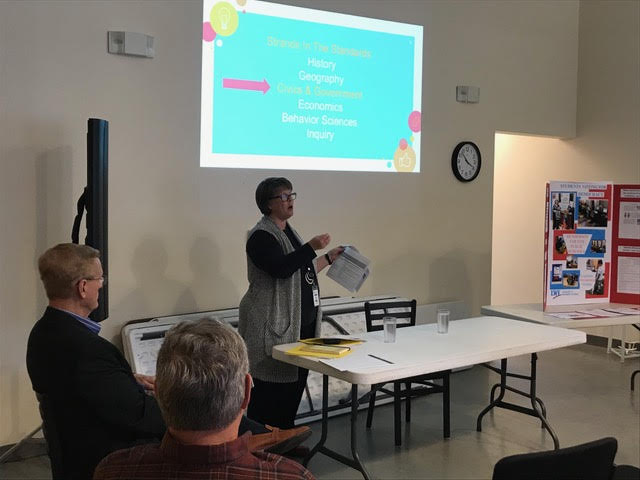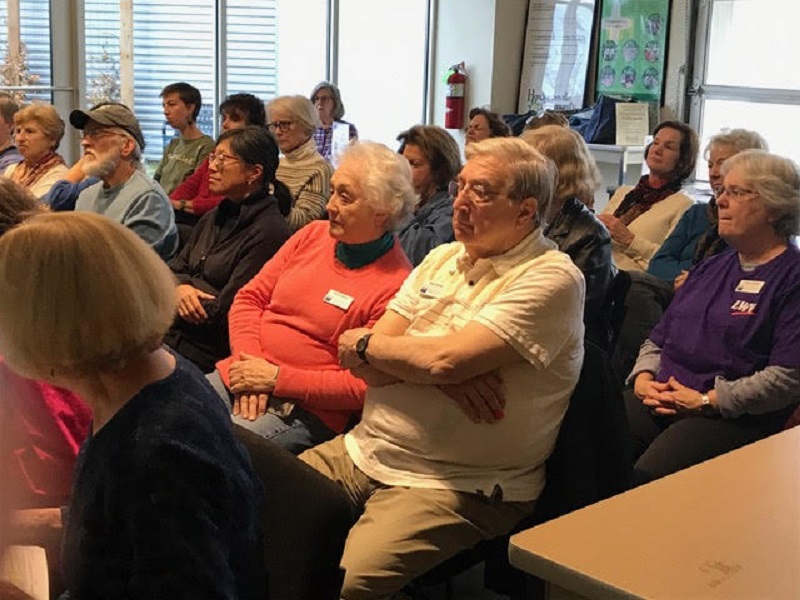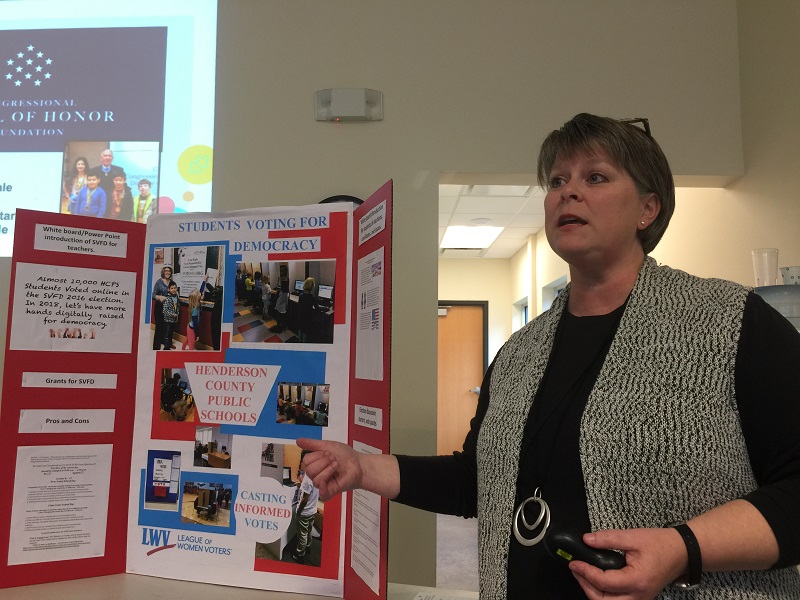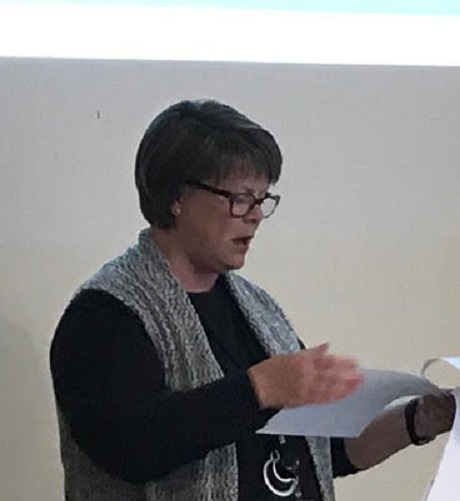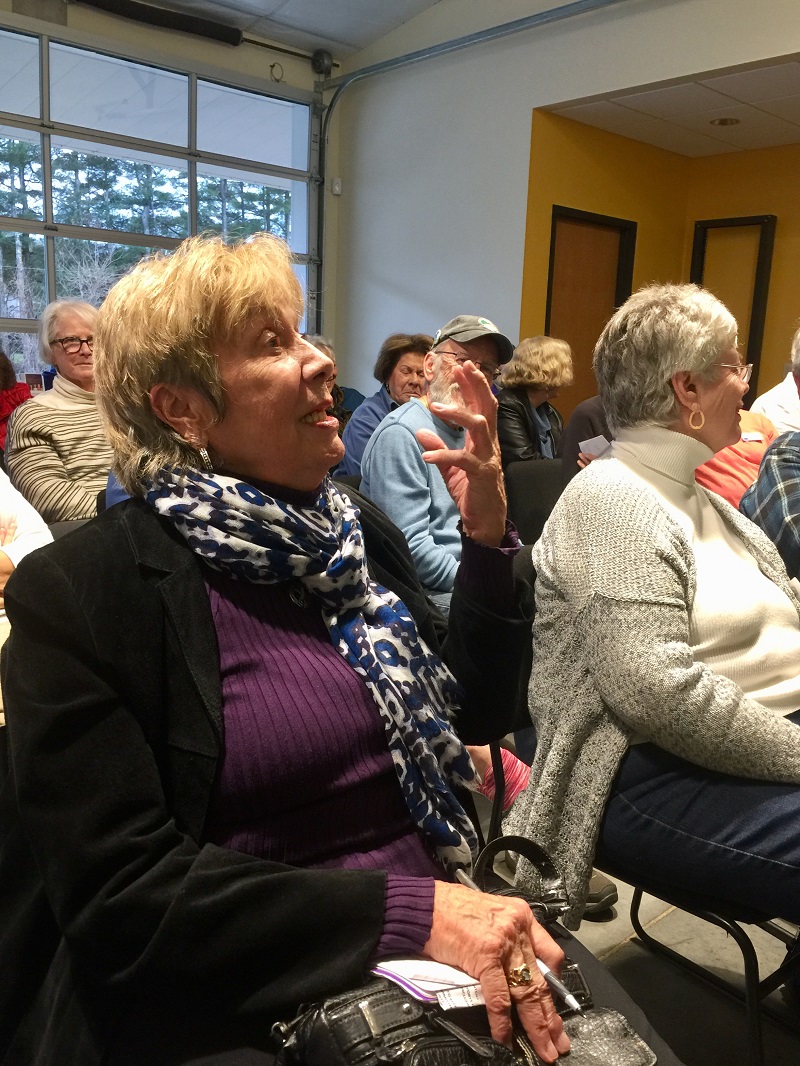 ---
Part Three of The Immigration Series - FACT vs FICTION – November 14, 2019
The League of Women Voters Henderson County along with several community organizations held its third in its 3-part series on Immigration,  FACT vs. FICTION, at Immaculate Conception Church. The topic addressed was The Myth of Economics/Crime. LWVHC member and Immigration Team chair, Lee Luebbe, moderated and introduced the panelists: Bert Lemkes, General Manager, Tri-Histil; Corey Atkins, VIce-President of Public Policy and General Counsel fo the Asheville Area Chamber of Commerce; Efren Vintimillia, local banker; and Sheriff Lowell Griffin and Major Frank Stout of the Henderson County Sheriff's Department.  The speakers all shared compelling information and data regarding the issues and impacts of undocumented immigrants on the economy of WNC. About 90 community members attended and asked numerous questions.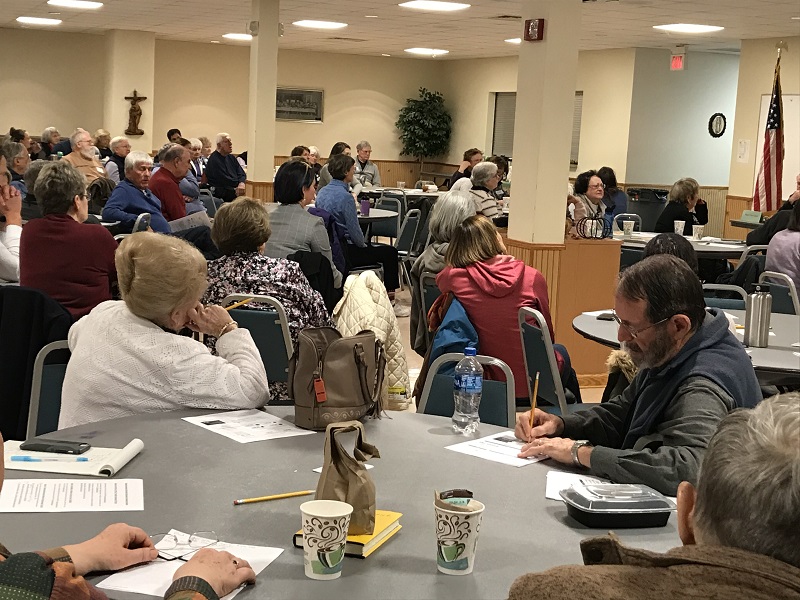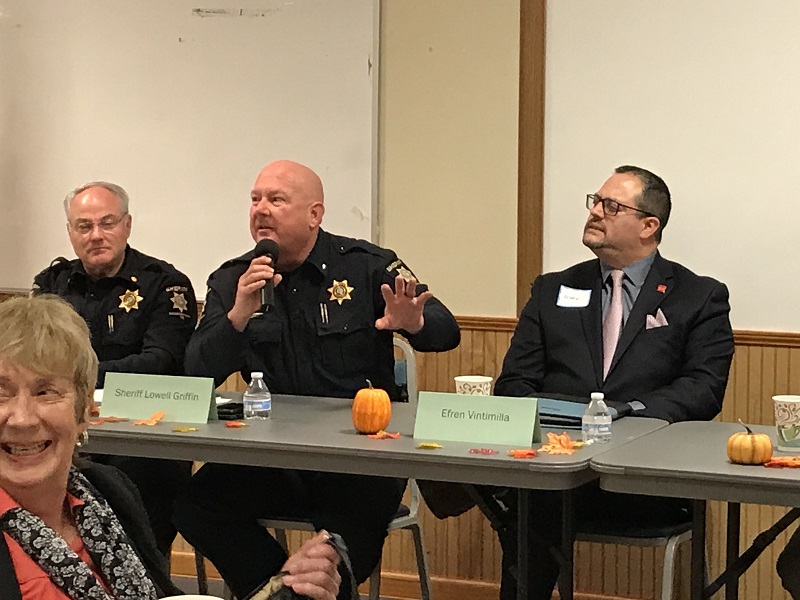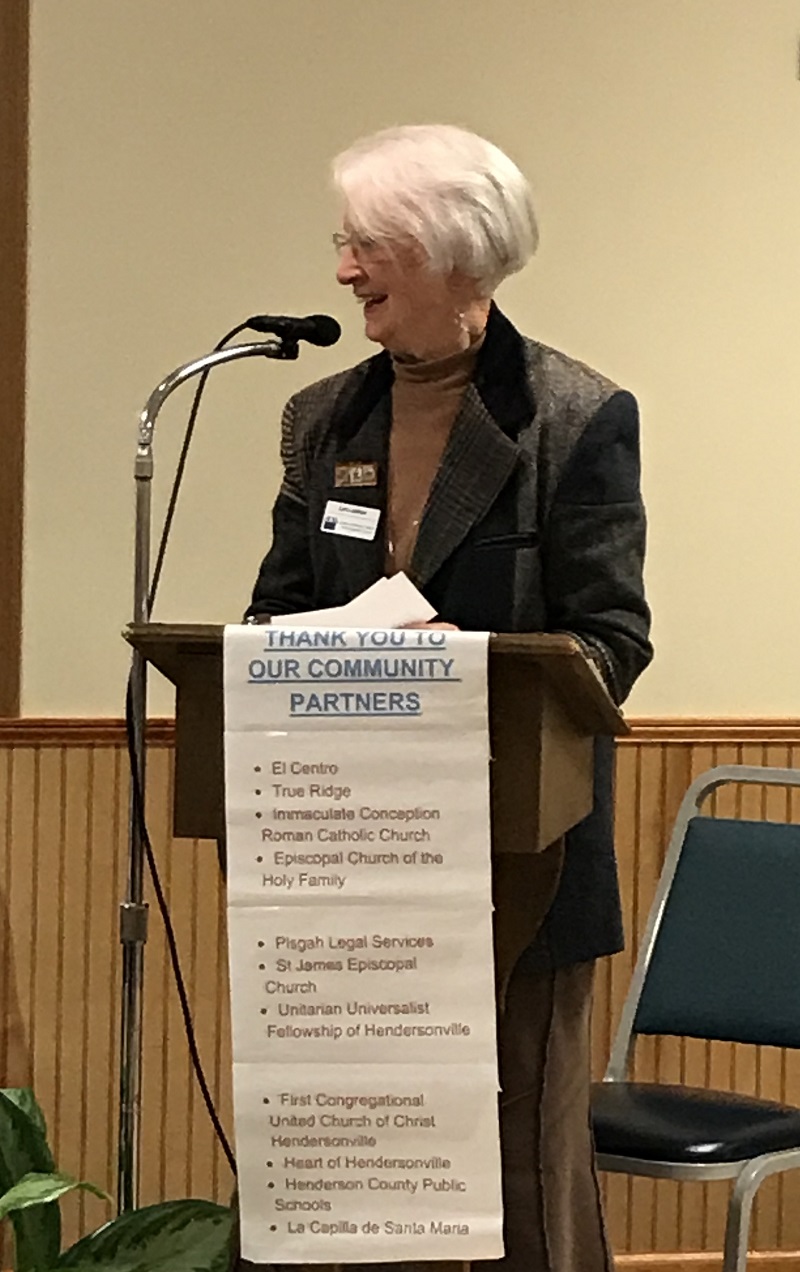 ---
LWVHC Library Display – October 24, 2019
Be sure to stop by the library anytime during the month of November to check out the LWVHC display!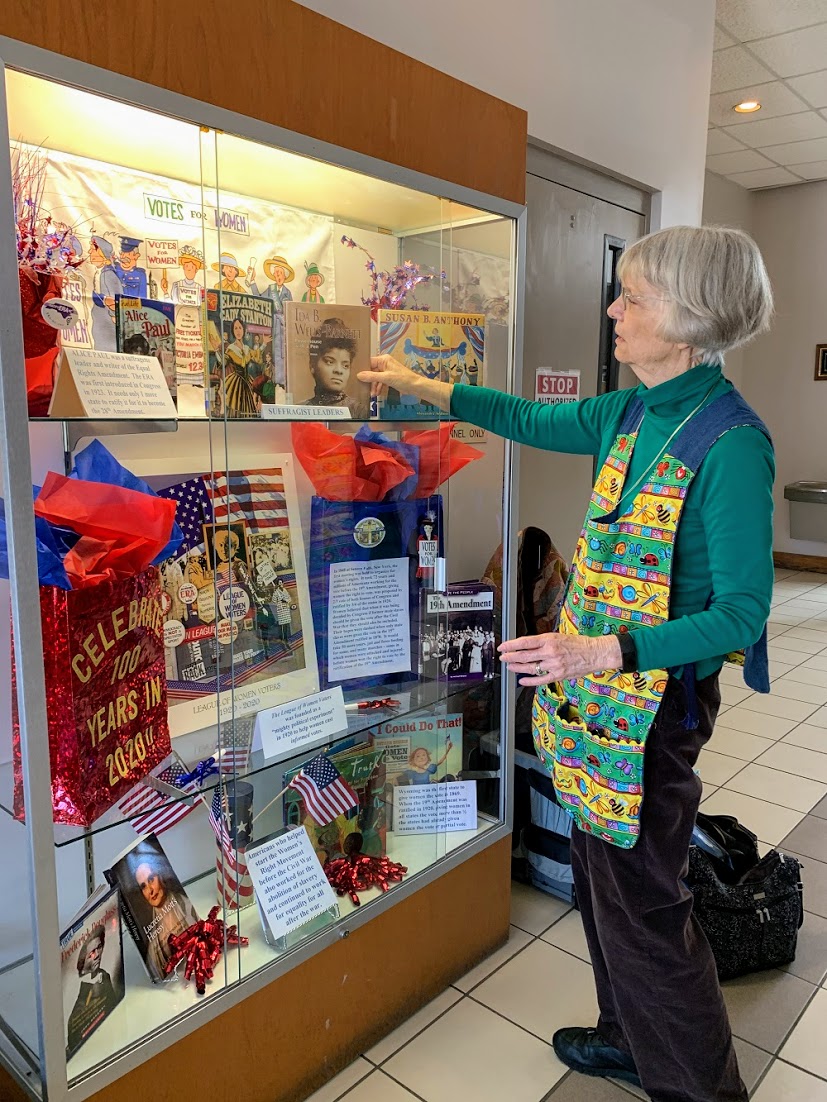 Linda Miller putting the finishing touches to the LWVHC Library Display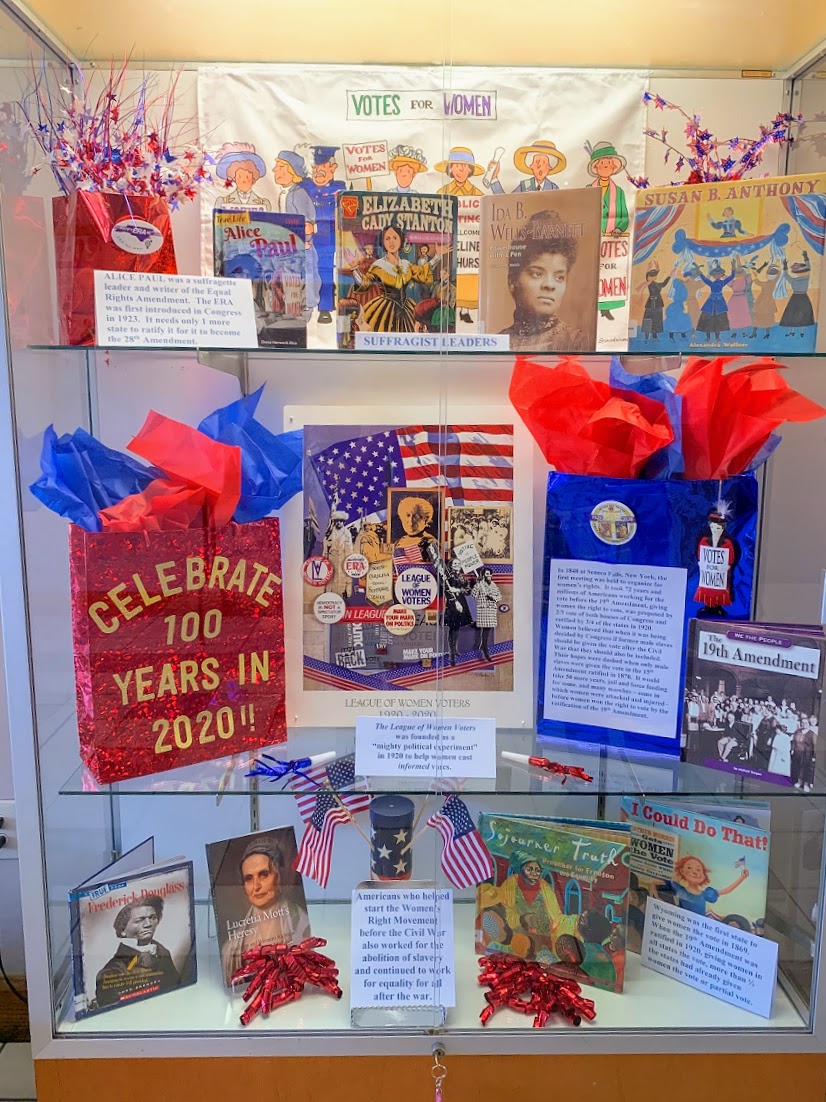 ---
Climate and Energy Saving: What Can We Do? – October 17, 2019
Katie Breckheimer, MountainTrue board member and Esther Cunningham award winner, and Brad Rouse, executive director Energy Saver Network, provided compelling evidence of the need for a "climate revolution" through cultural, political, economic, and technological change and suggestions for each of us to make it happen.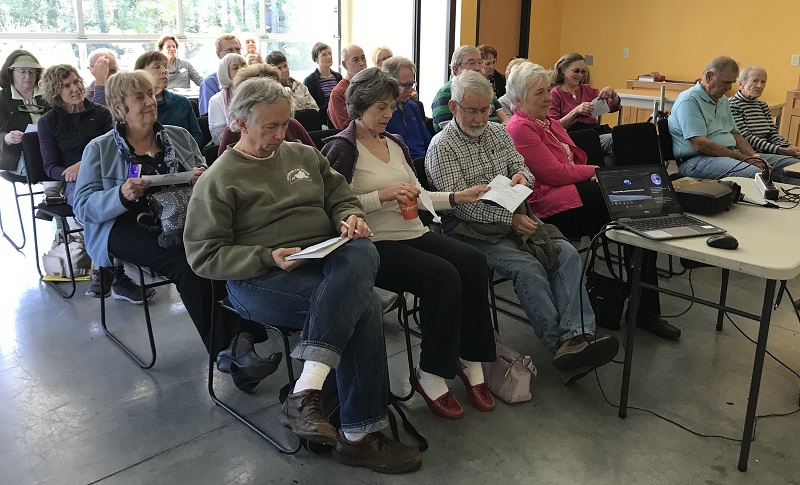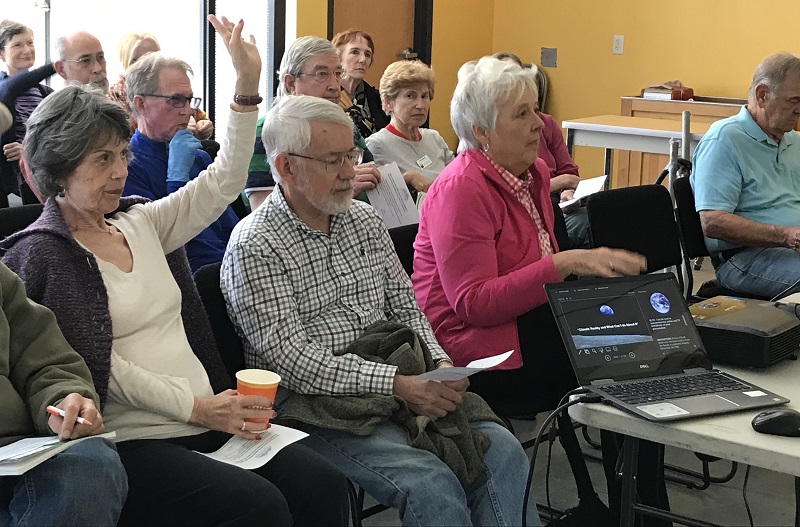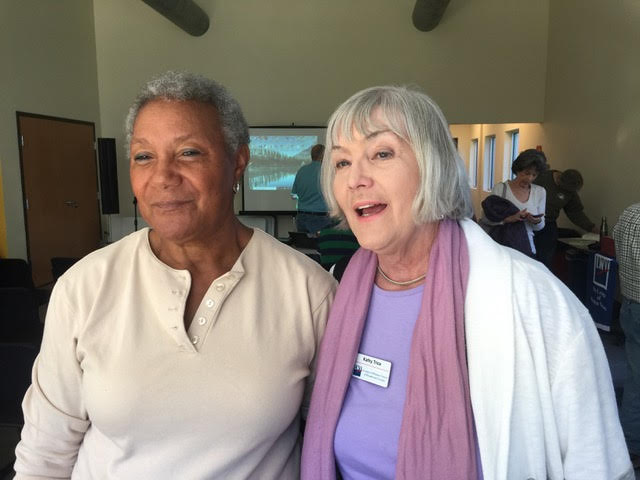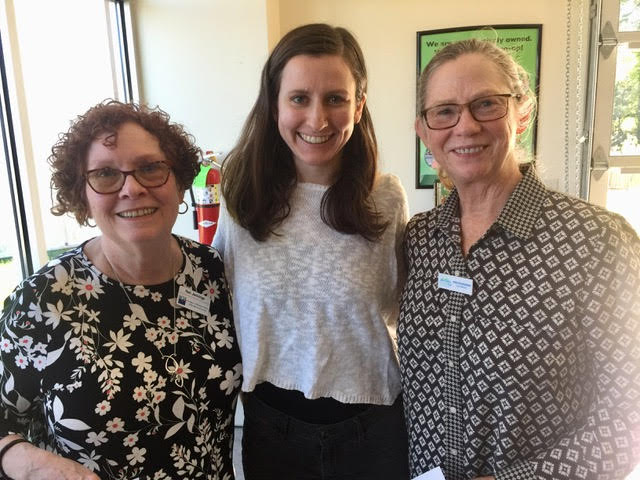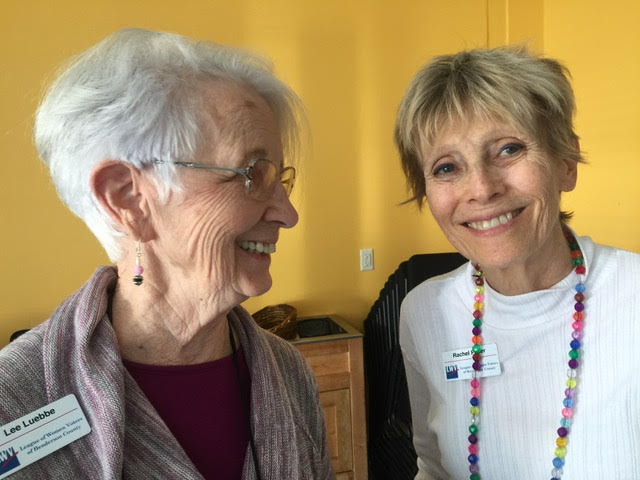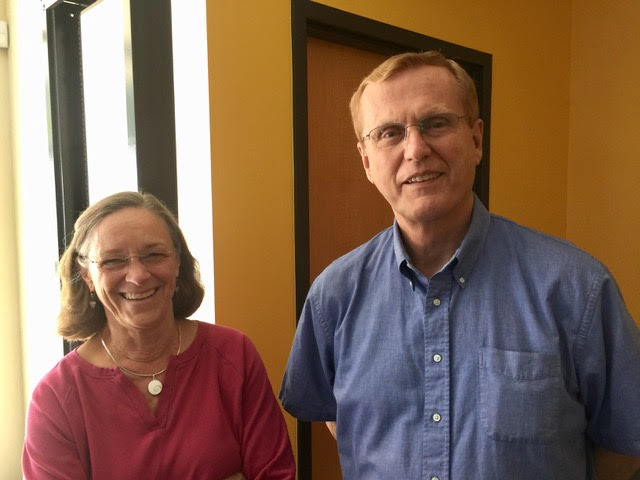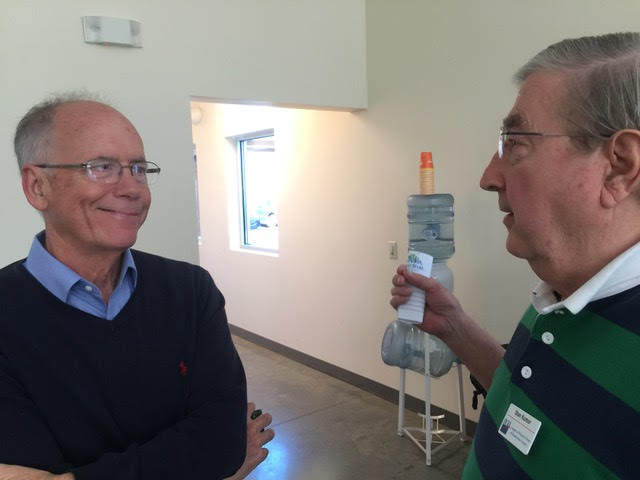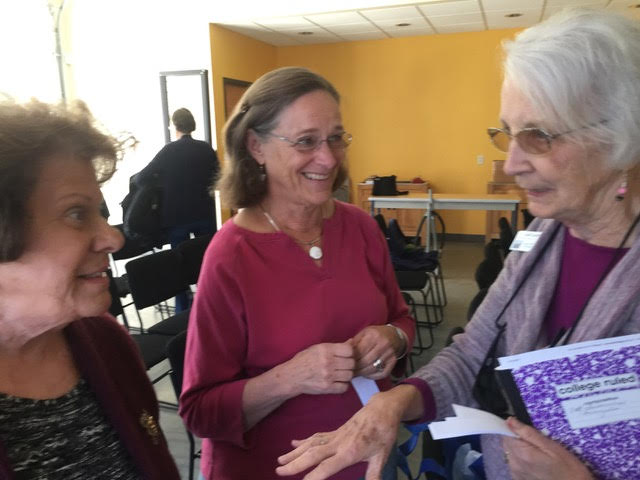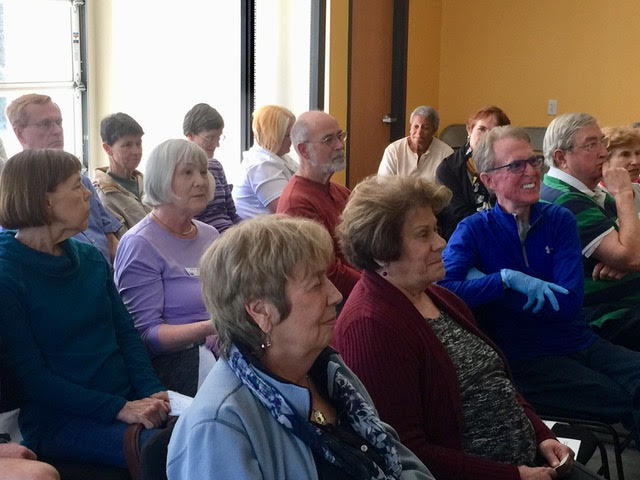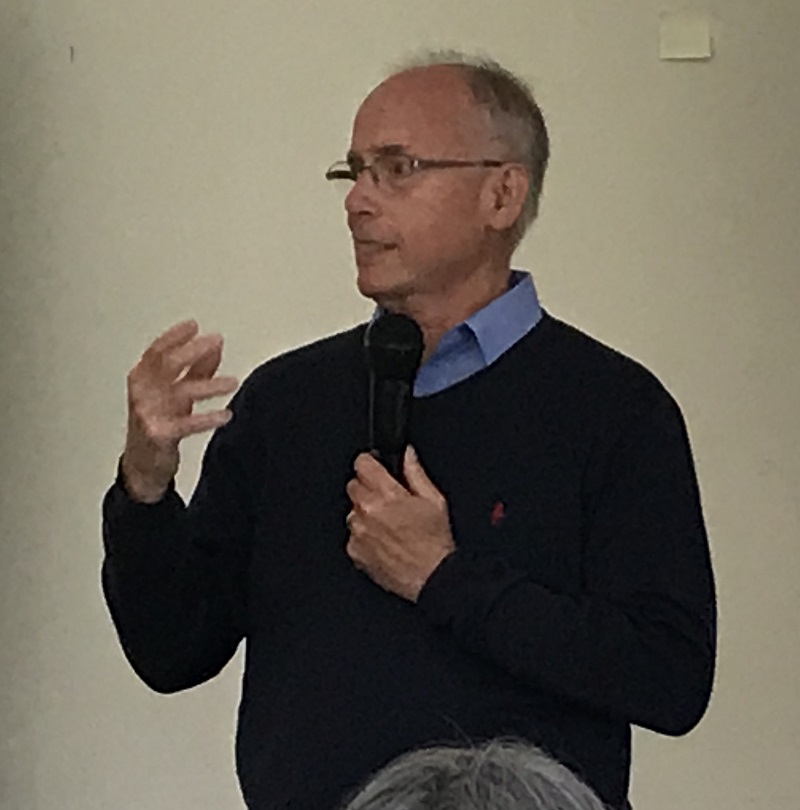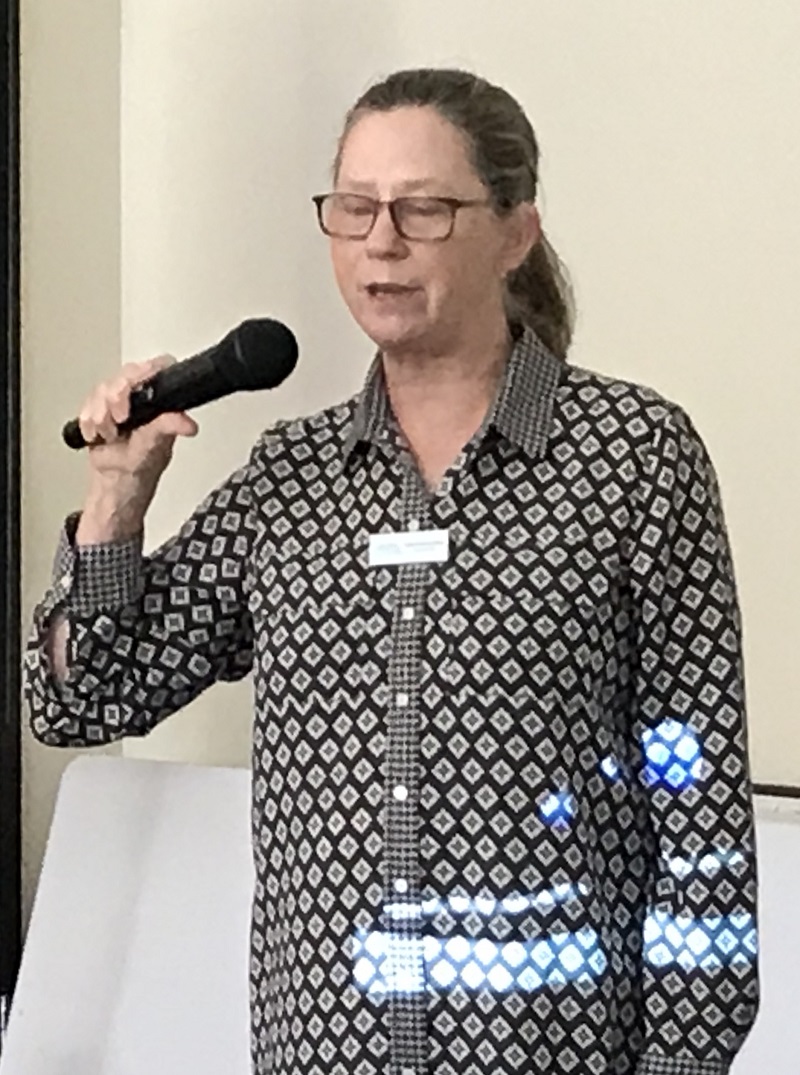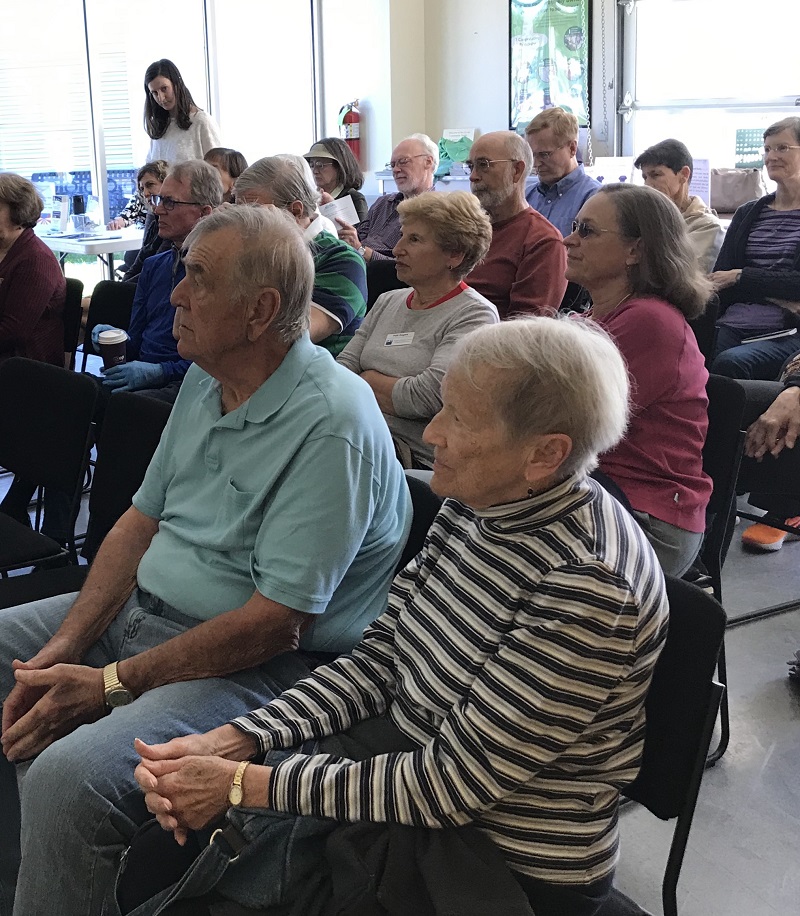 ---
Part Two of The Immigration Series - FACT vs FICTION – October 10, 2019
The League of Women Voters Henderson County along with several community organizations held its second in its 3-part series on Immigration,  FACT vs. FICTION, on Thursday, October 10, at Immaculate Conception Church. The topic addressed was "The Myth of Just Get In Line." Ollie Bunch, Convener of the Immigration Network of Henderson County, introduced the 3 panelists: Jacob Oakes, lawyer with Pisgah Legal; and Claudia Yepez and Areli Perez-Nava, immigrants who shared their personal stories in their paths to citizenship.  About 100 community members attended and asked numerous questions.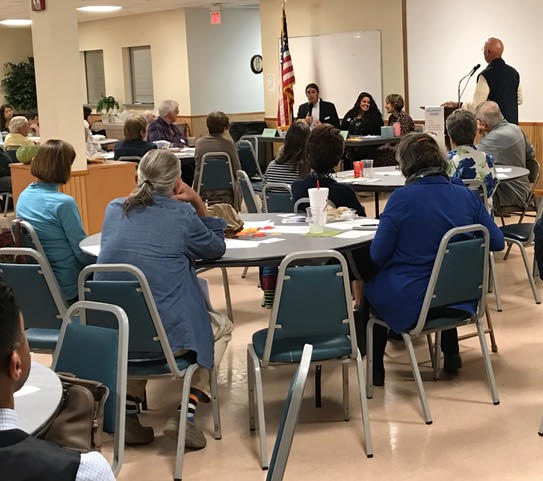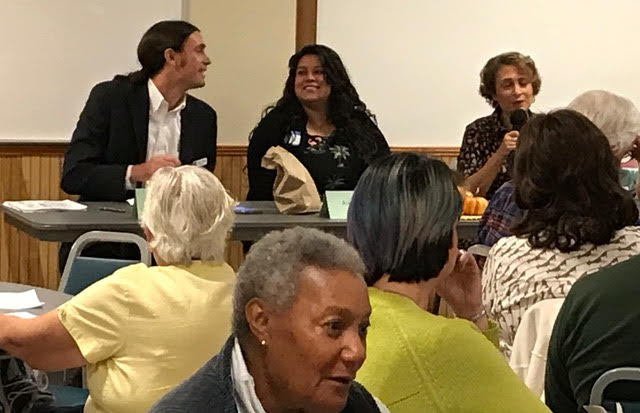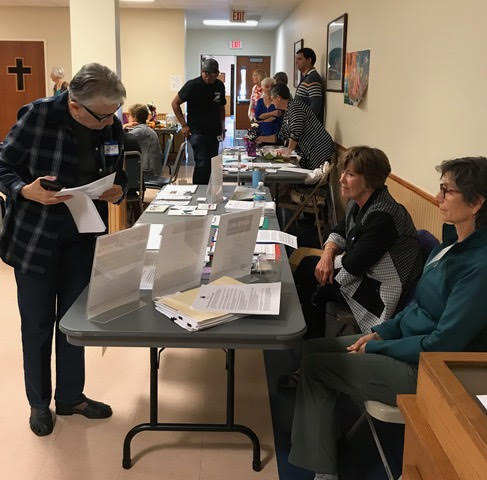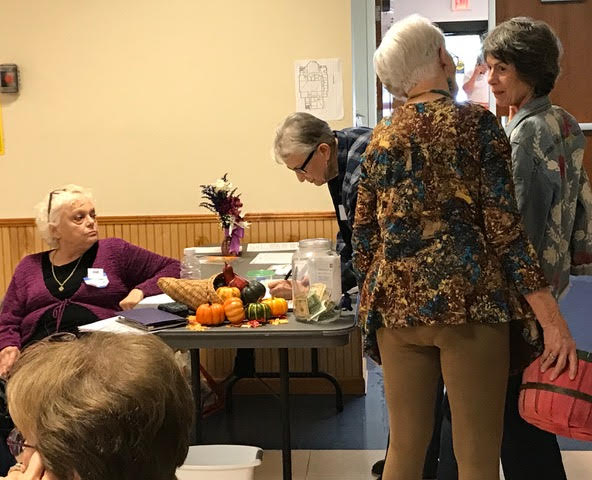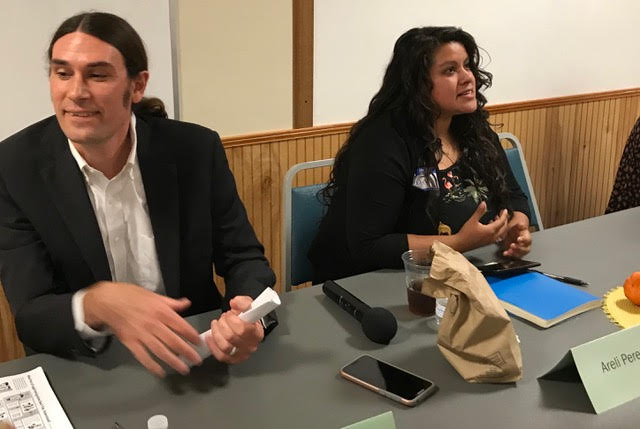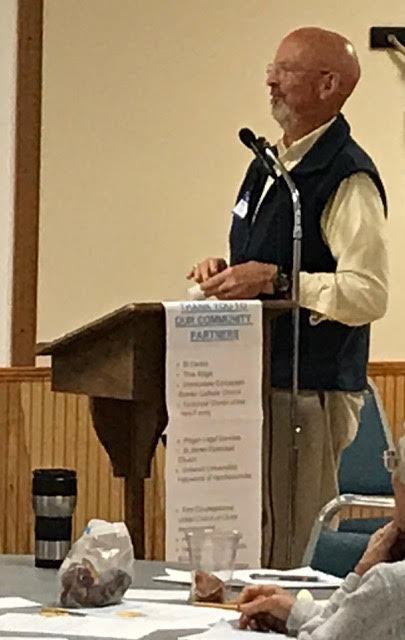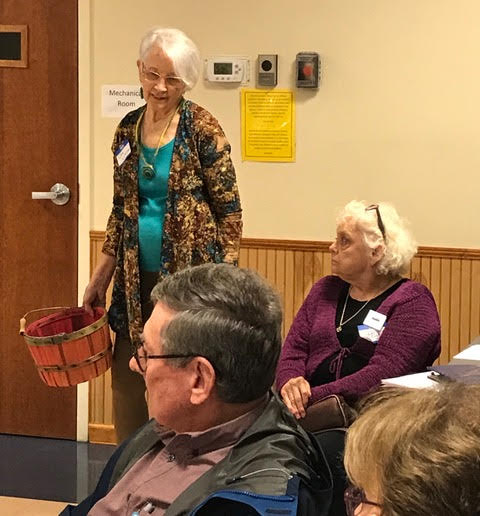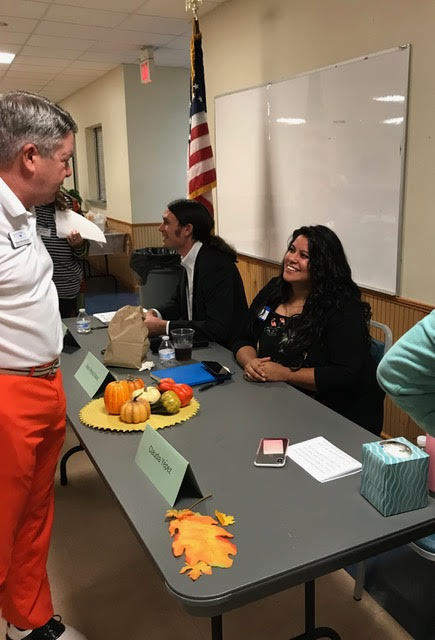 ---
Candidate Meet & Greet – October 7, 2019
Council and Mayoral Candidates from Henderson County municipalities Flat Rock, Fletcher, Mills River, Laurel Park and Hendersonville met their constituents to discuss issues.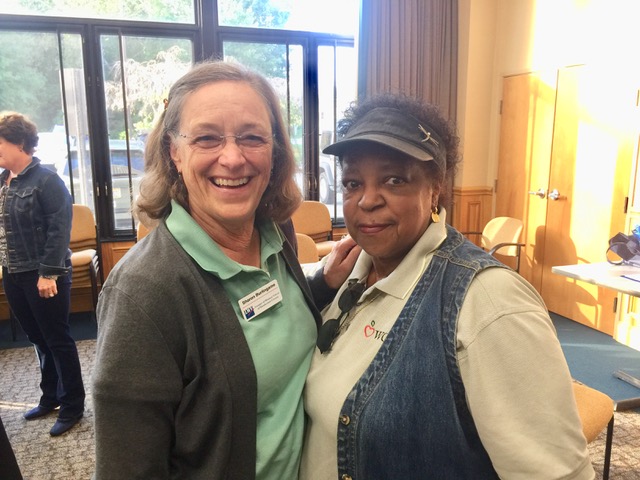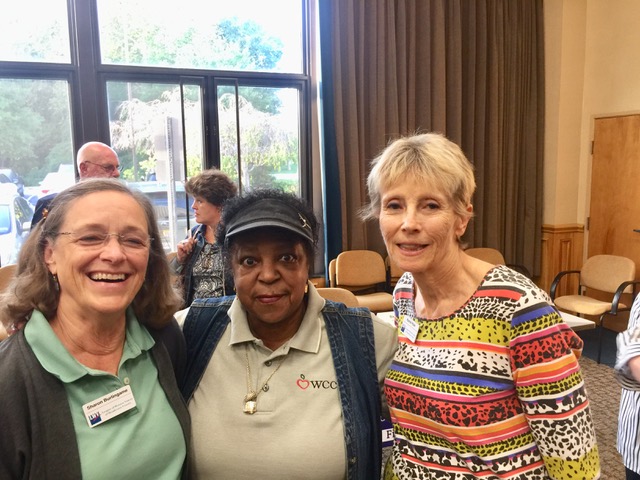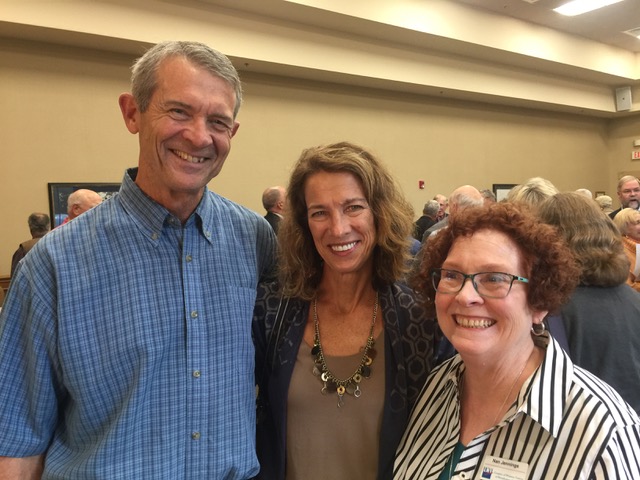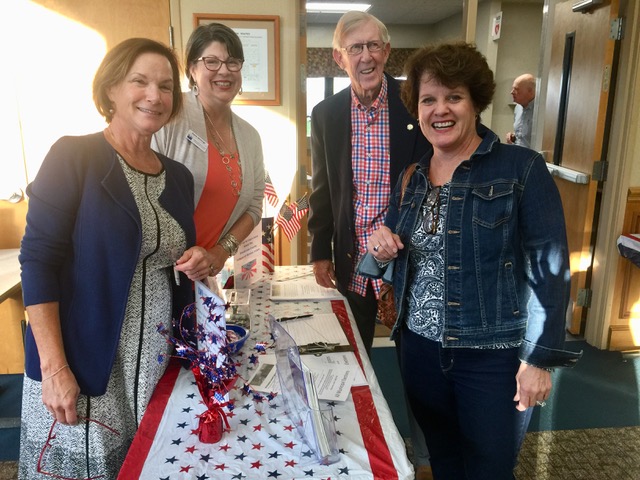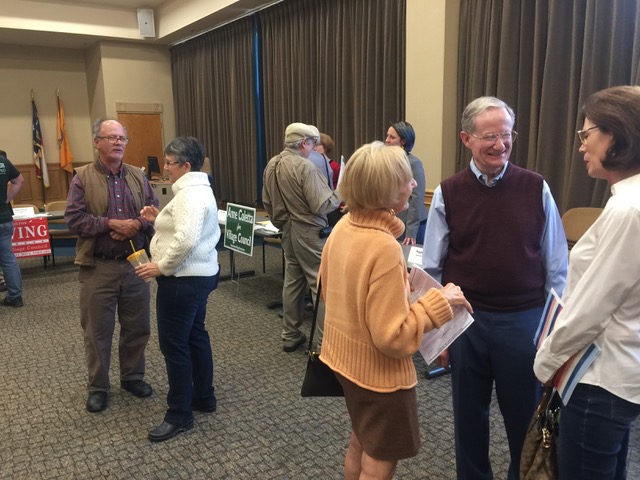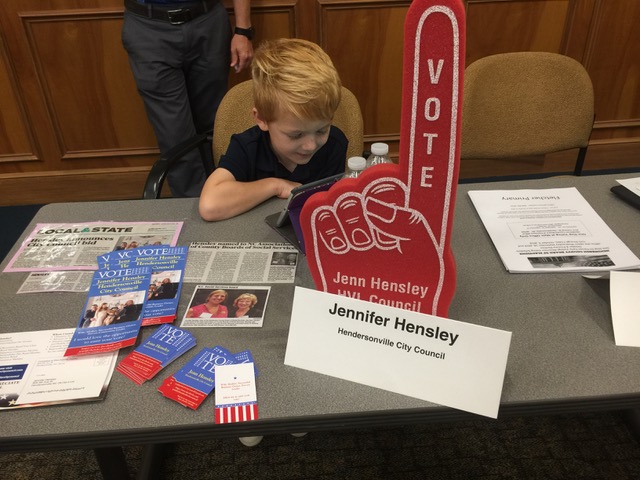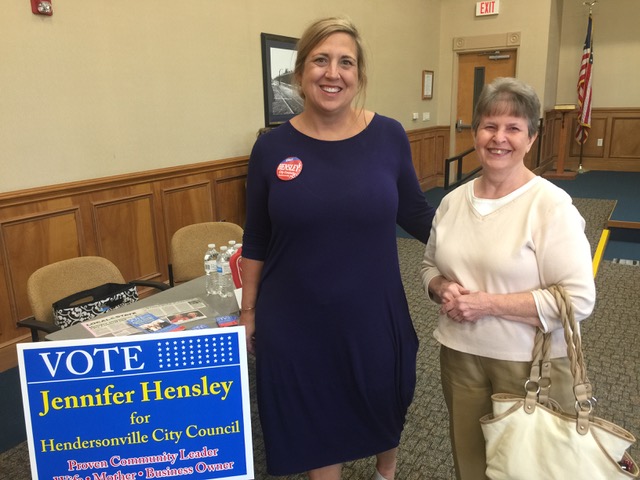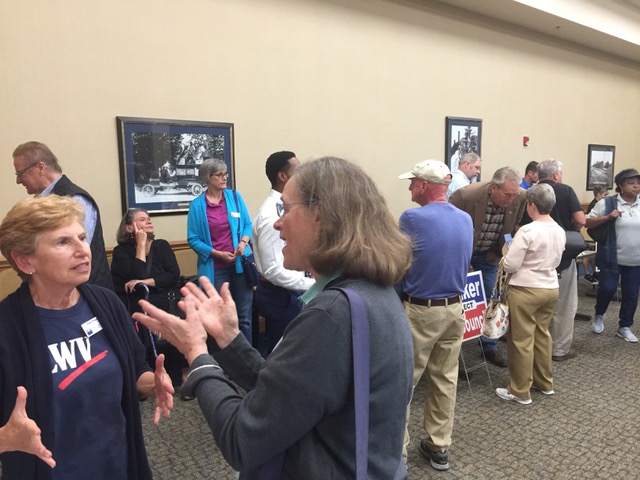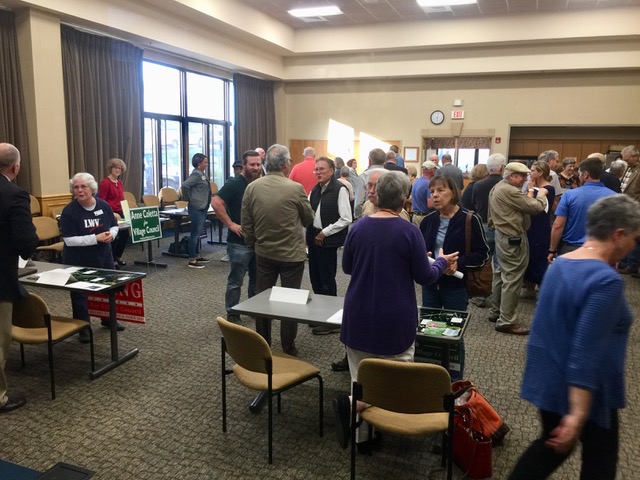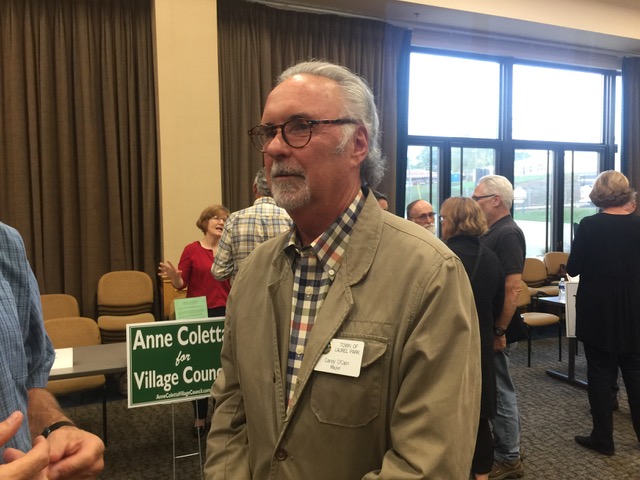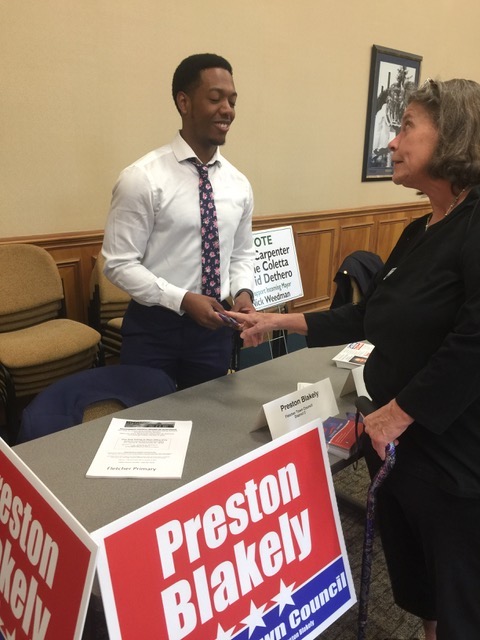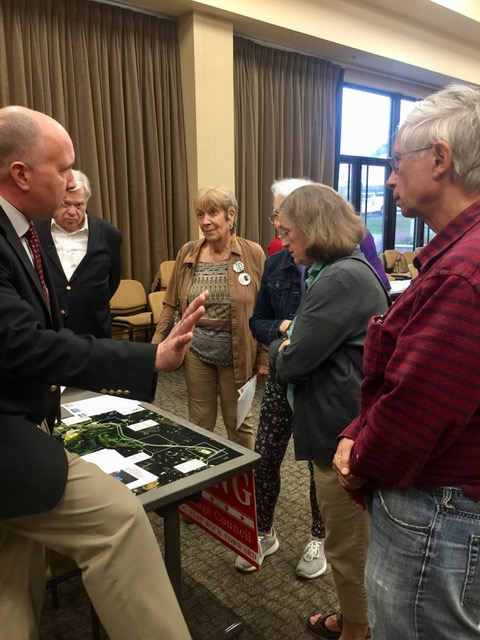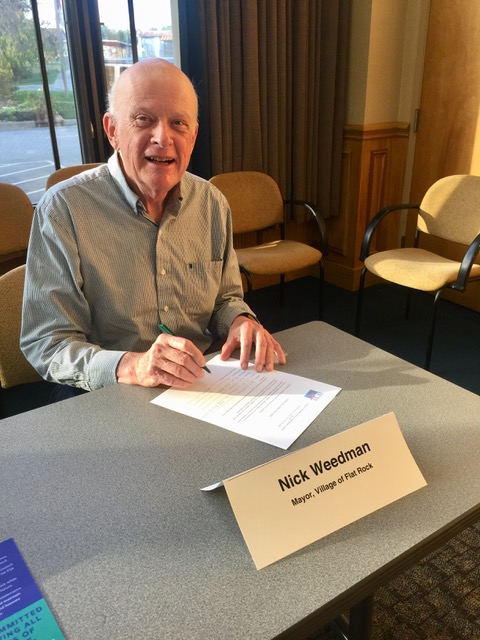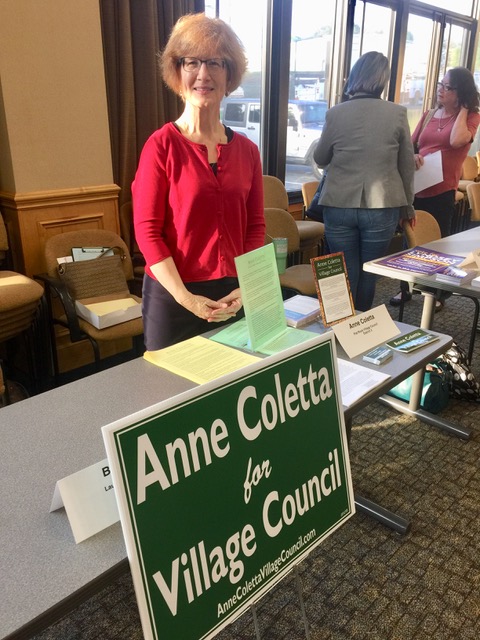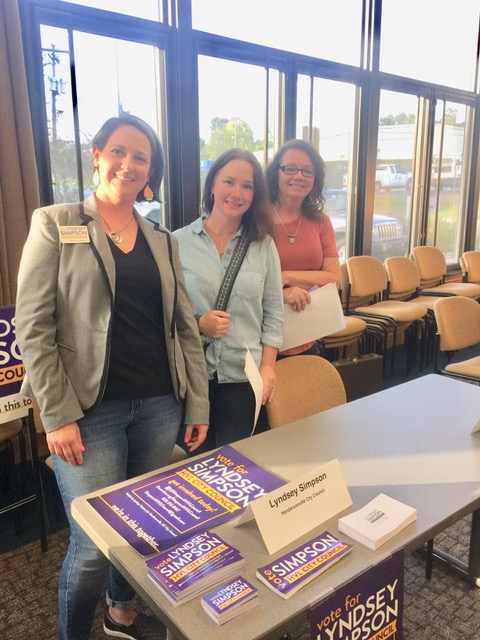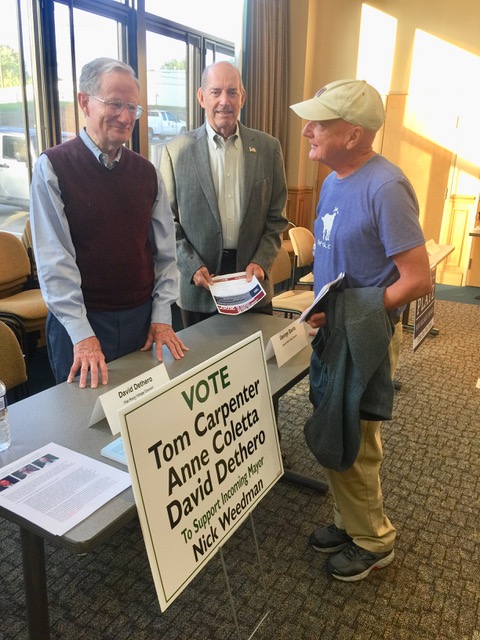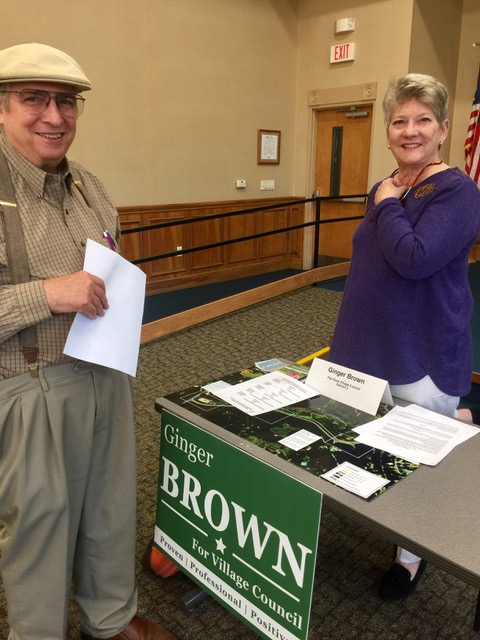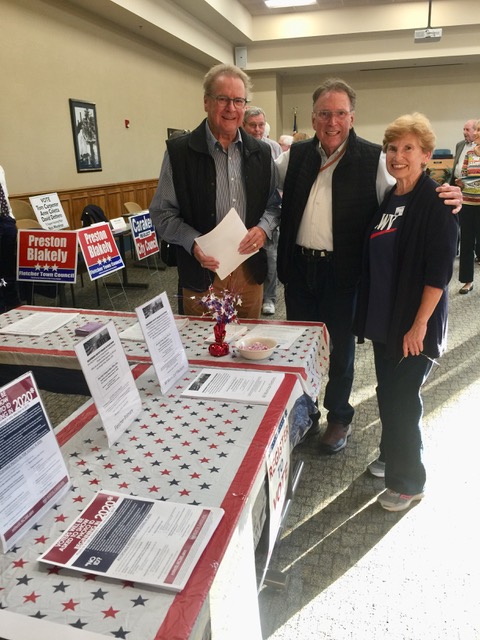 ---
2019 LWVHC Voter Registration Events – September 17, 2019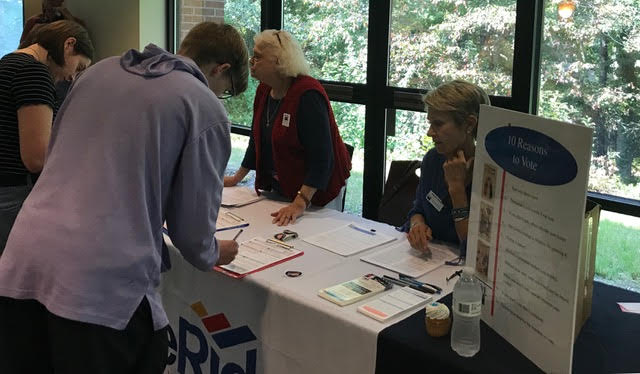 Constitution Day event at BRCC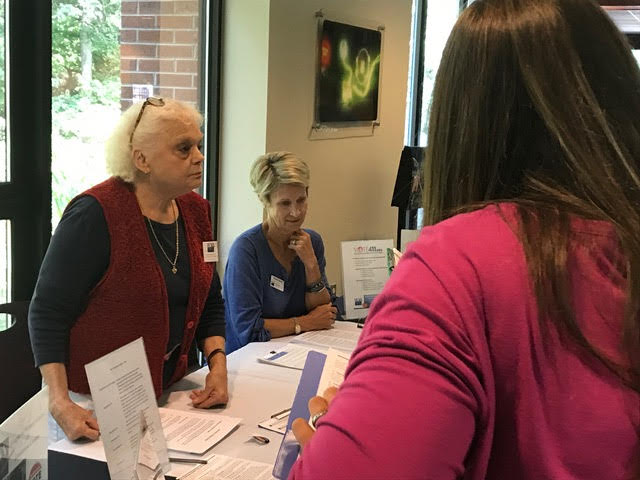 Constitution Day event at BRCC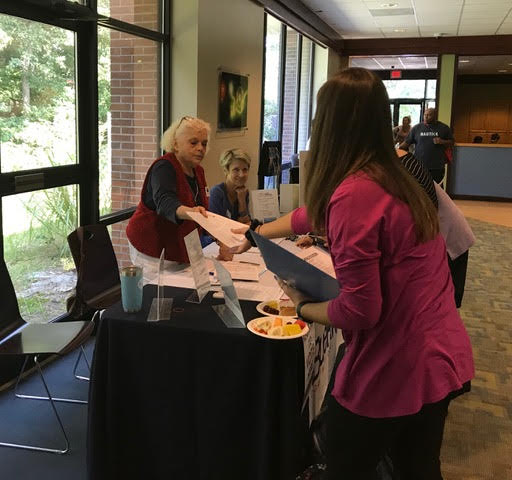 Constitution Day event at BRCC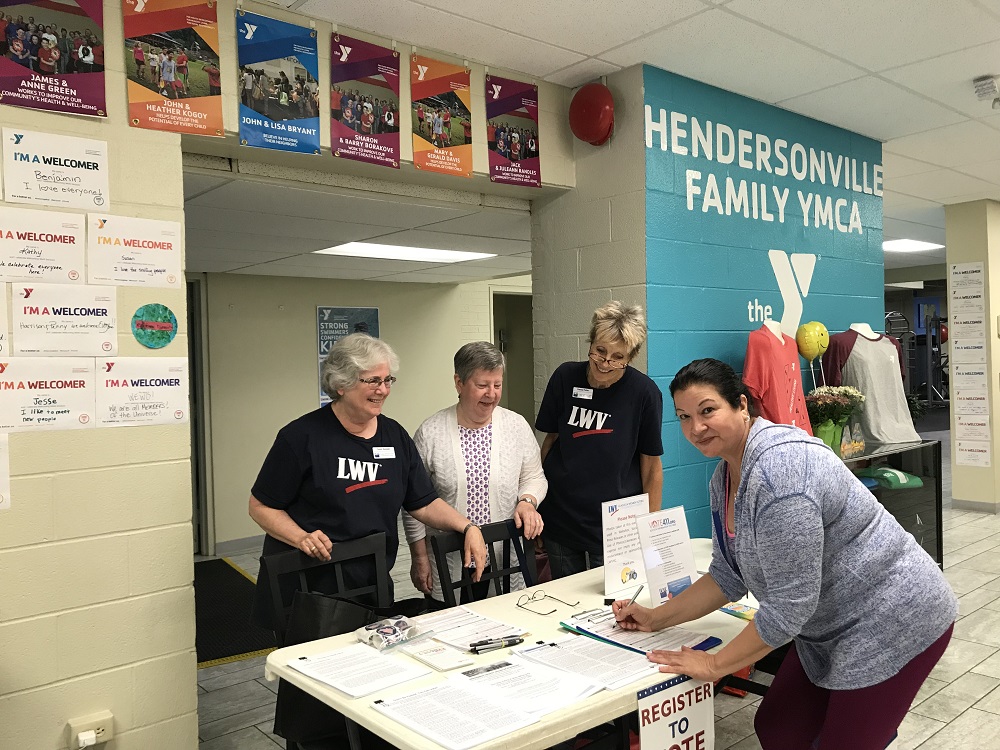 YMCA Voter Registration Event 9/19/19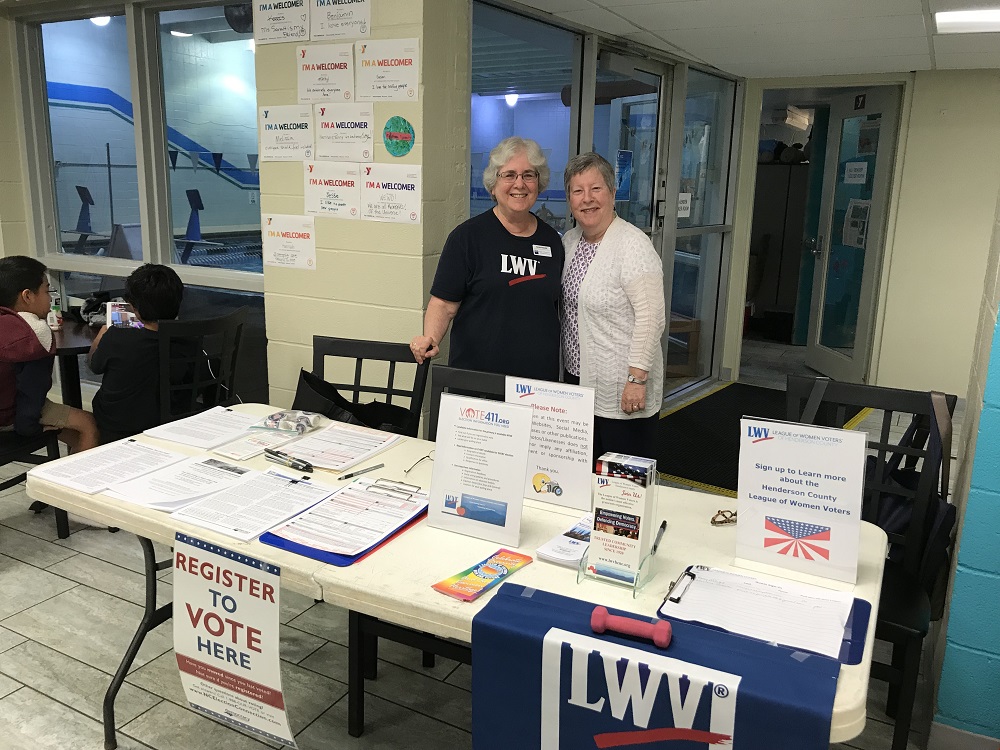 YMCA Voter Registration Event 9/19/19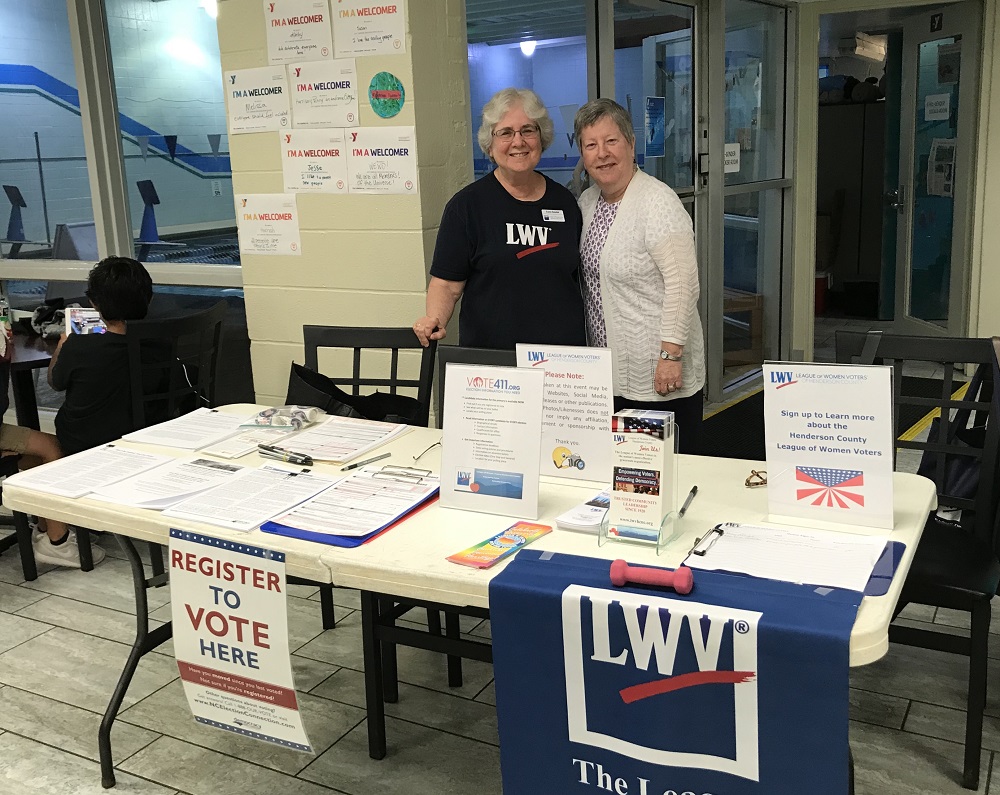 YMCA Voter Registration Event 9/19/19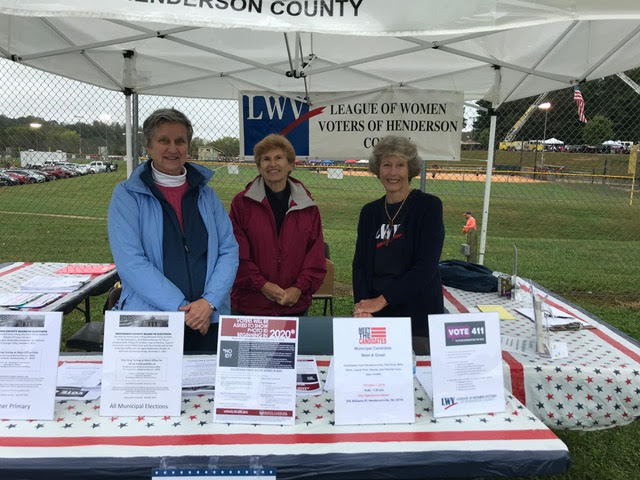 Farm City Day - 10/6/19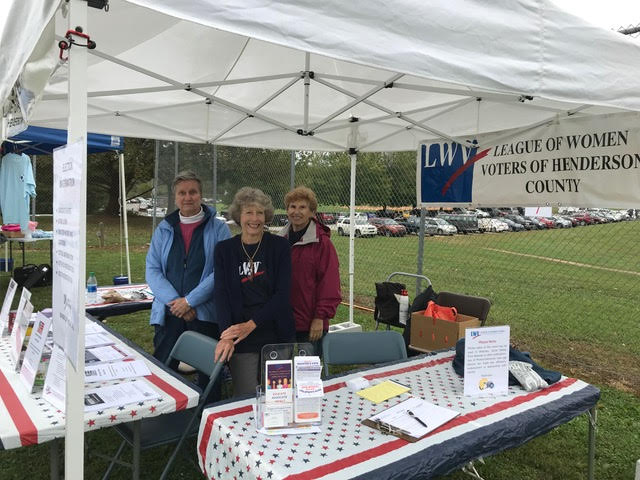 Farm City Day 10/6/19
---
Women's Suffrage and the 19th Amendment – September 17, 2019
Board member, retired history teacher, and raconteur Paul Goebel engaged participants with the background of the passage of the 19th amendment within the historical context of reform movements in the United States.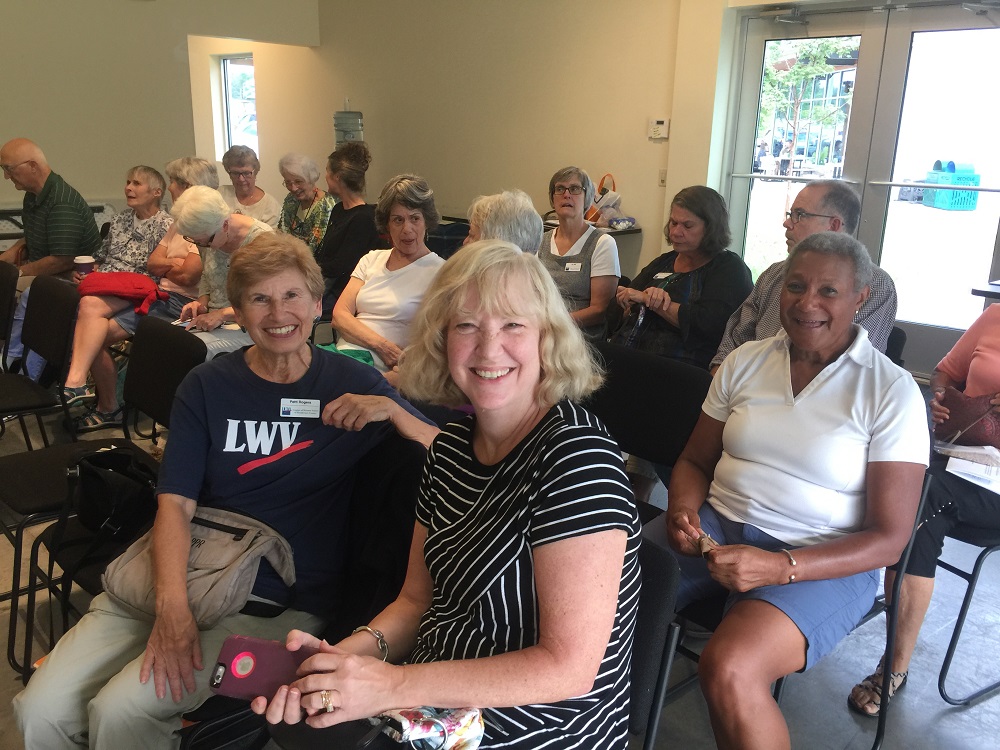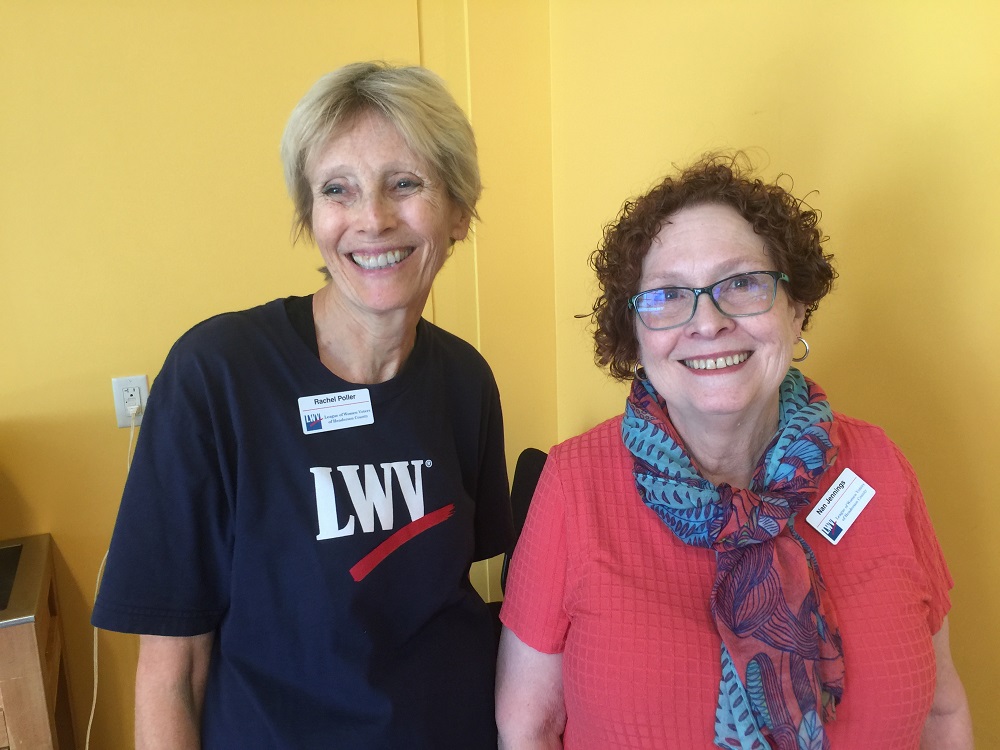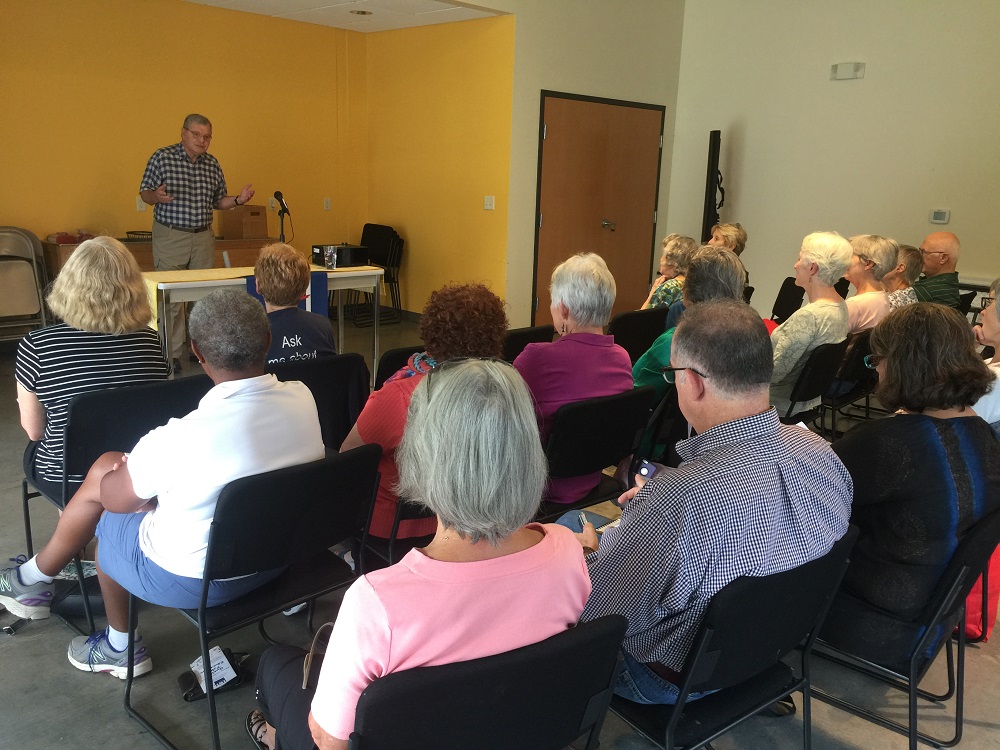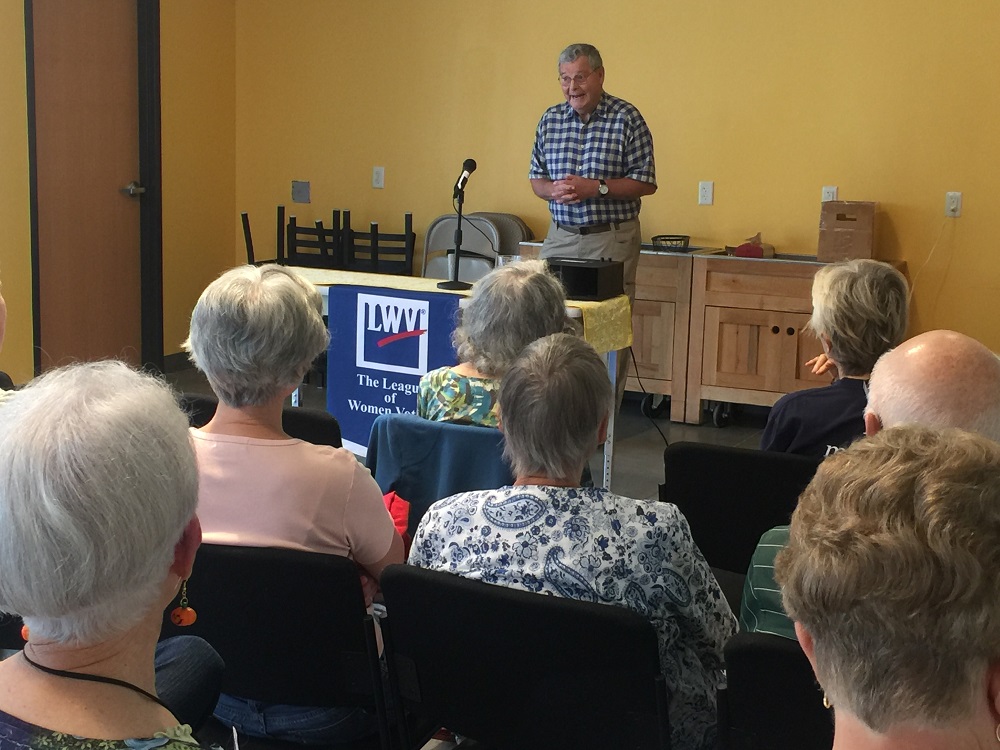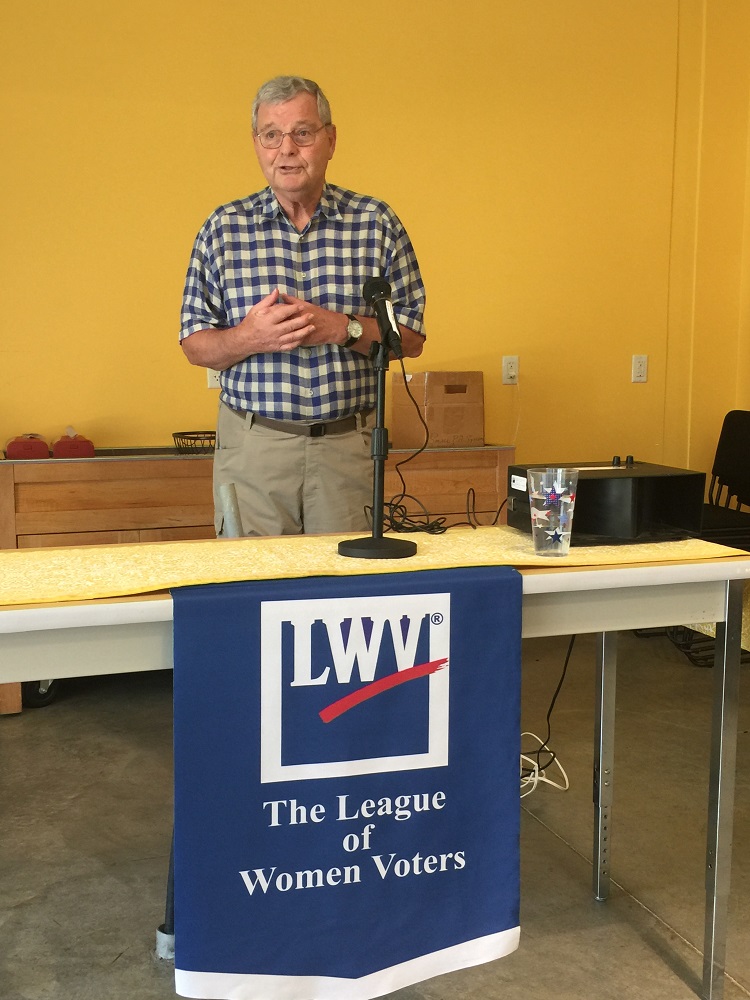 ---
Immigration 101 - Facts vs Fiction – September 12, 2019
Informative session on Immigration last week, attended by 86 people, who heard panelists speak on the "Myth of Duplicated Services".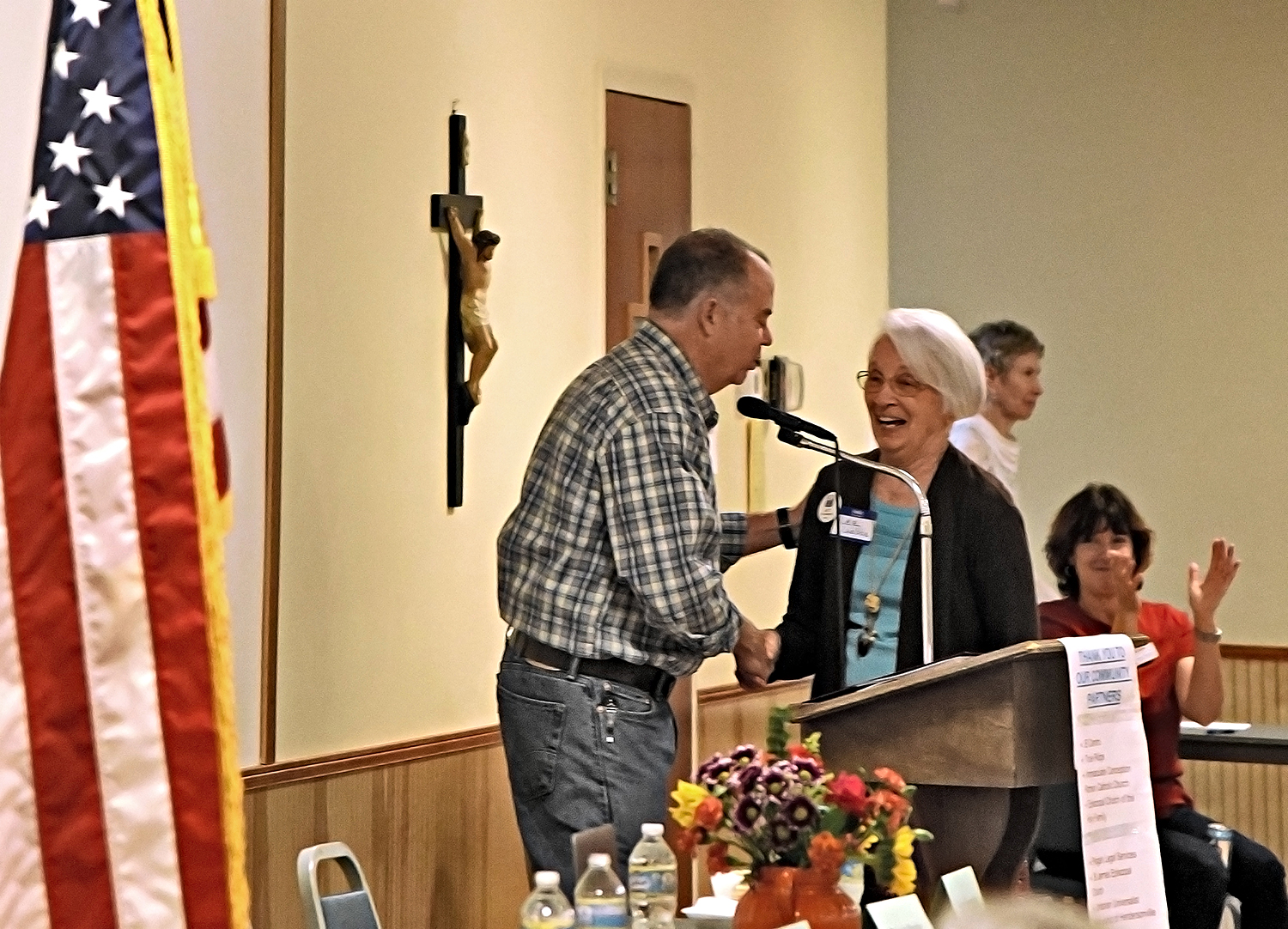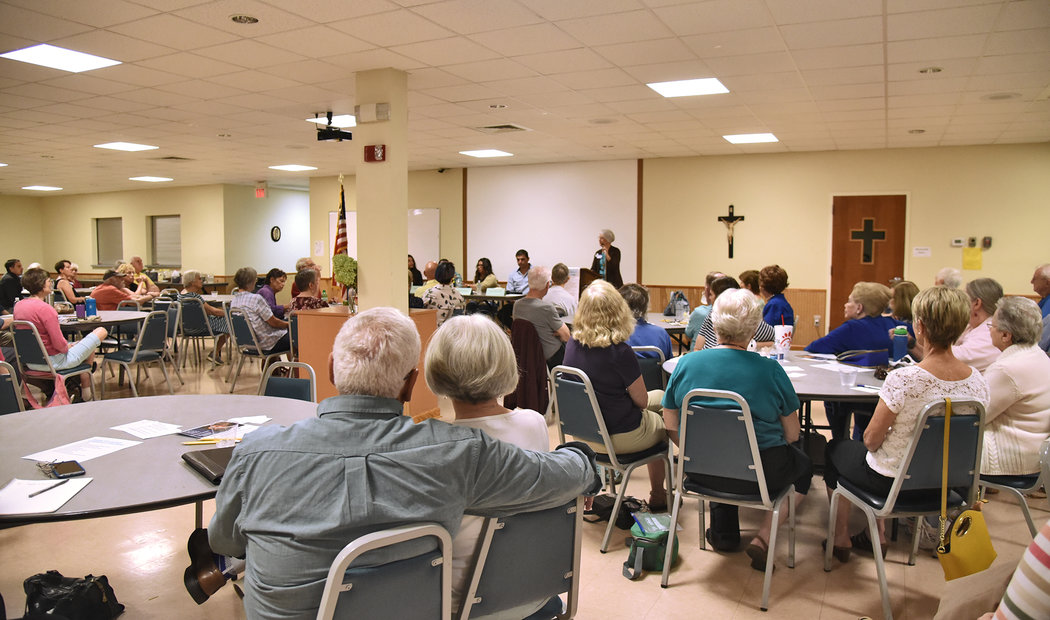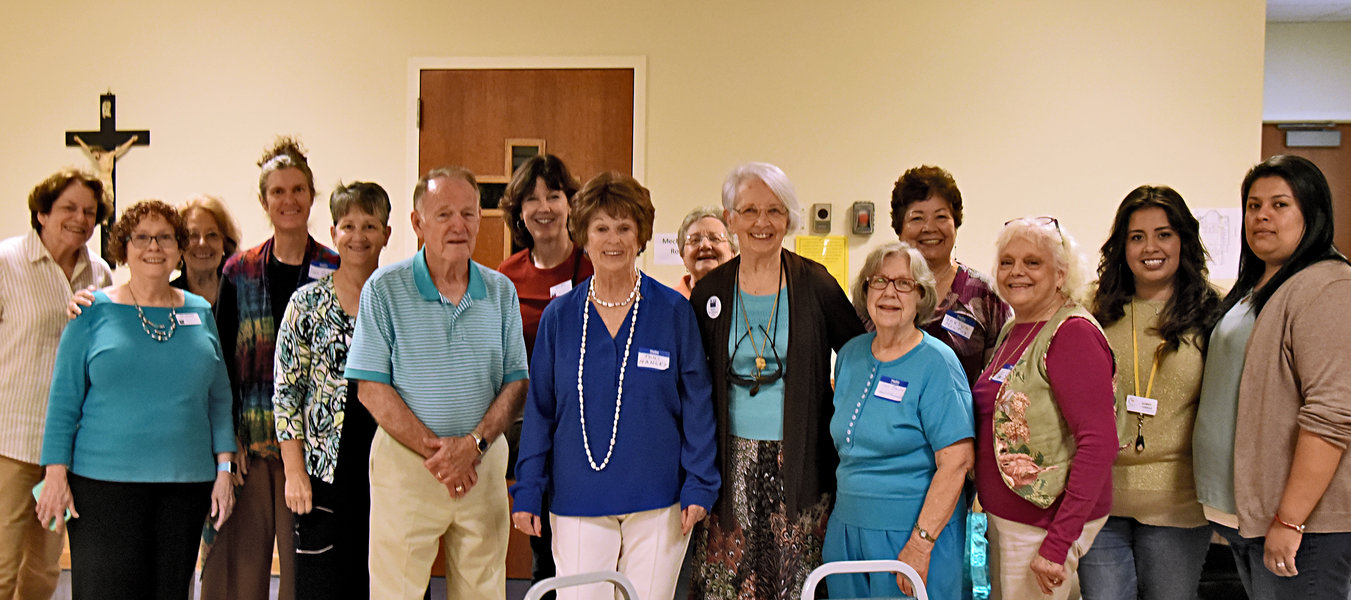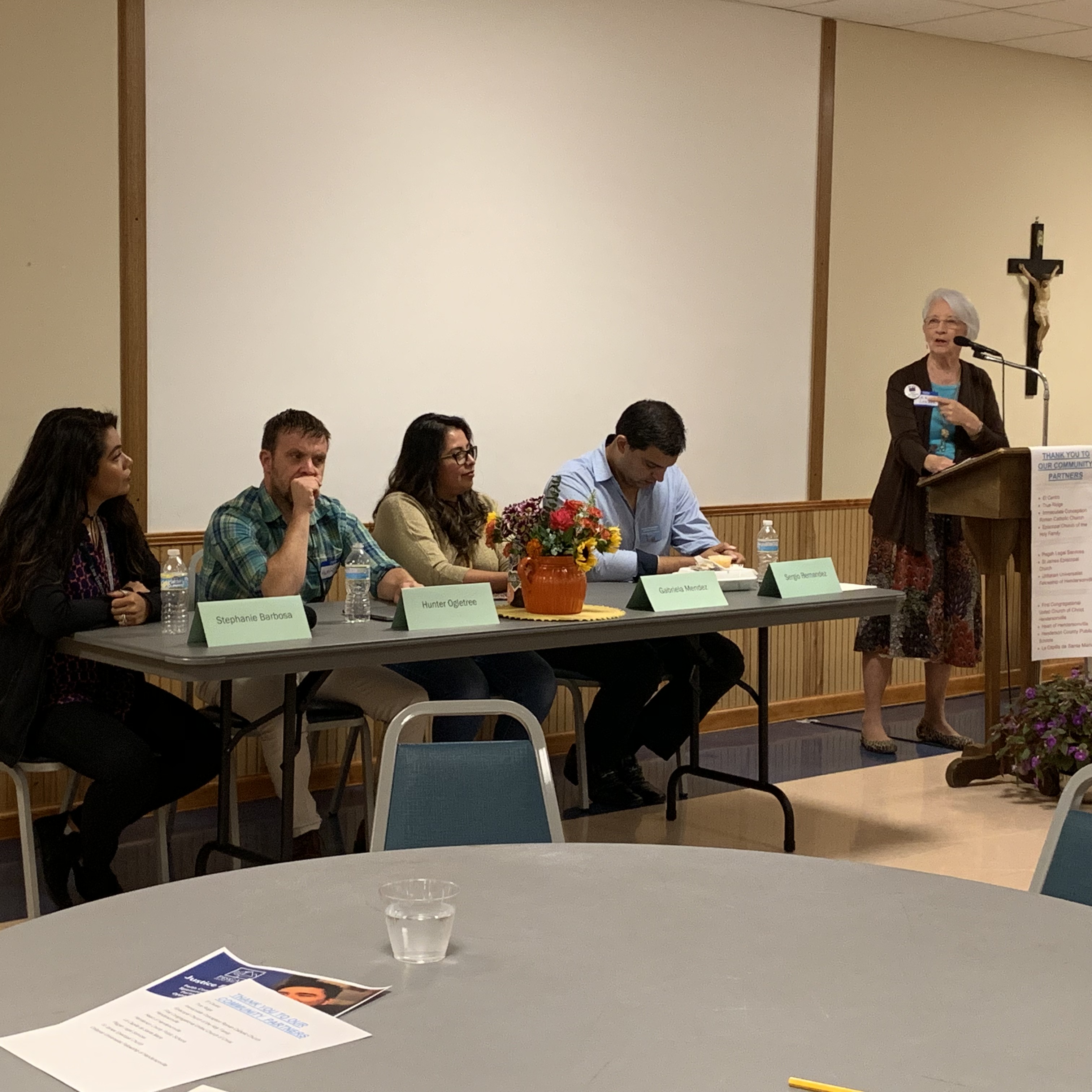 ---
Annual Launch – August 25, 2019
While enjoying cookies and lemonade, new and veteran LWVHC members as well as guests toured our website and learned about and signed up to join any number of our many teams and committees. So while you're here on our website, please get to know us better by browsing and then email and/or join us!!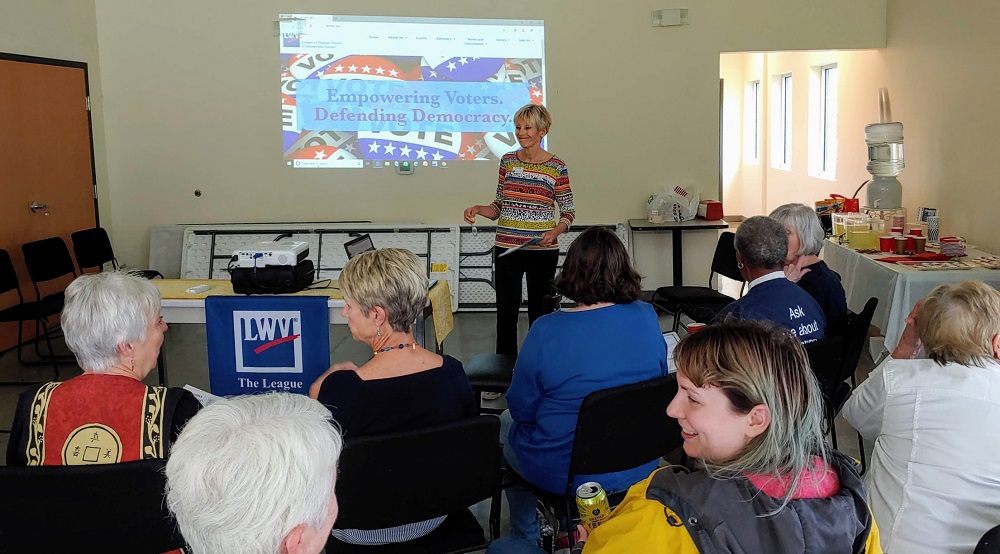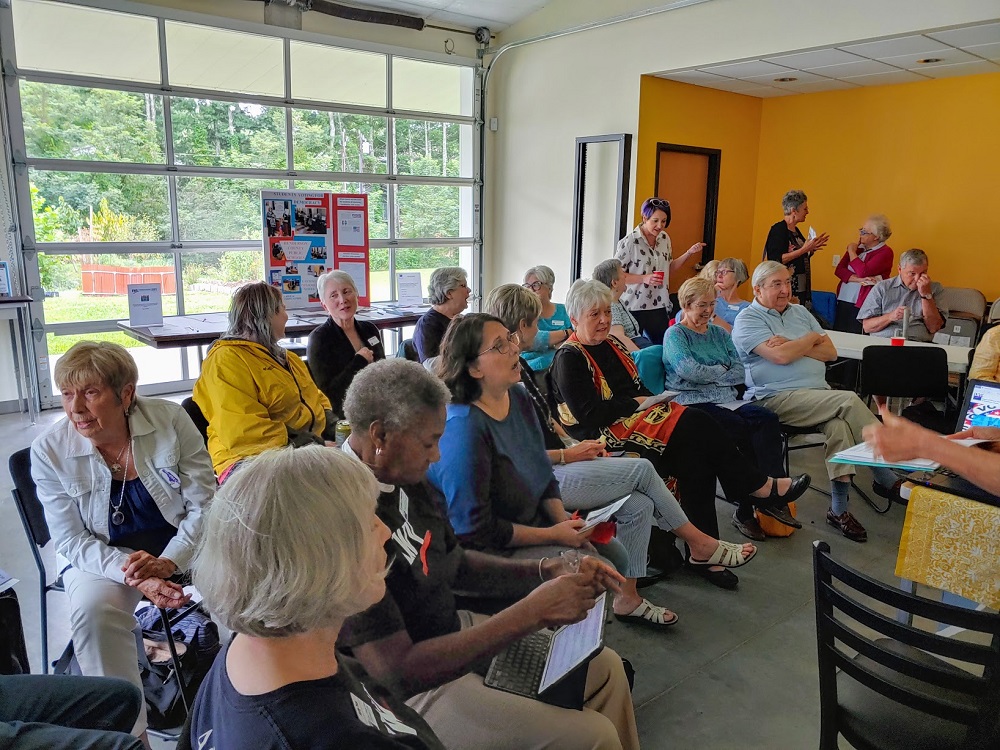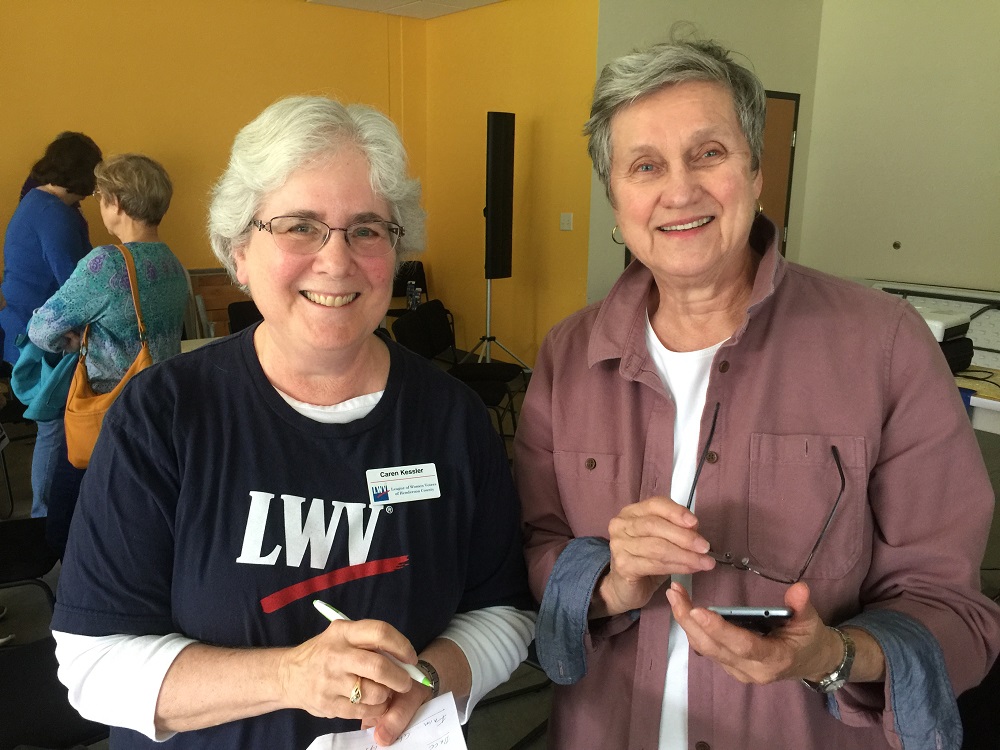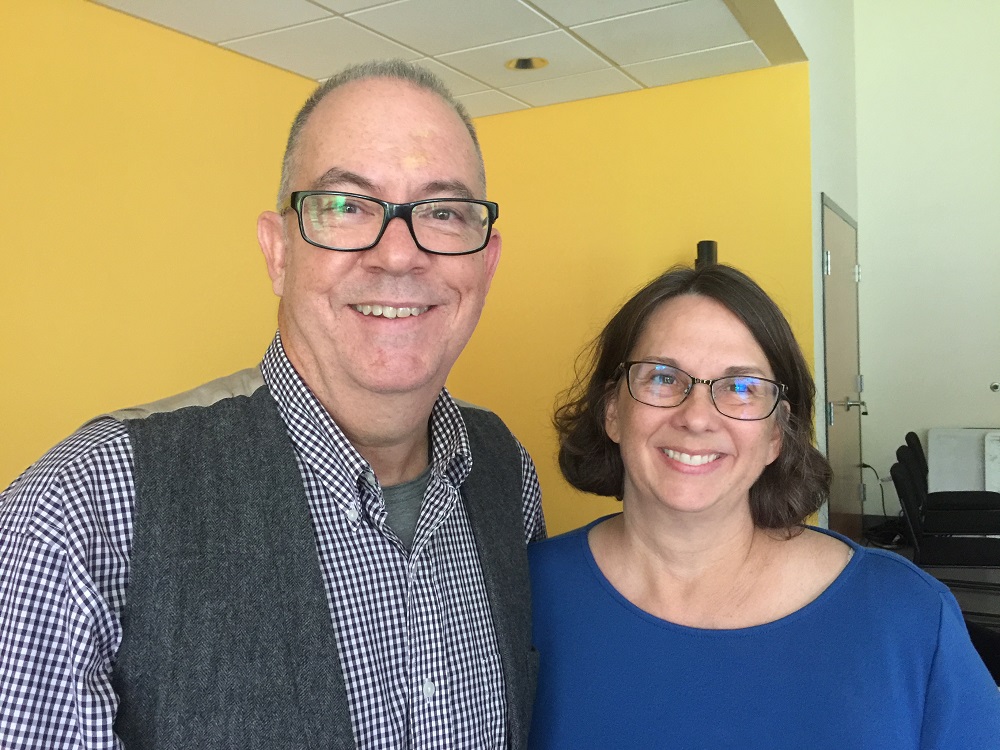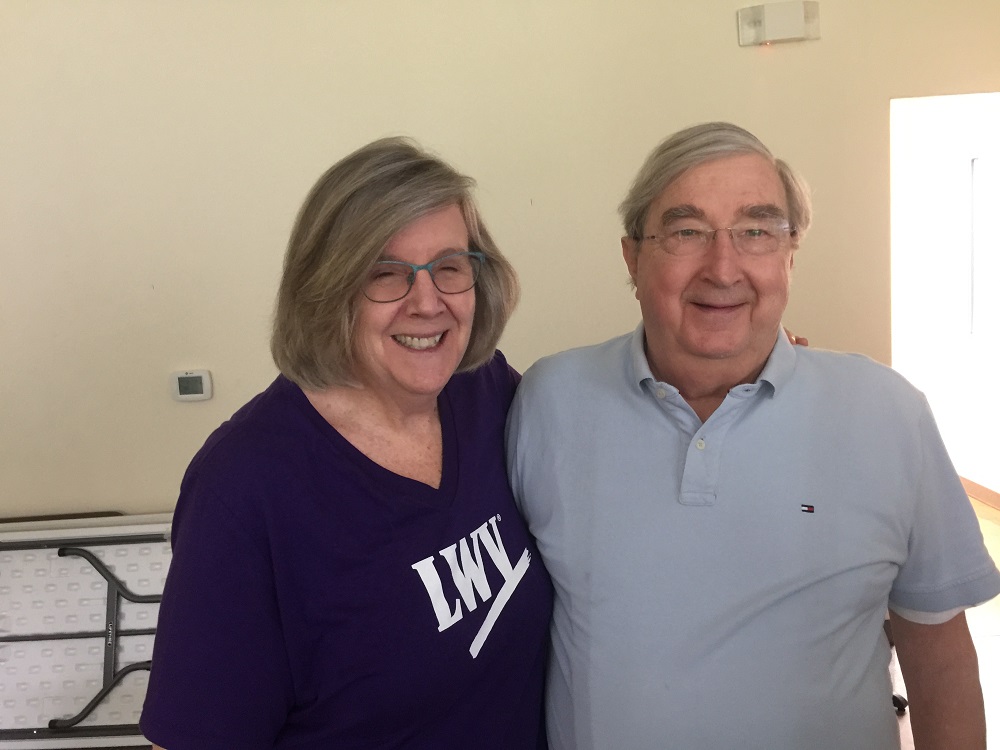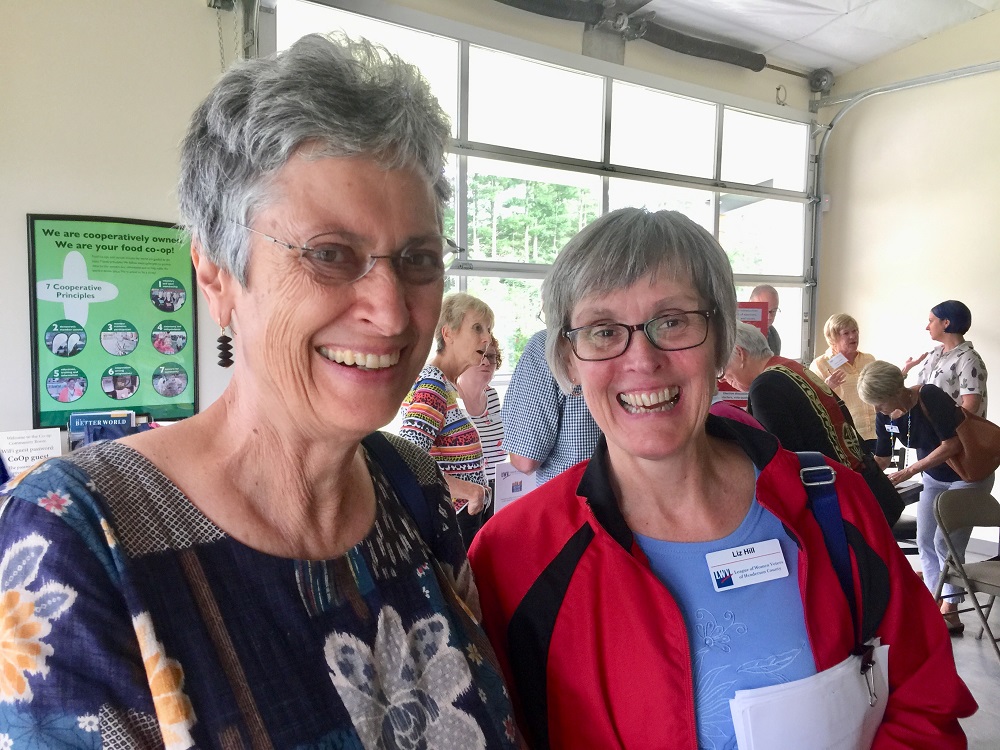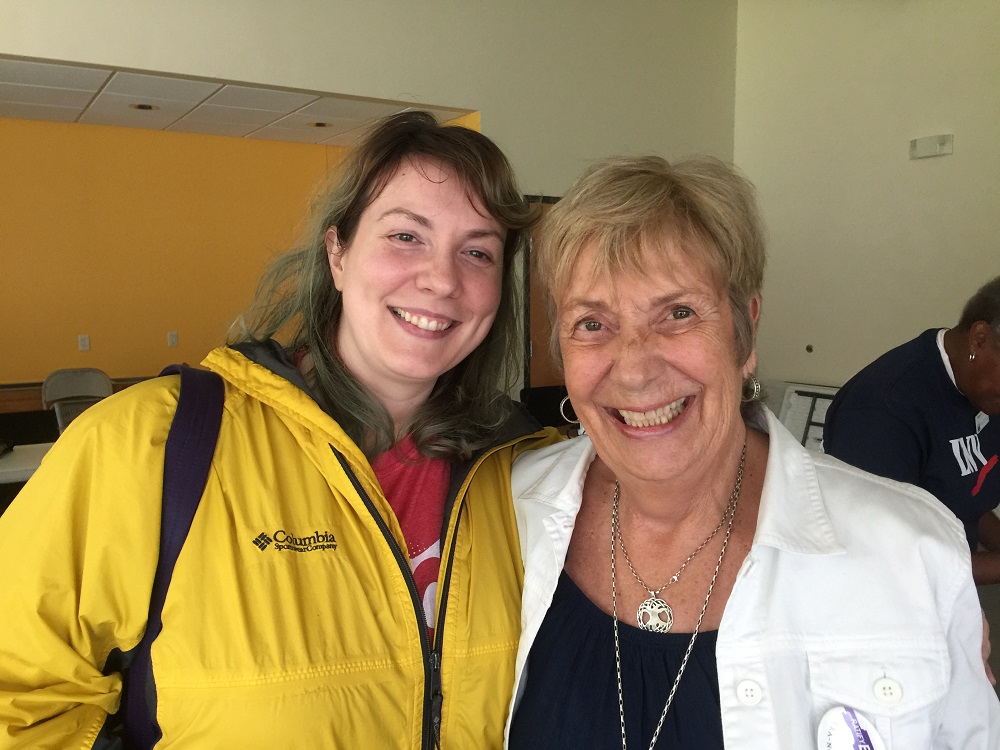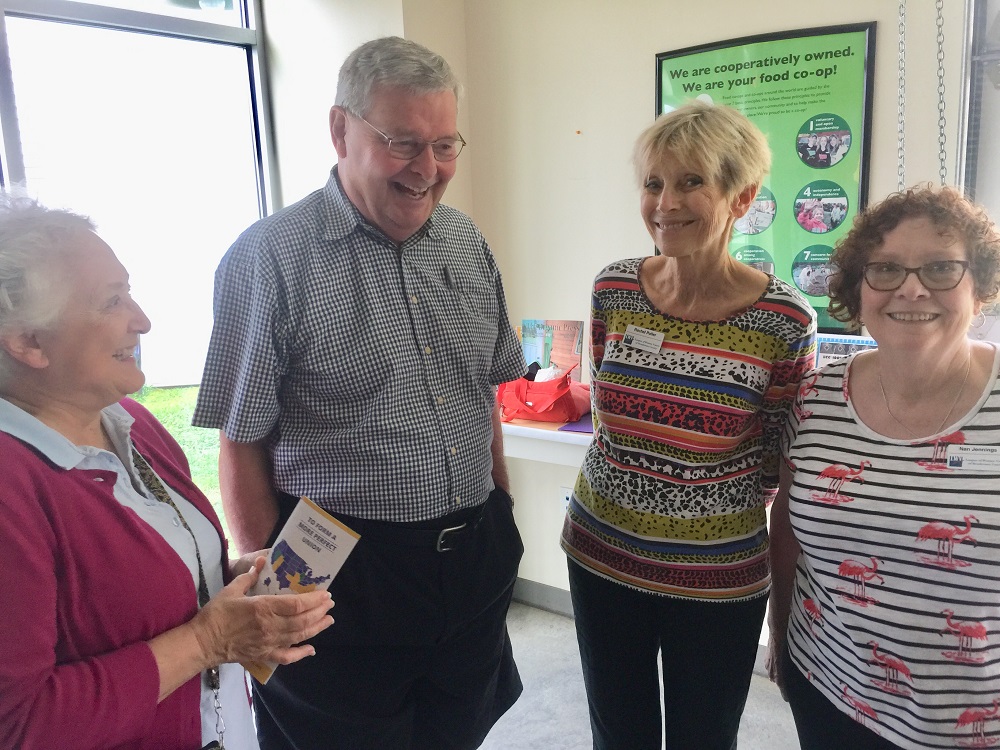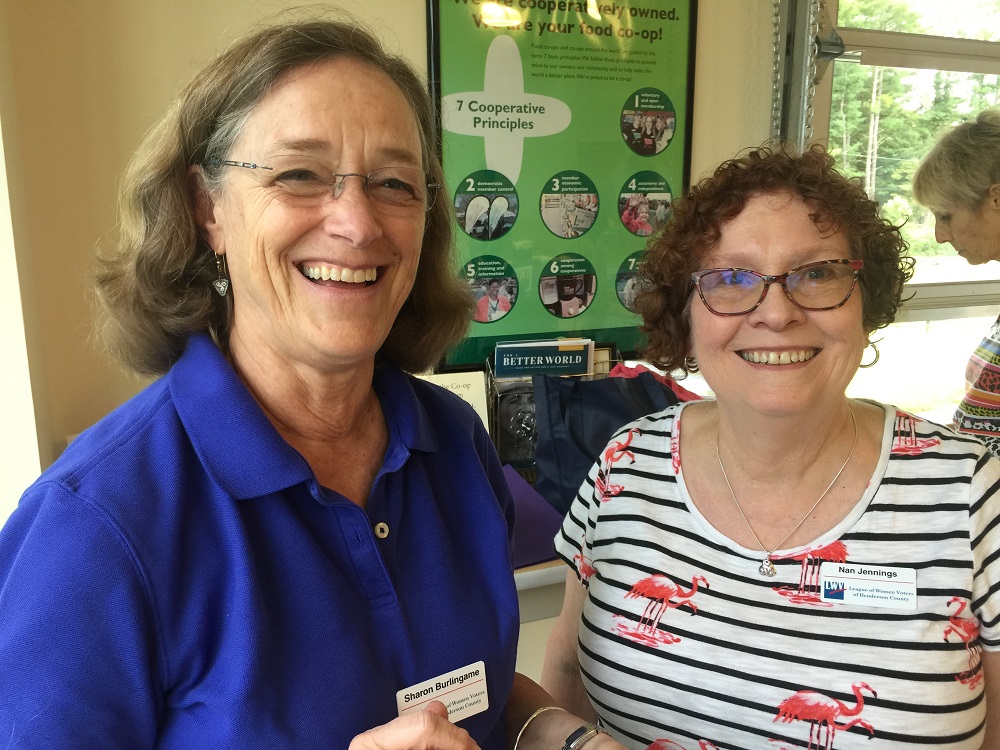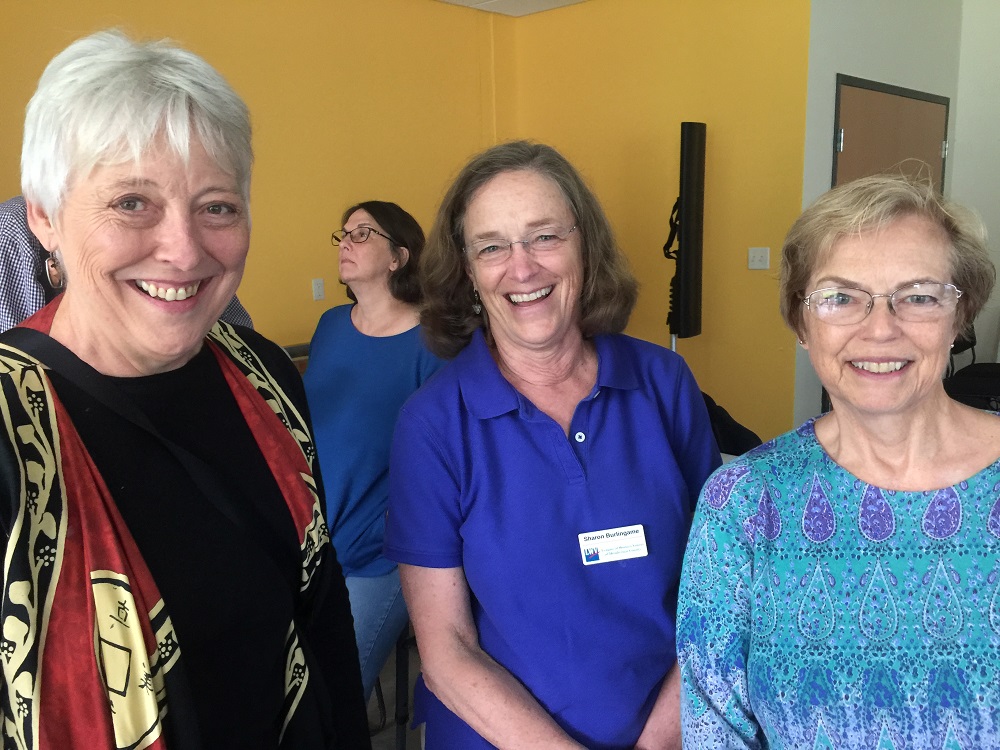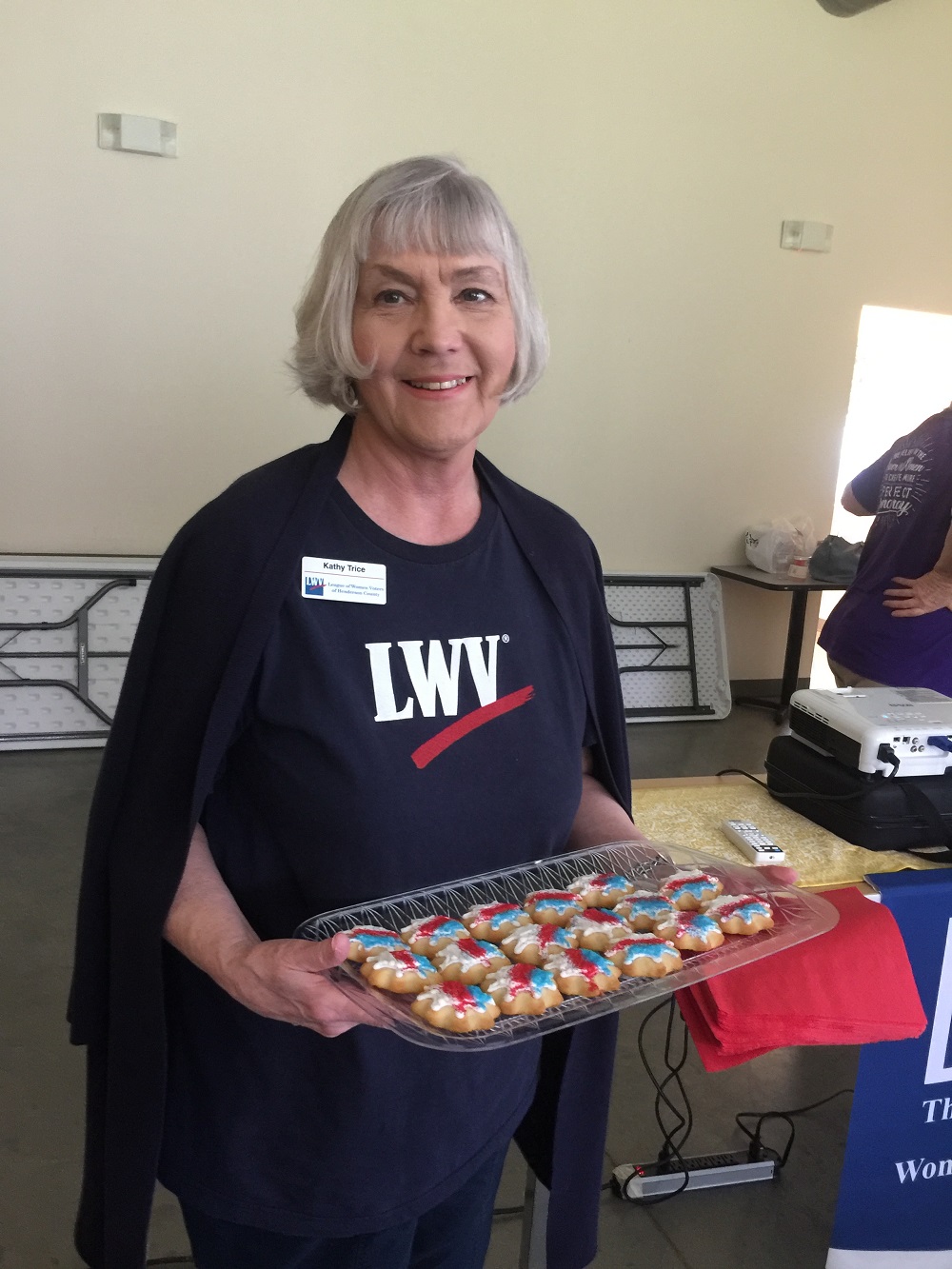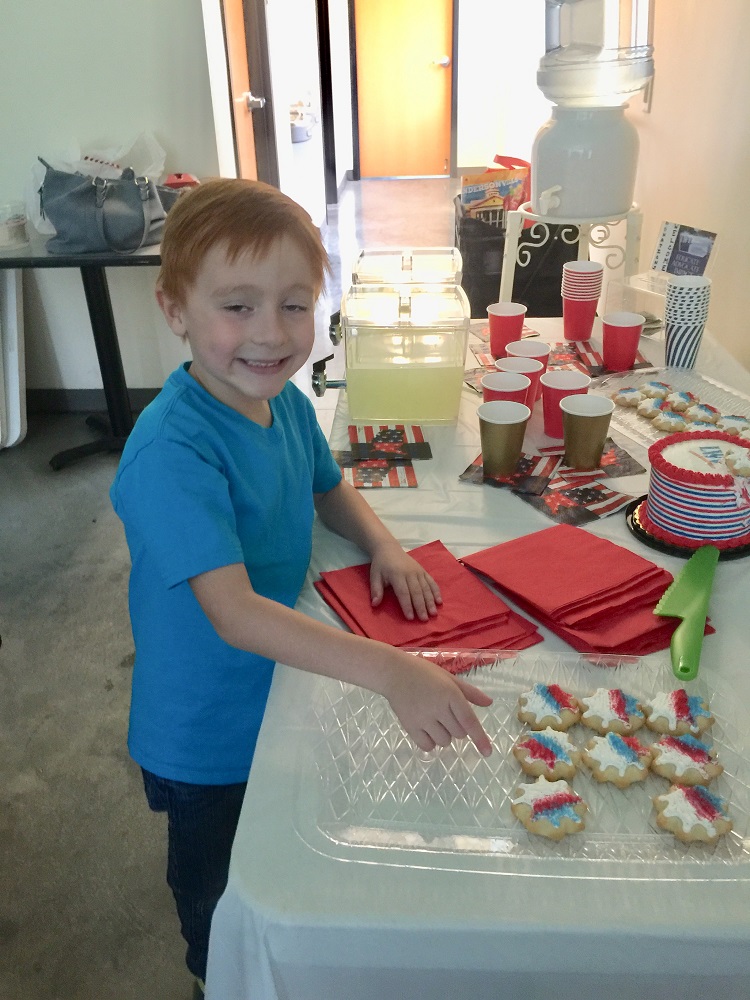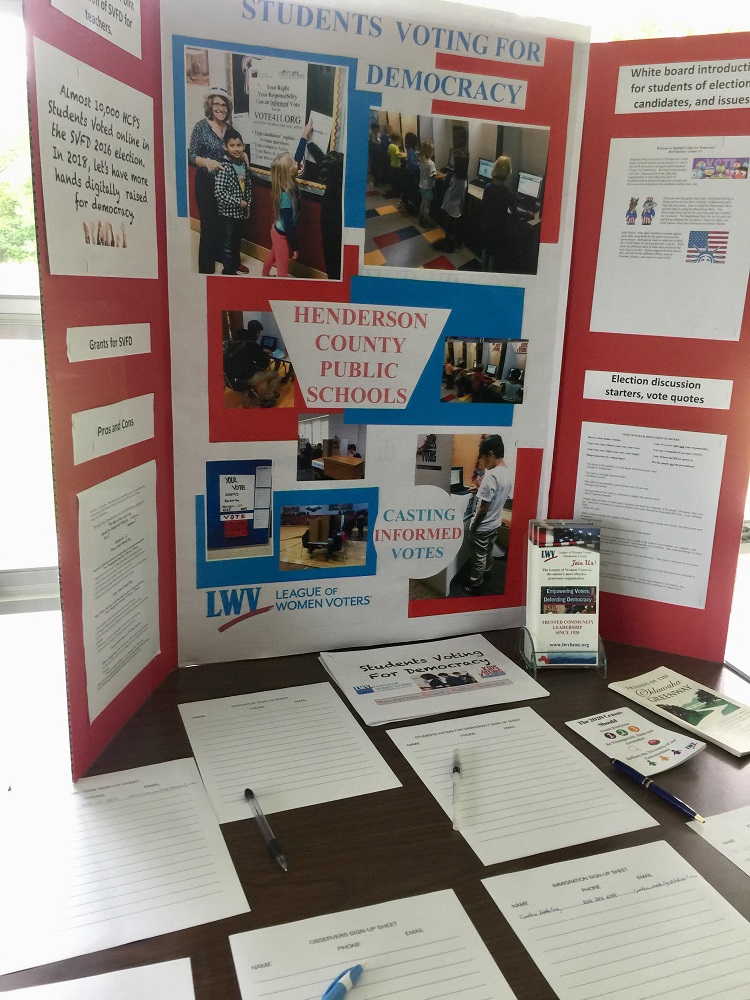 ---
State School Voucher Program – August 15, 2019
At oOur August 15th Lunch and Learn, Bonnie Bechard, LWV Dare County member and retired UNC Administrator, presented on tax dollars for private school vouchers and the need for transparency and accountability in evaluating schools that receive funding.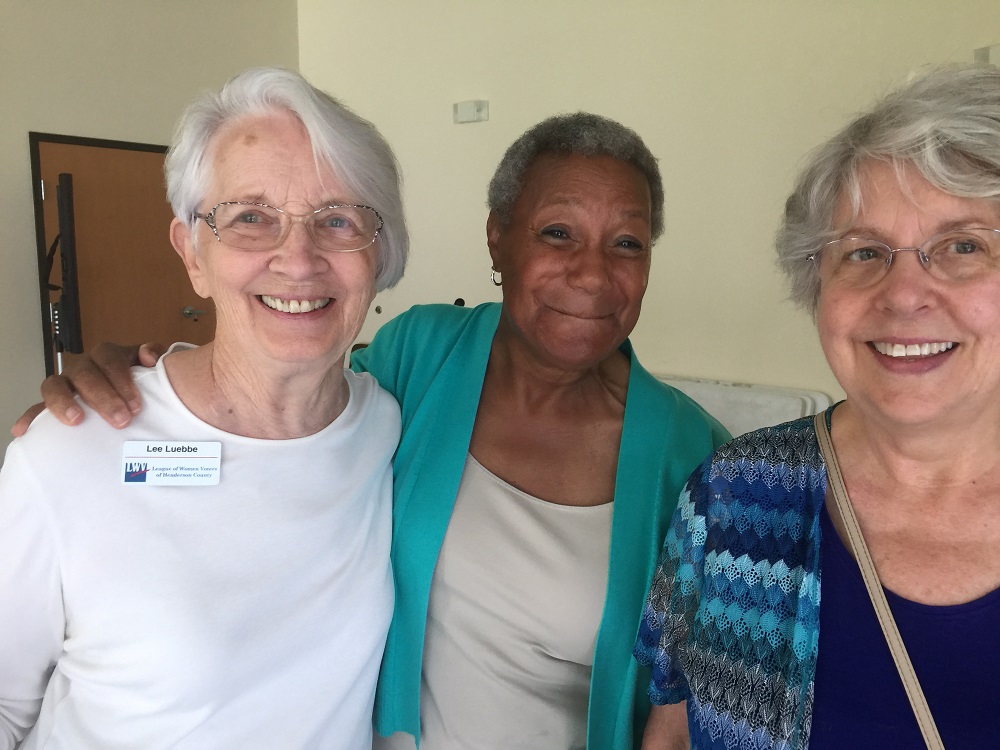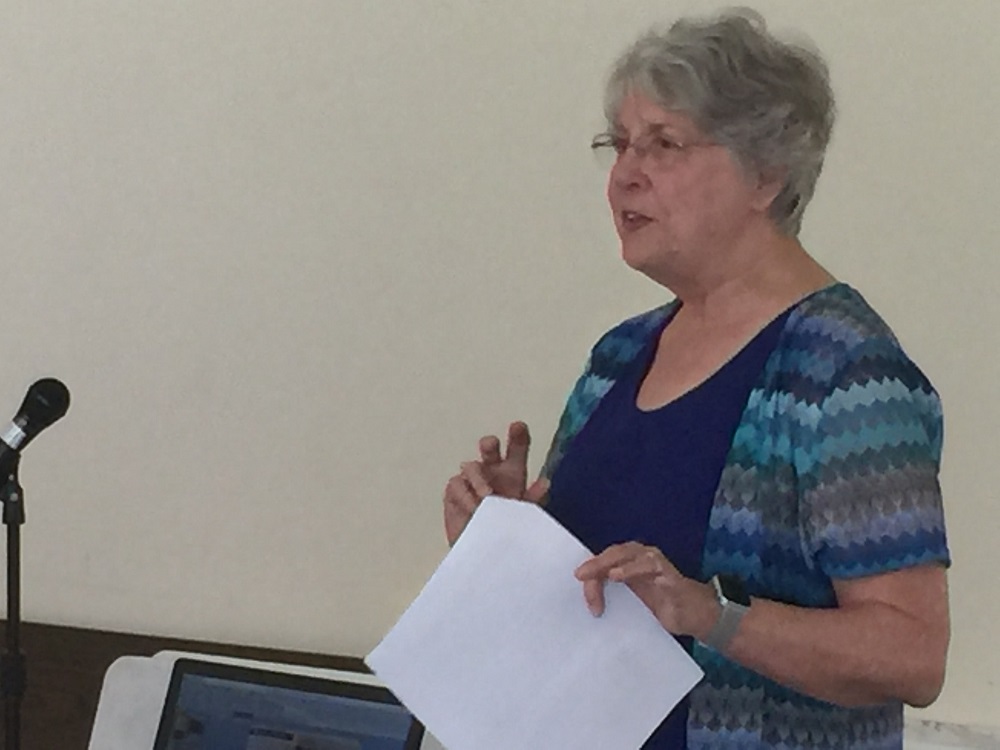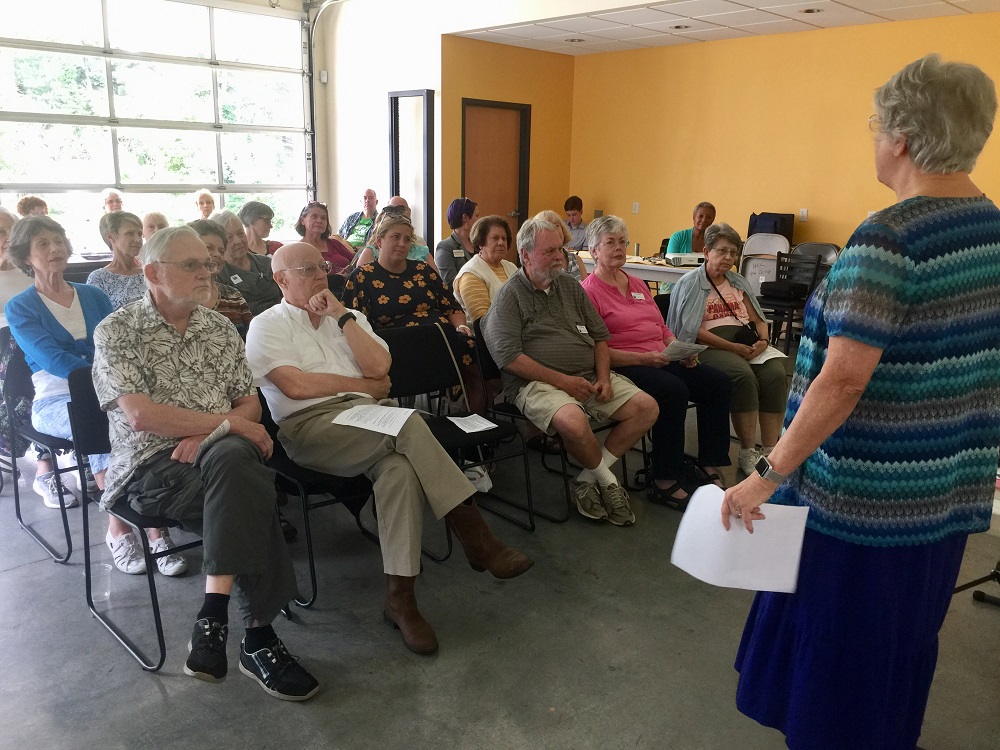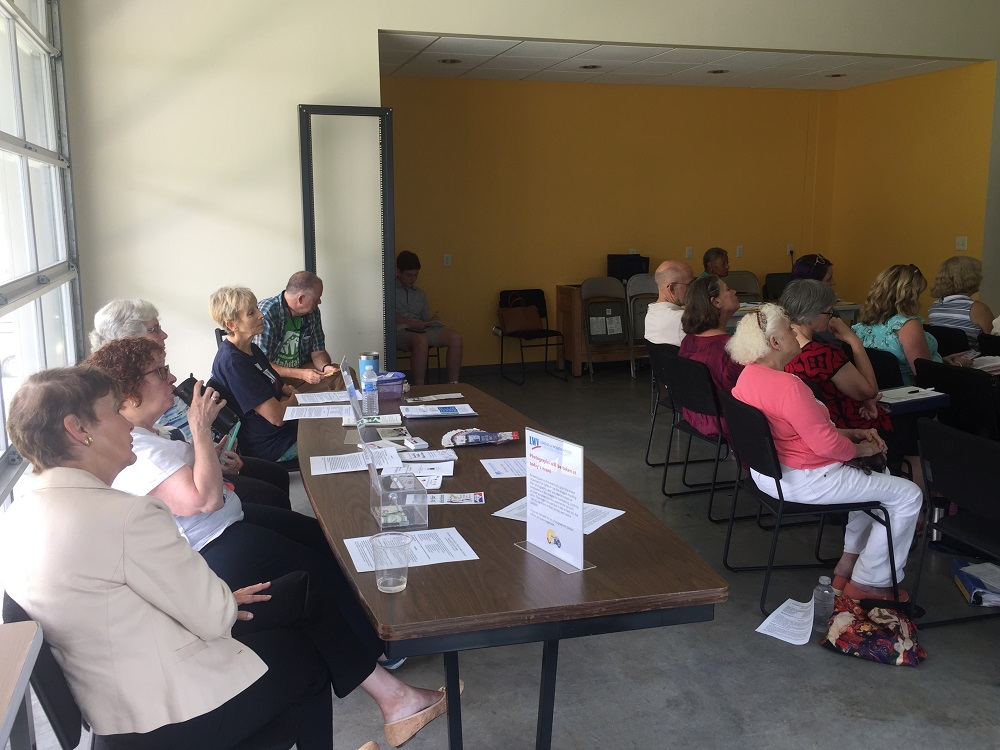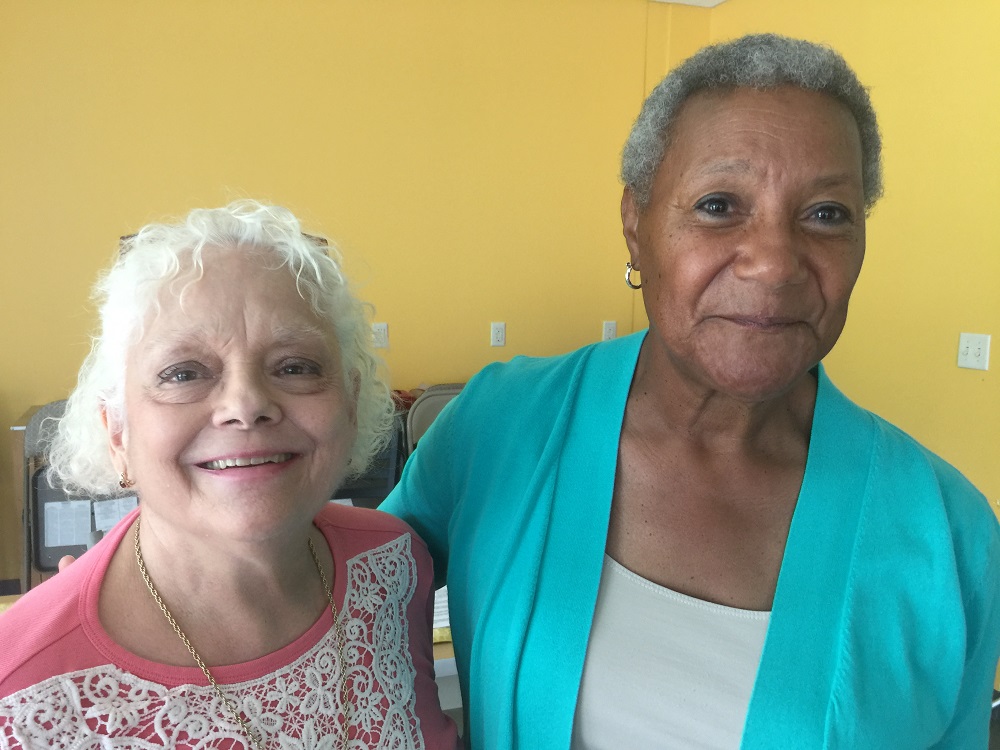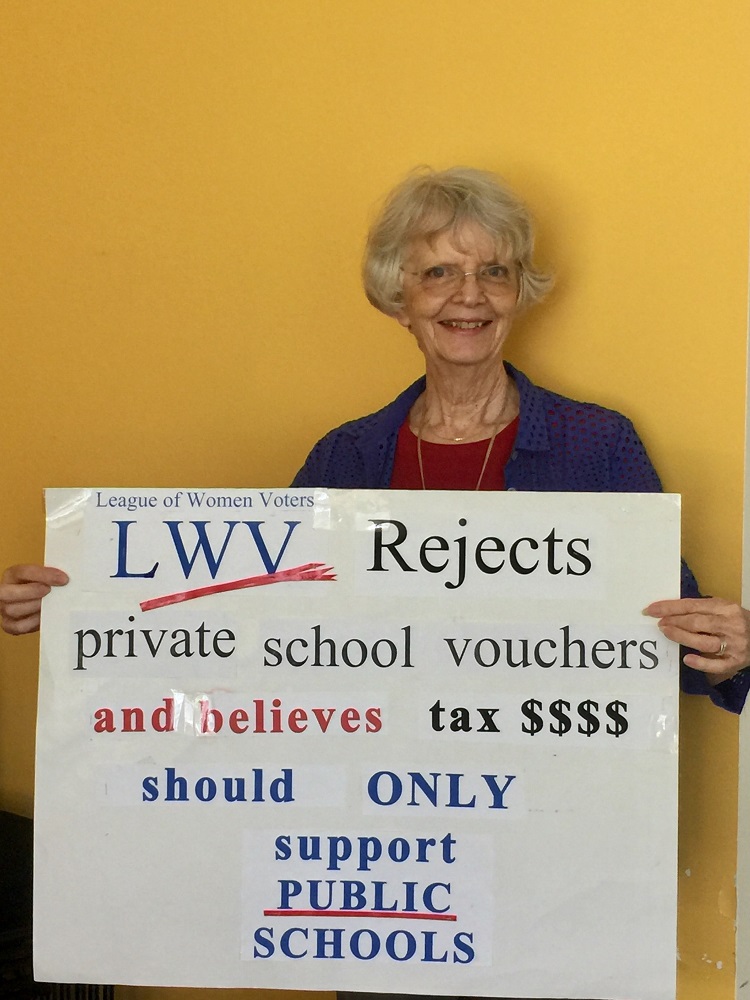 ---
Redistricting What Happens Now? – August 10, 2019
Over 140 people crowded the Kaplan Auditorium of the Hendersonville Library to learn about gerrymandering and fair redistricting. Co-sponsored by LWVHC and 8 other nonprofits, Redistricting: What Happens Now was a panel discussion featuring Representative Chuck McGrady, Senator Terry Van Duyn, and Asheville-based computational geographer and consultant, Blake Esselstyn. Panelists presented the nuts and bolts of gerrymandering and fair redistricting as well as in-depth information on the current status of proposed bills in the legislature and the impact of the redistricting lawsuit now in the NC courts. In response to audience questions, the panelists agreed that arriving at a policy for fair redistricting in NC will probably occur incrementally and that now is an opportune time for a bill to come forward.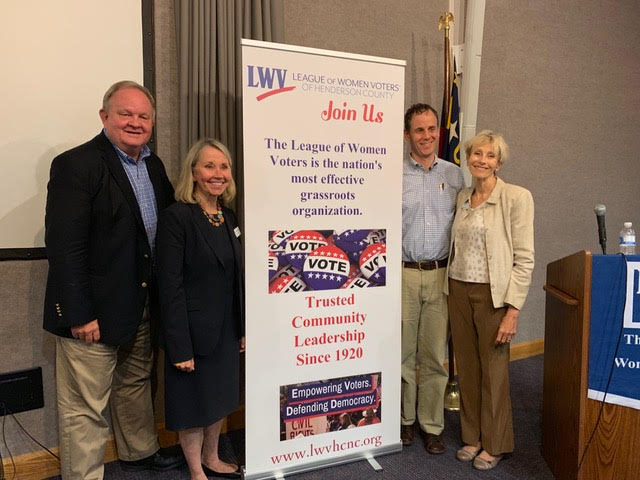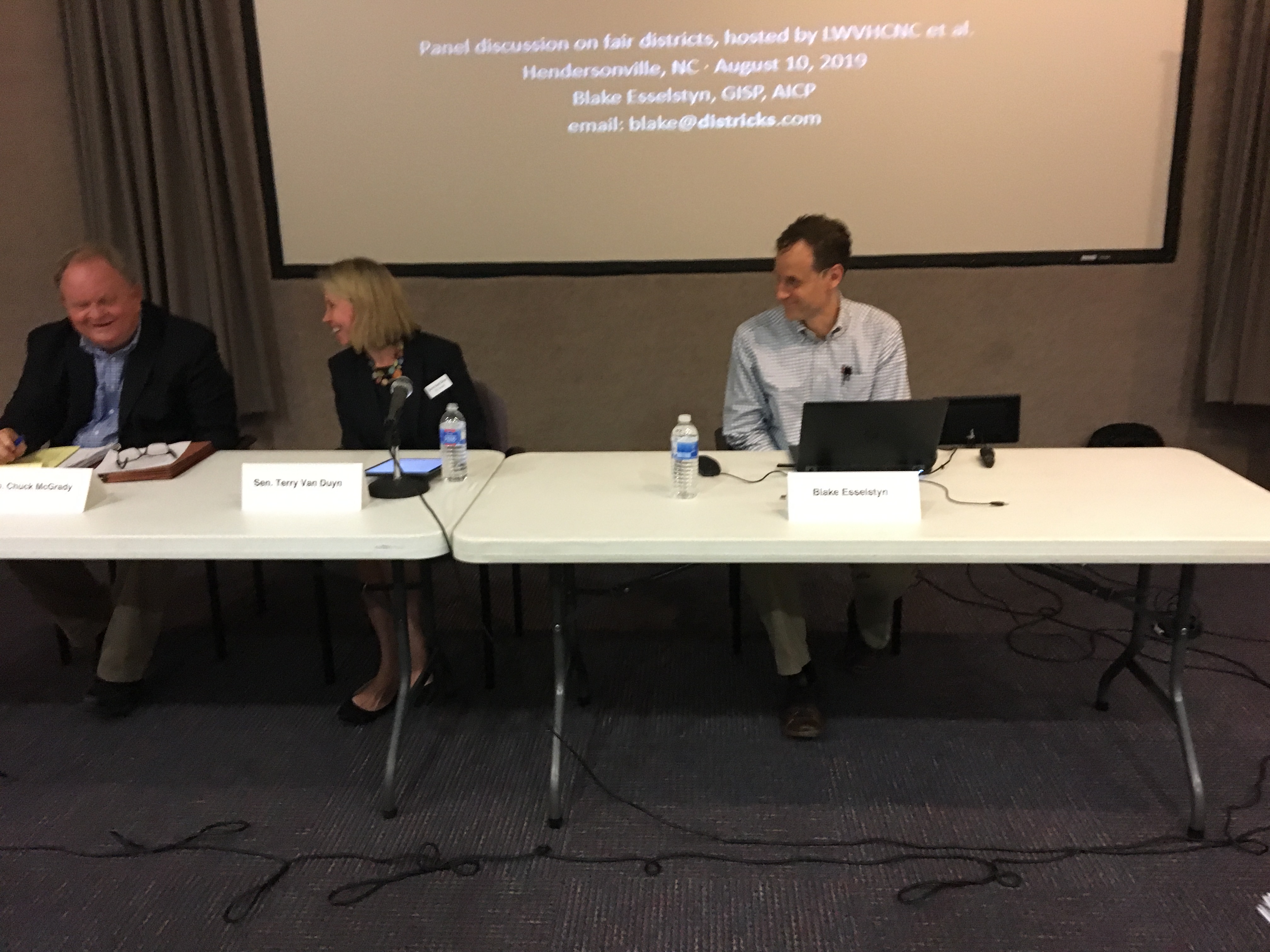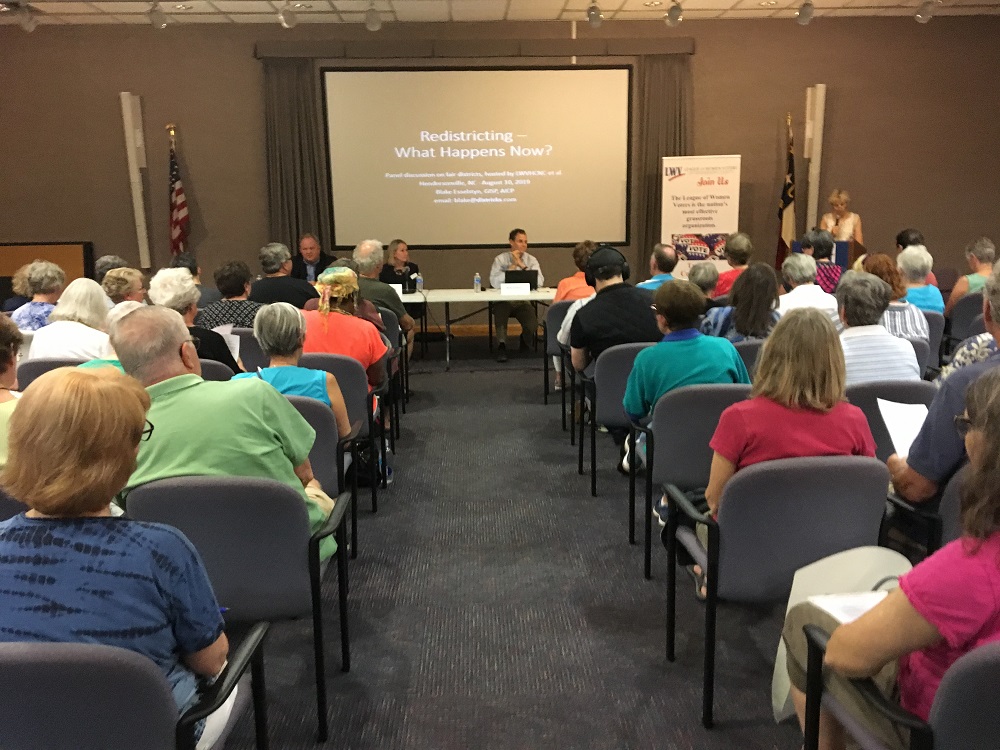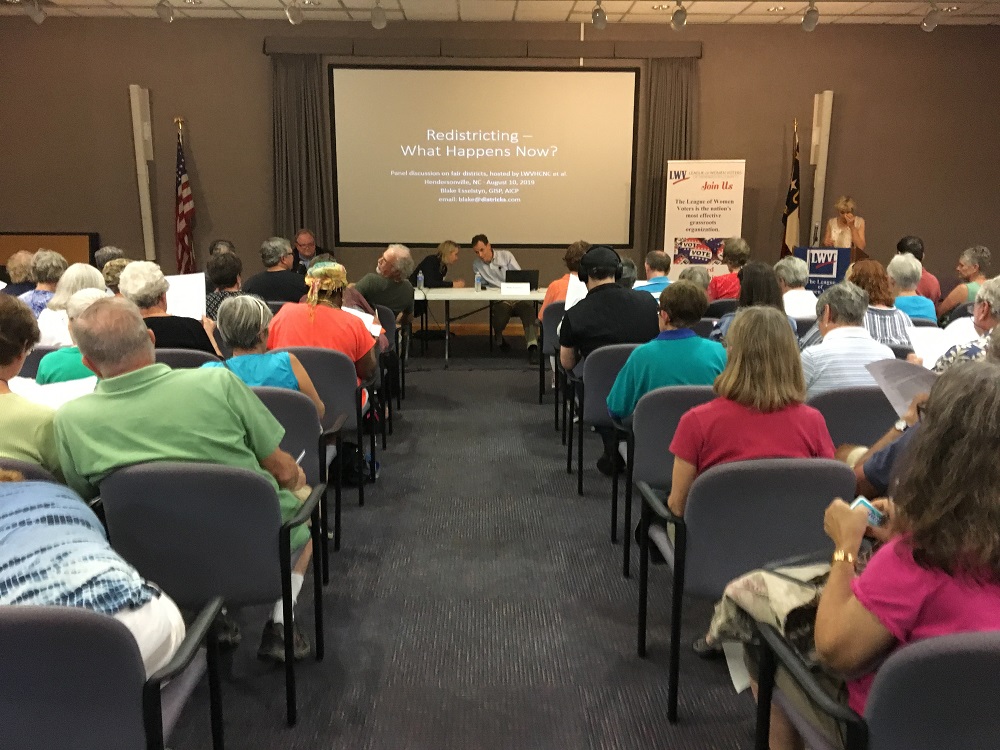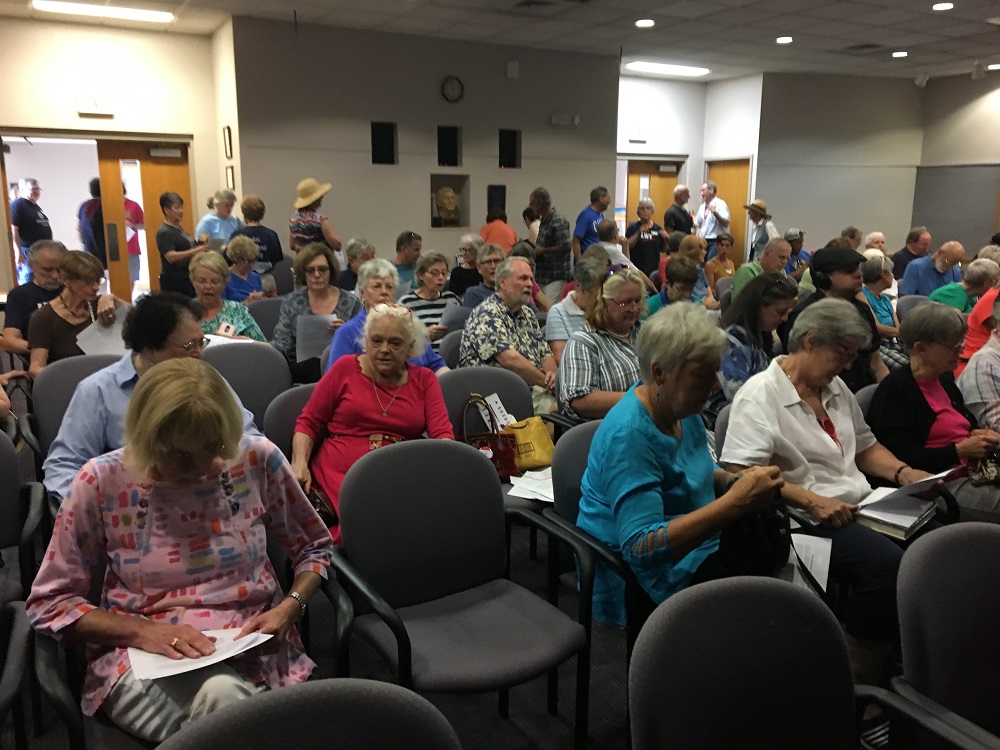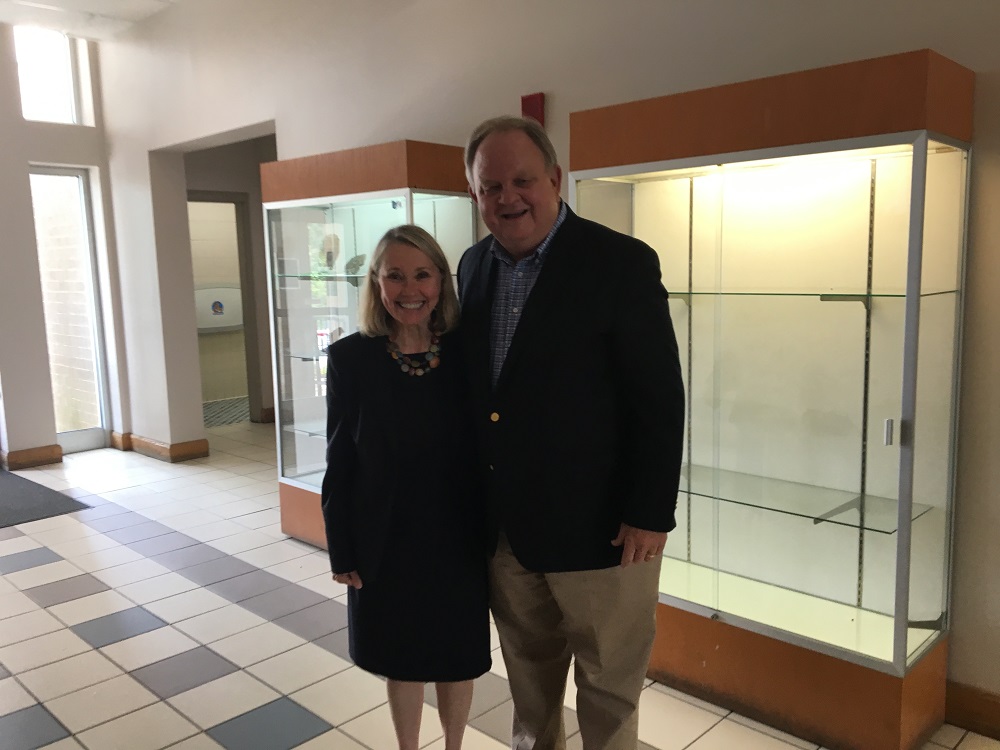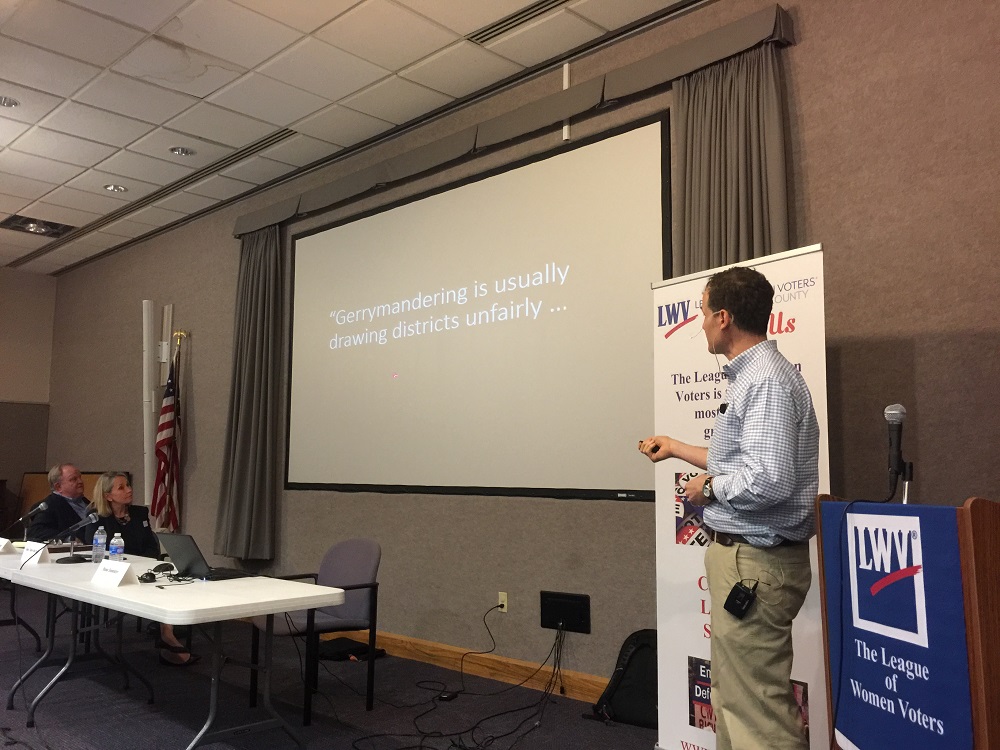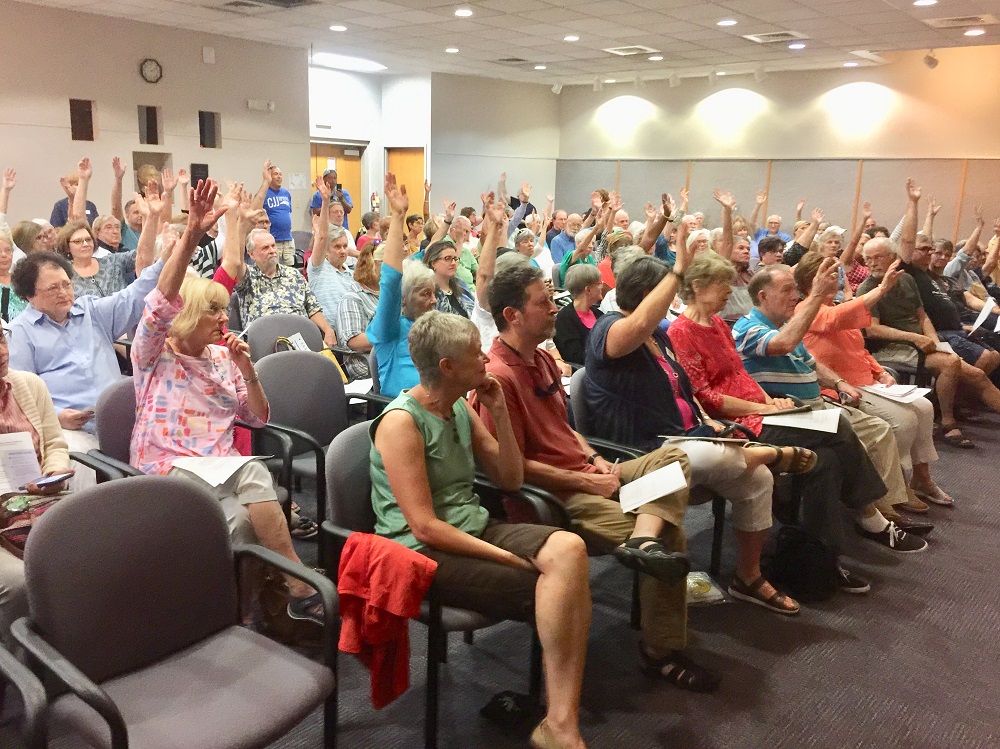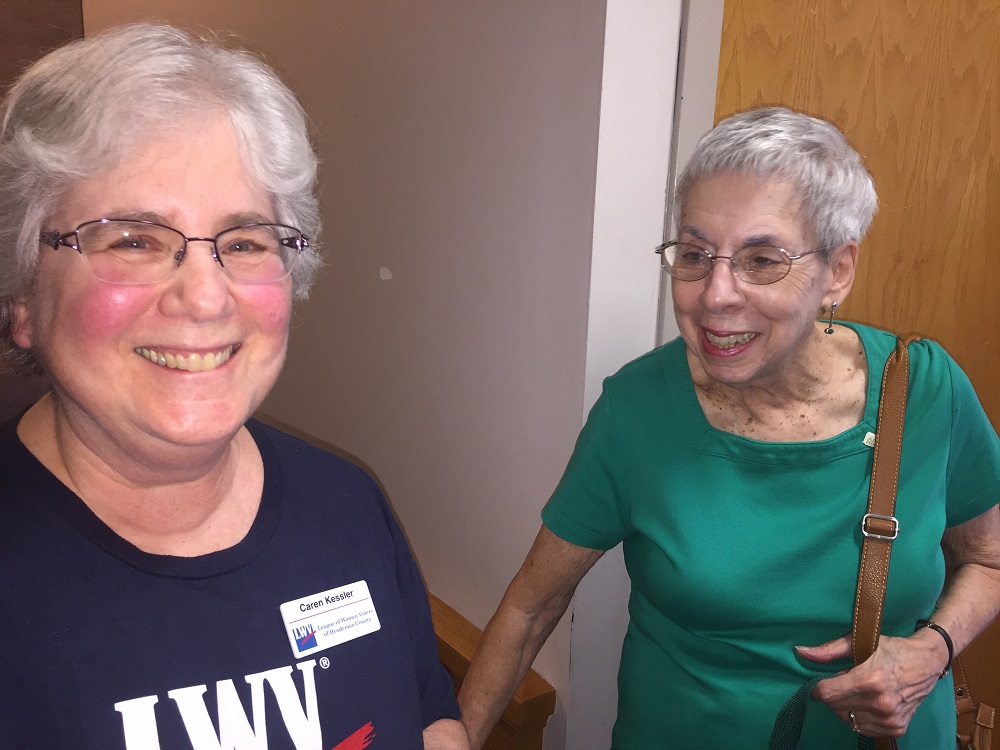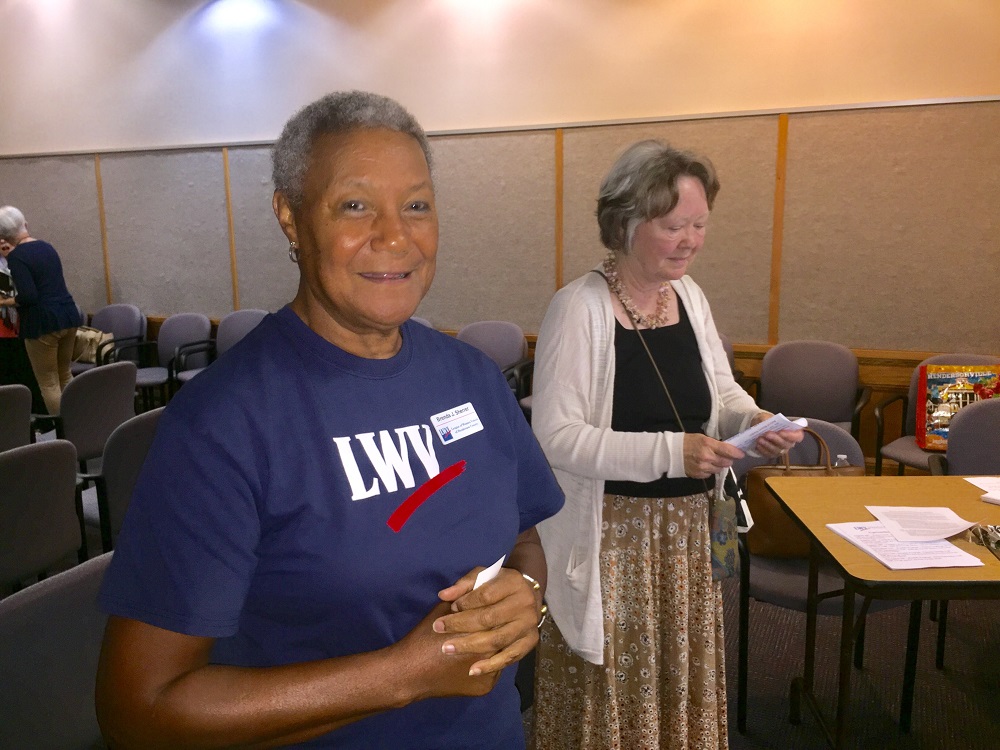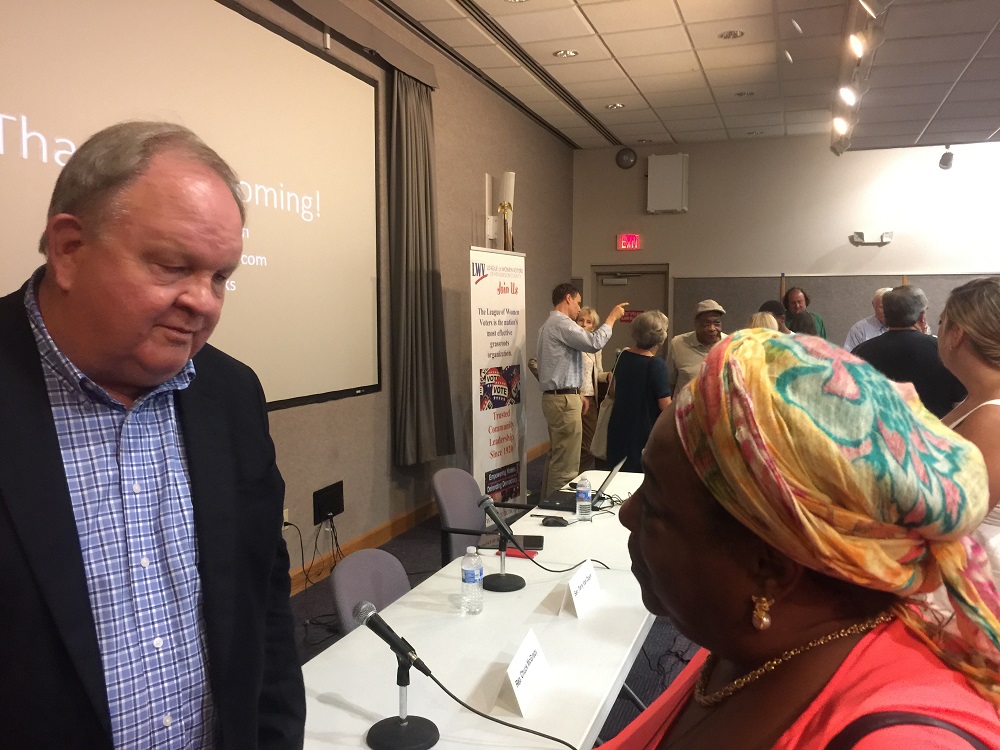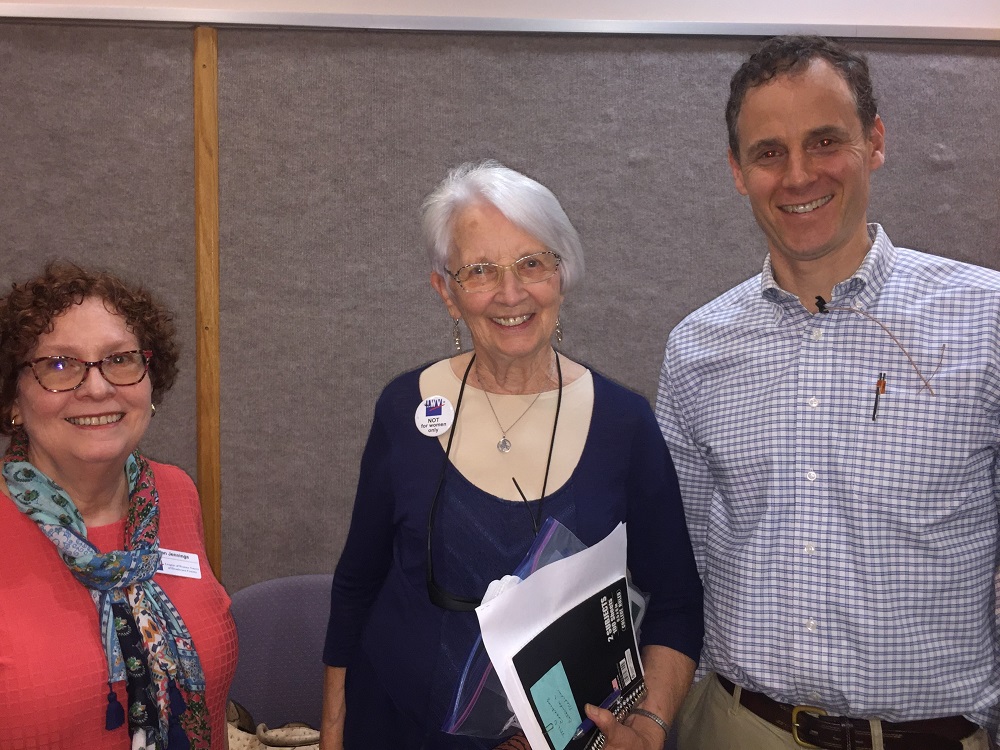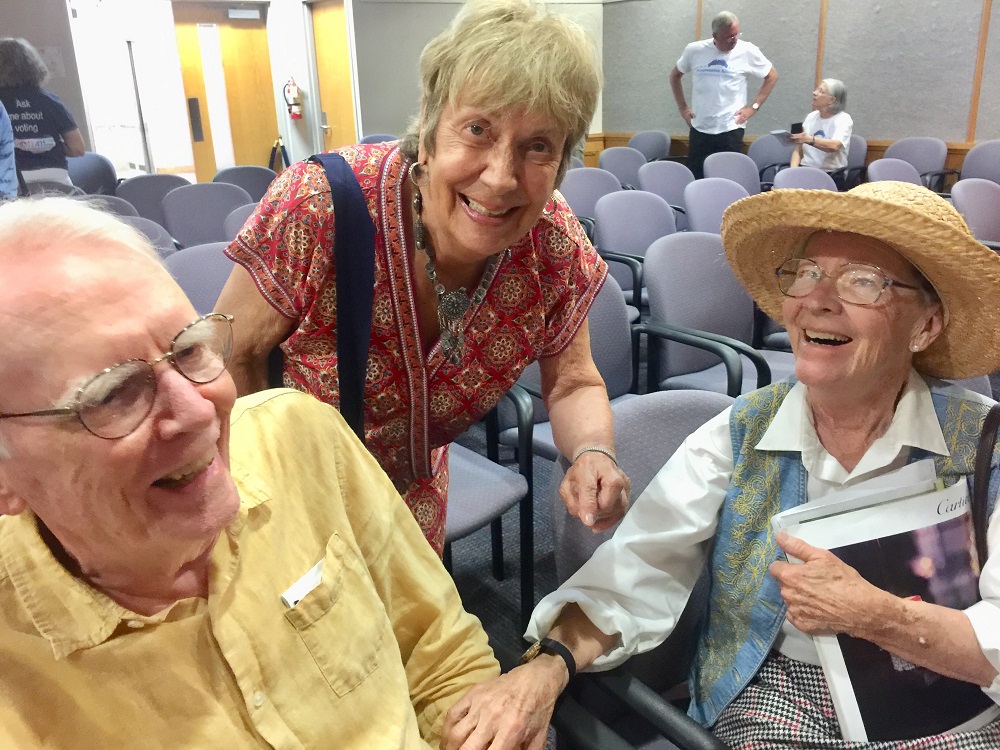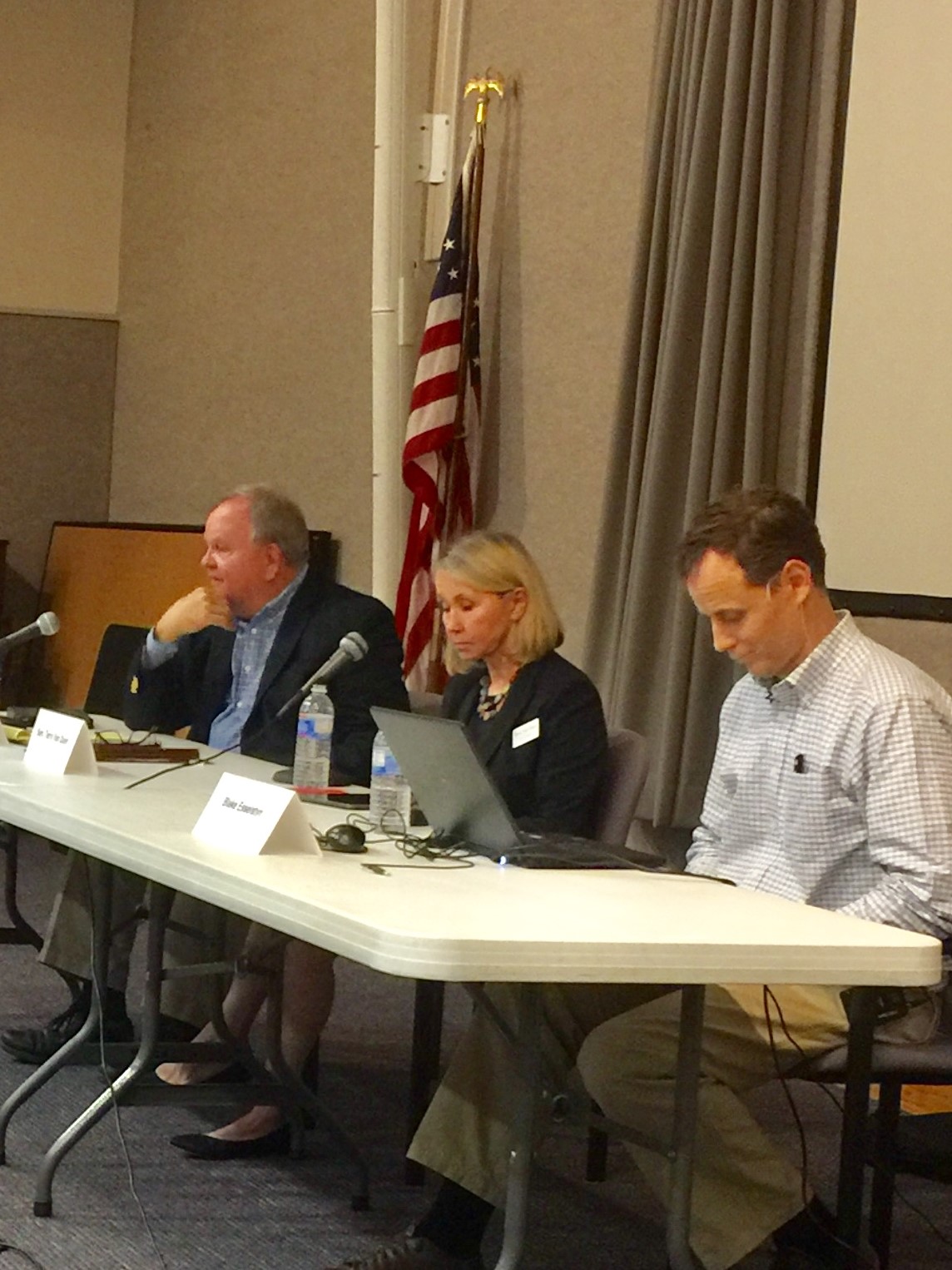 ---
Annual Luncheon Gala – June 21, 2019
Annual Luncheon Gala June 21 Grand Ole Hall Highland Lake Flat Rock Over 90 members, guests, and visitors attended our annual meeting/celebration of the year's accomplishments. Jane Pinsky, Director, of NC Coalition for Lobbying & Government Reform, spoke of the vital need for fair districting. Awards for community and student leadership were presented to Jan King, Asst Superintendent of HCPS, and Taylor Calloway, recent graduate of North High School. Almost $2,500 was raised in our silent auction/raffle fundraiser.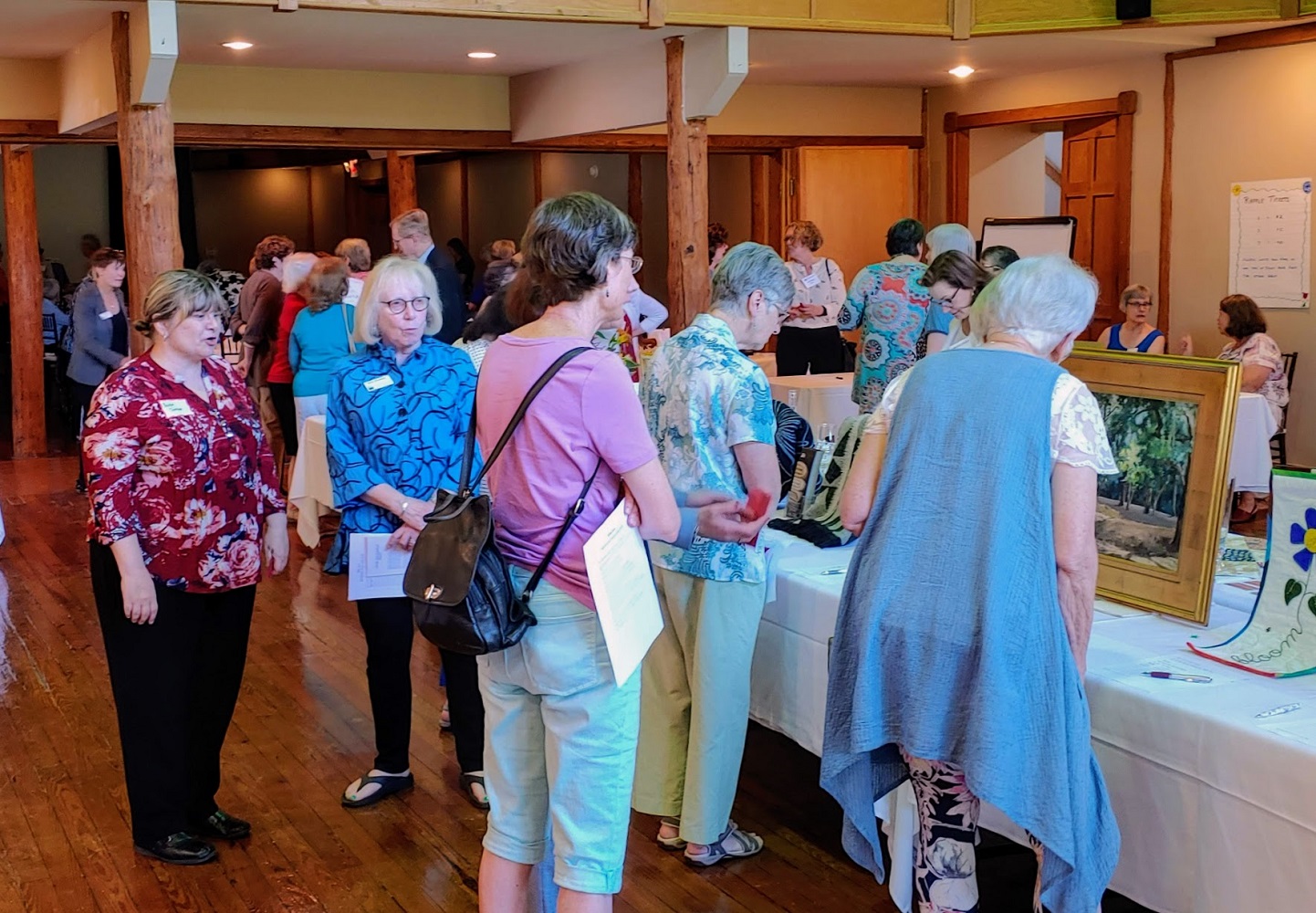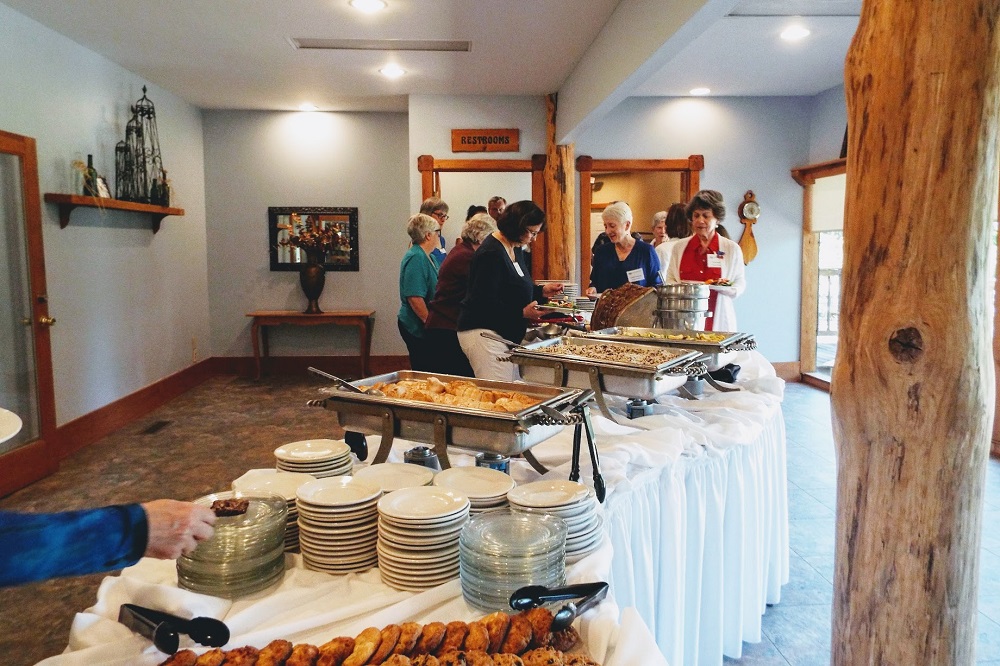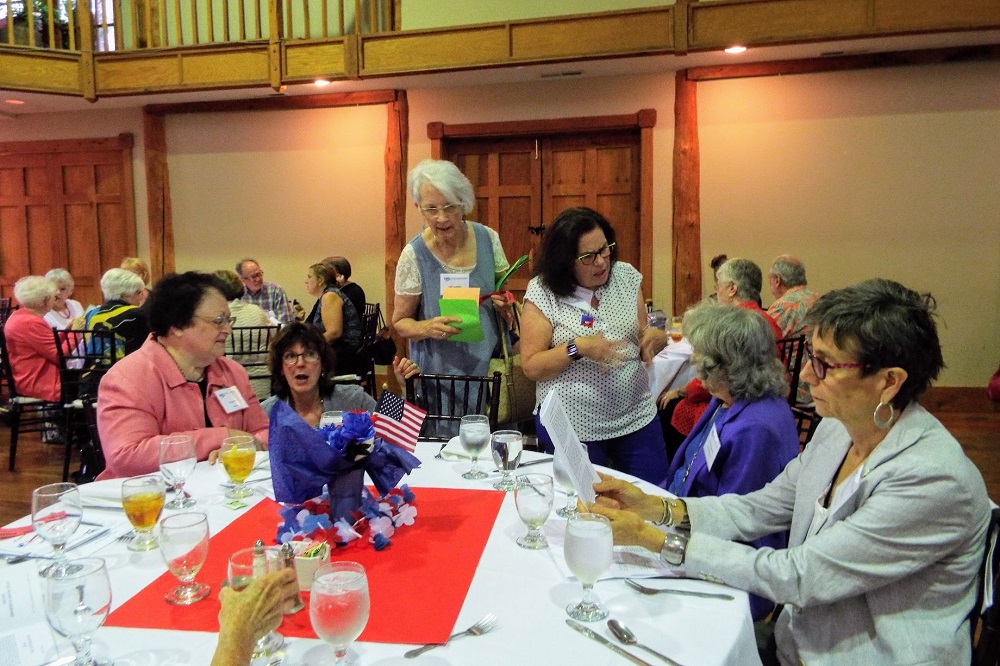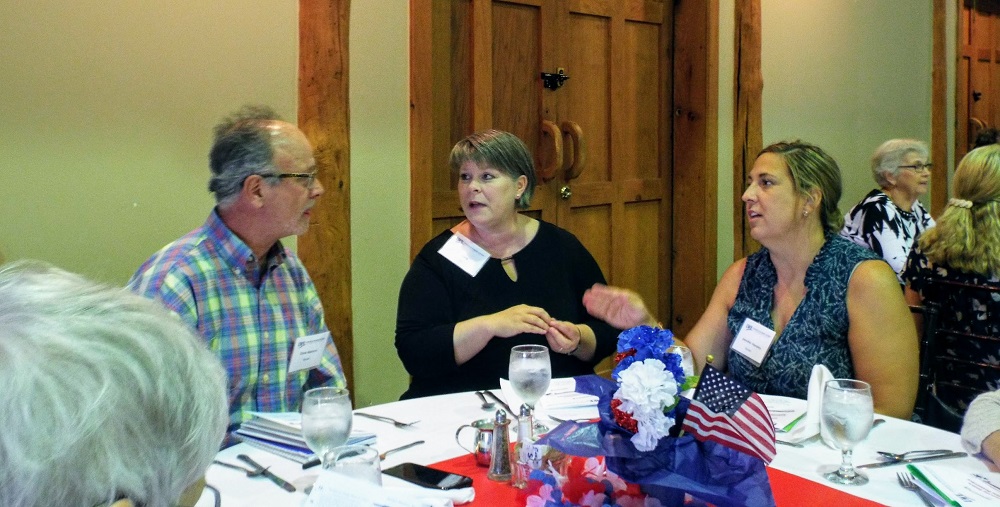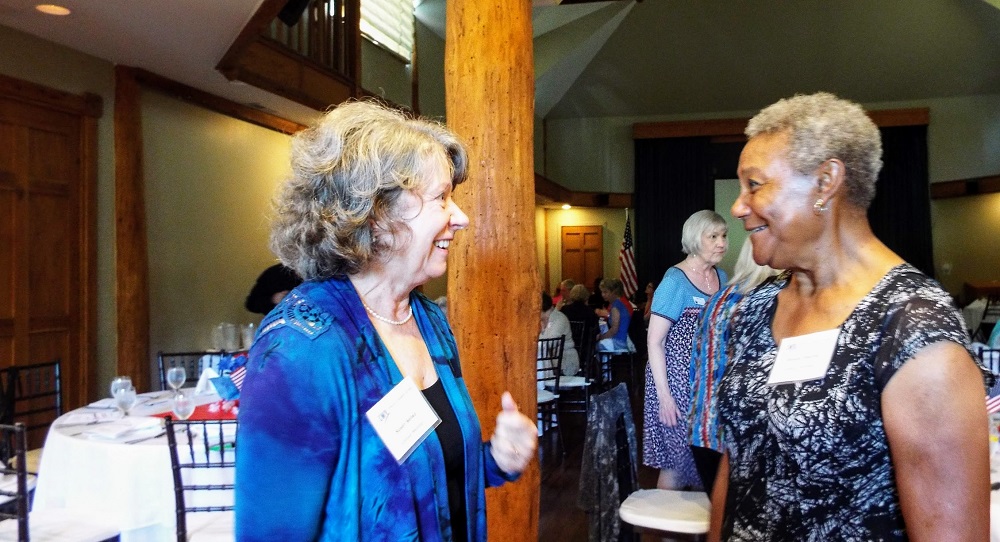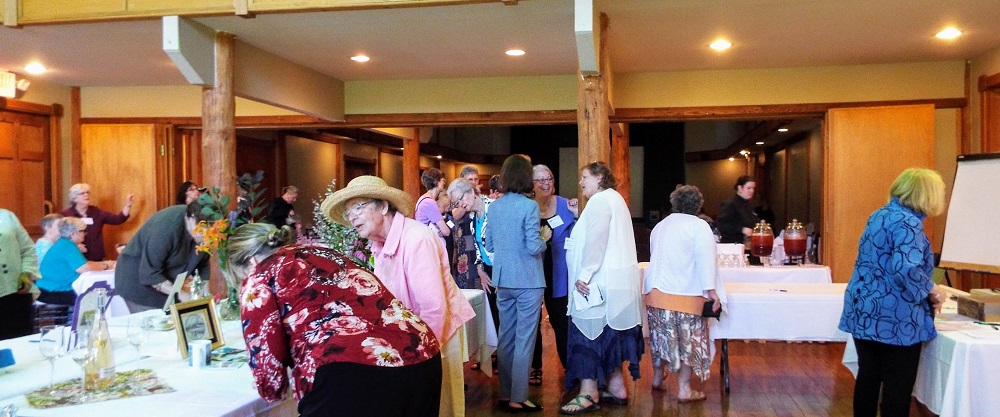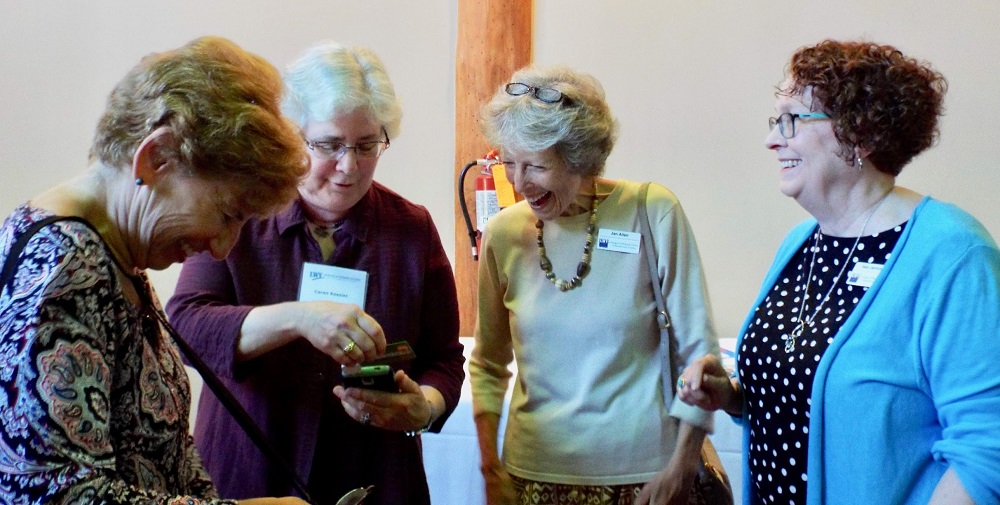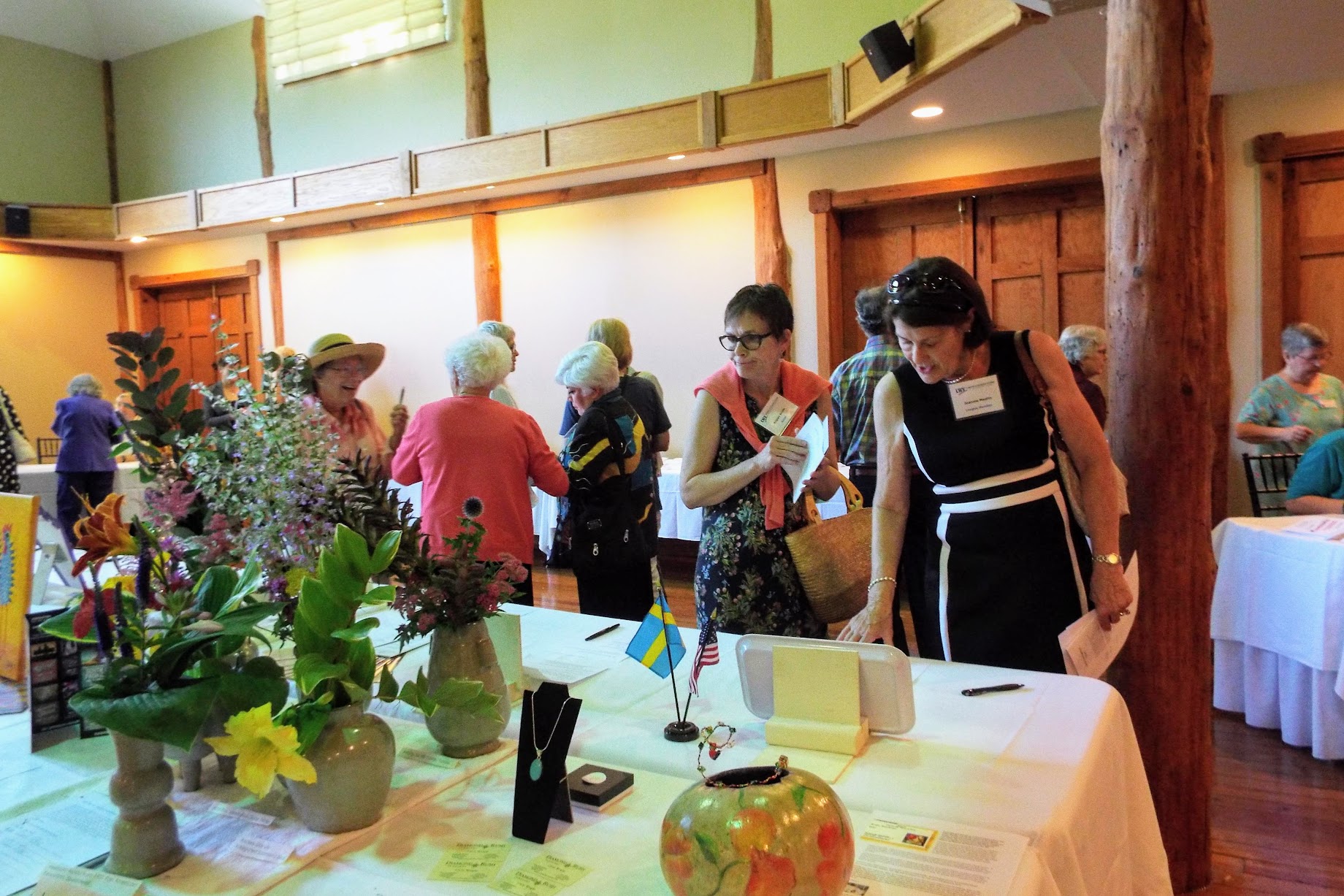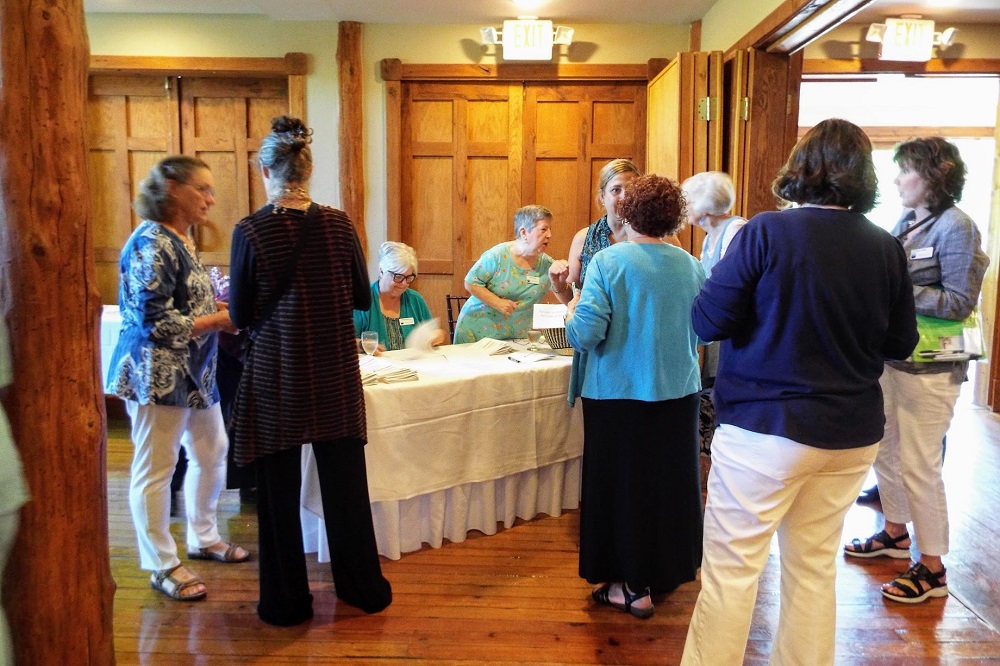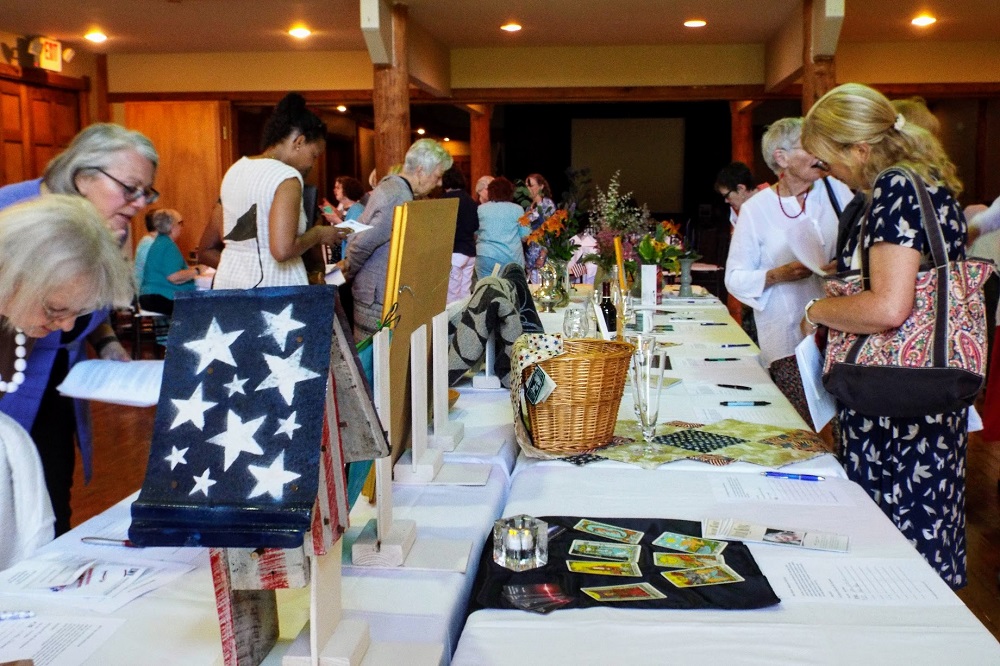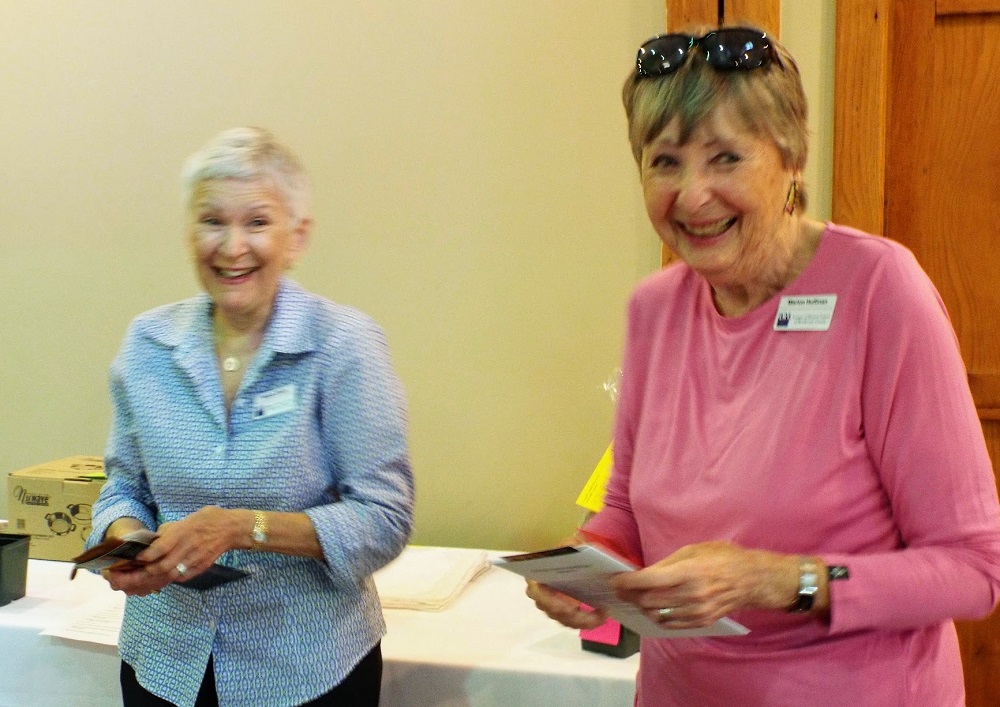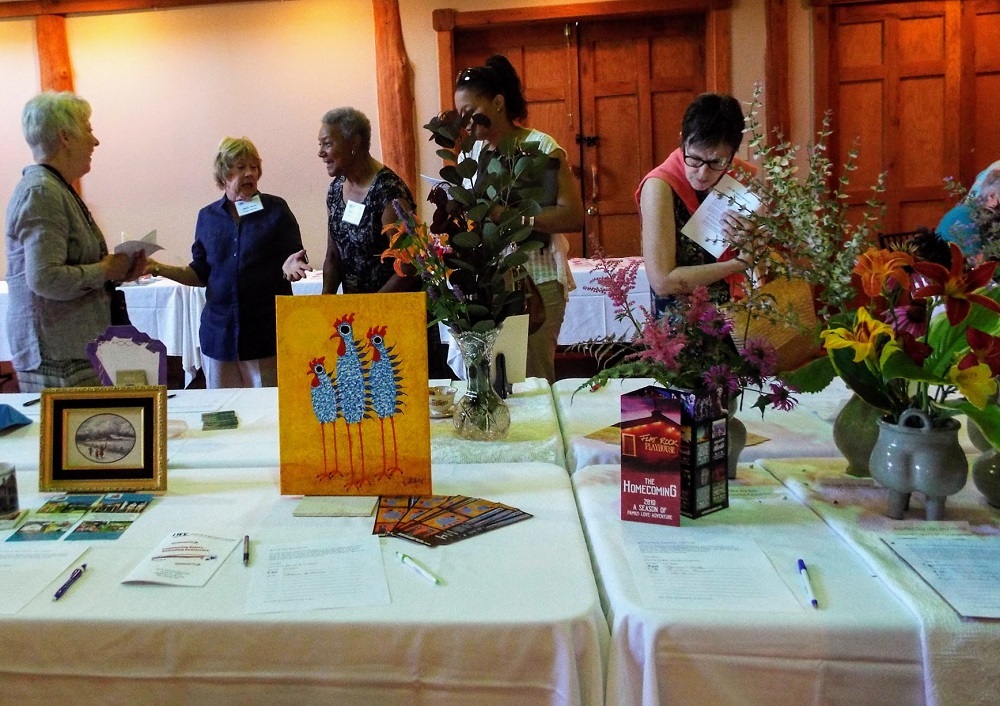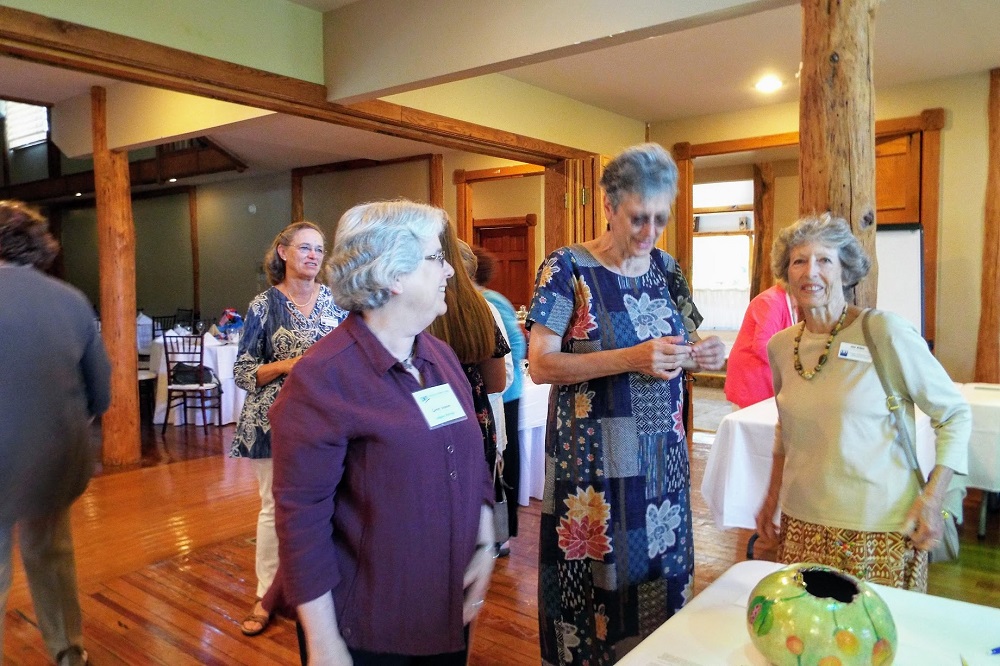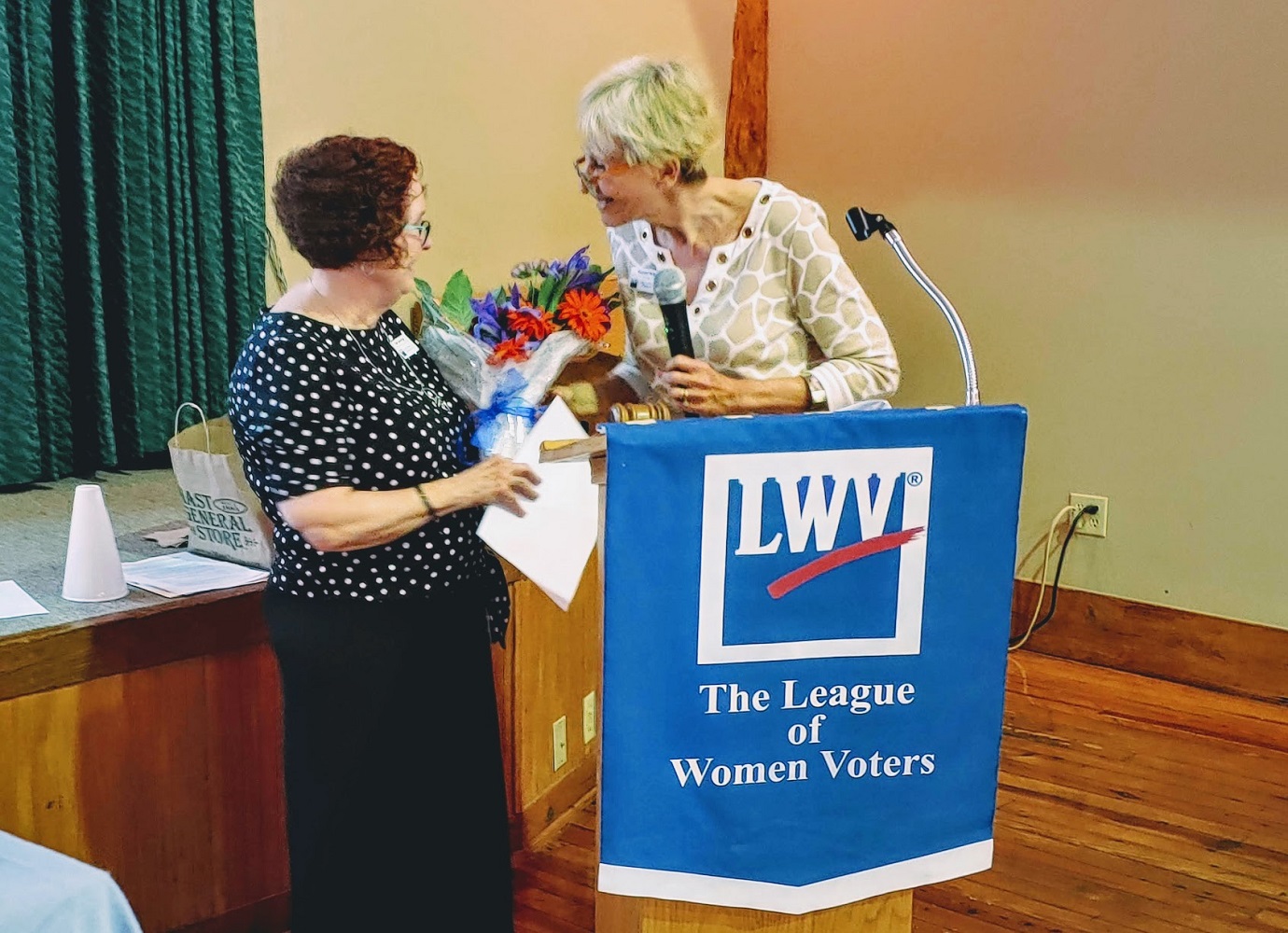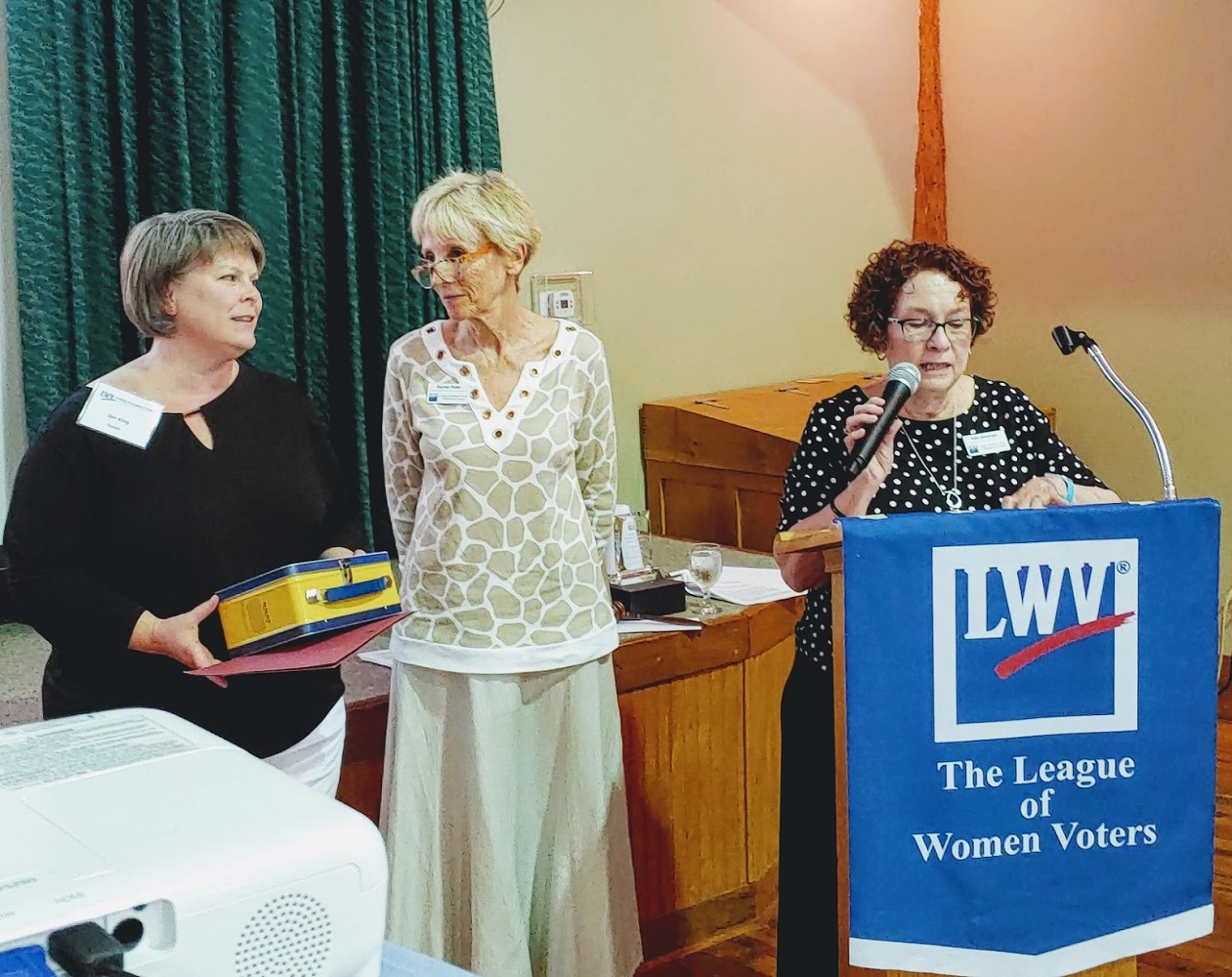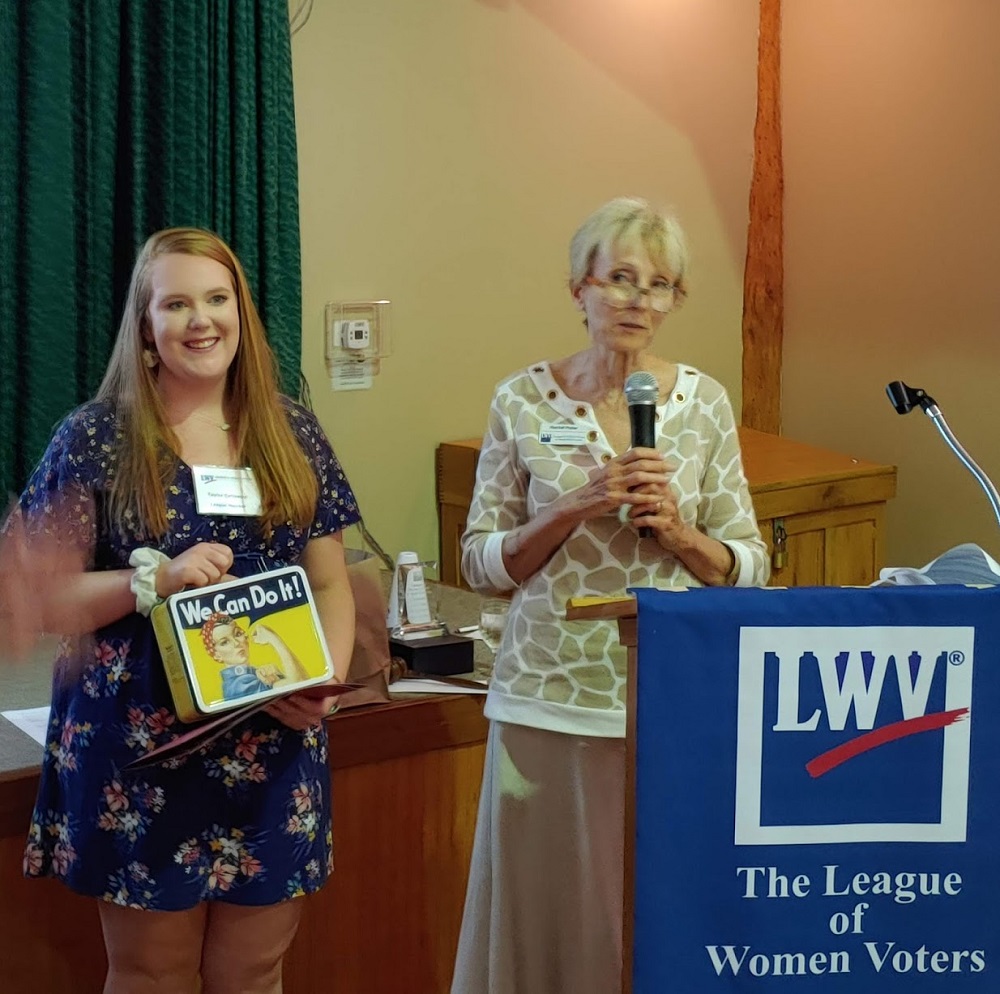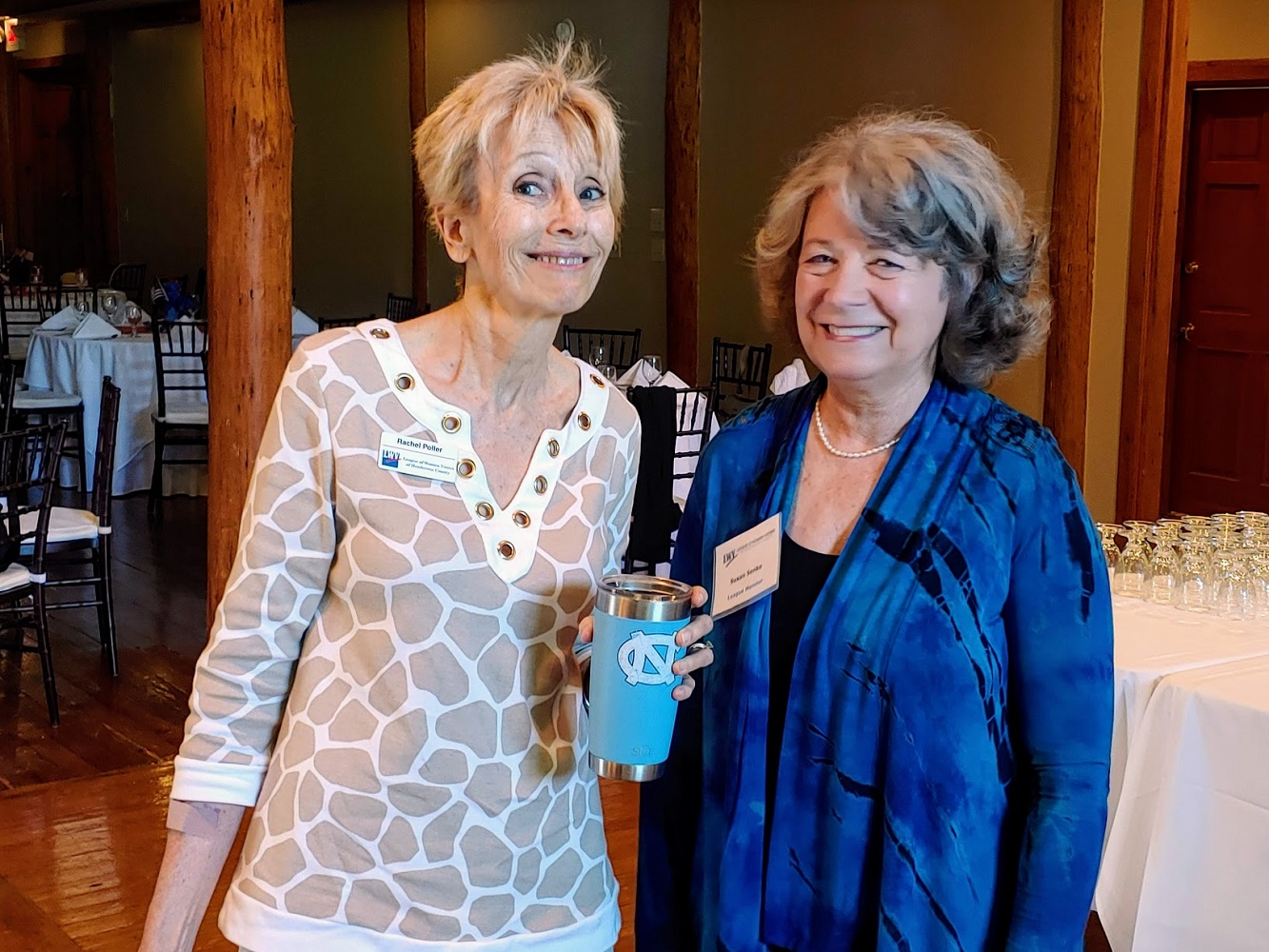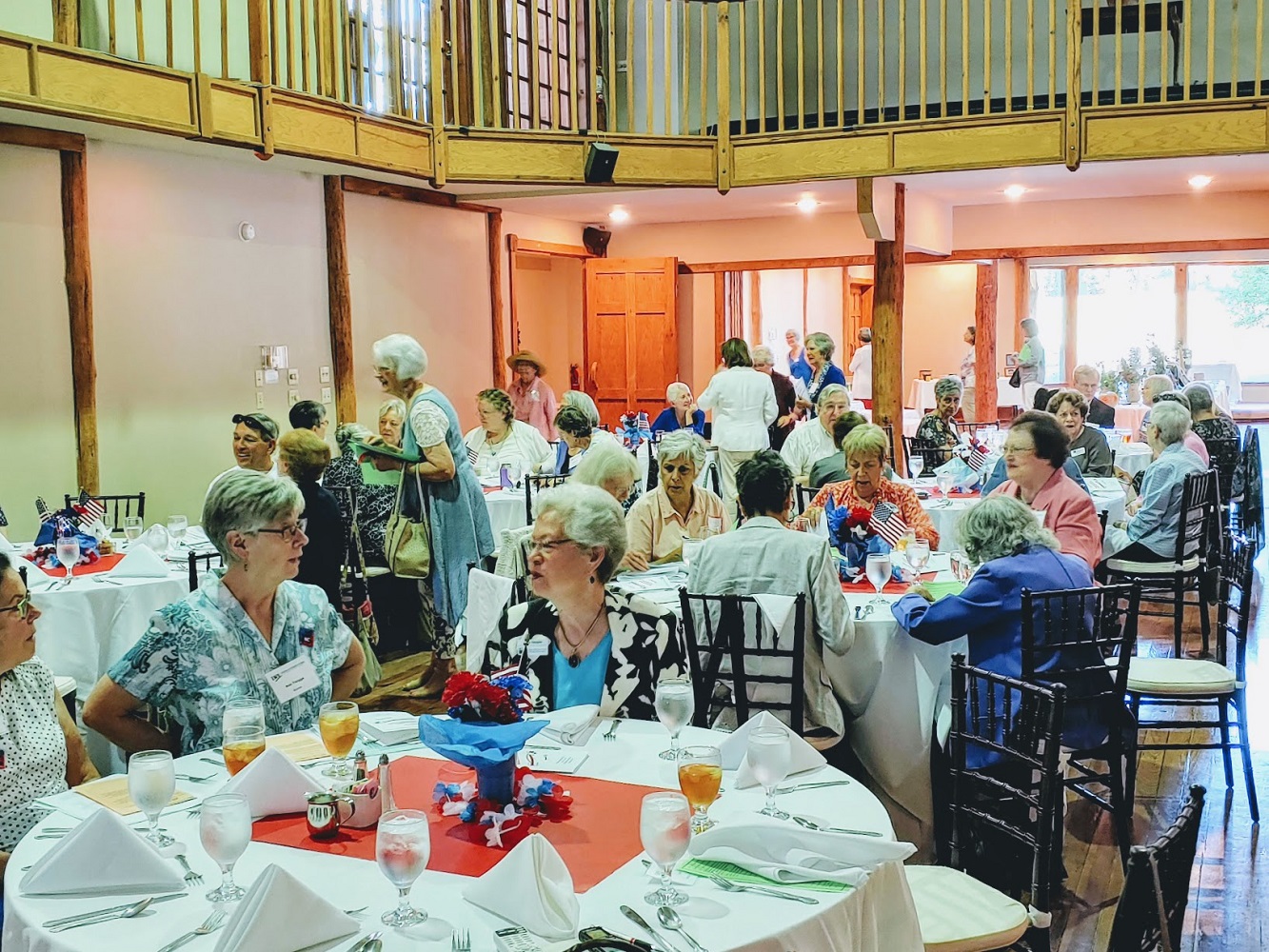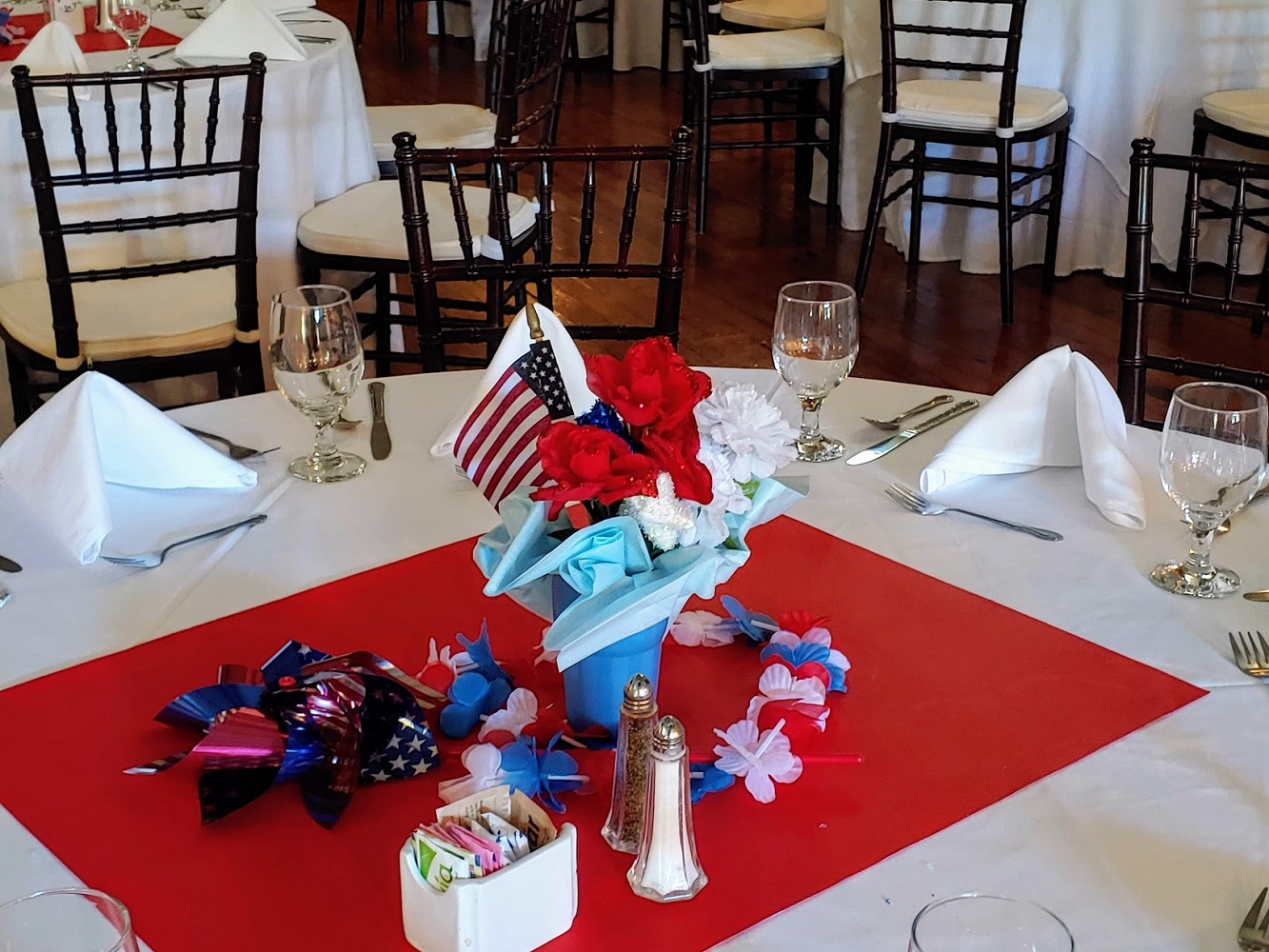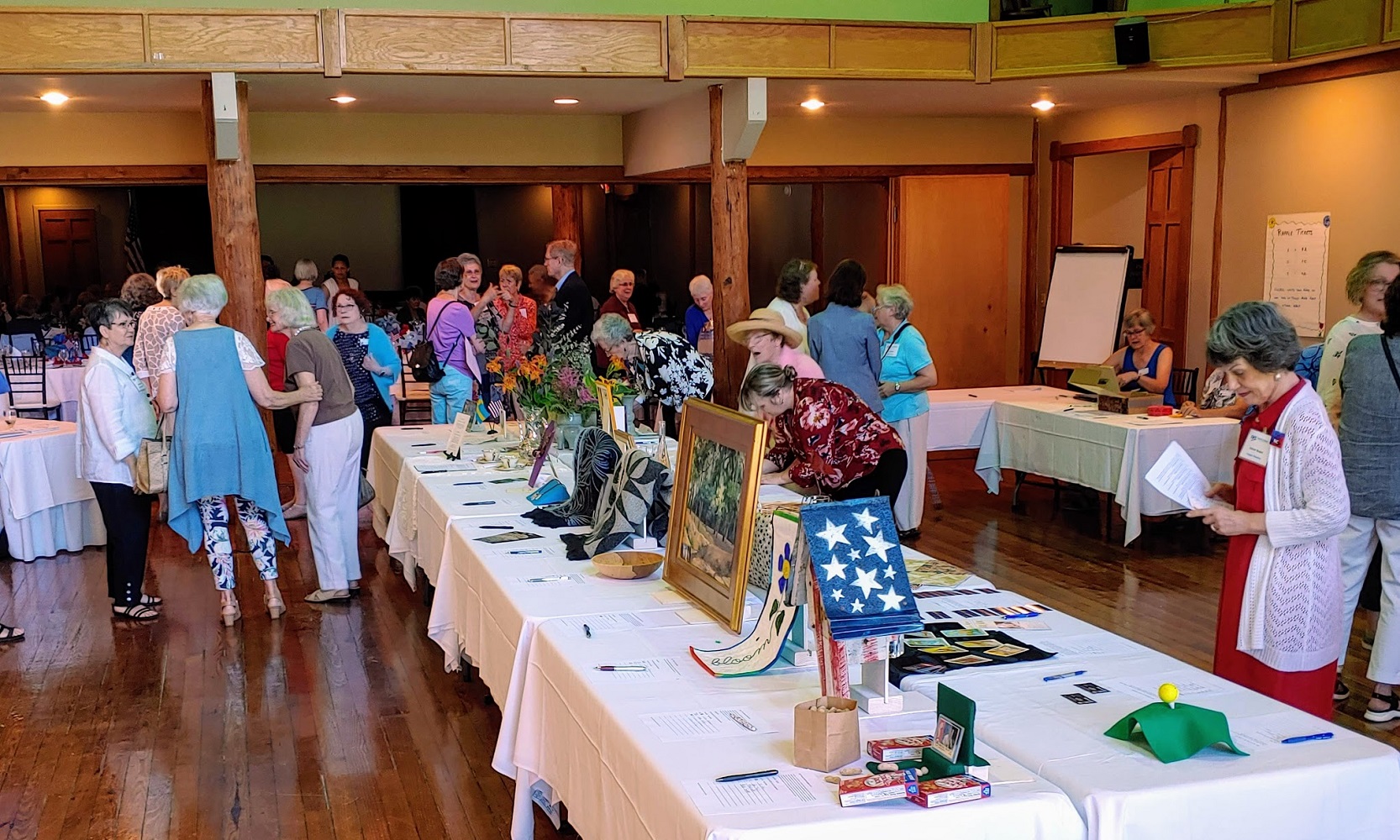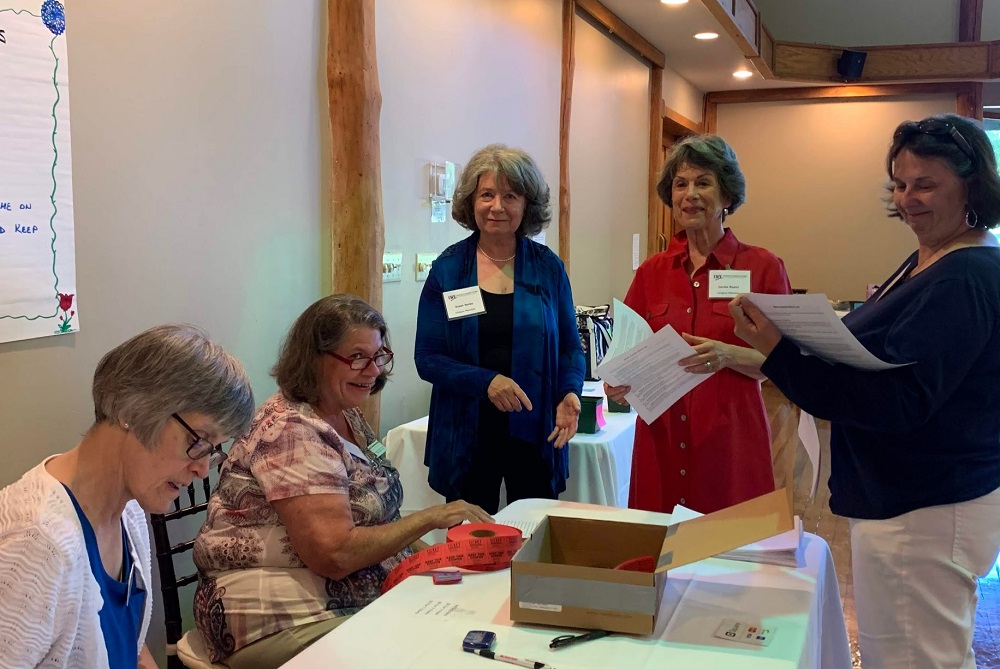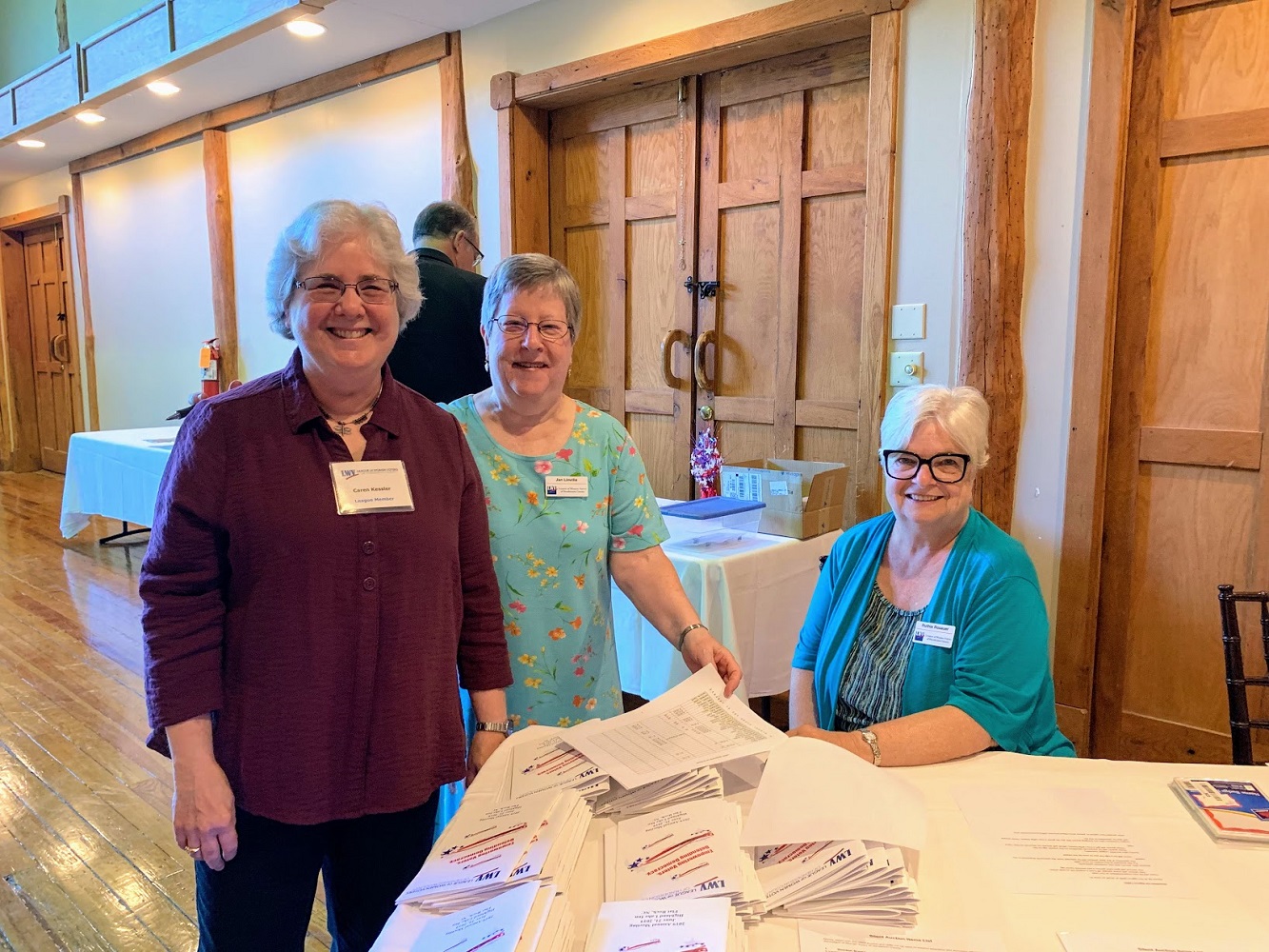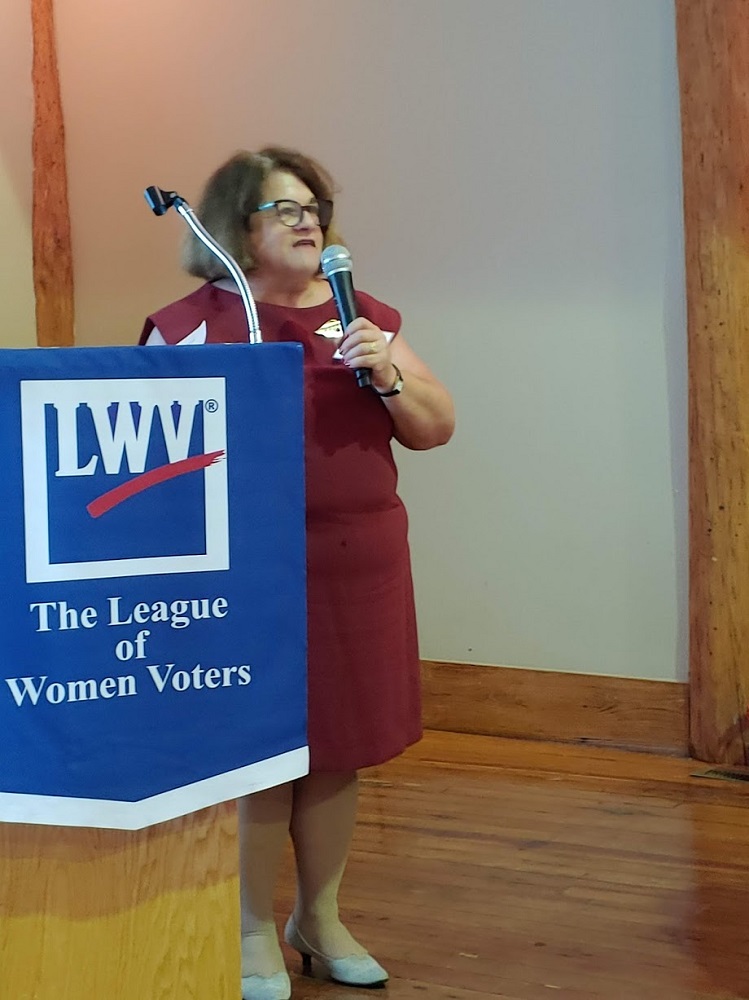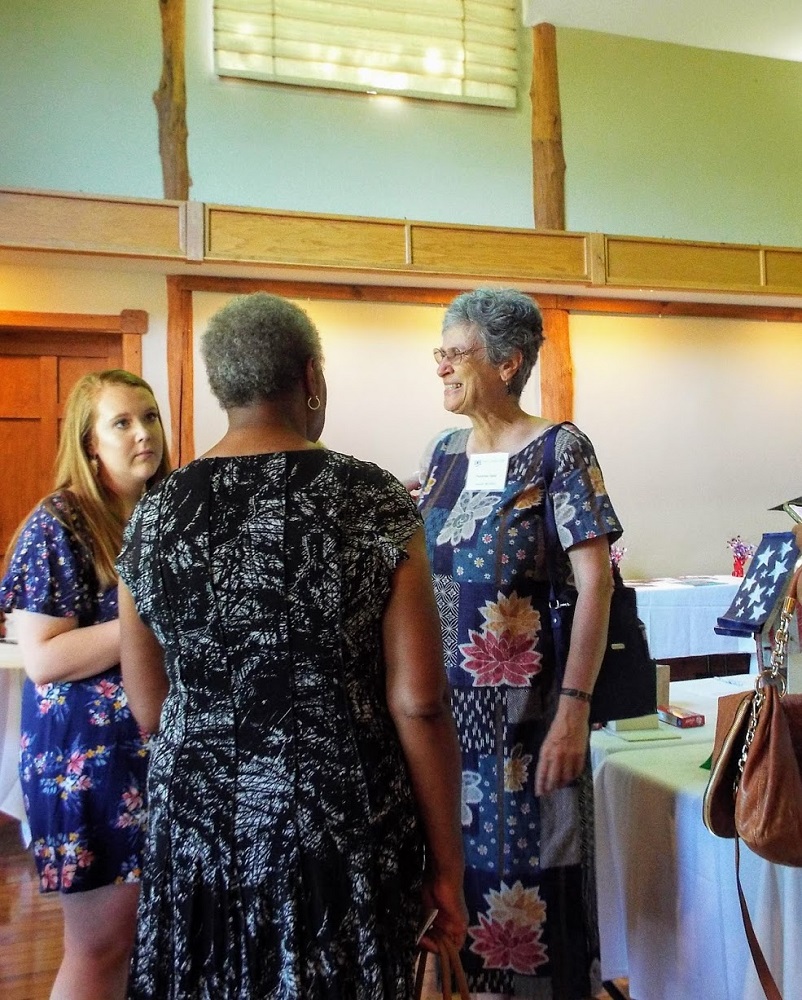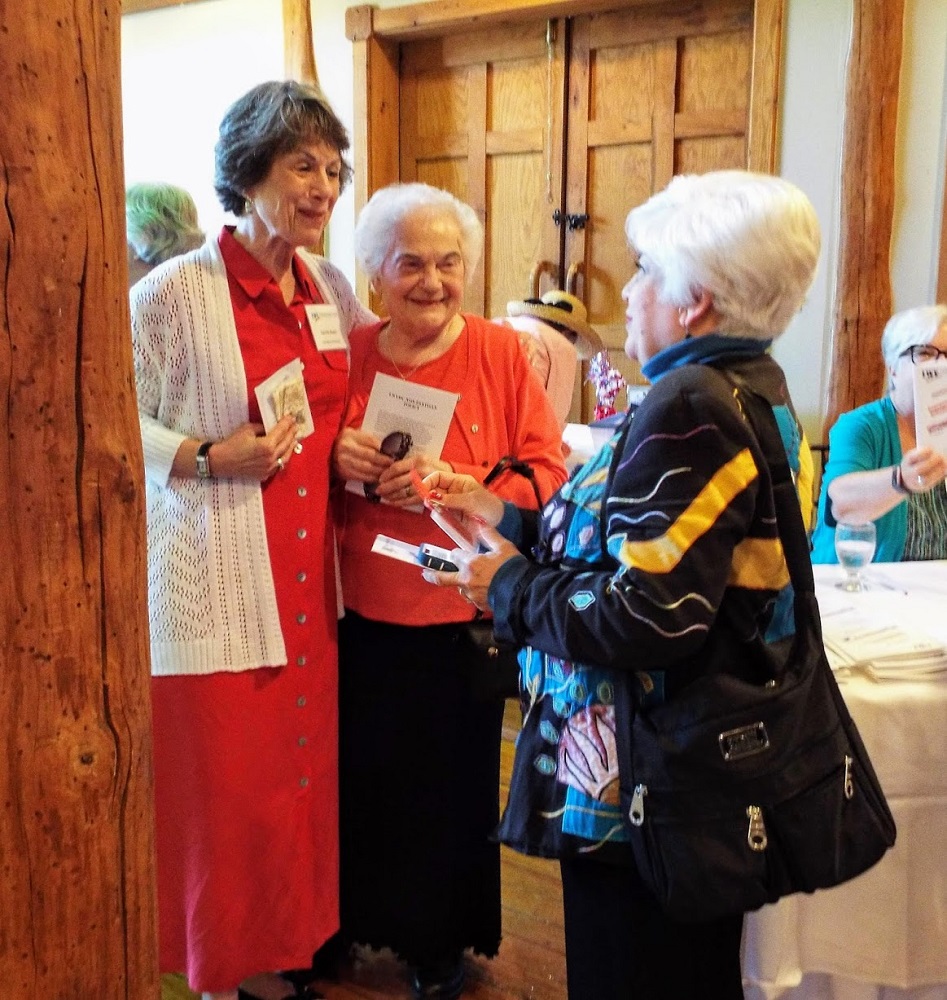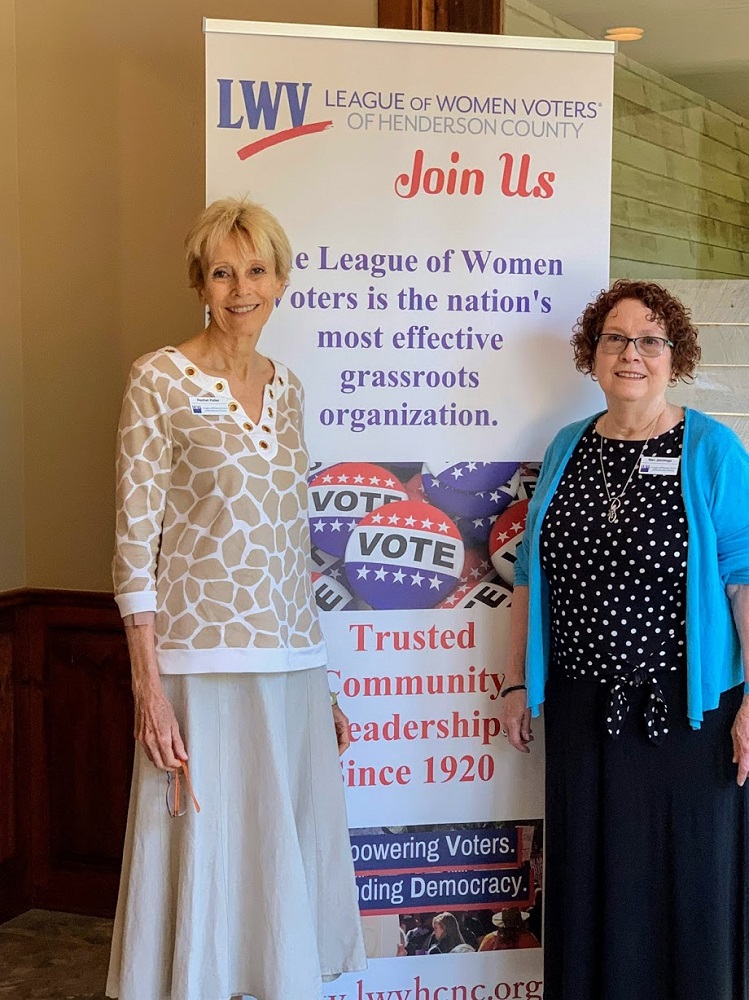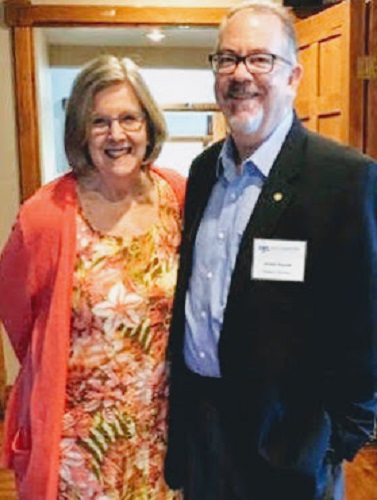 ---
2019 LWVHC Student Leader Award – June 11, 2019
Senior and League member Taylor Calloway received the LWVHC Student Leader Award for academic excellence and dedication to LWV Mission at Senior Awards Ceremony at North Henderson High School.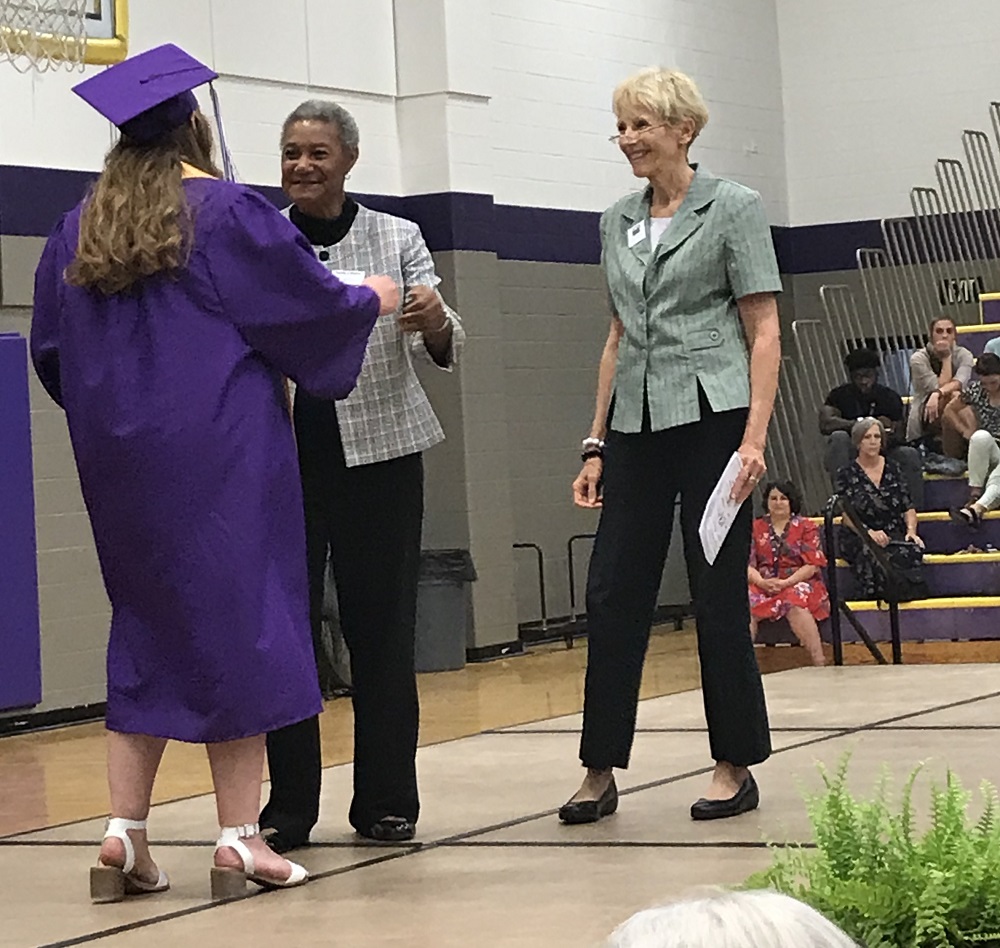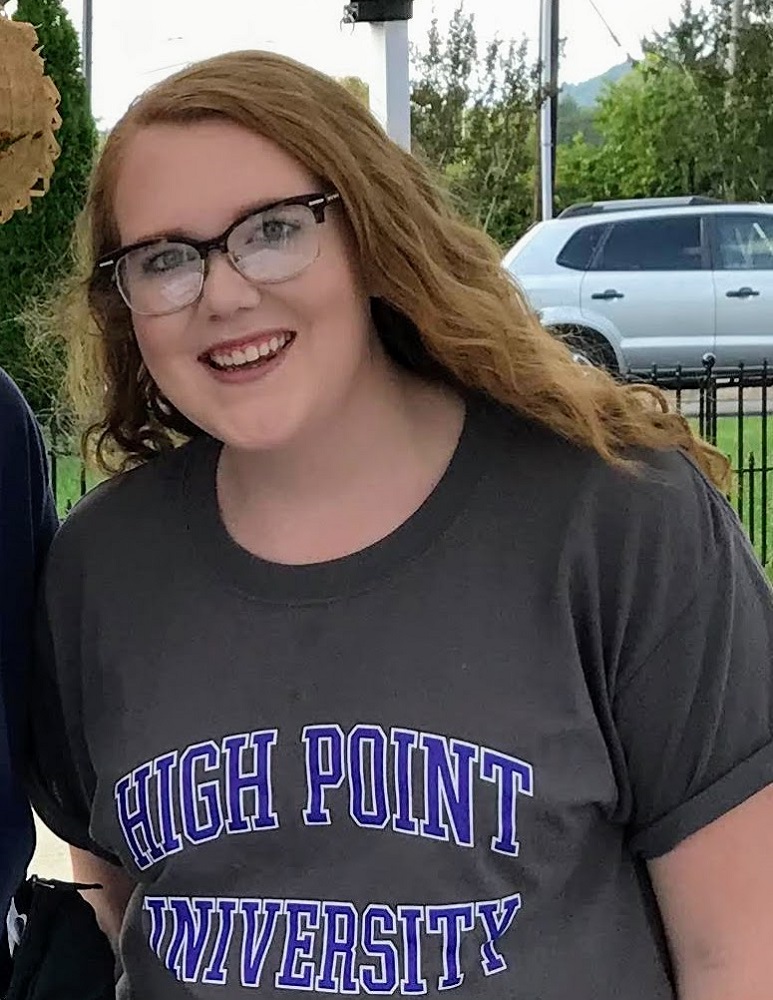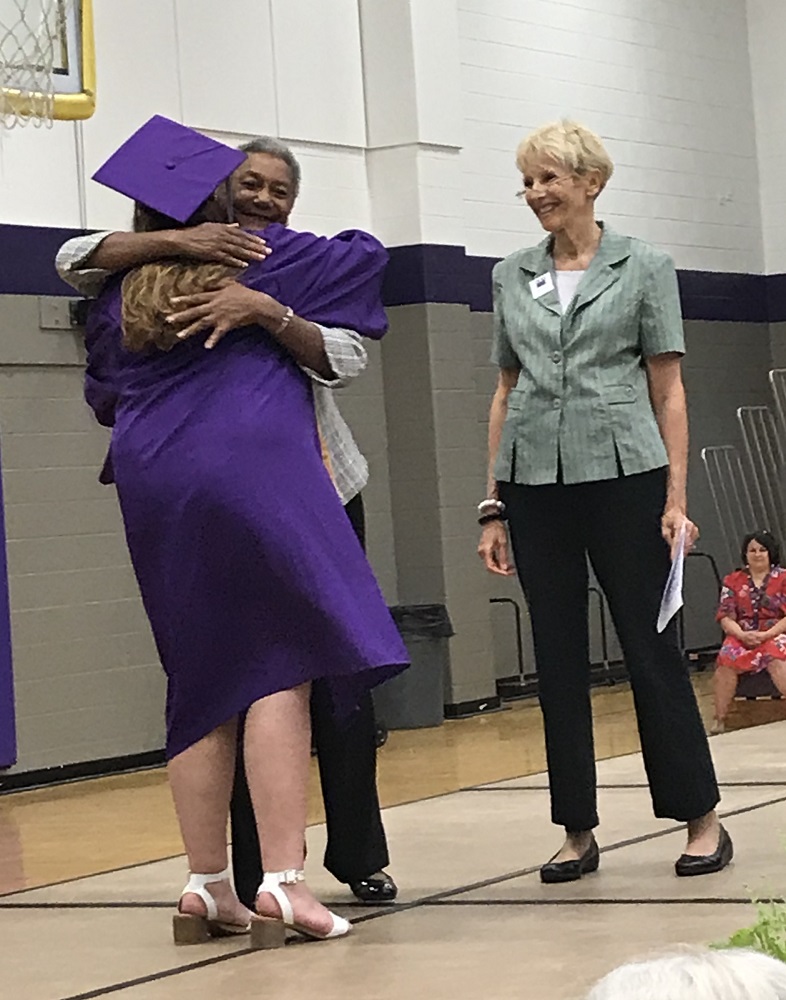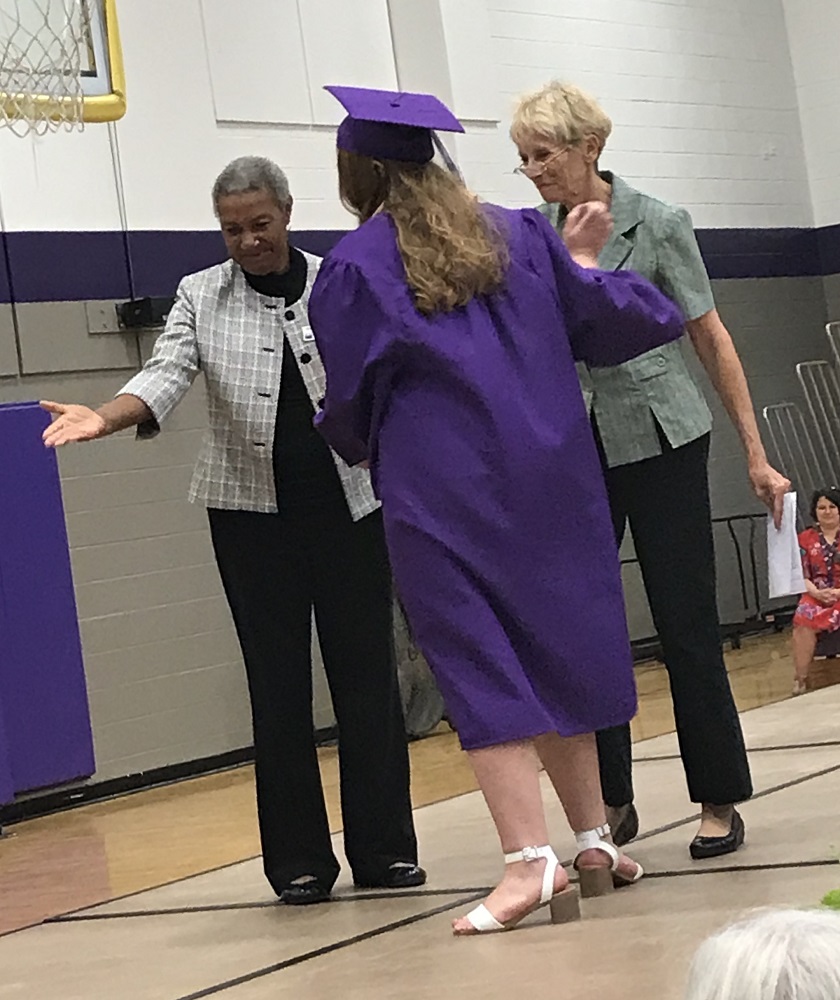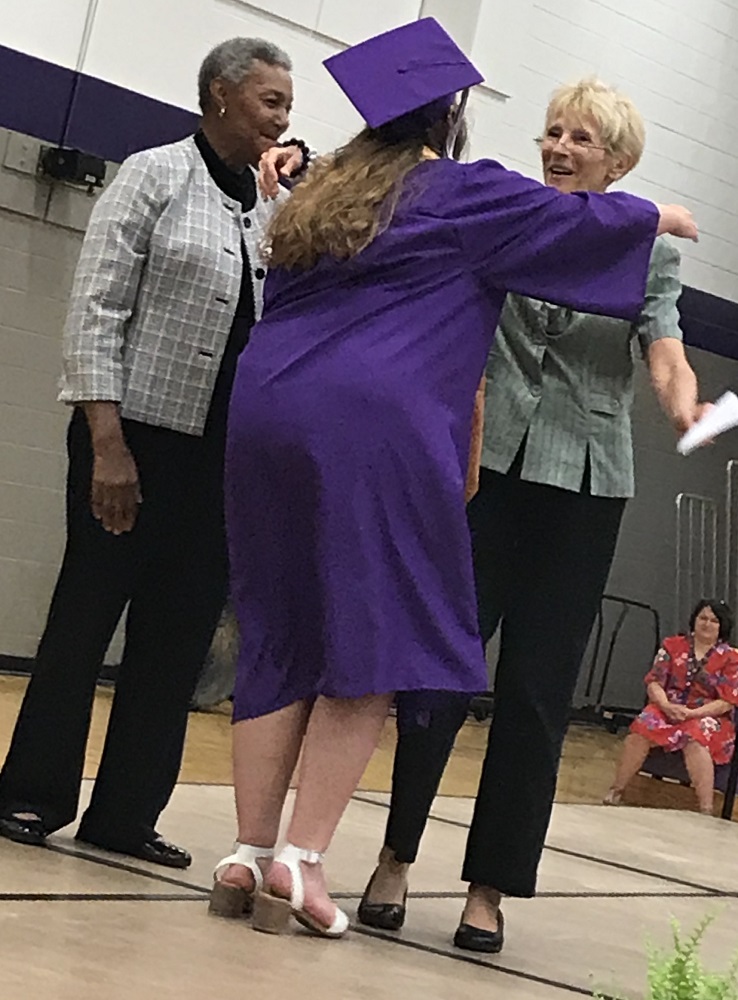 ---
LWVNC Convention May 17th - 19th – May 17, 2019
12 LWVHC members attended the 37th LWVNC Biennial Convention in Chapel Hill May 17th-19th where we were honored with the Outstanding Local League Award. Mayor Barbara Volk was parliamentarian; Brenda Sherrer presented on Diversity, Equity, and Inclusion, and Lee Luebbe and Judy Katz were recognized for their LWVNC contributions as coach and state Board member, respectively. Convention speakers included LWVUS CEO Virginia Kase and Allison Riggs, attorney from Southern Coalition for Social Justice, who represented the LWVNC in front of SCOTUS on gerrymandering.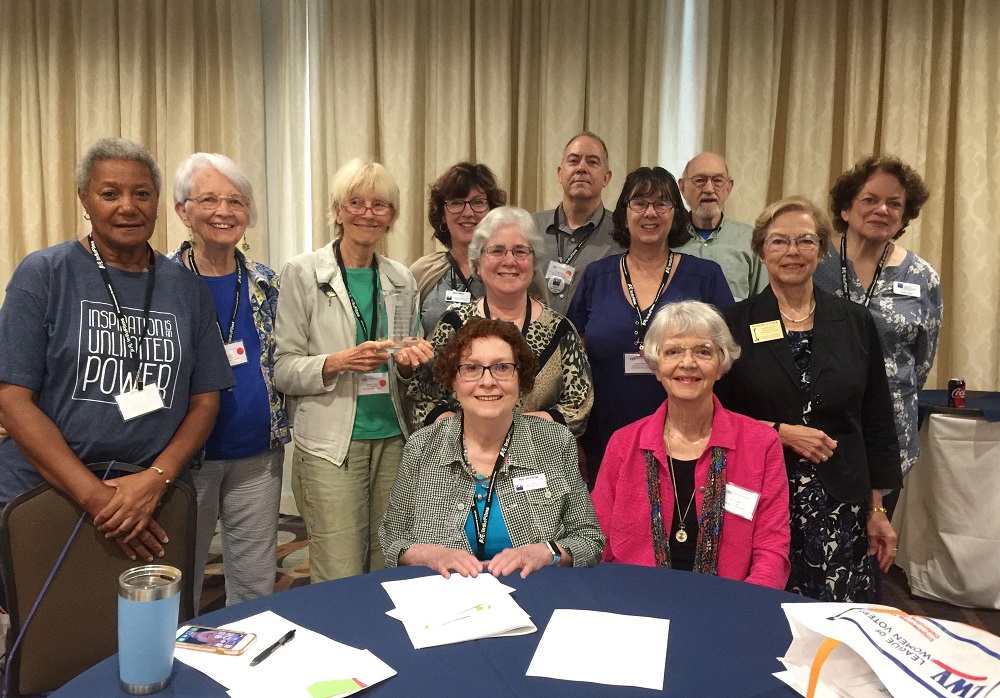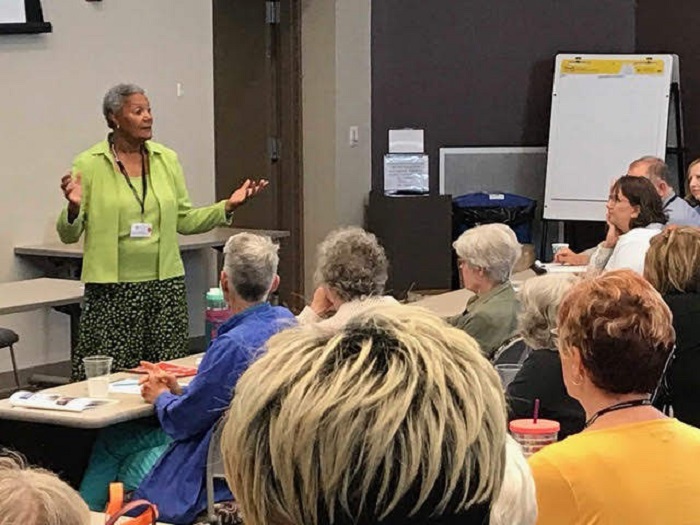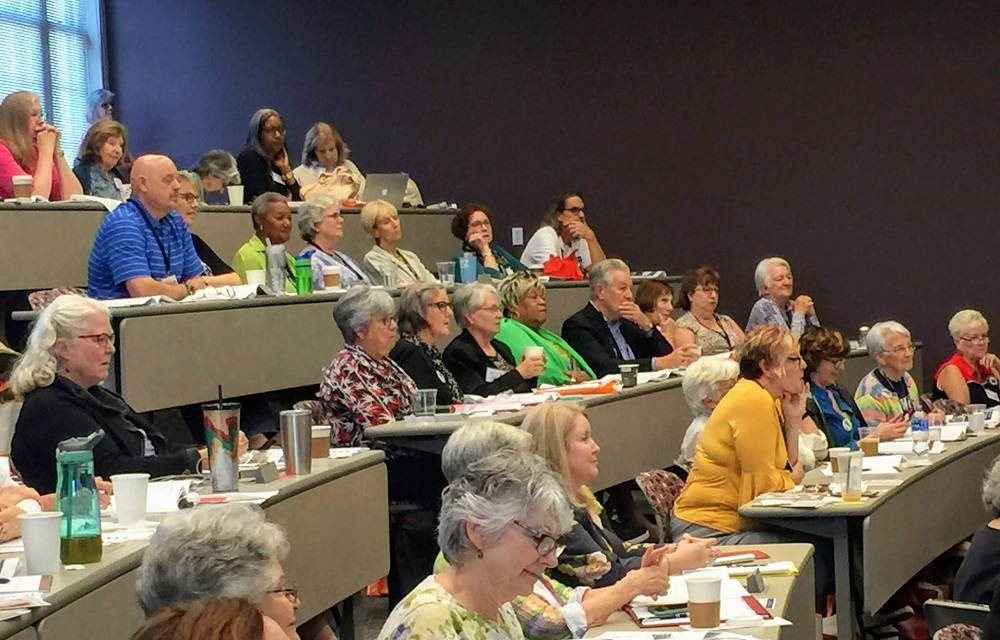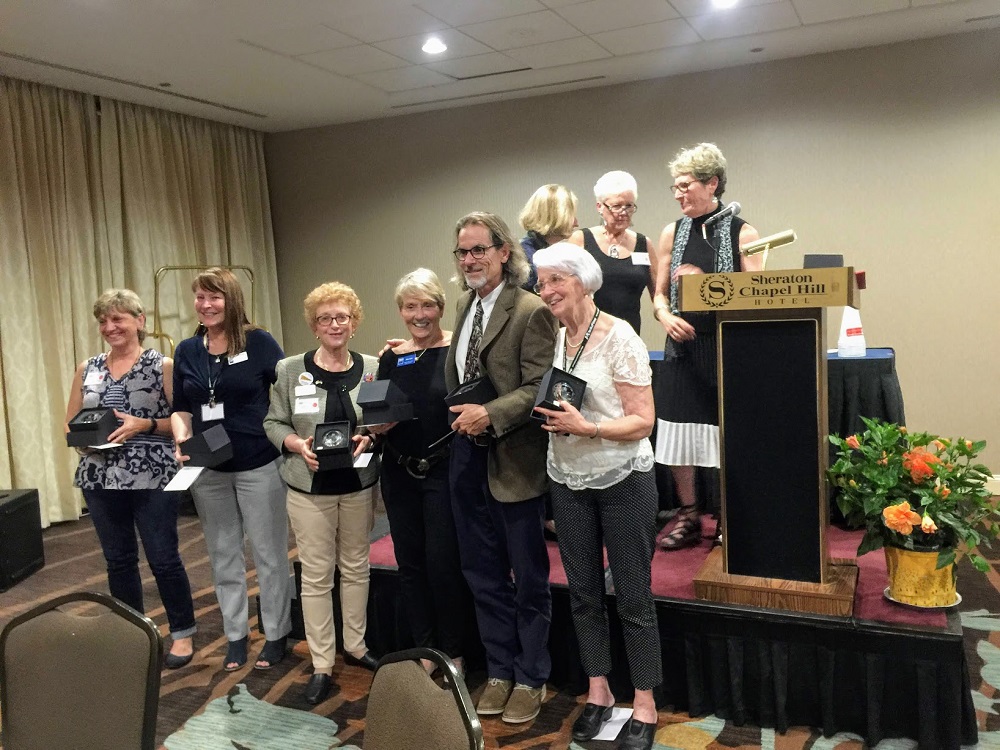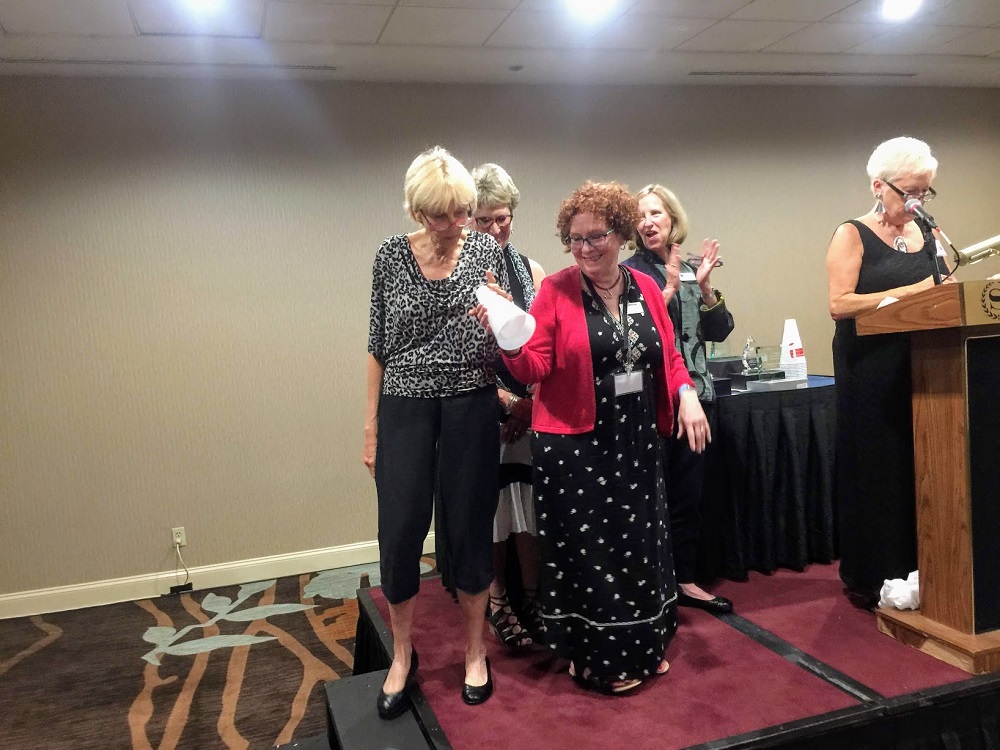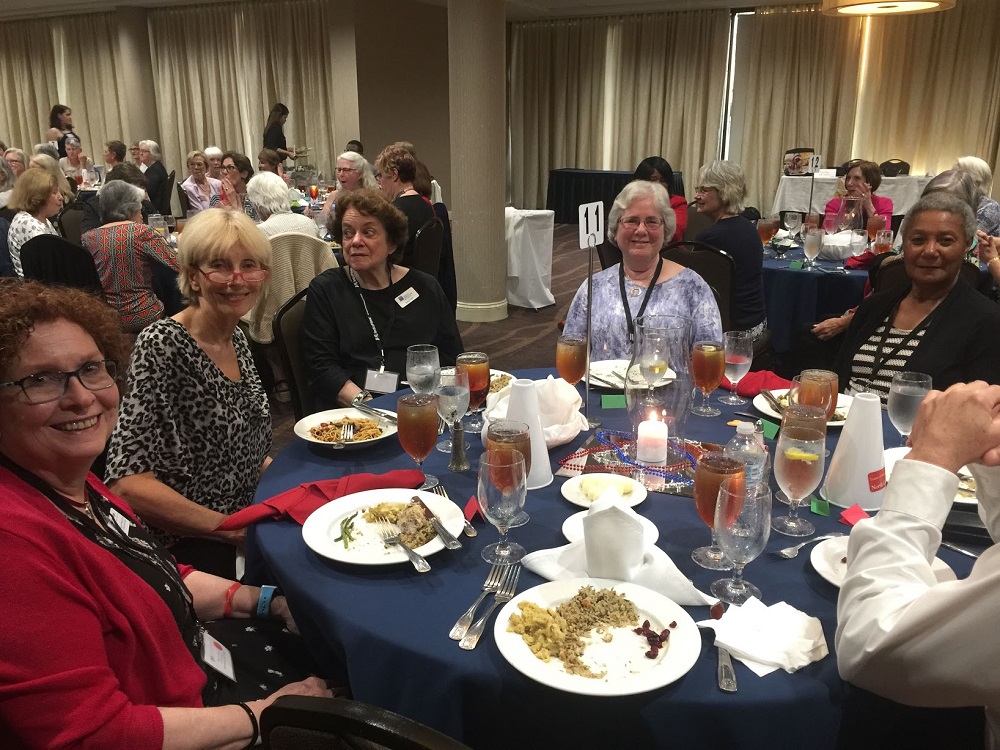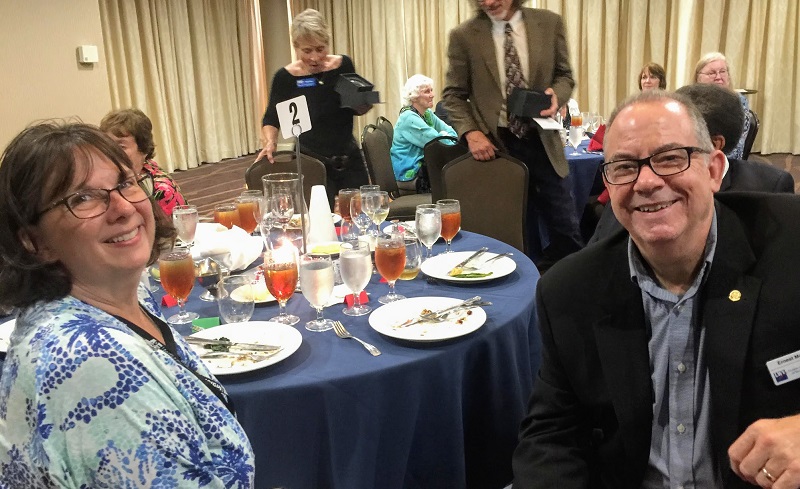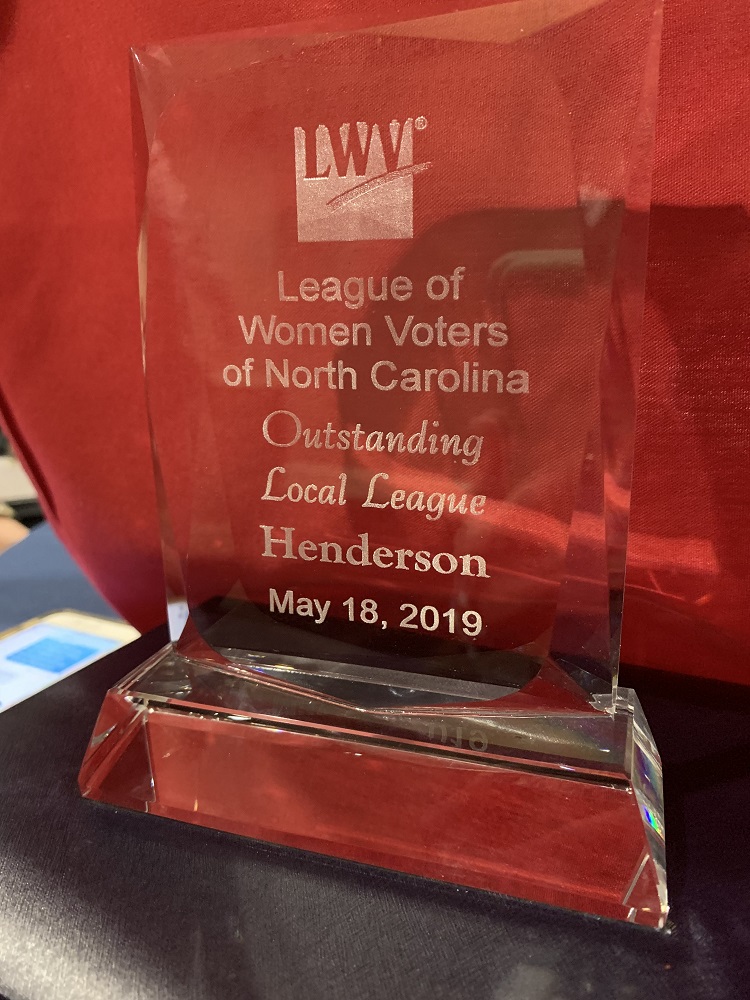 ---
May Program Planning Meeting – May 16, 2019
After reviewing our League mission and process, members brainstormed general direction and specific programs for 2019-2020. Members also ratified the Board's recommendation to incorporate.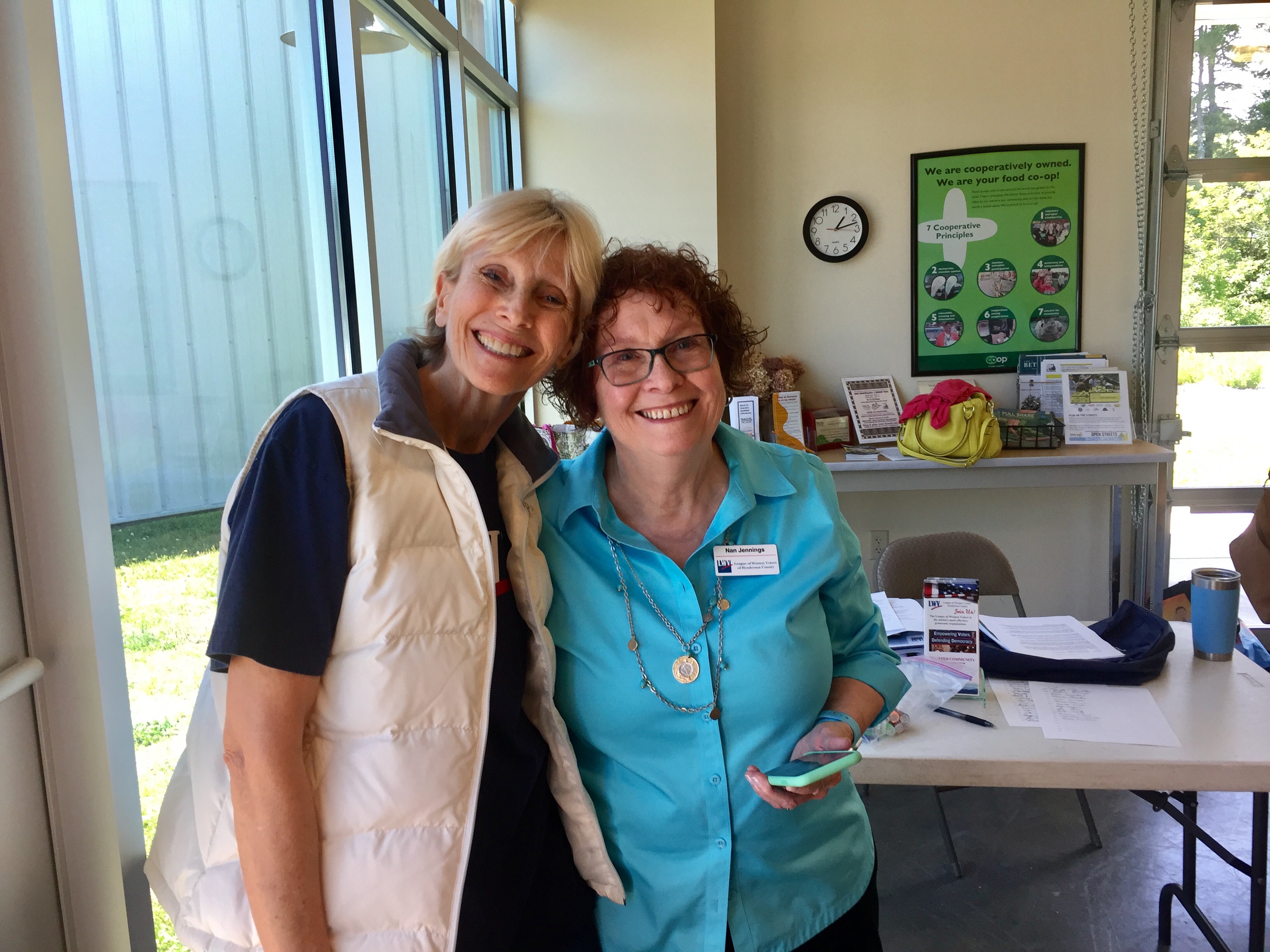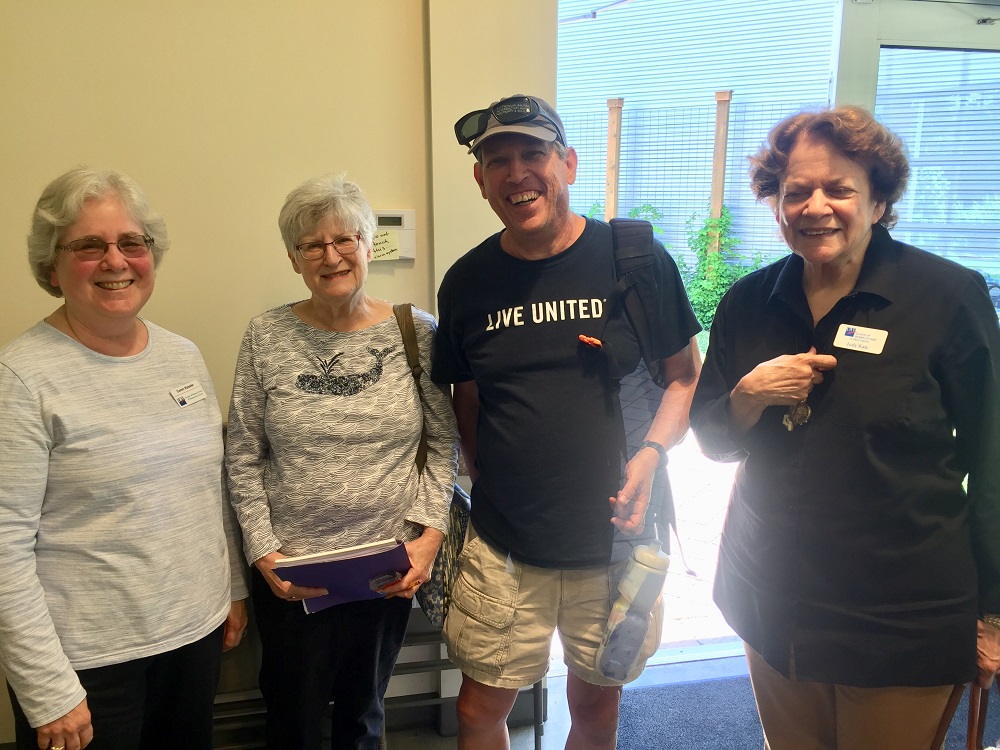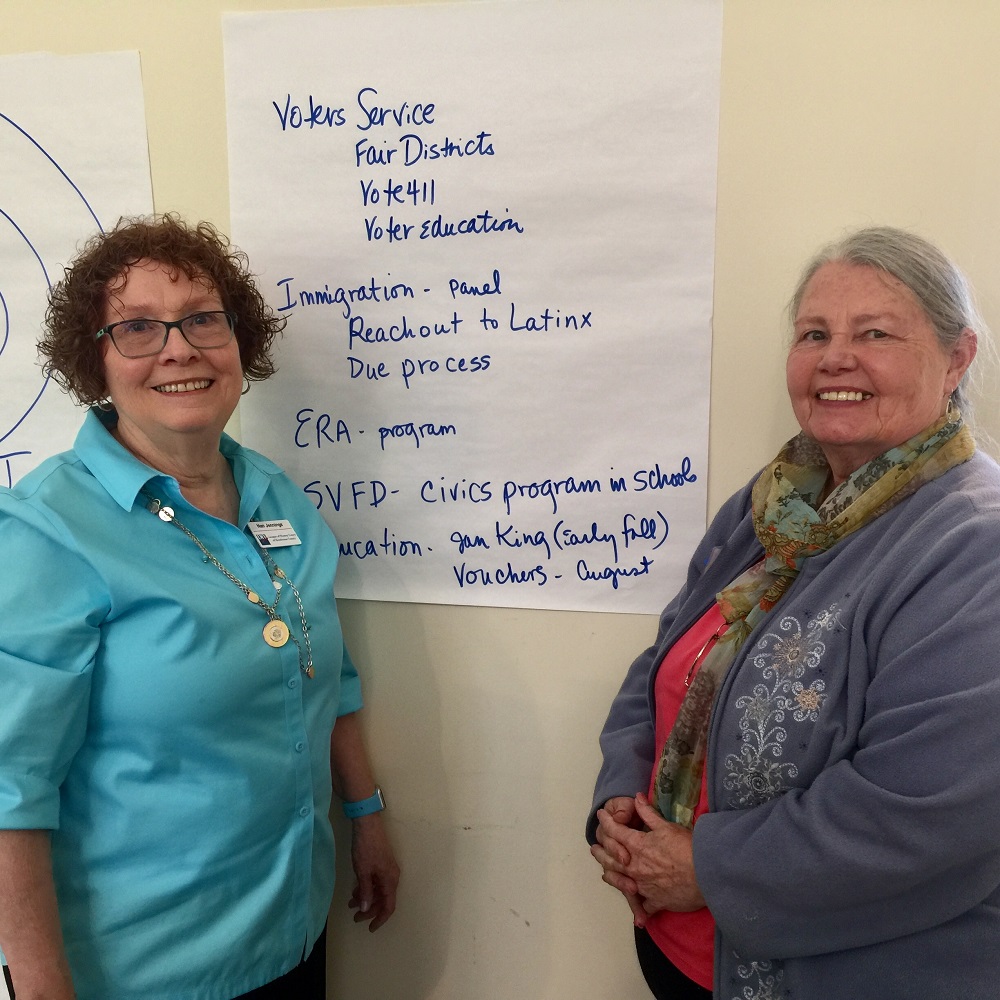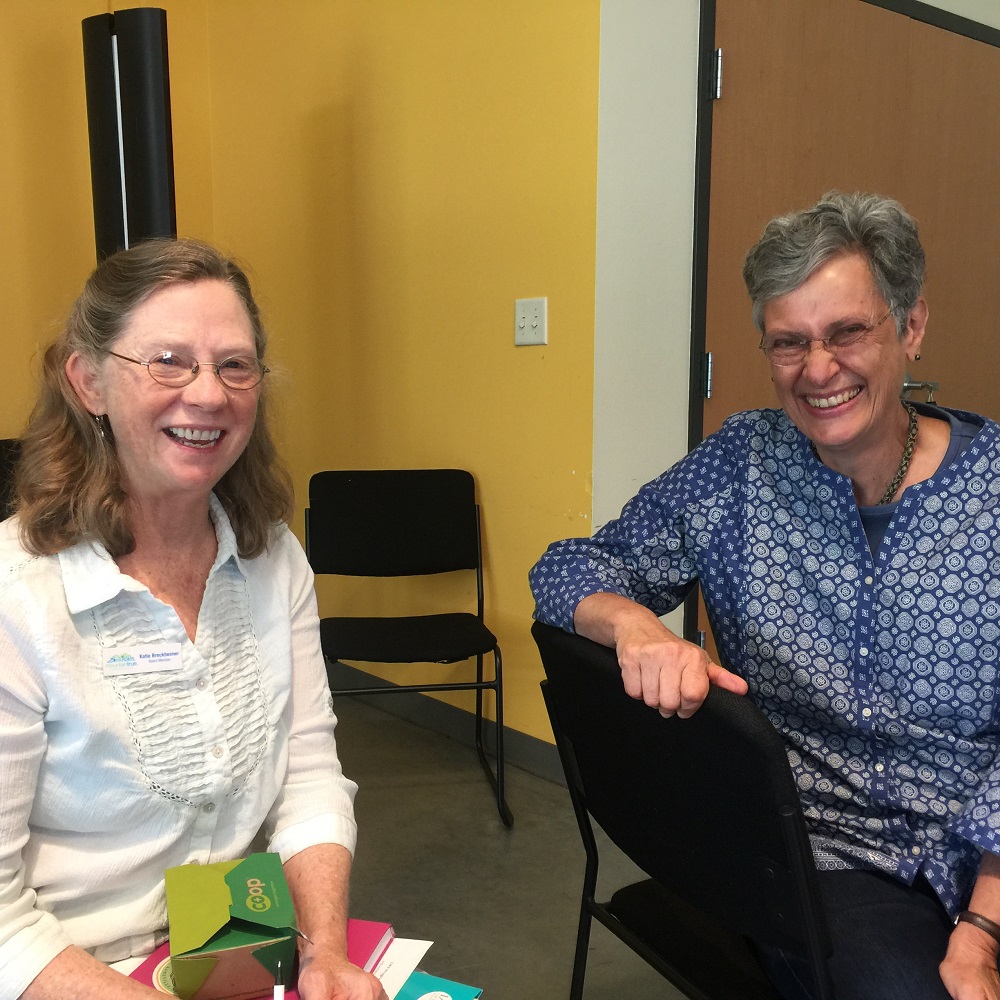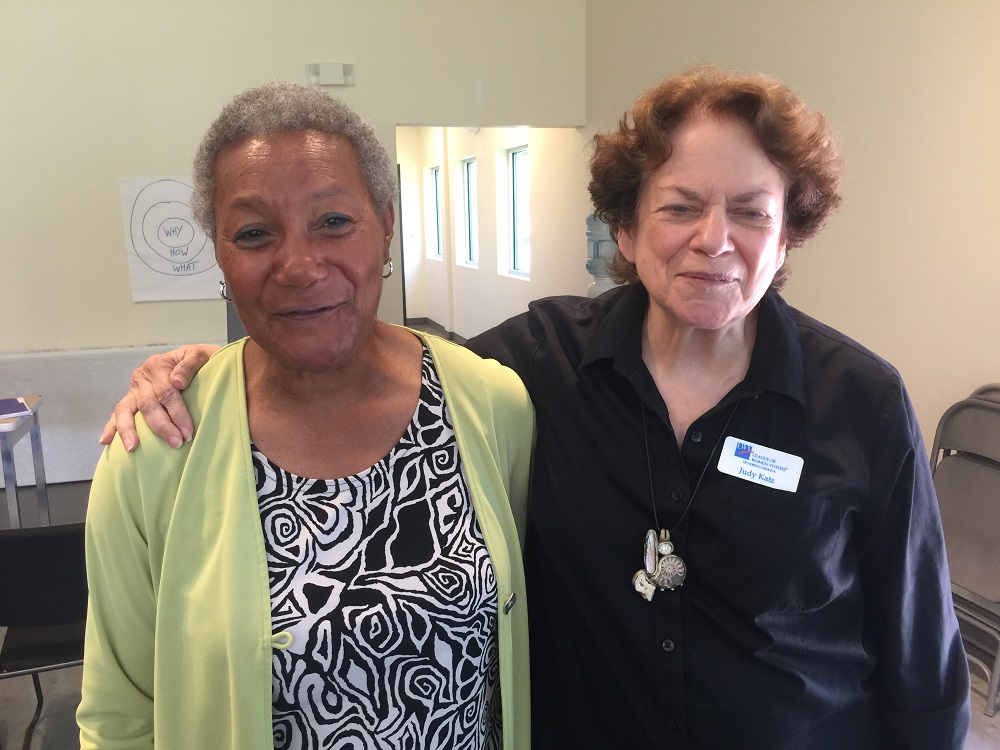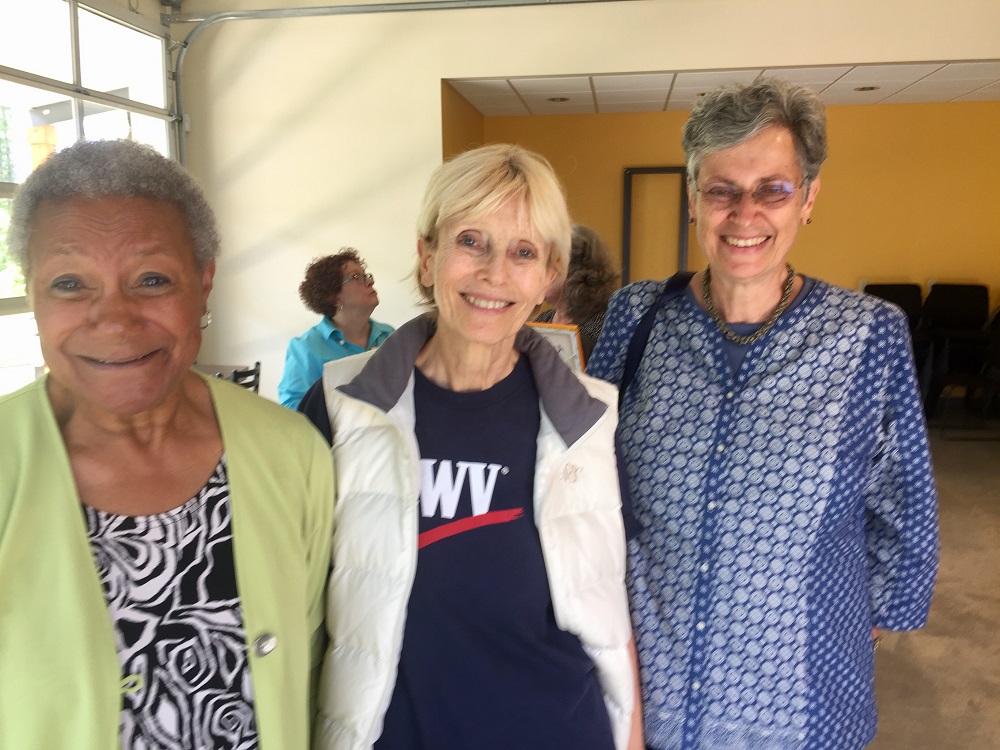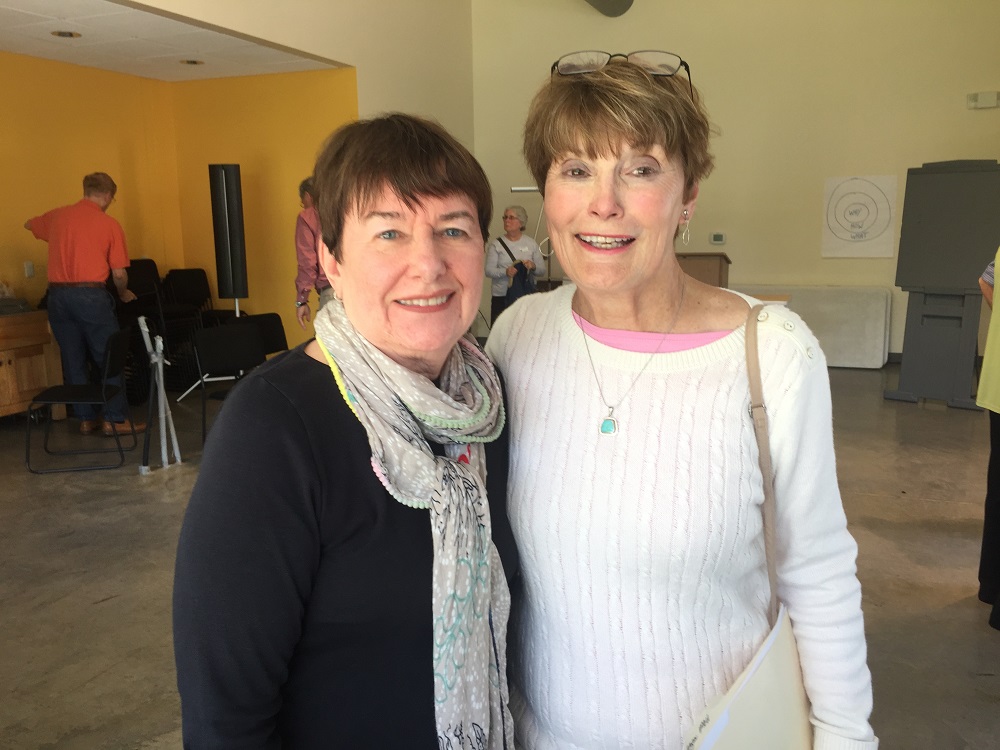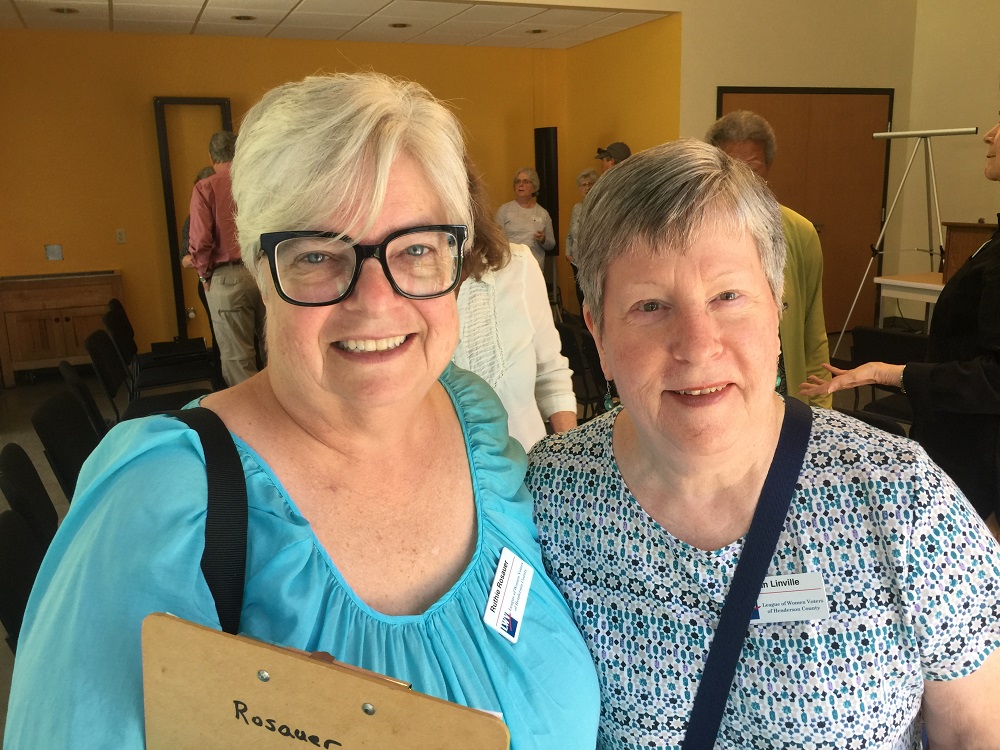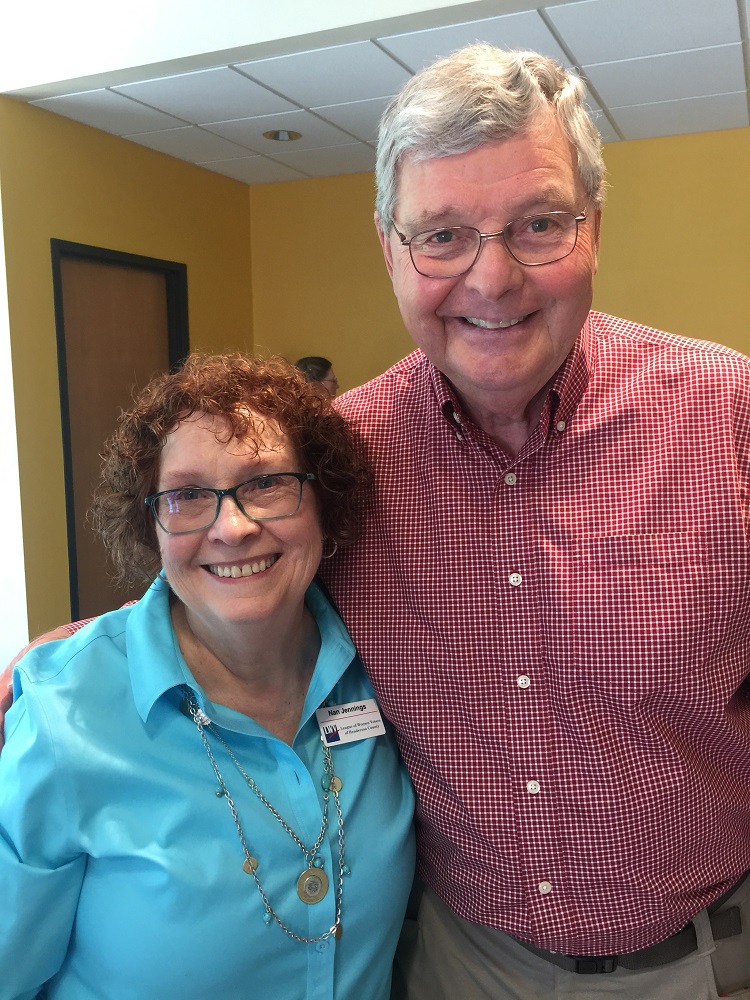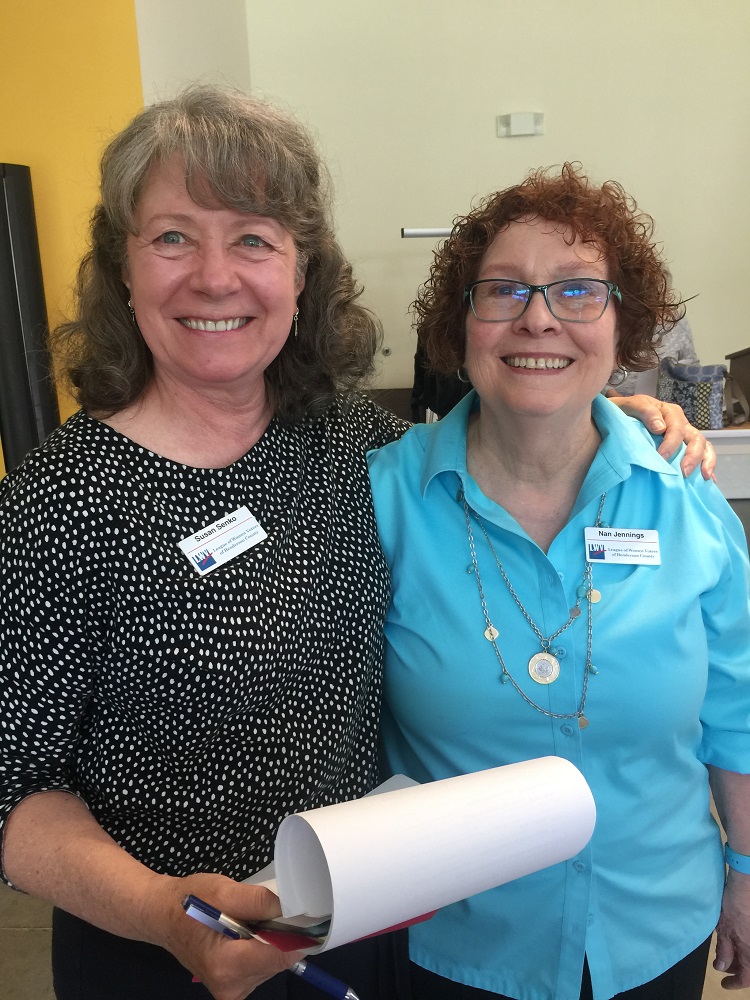 ---
ERA Advocacy – May 6, 2019
ERA Team members and NC ERA Alliance speak out for ERA ratification at County Commissioners Meeting on May 6, 2019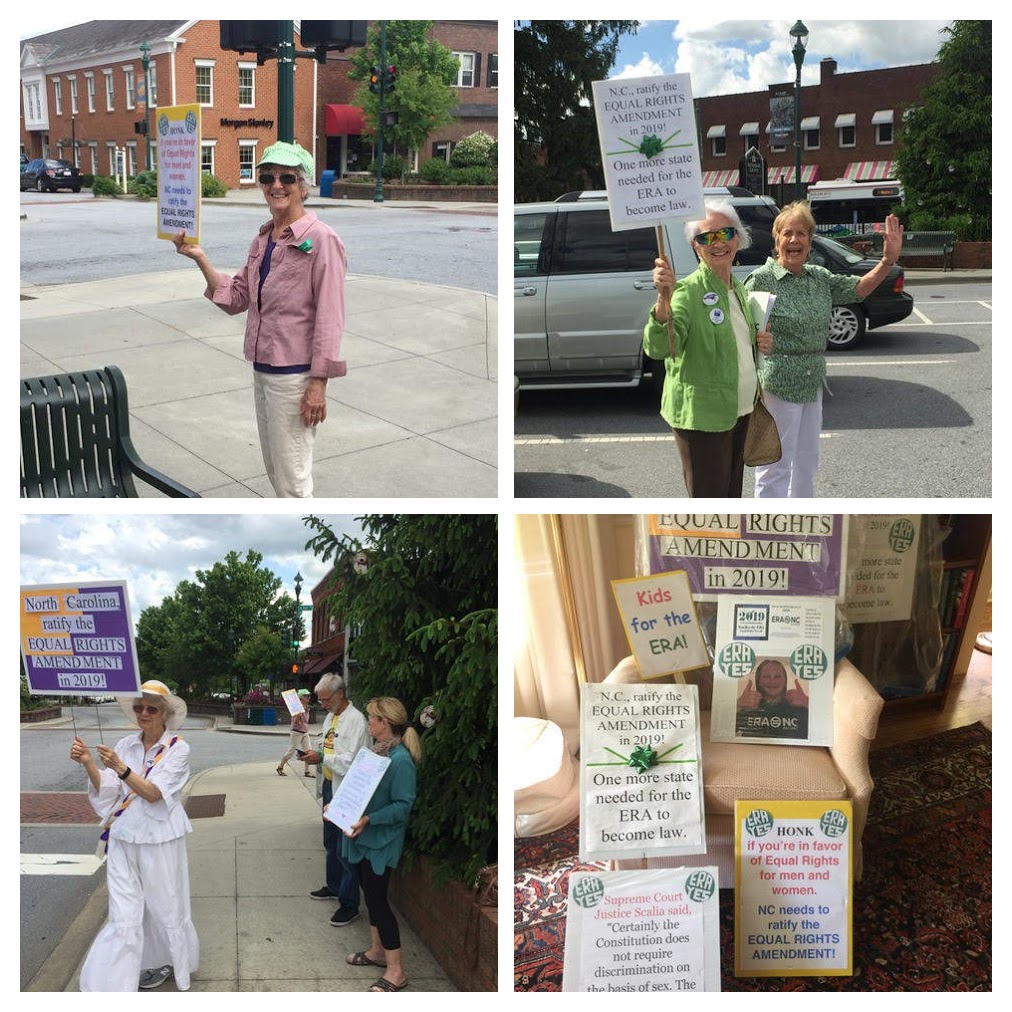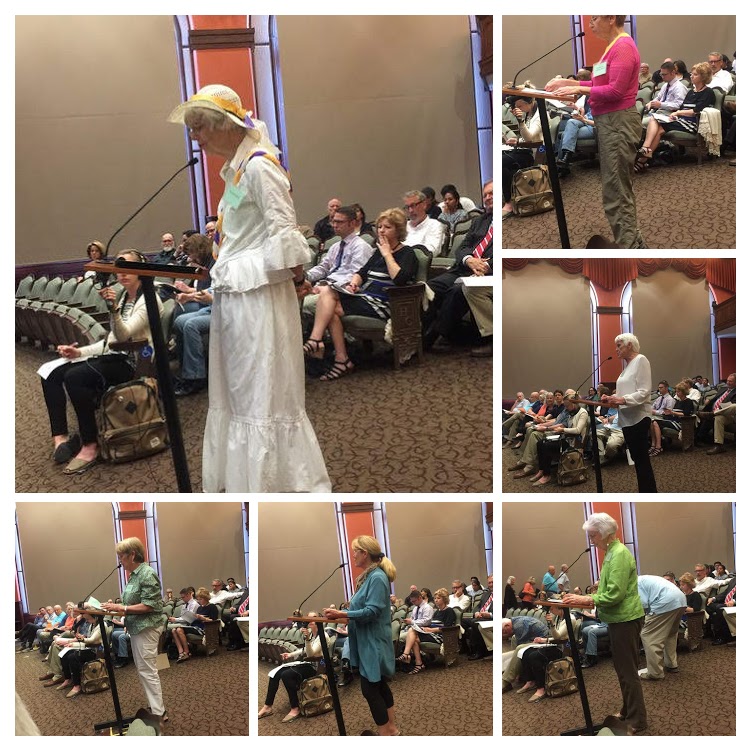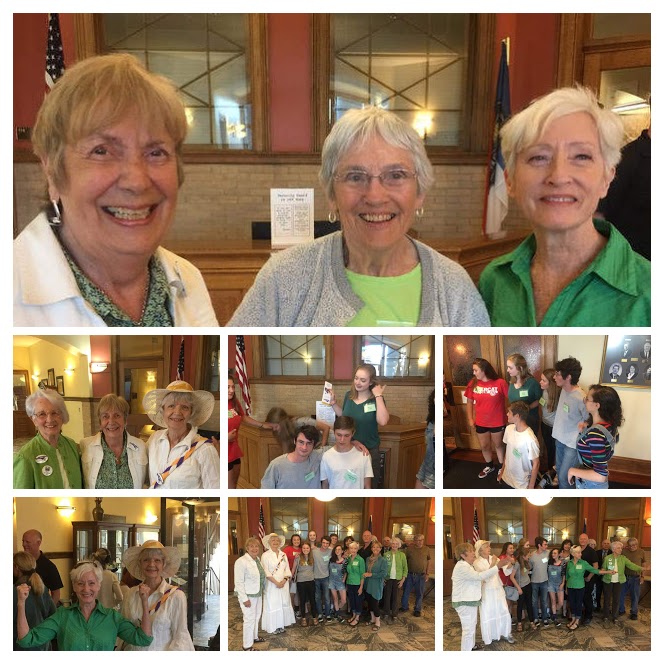 ---
Oklawaha Greenway Program – April 18, 2019
LWVHC member Suzanne Hale, President of Friends of the Oklawaha Greenway, updated attendees on Henderson County's Greenway Master Plan and led a short walk.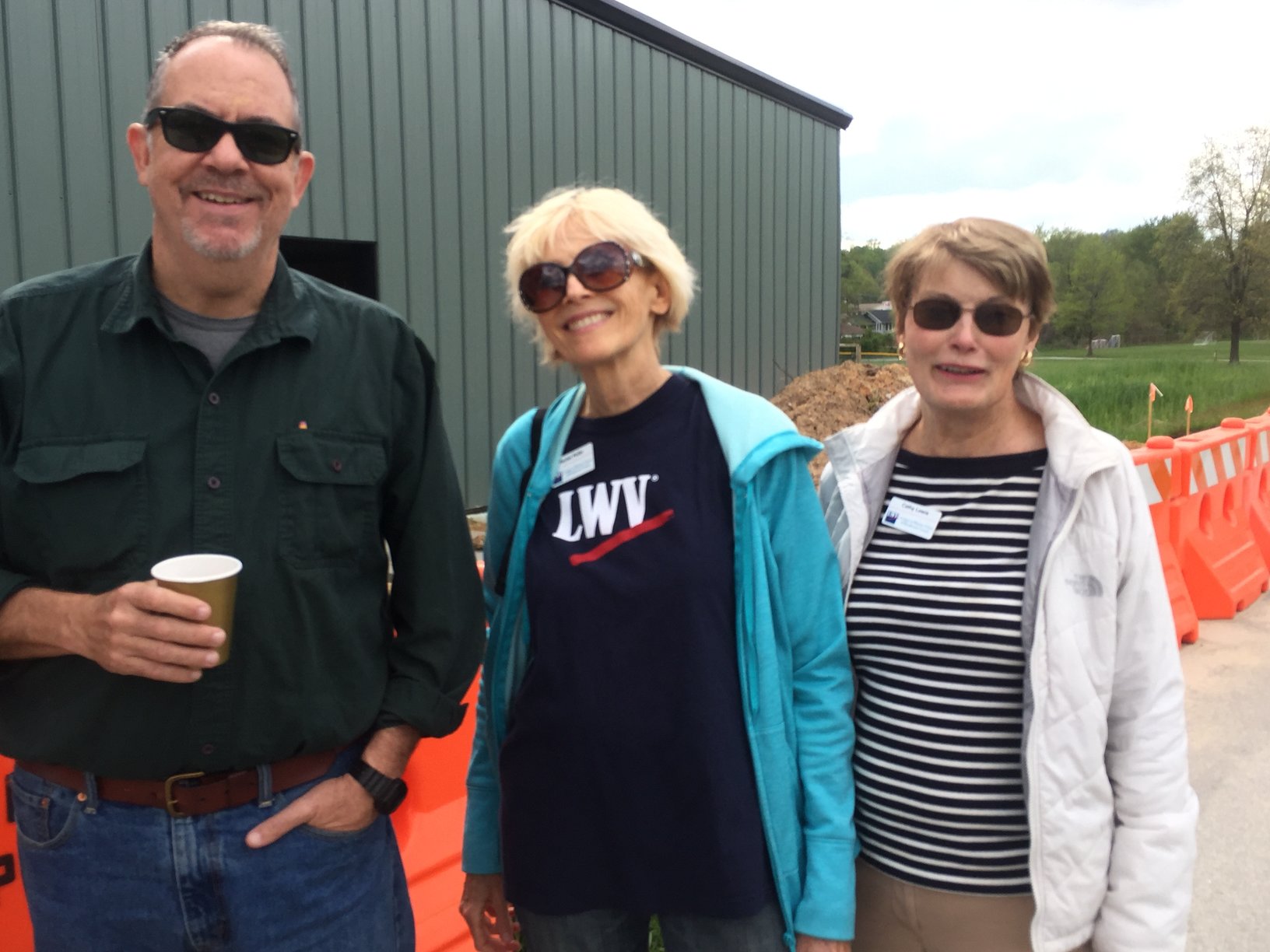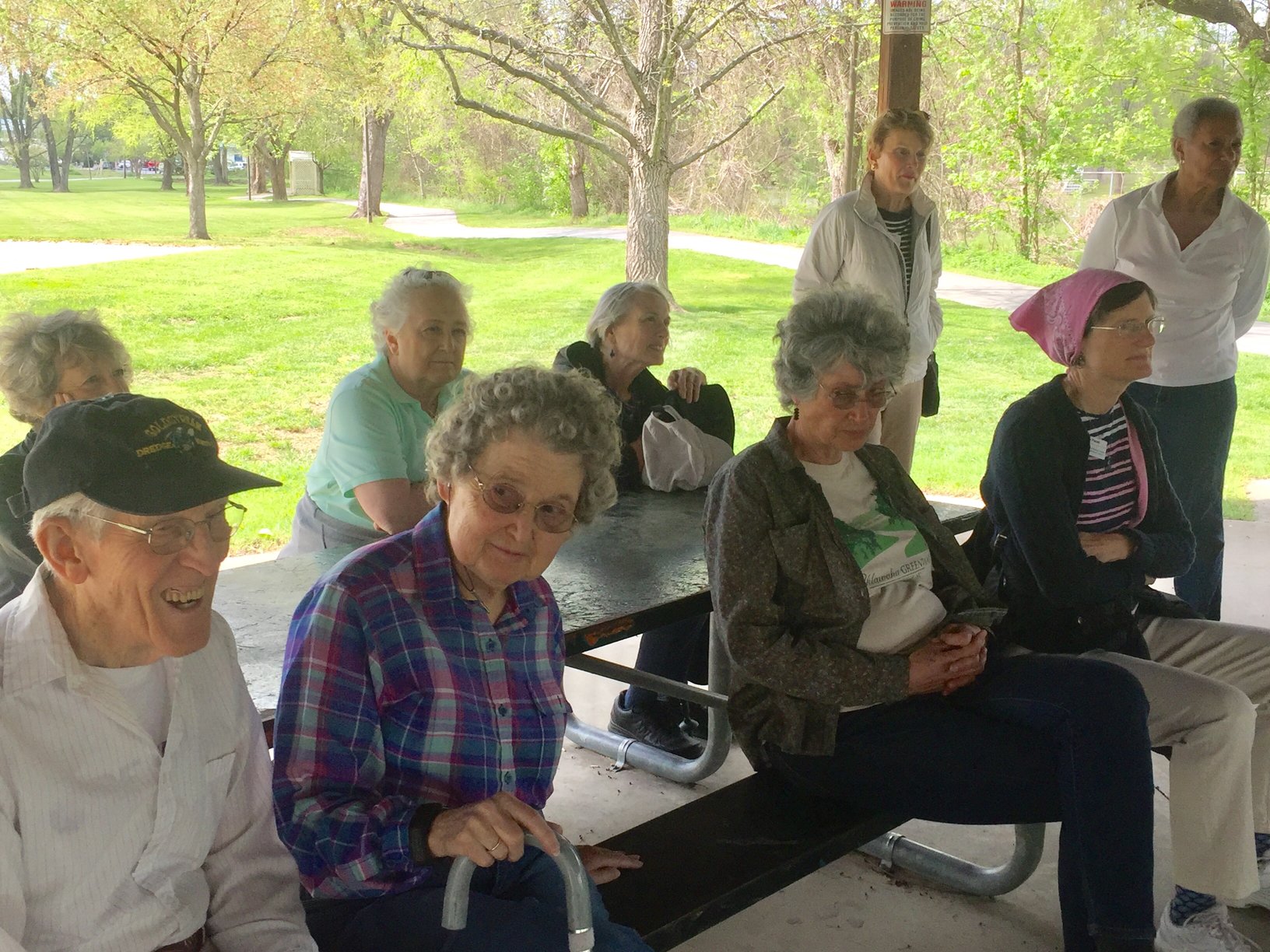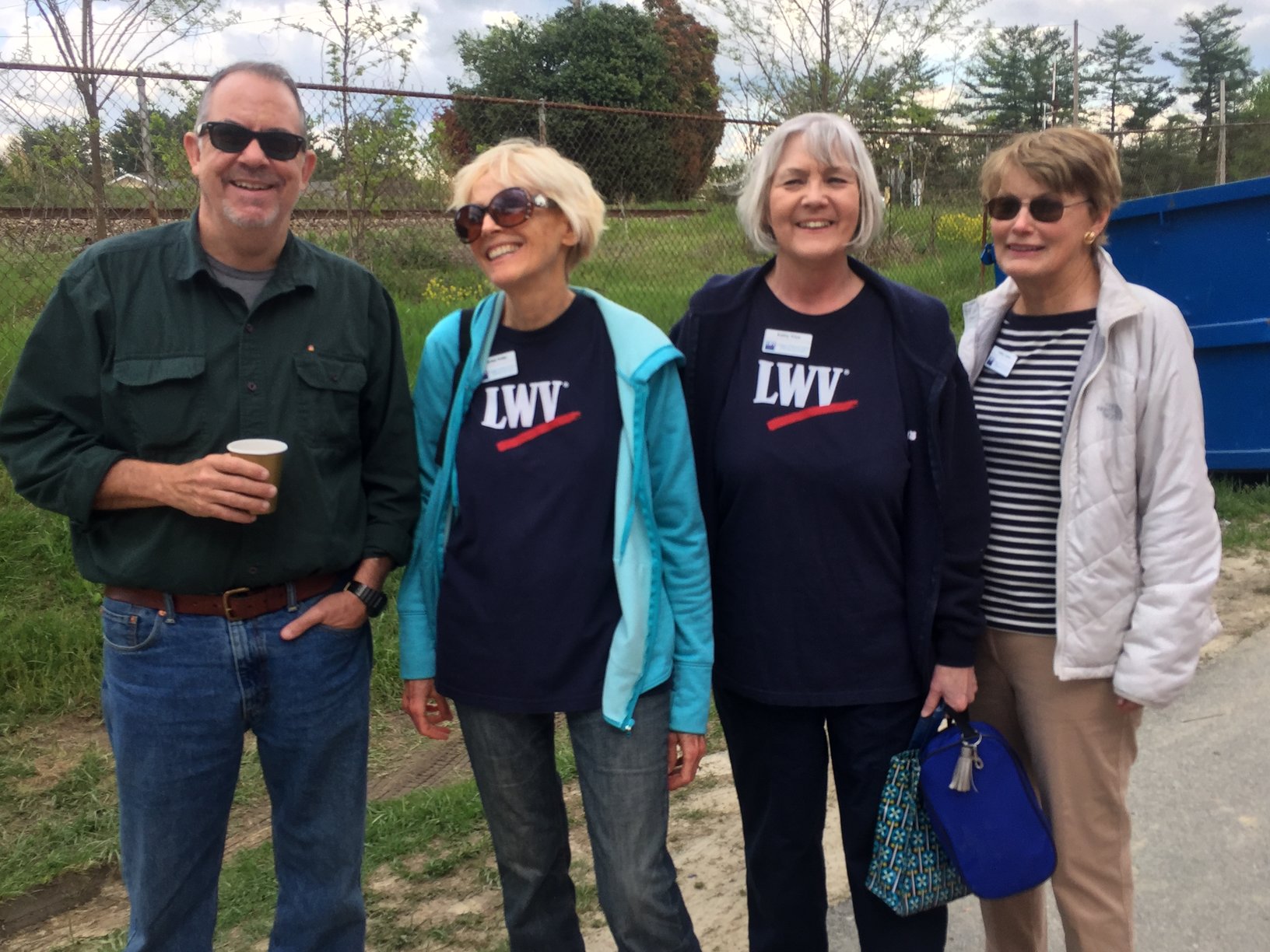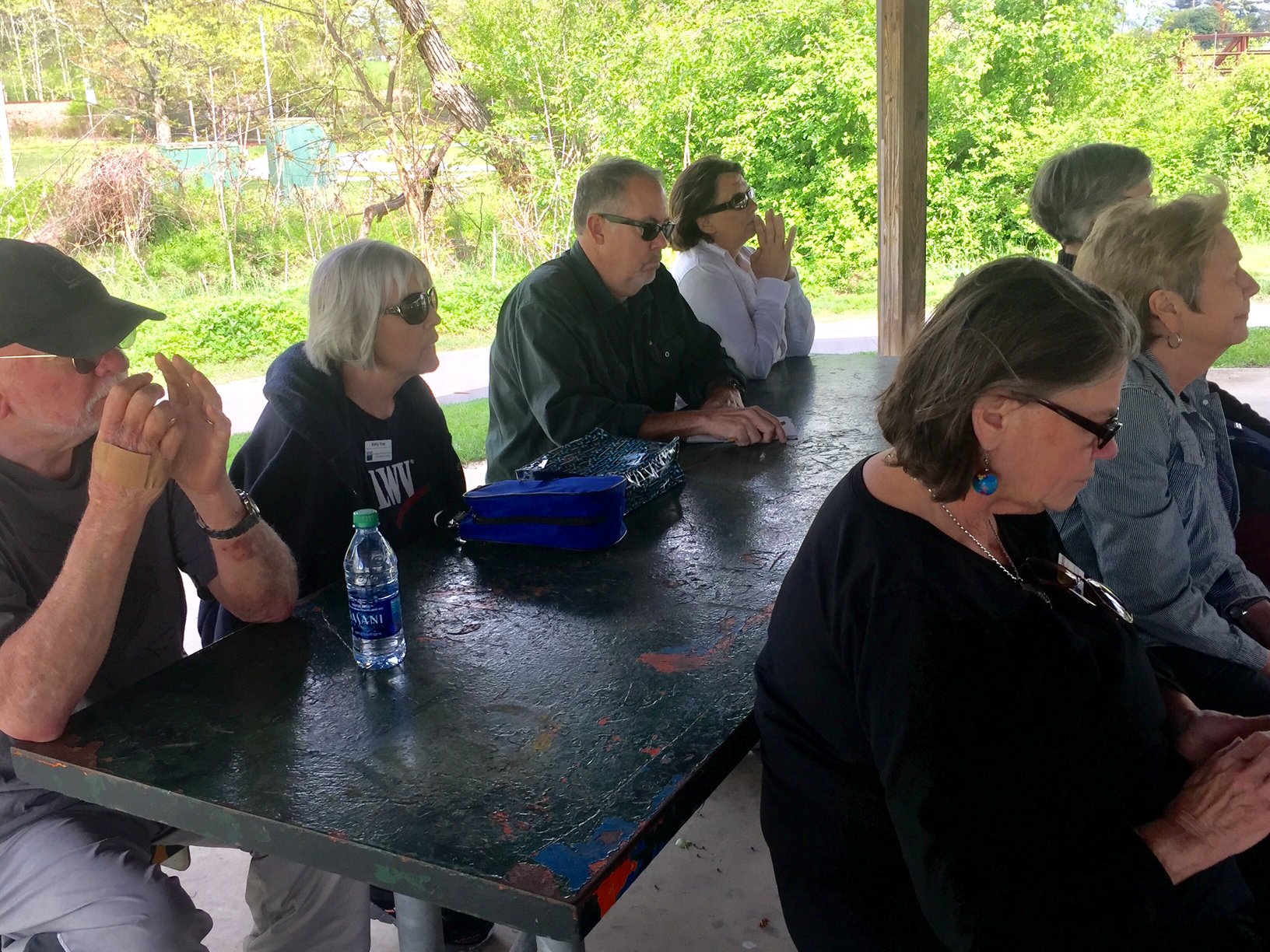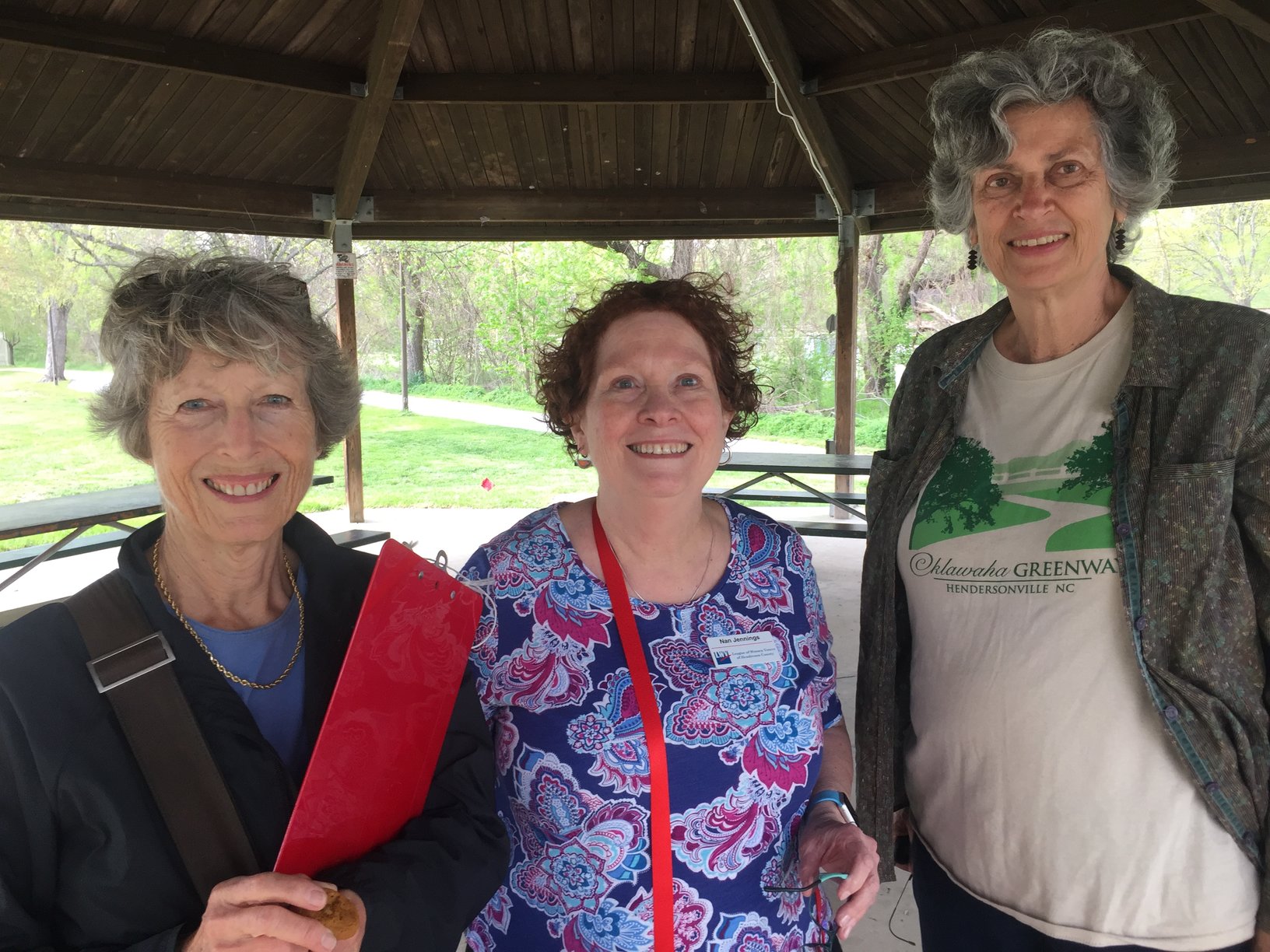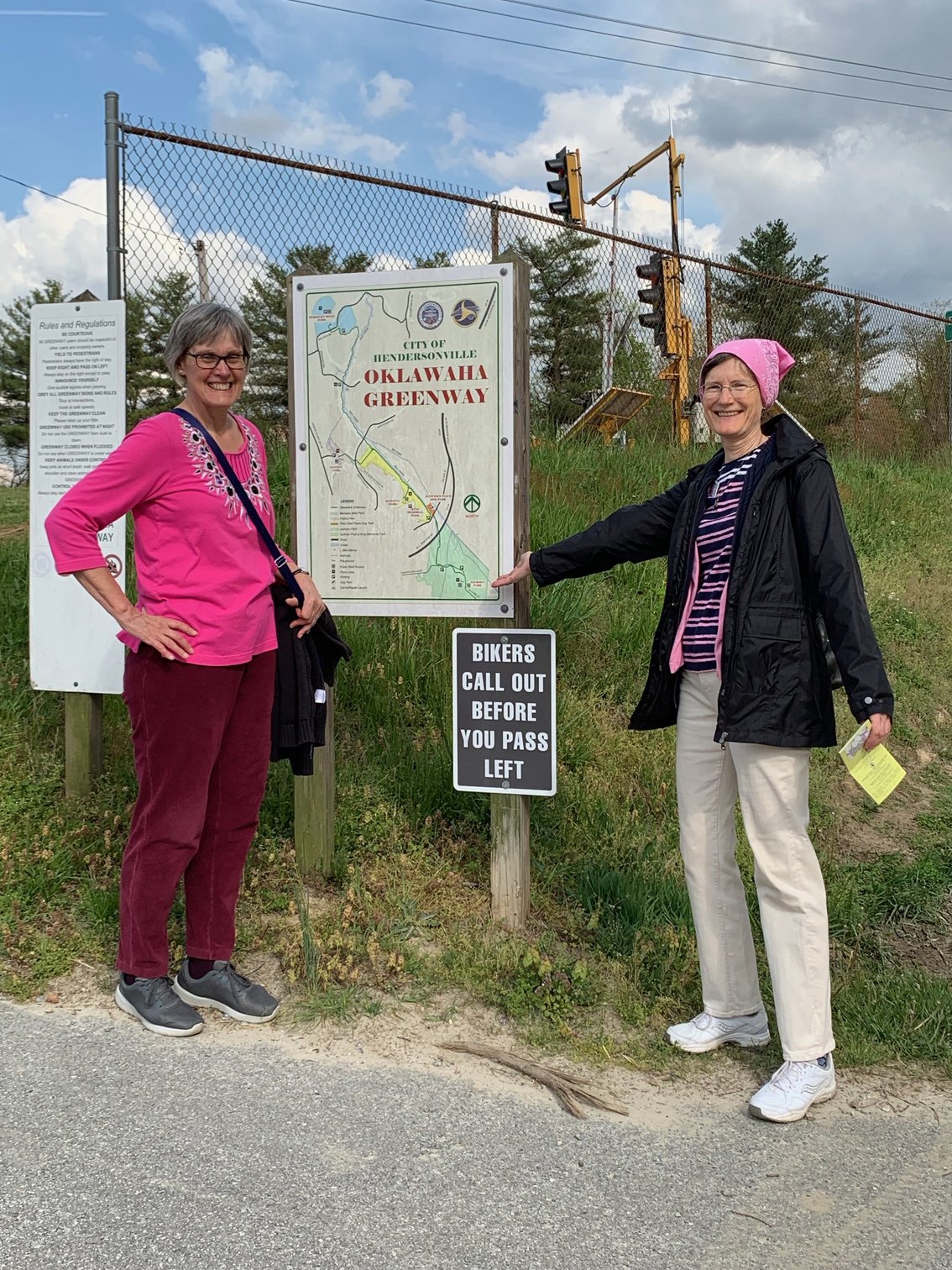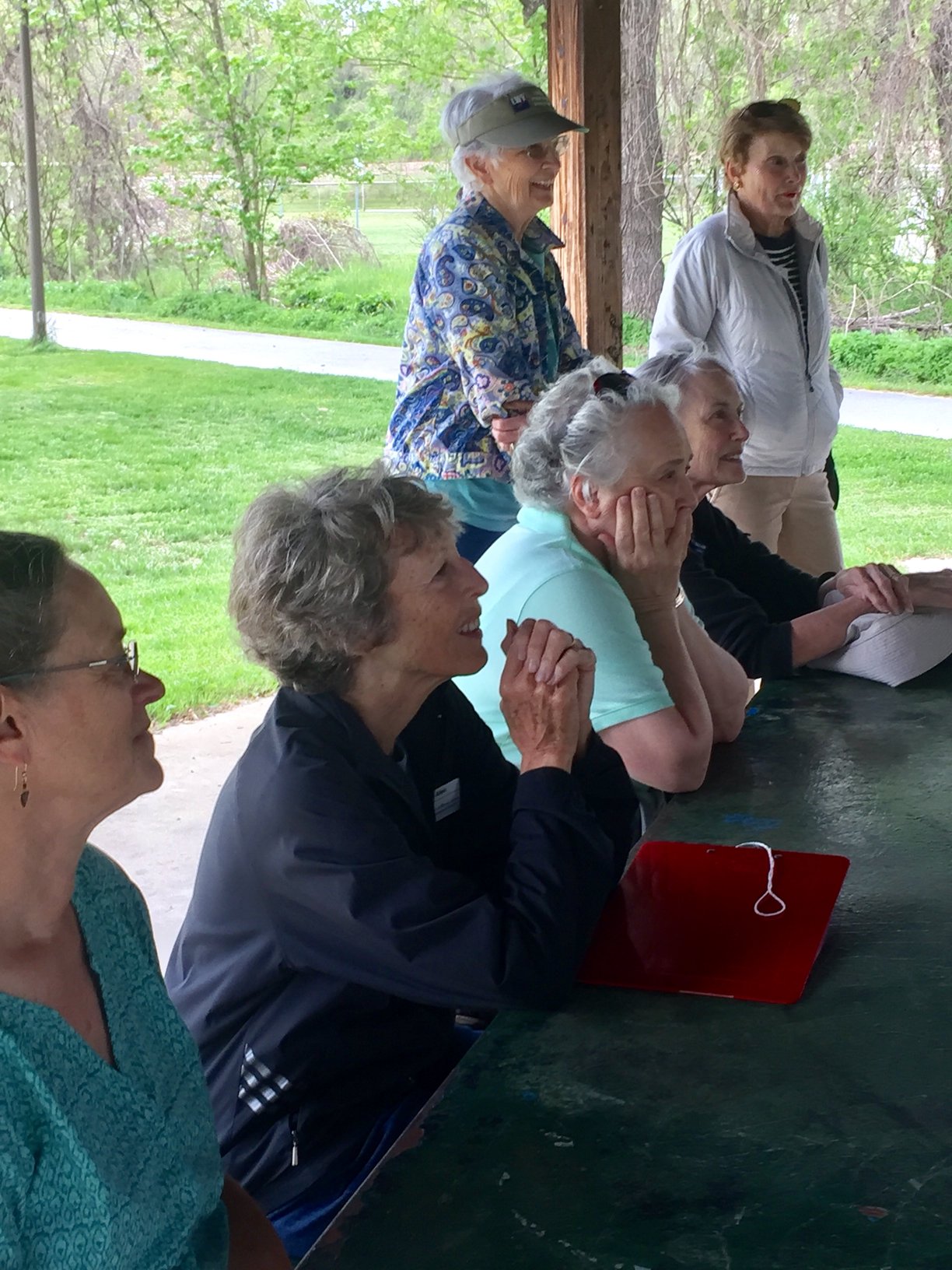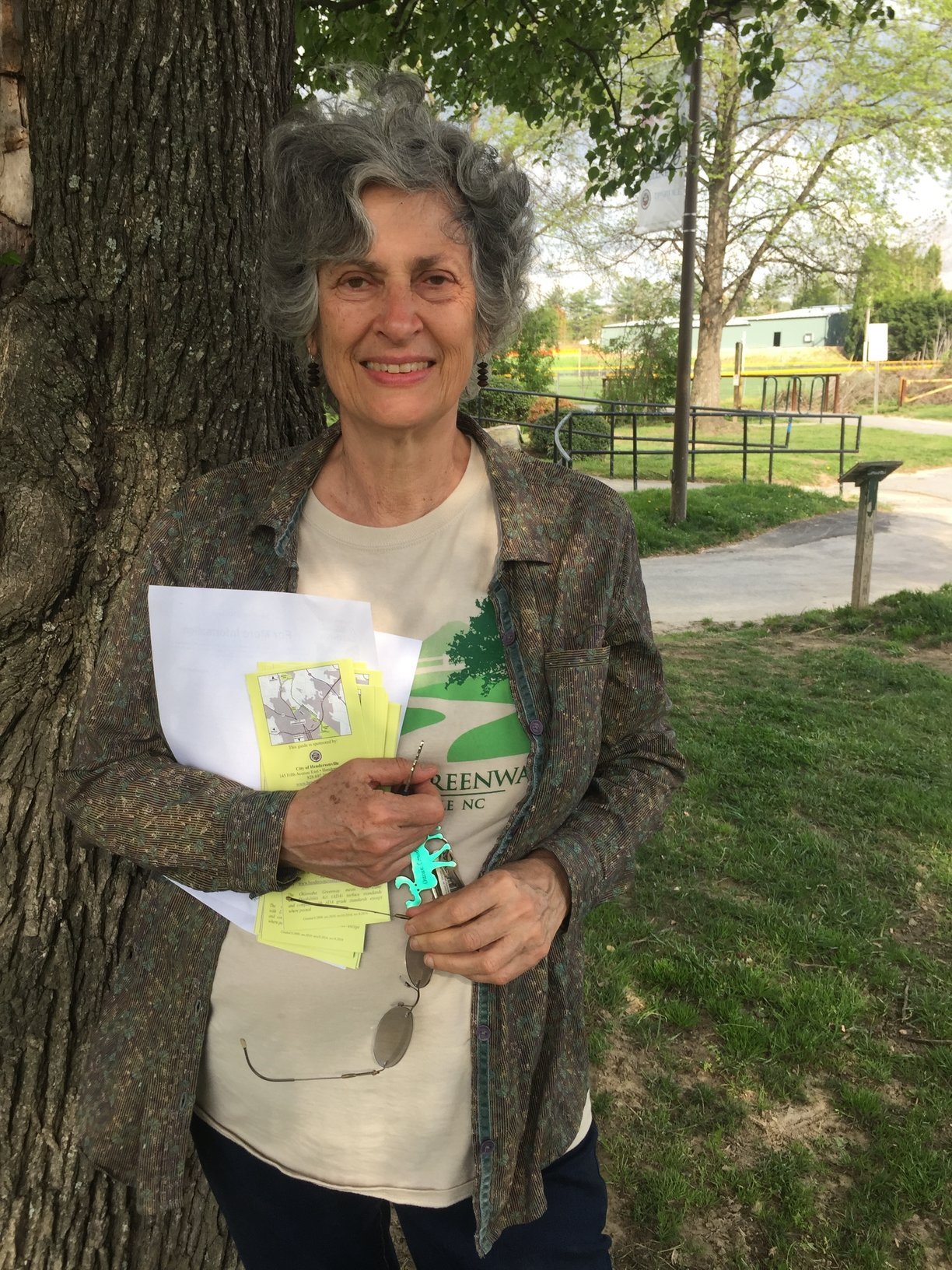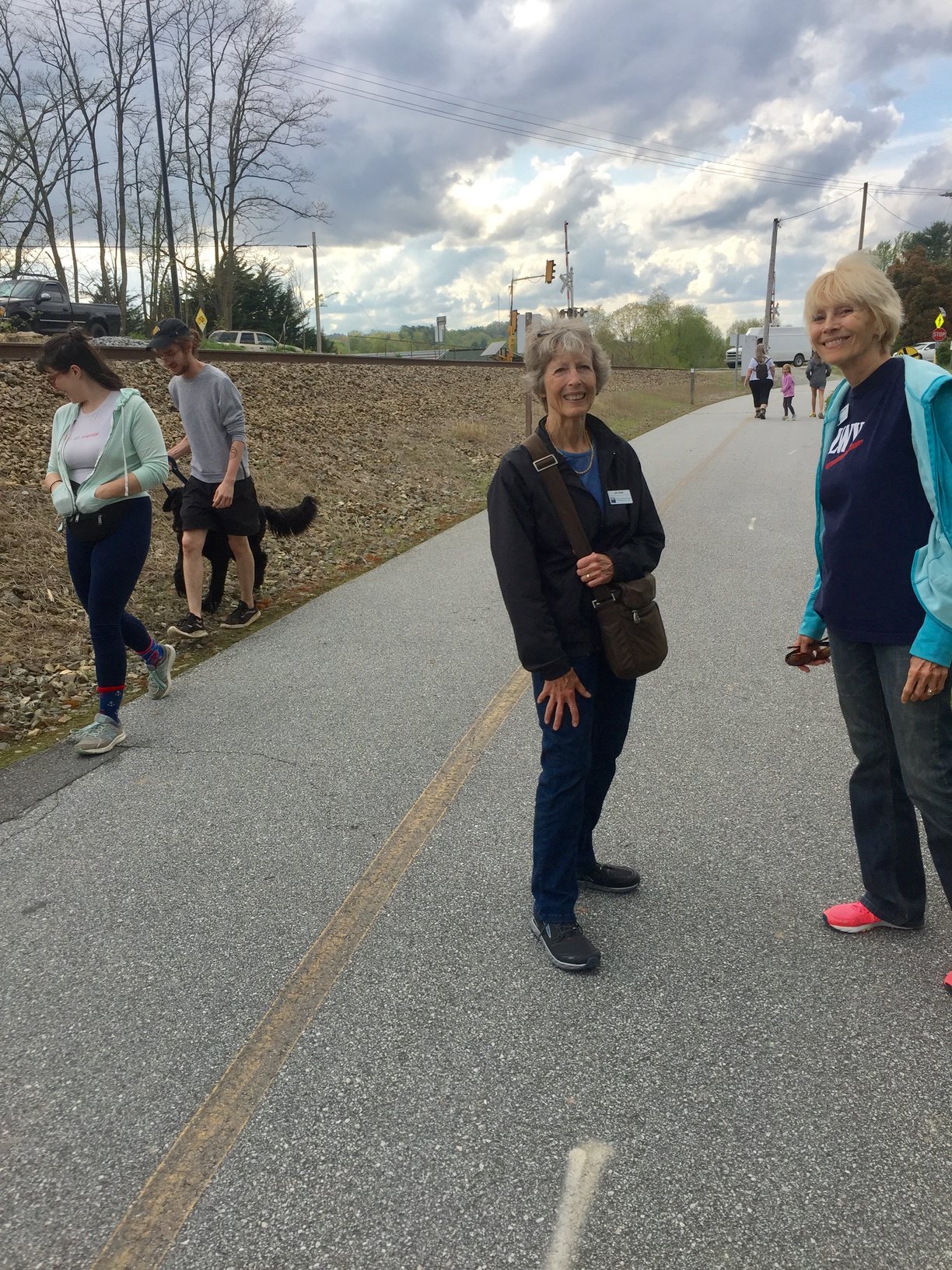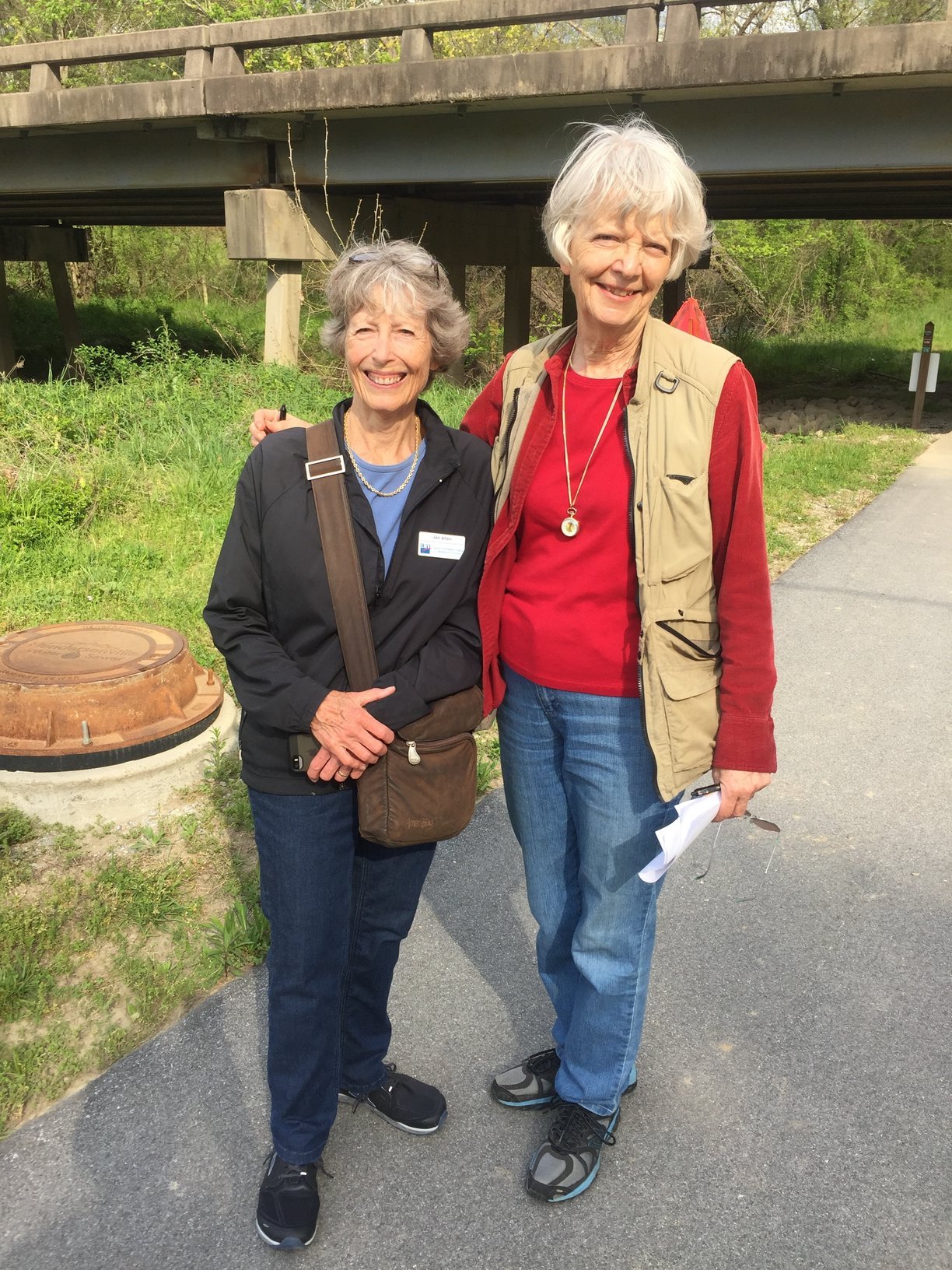 ---
Observer Team Social & Share – March 21, 2019
While enjoying the views and tasting at Appalachian Ridge Artisan Hard Cider, Observer Team and guests shared experiences and insights on observing local boards in action. The Team is growing, and the barn buzzed with our enthusiasm over the vital role of those who observe. Taking photos totally slipped our minds!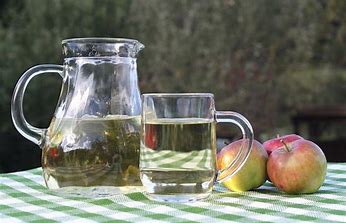 ---
Sunshine Week: Your Right to Know Lunch & Learn – March 14, 2019
Observer Team sponsored Angie Newsome, "Carolina Public Press," and Bill Moss, "The Hendersonville Lightning," who led an informative discussion on Open Records Laws in NC and media and individual access to public information.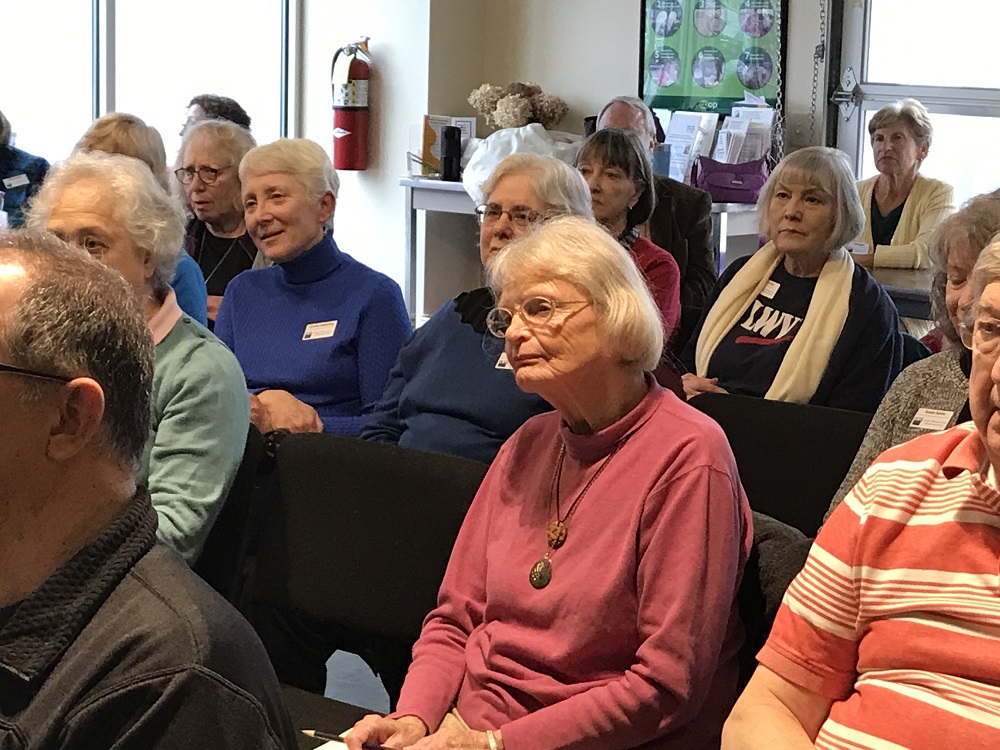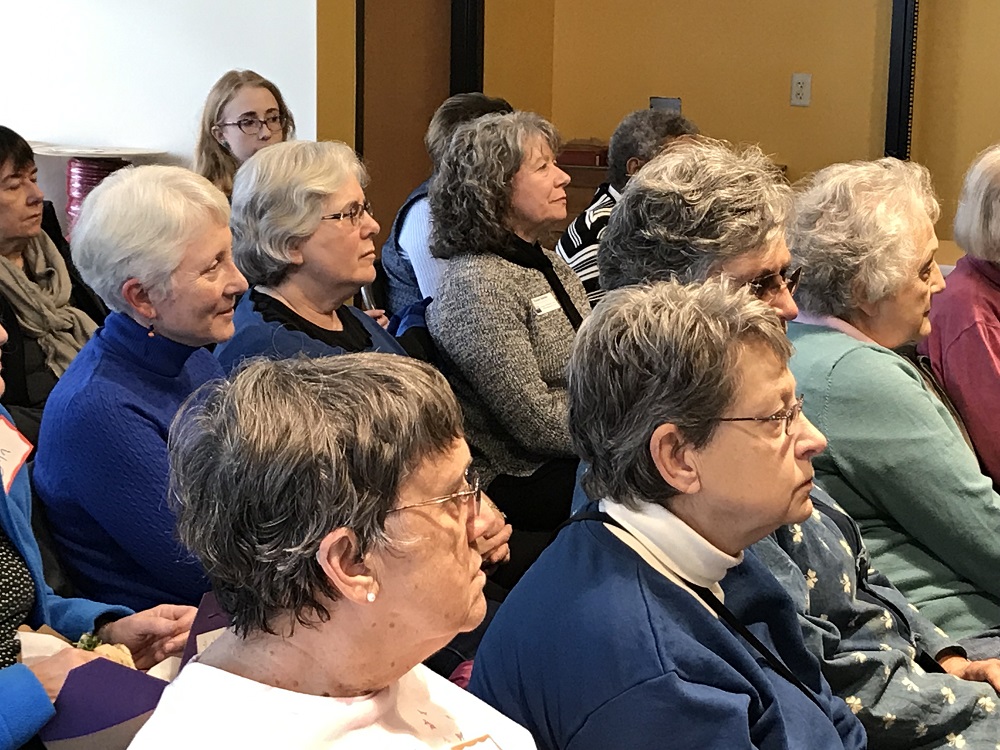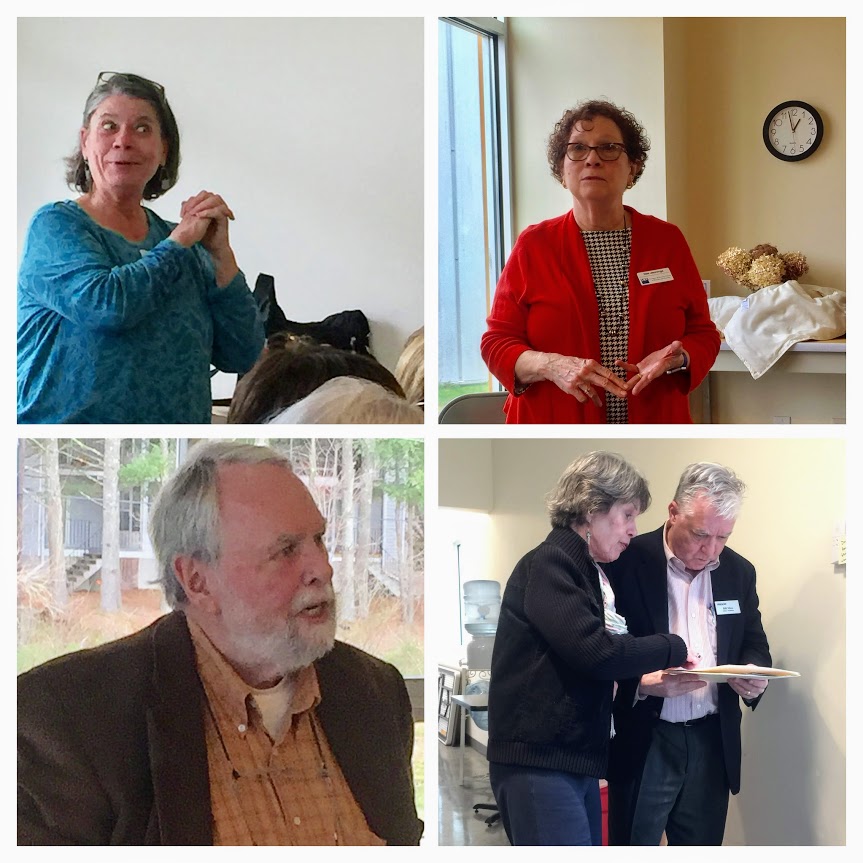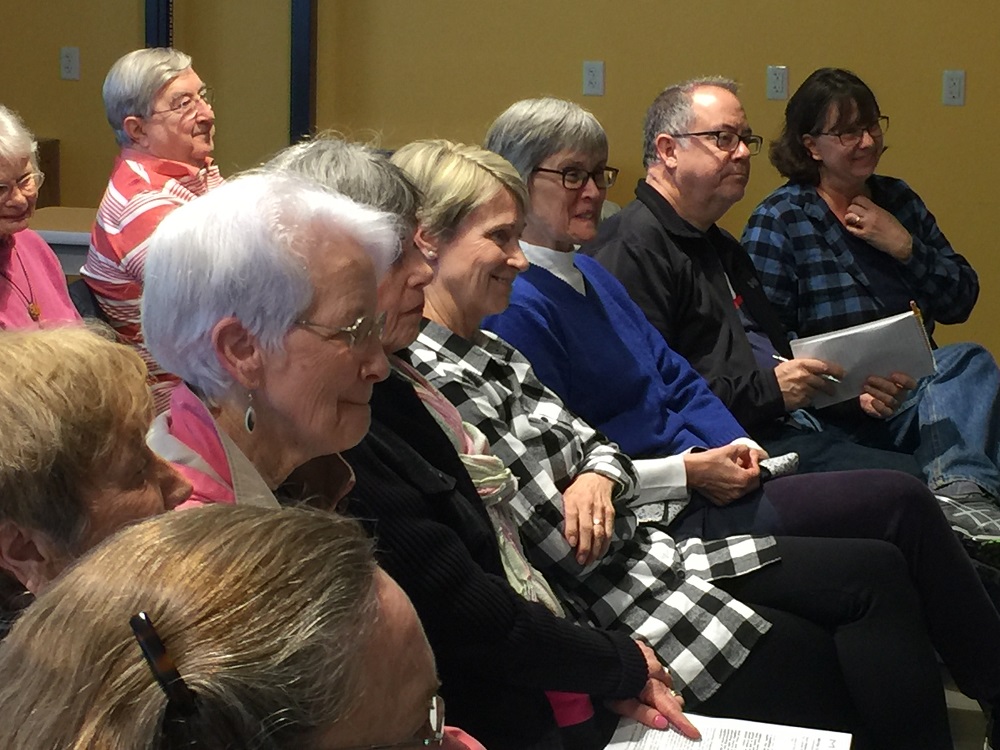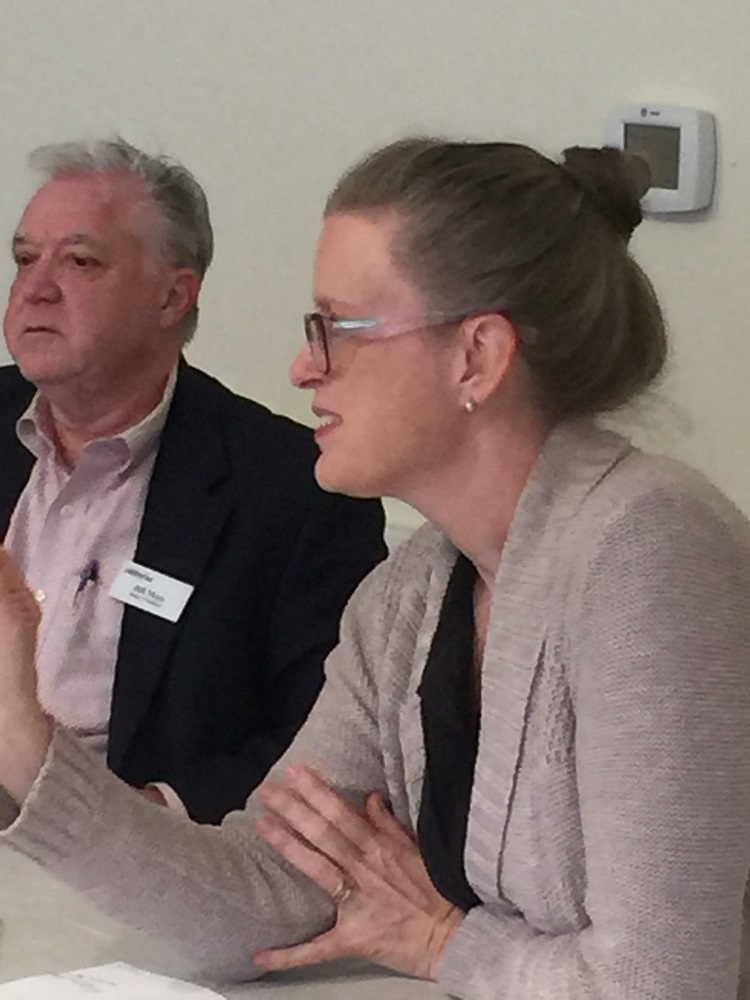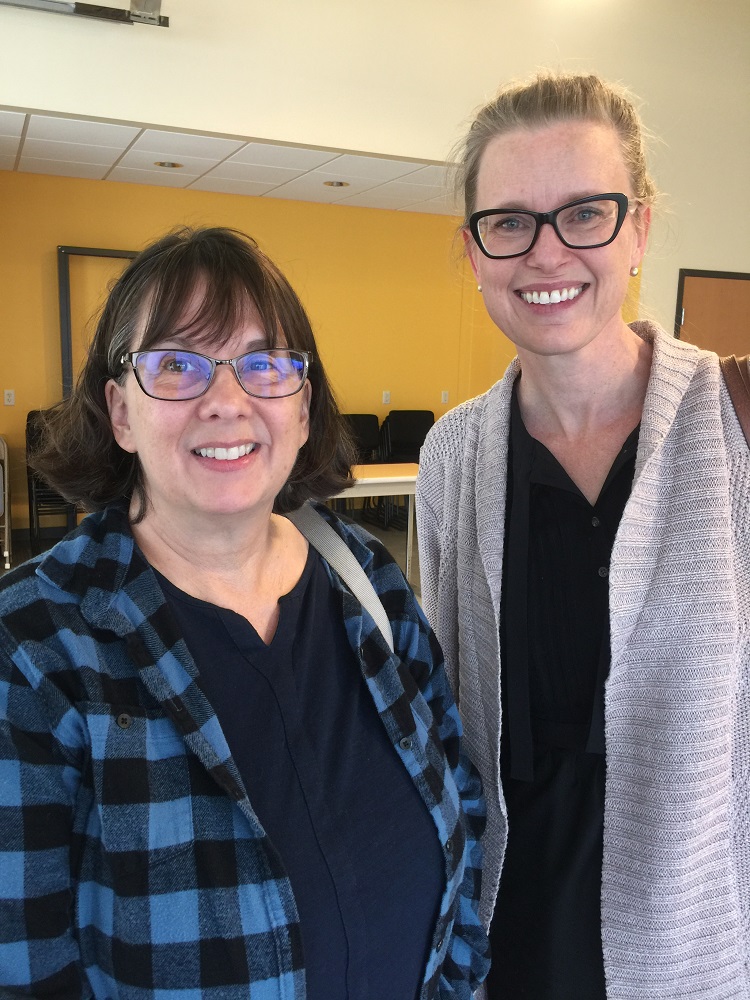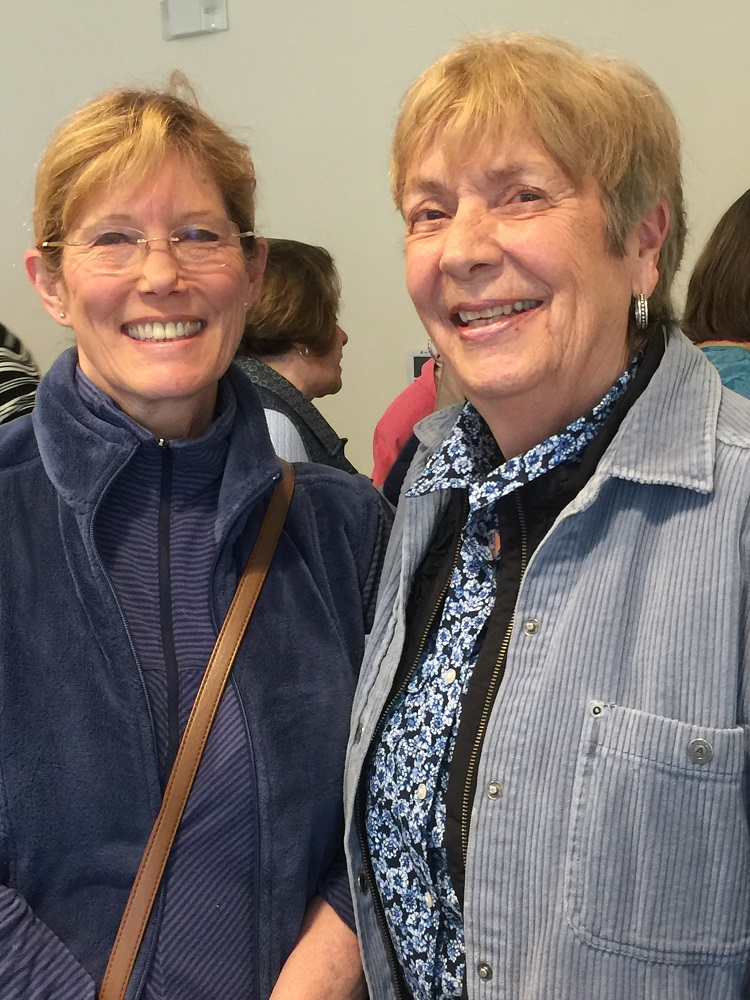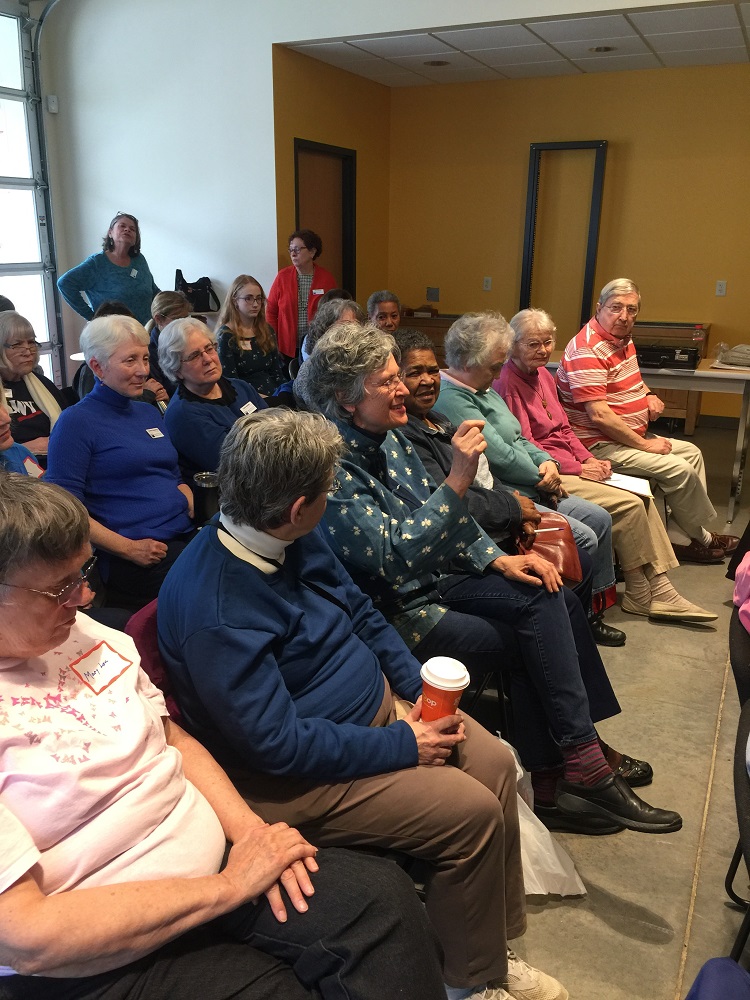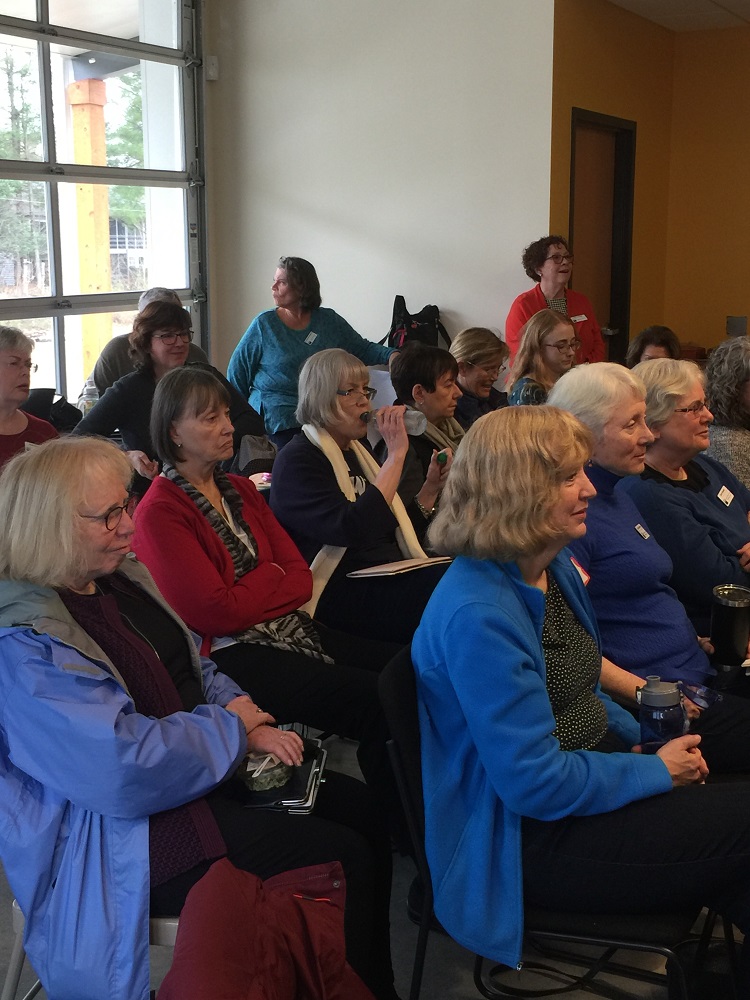 ---
A Discussion of Diversity, Equity & Inclusion – February 21, 2019
Recognizing the dynamic process of DEI, attendees saw the tension between how we define DEI and how we talk, act, and think and how motivation, mindset, methods and measure inform the DEI discussion.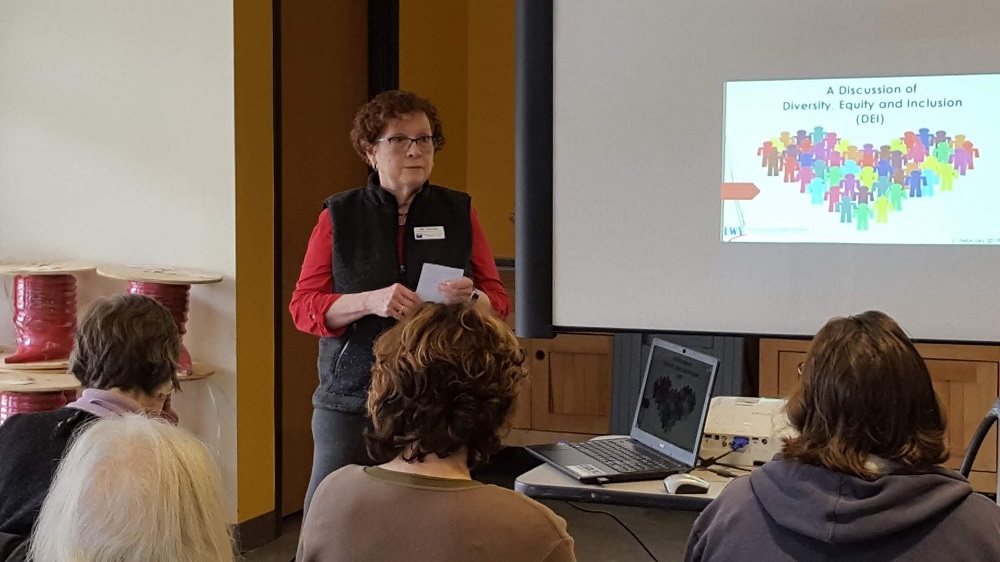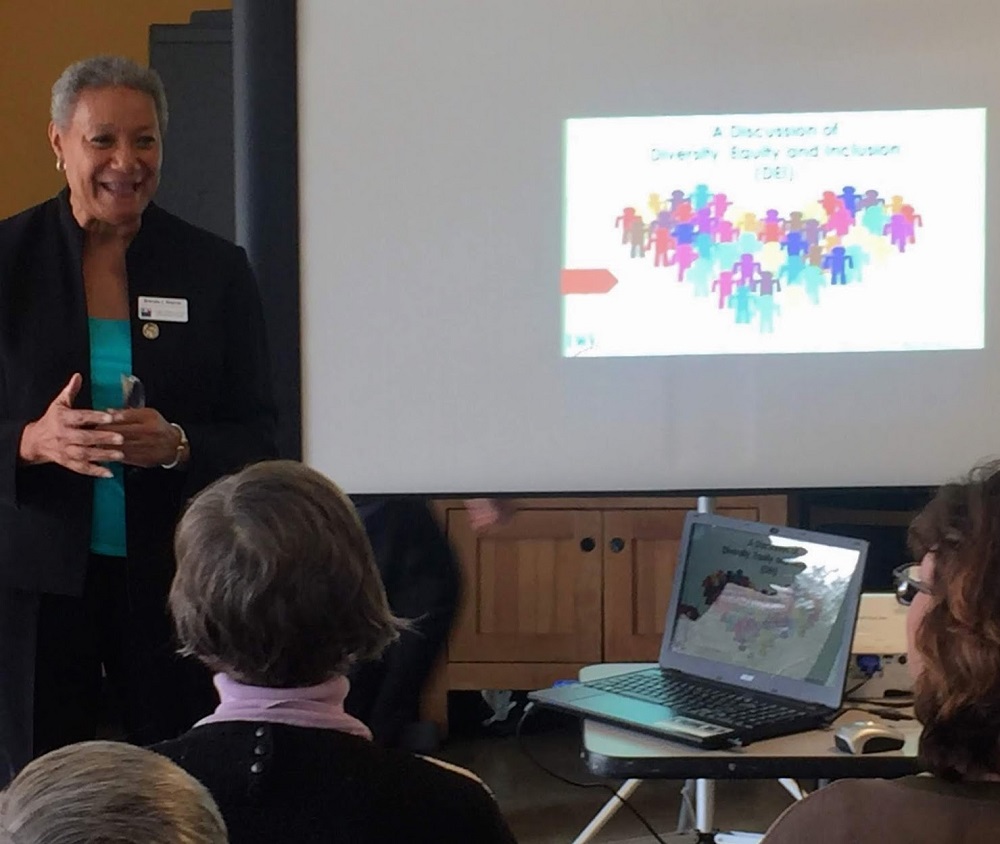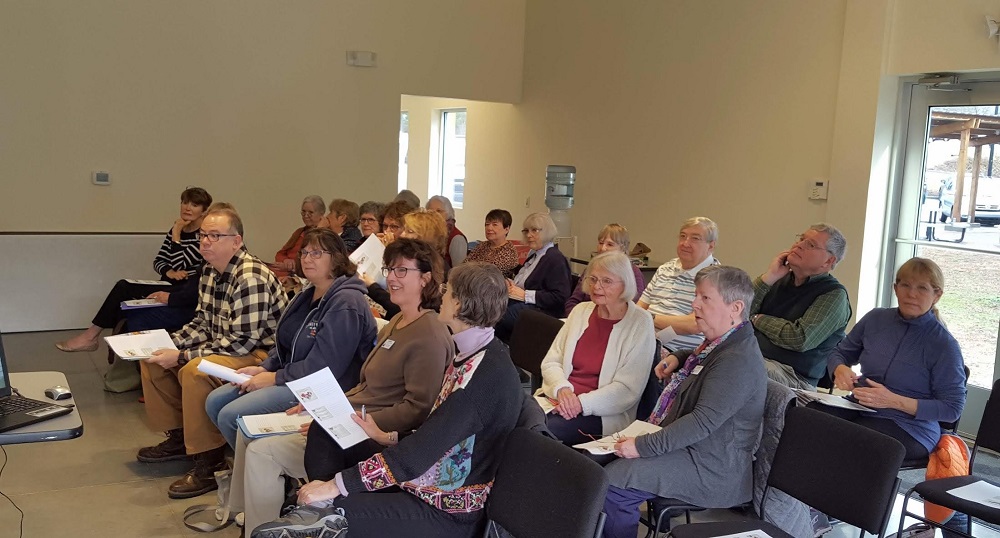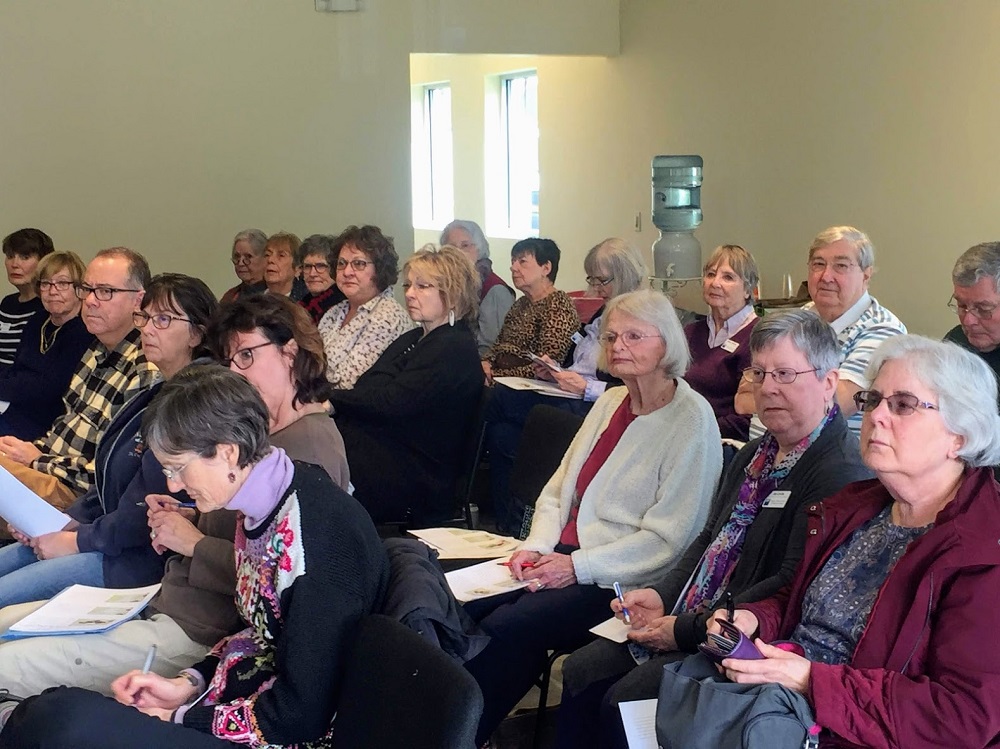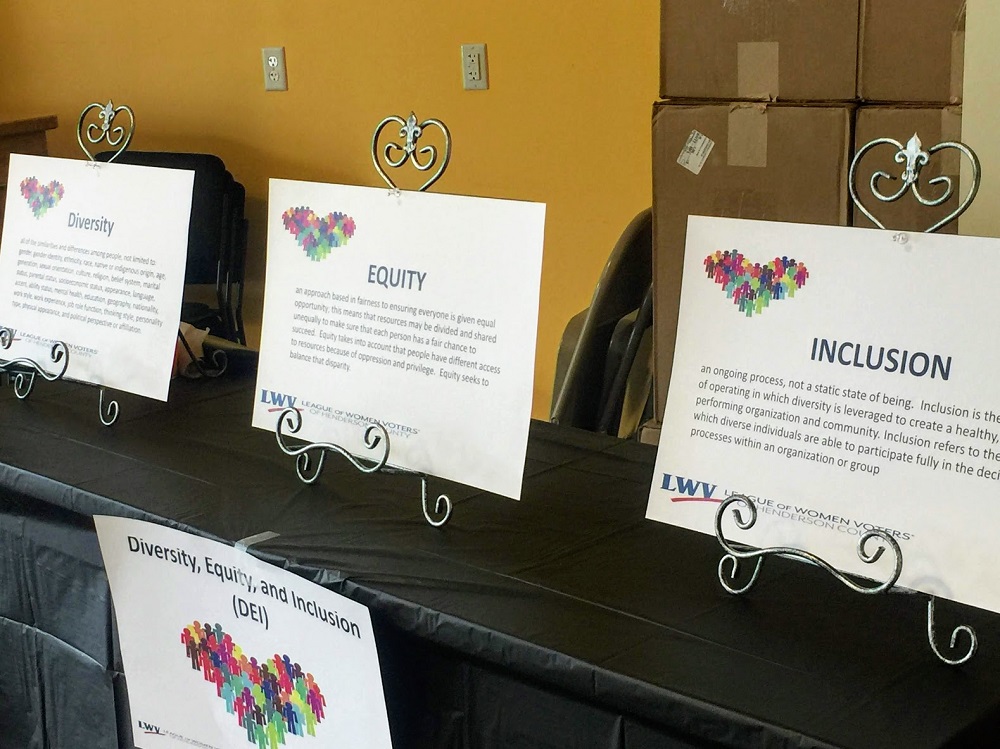 ---
Human Trafficking Lunch & Learn – January 24, 2019
Along with facts and figures, FBI presenters provided hands-on advice for addressing Human Trafficking in our community and personally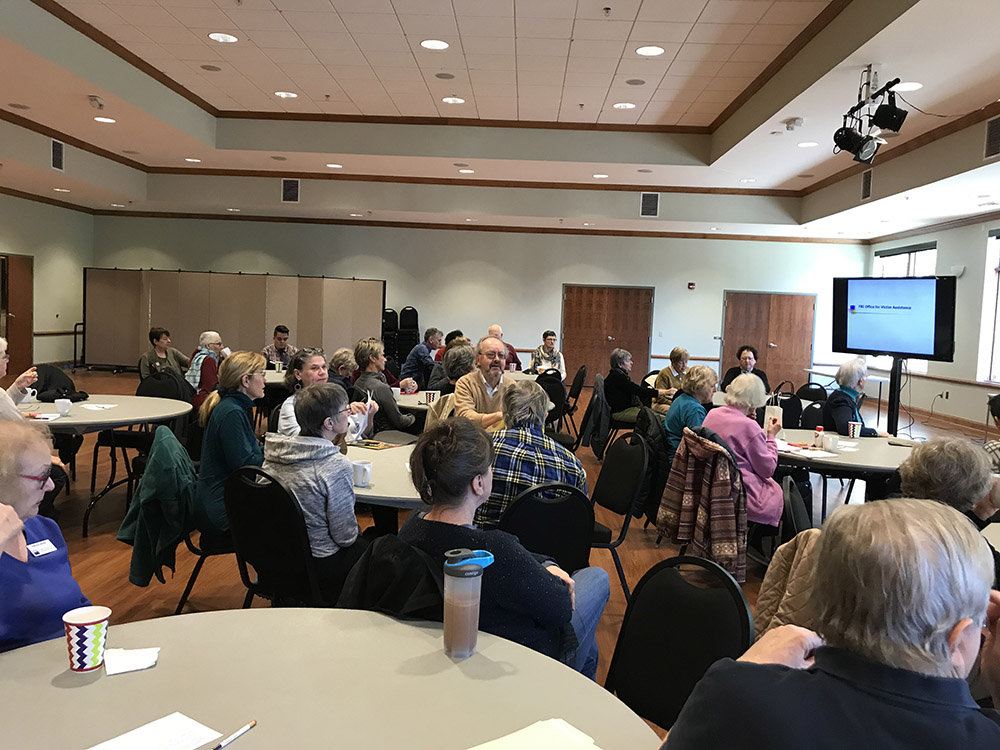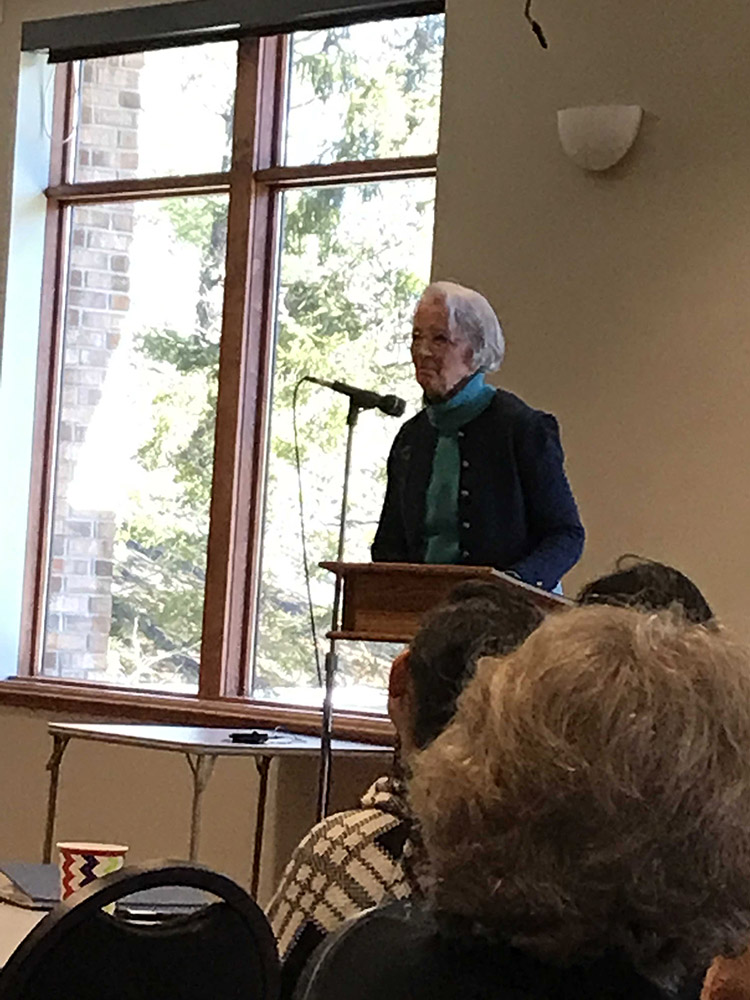 ---
Program Planning Meeting – January 17, 2019
Along with enjoying our snowed-out holiday social, delectables, and pre-school book collection, members took the opportunity to learn about and prioritize state positions on issues.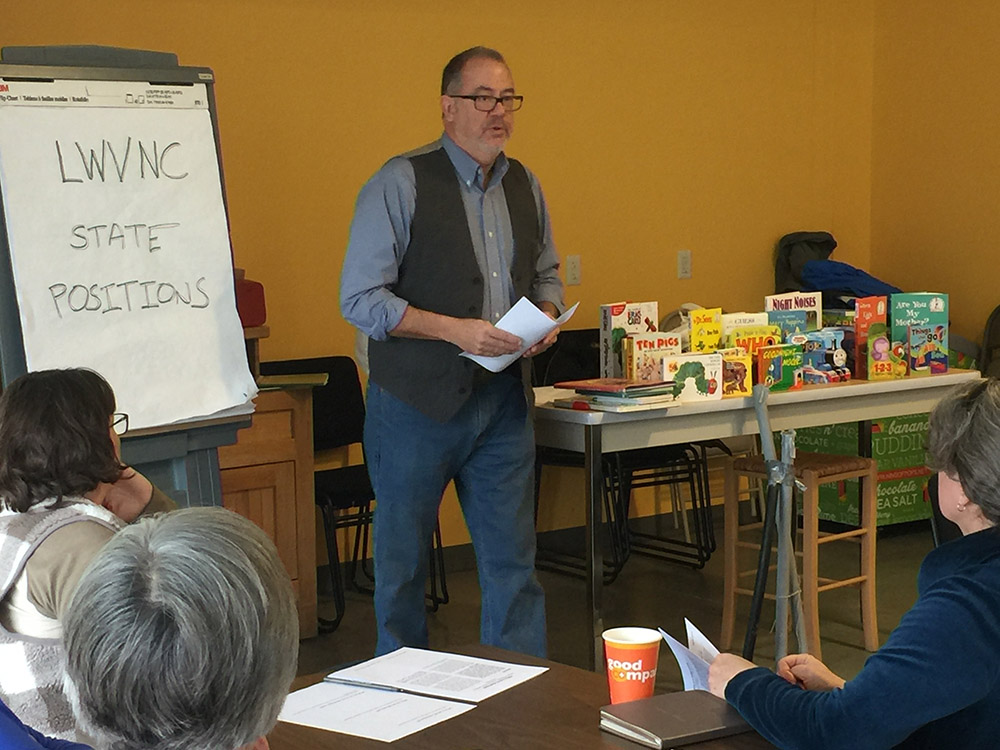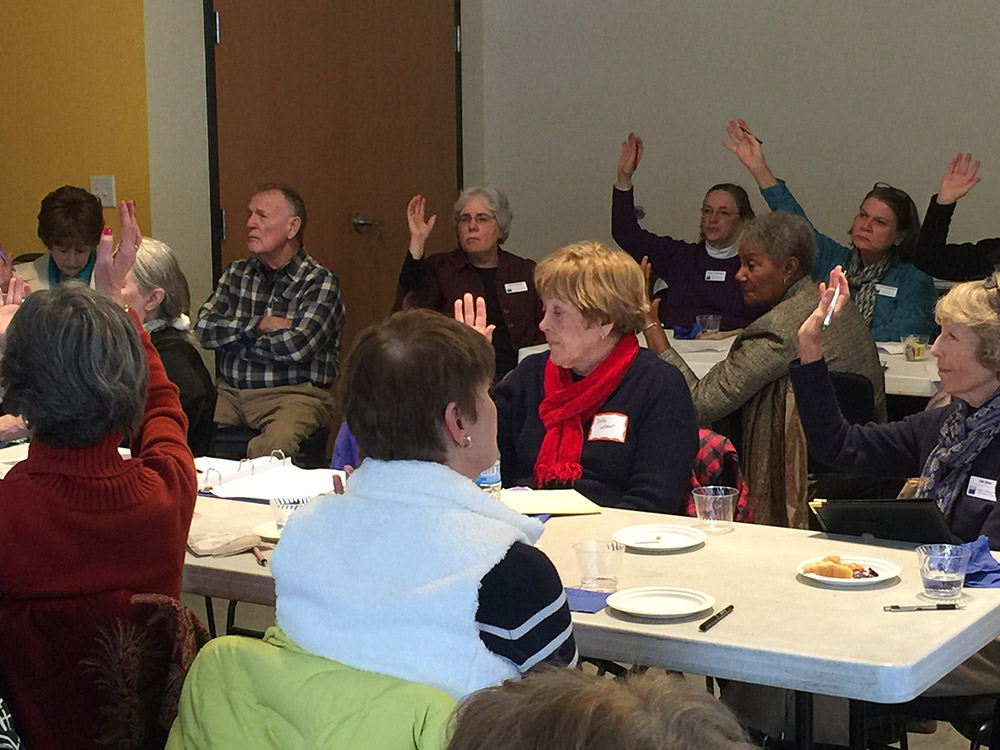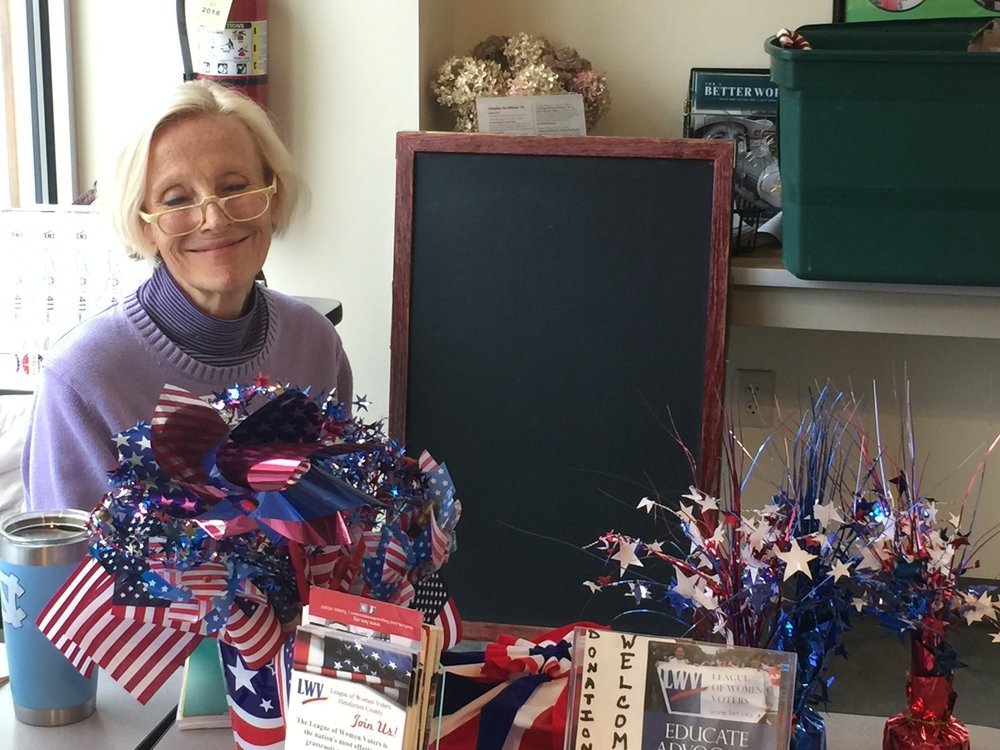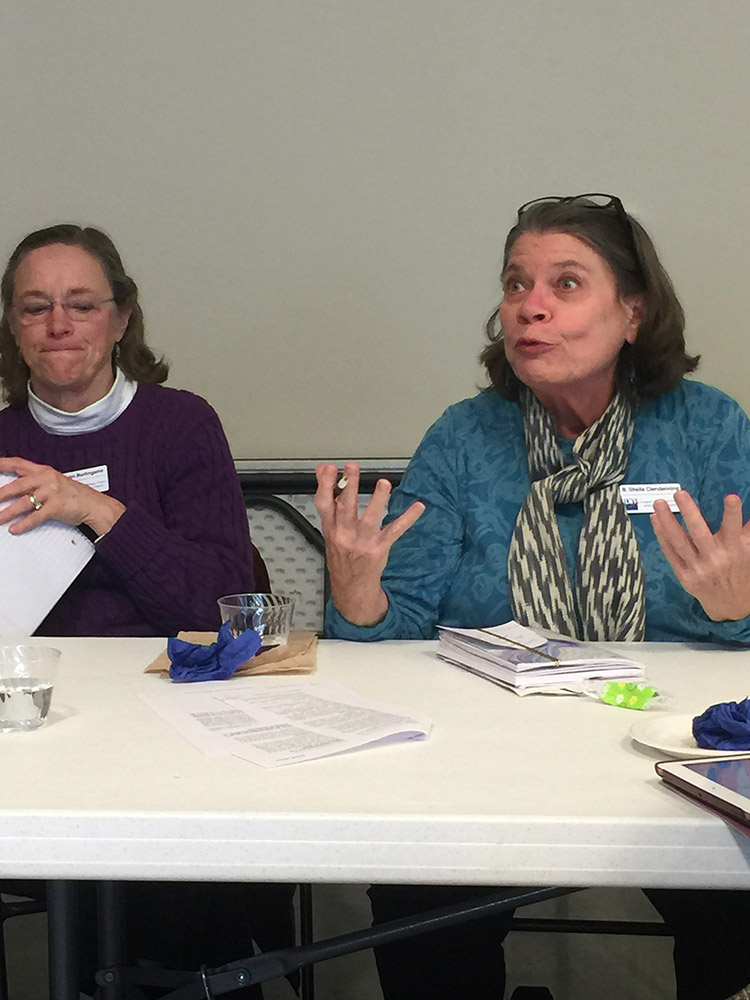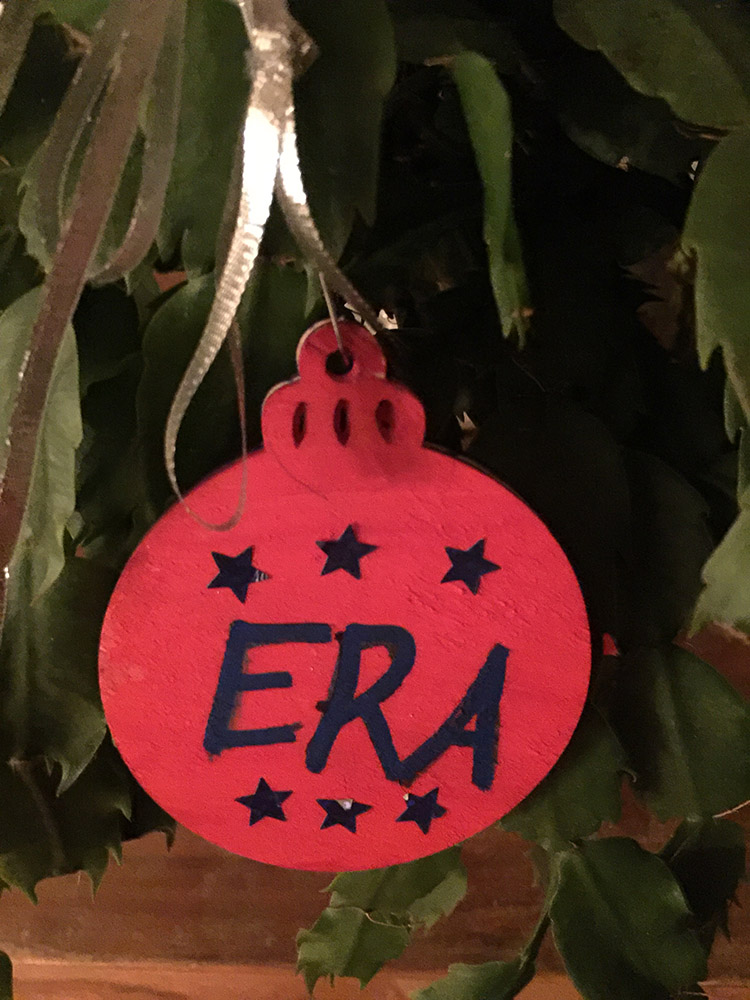 ---
ERA Lunch & Learn – November 15, 2018
After watching the recent video, "Legalizing Equality," attendees heard from NC ERA Alliance how we can support the upcoming bill to ratify in NC legislature.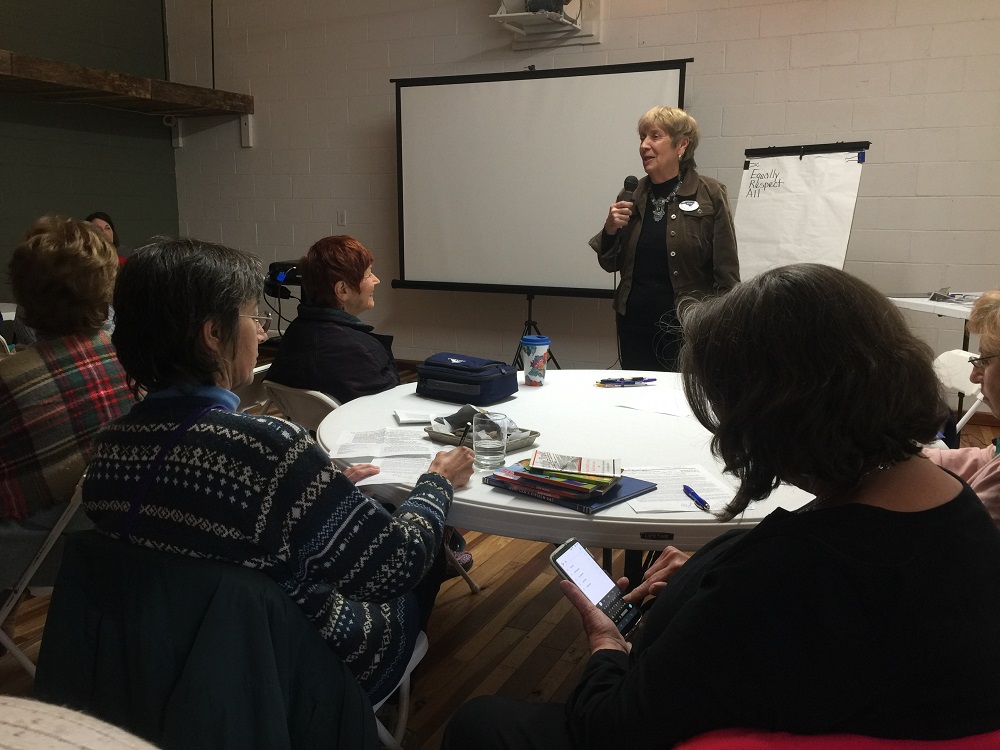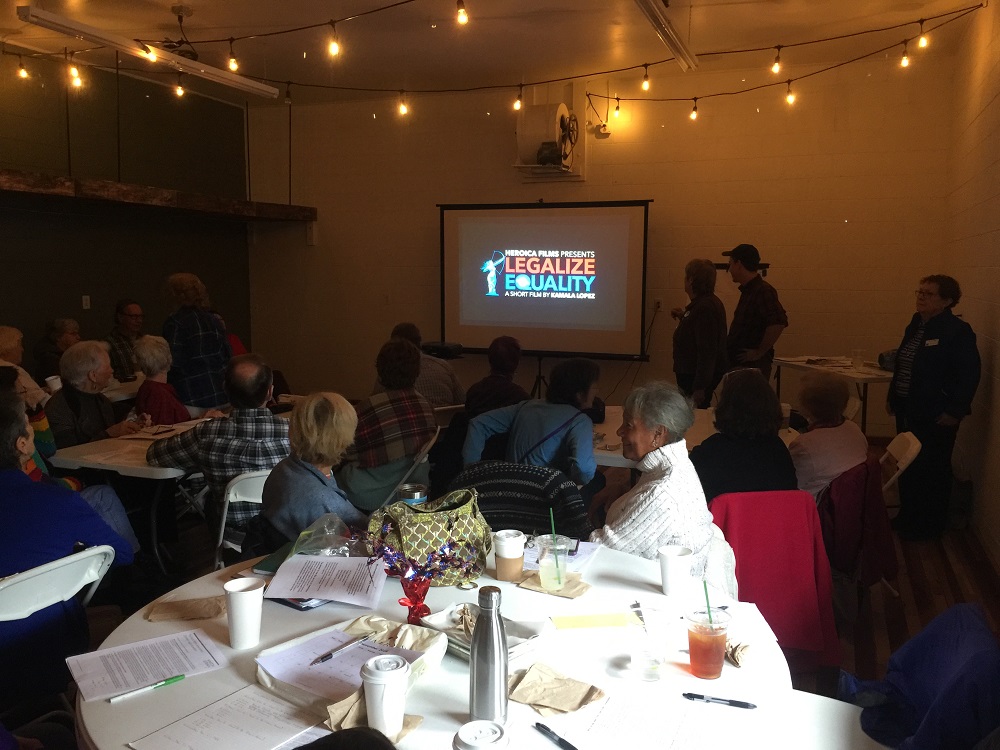 ---
LWVHC Display at the Library – November 1, 2018
LWVHC made a display case splash at the Main Library during November.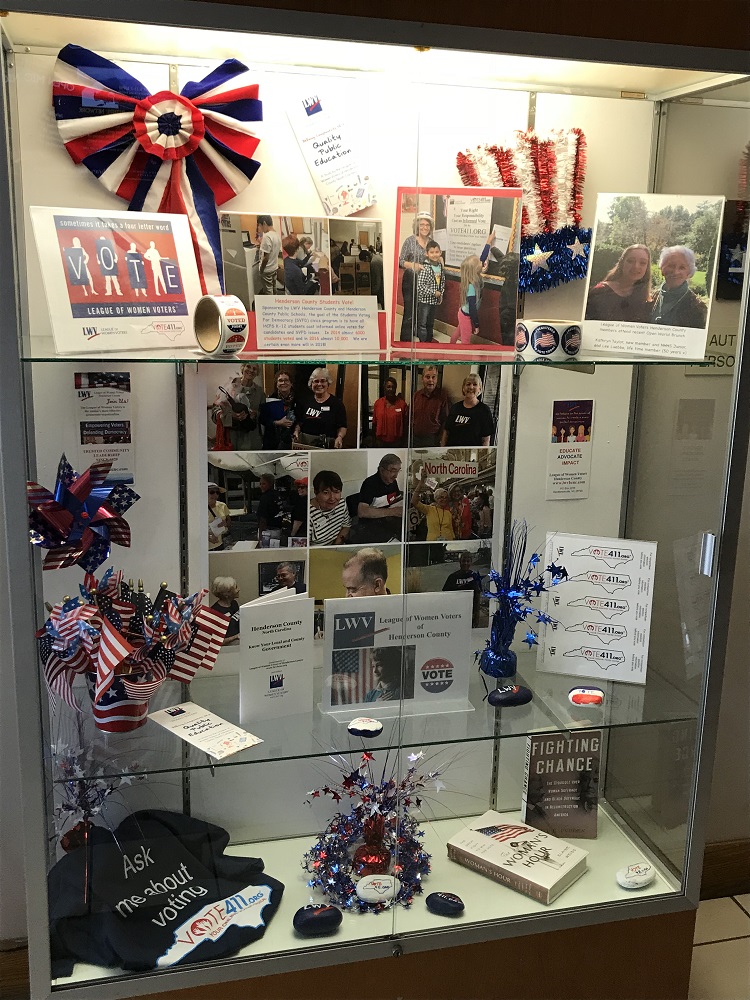 ---
School Board Candidate Forum – October 16, 2018
Candidates provided thoughtful answers to questions on educational issues facing Henderson County.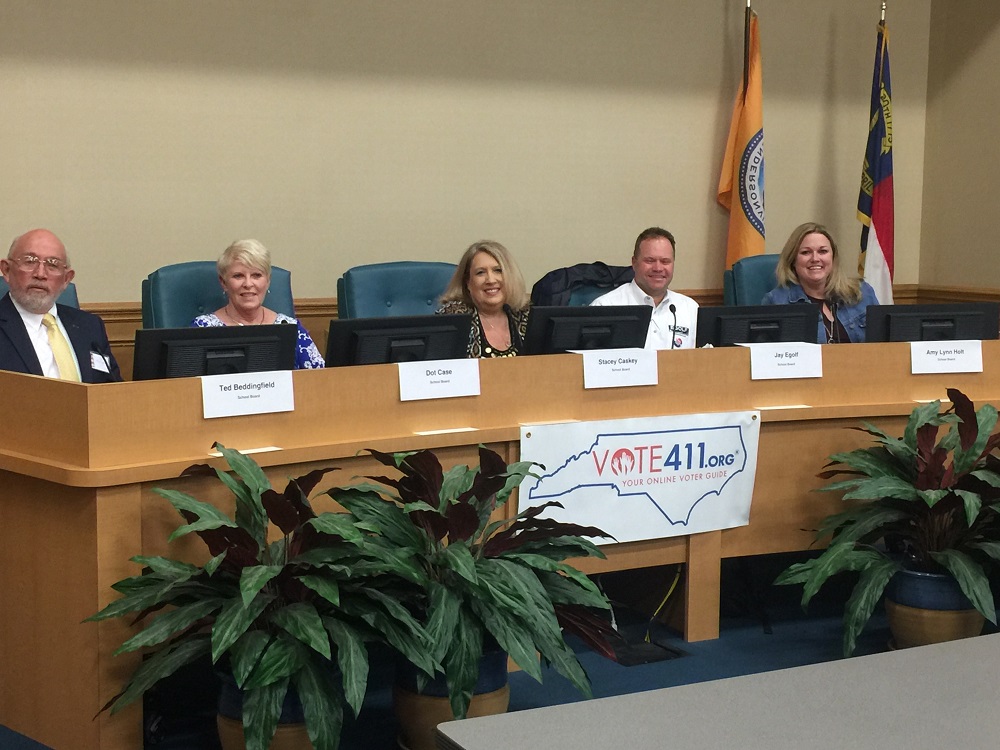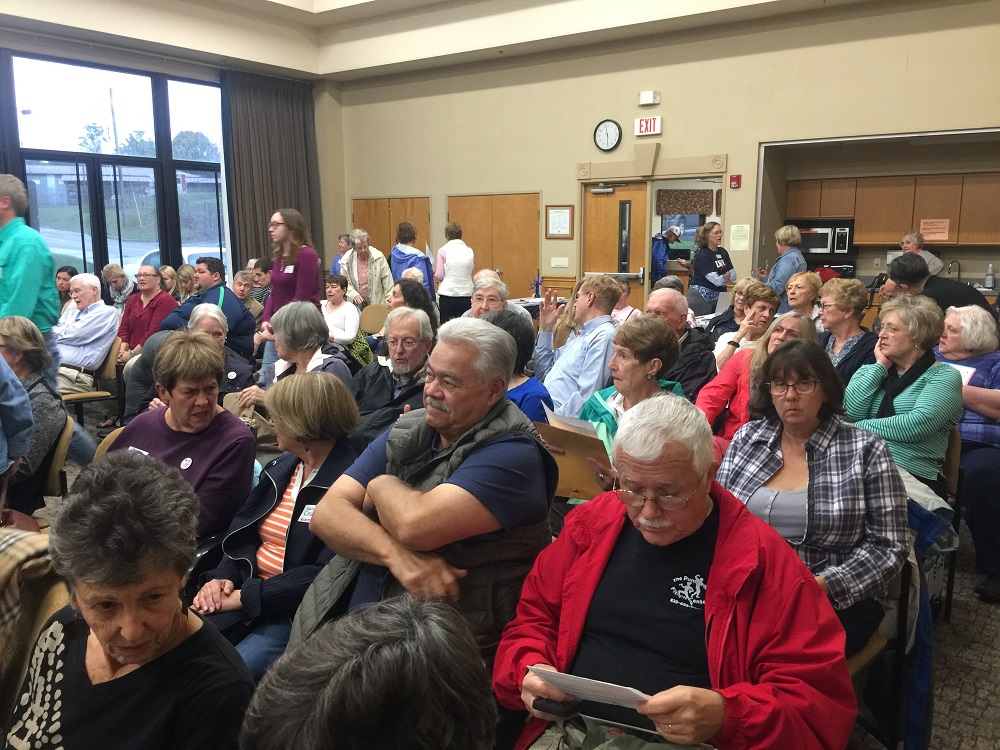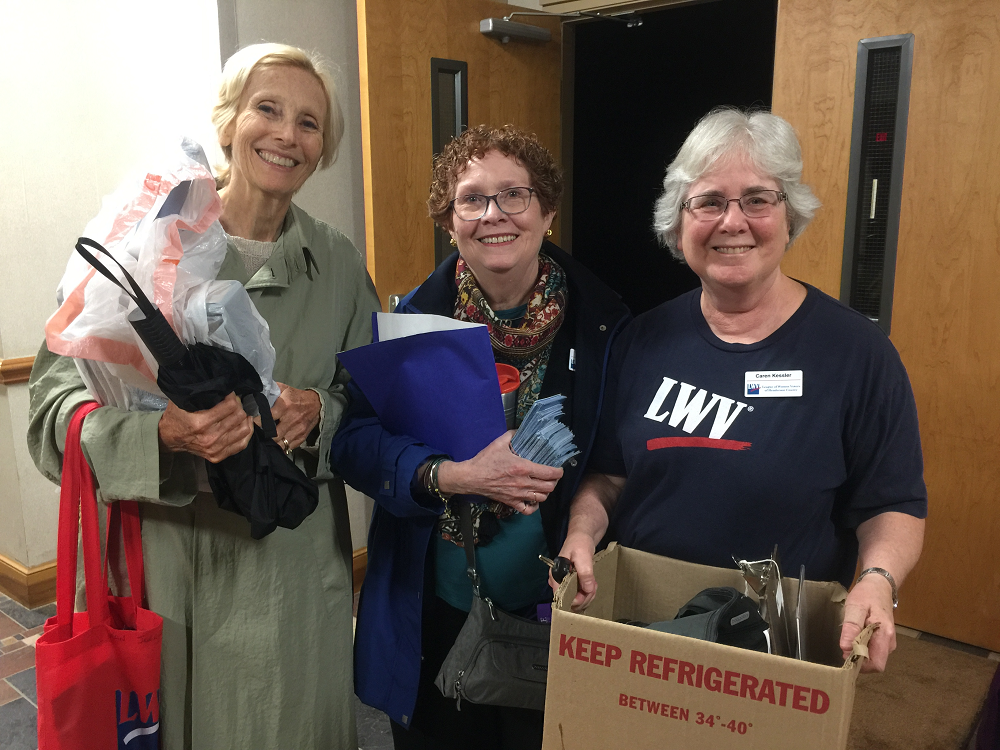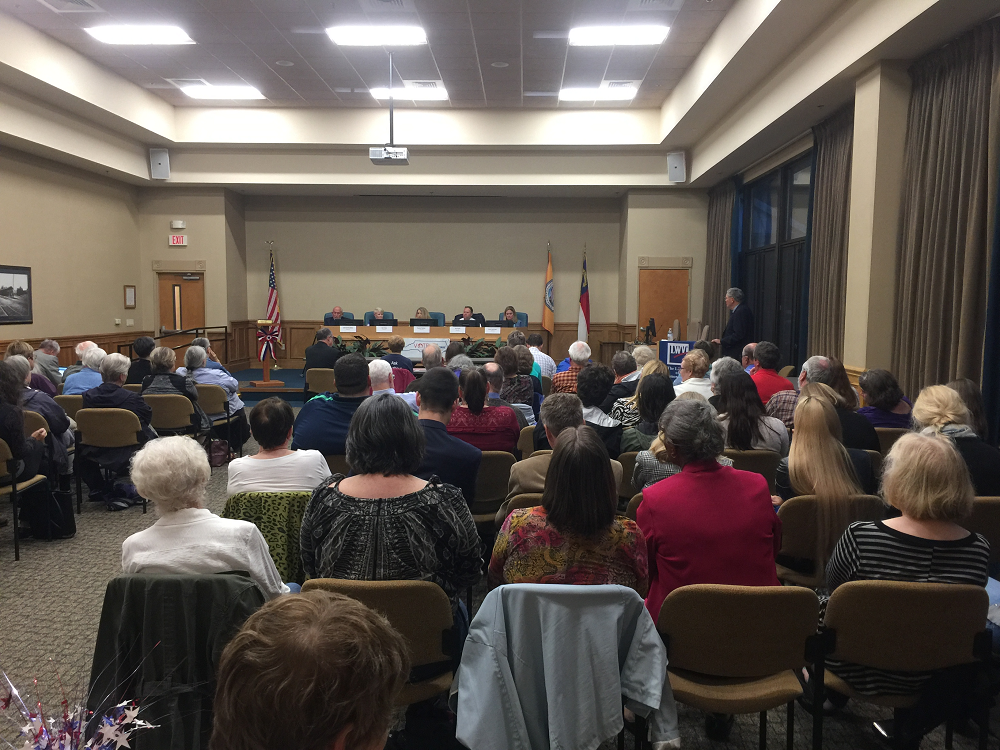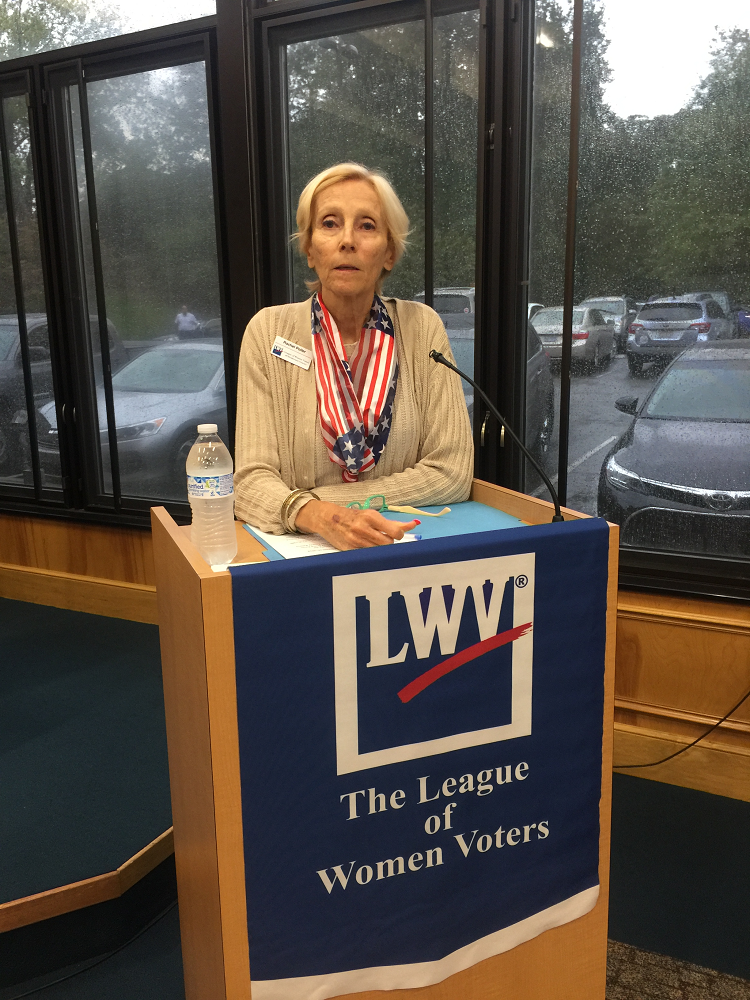 ---
Open World – October 12, 2018
Our 6 Ukrainian guests spent a whirlwind week exploring technology and education with the warmth and guidance of our volunteer host families and local professionals.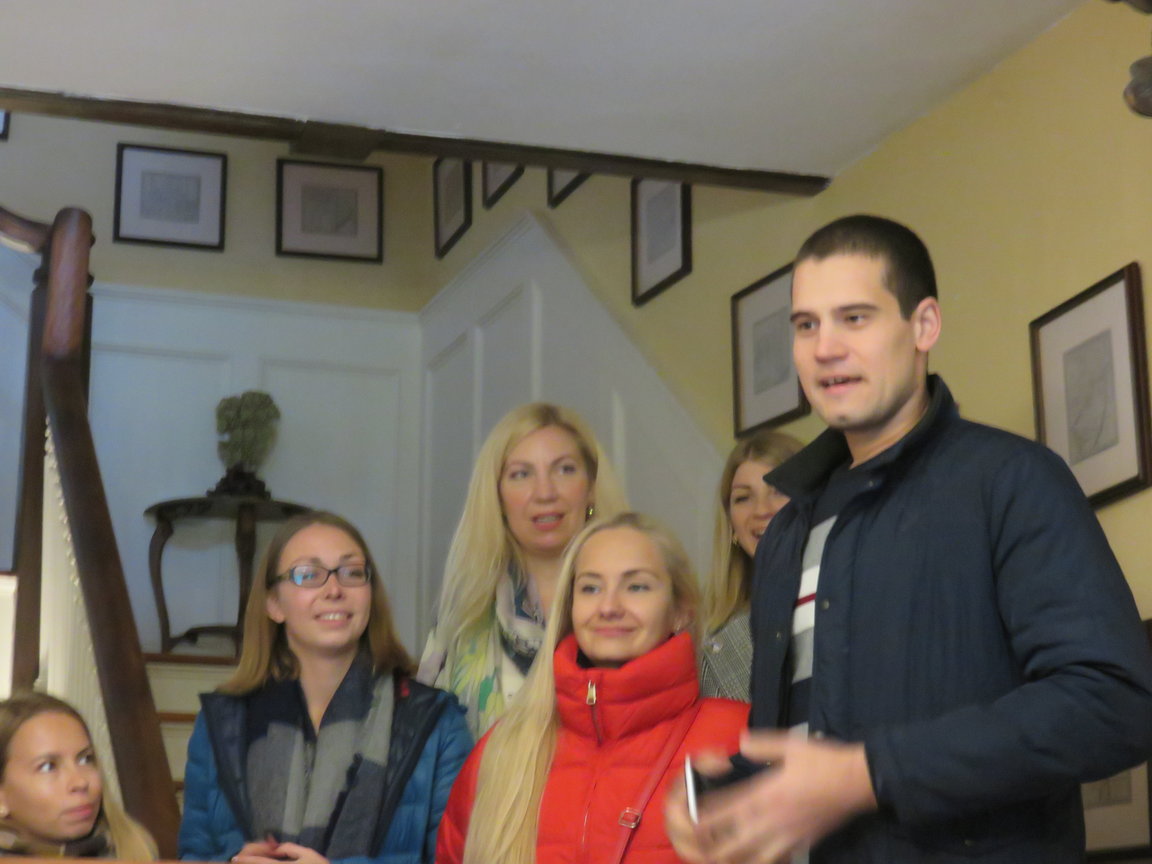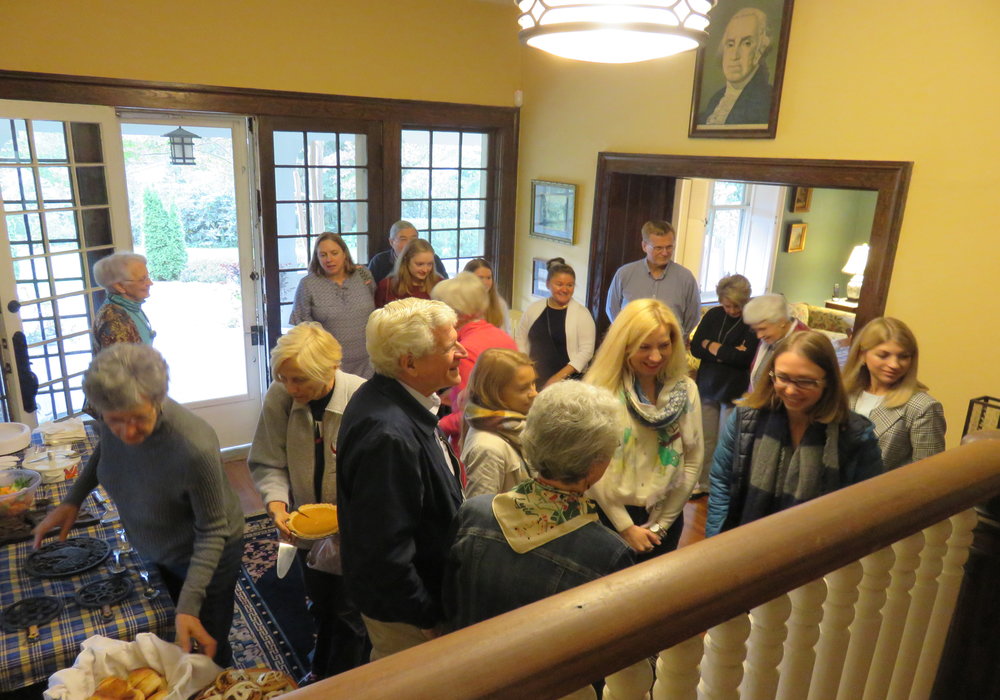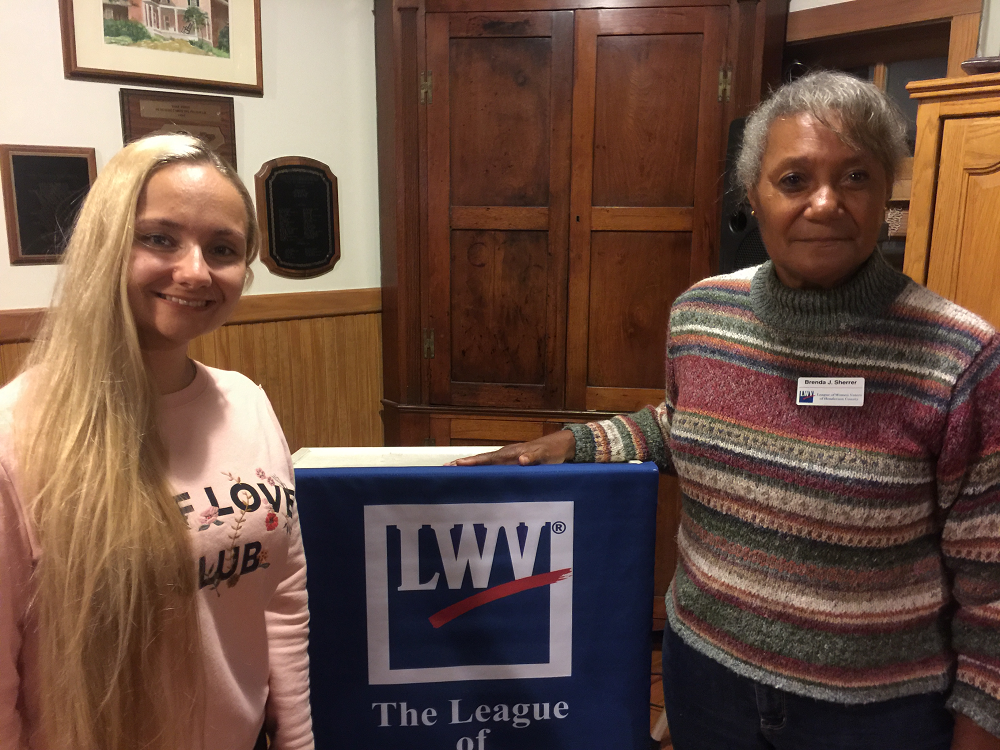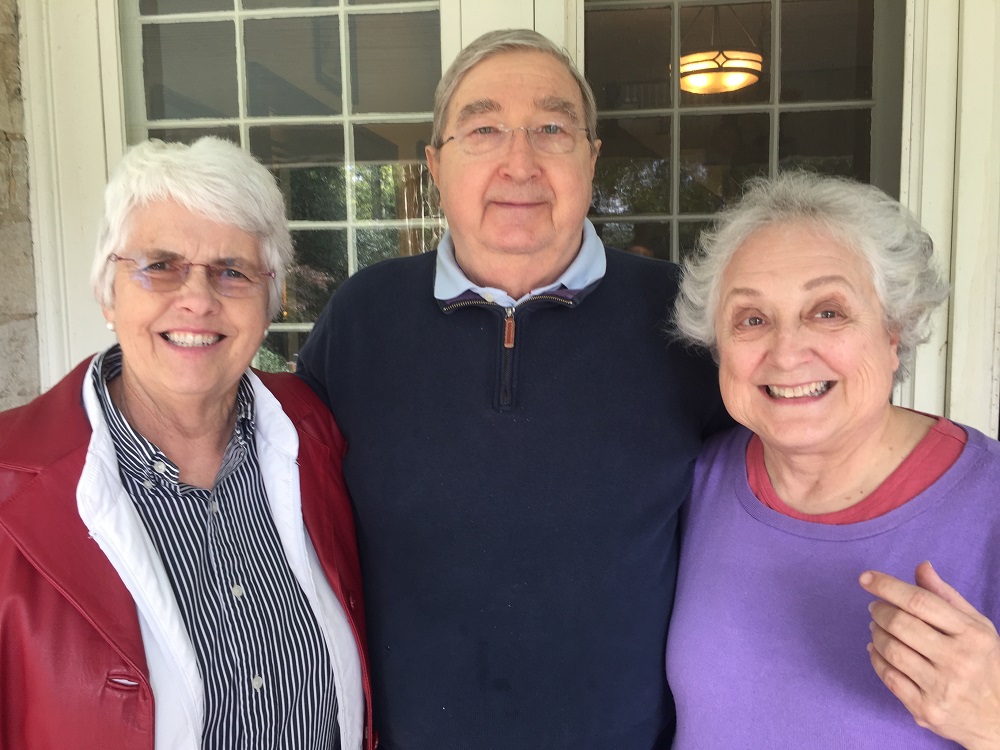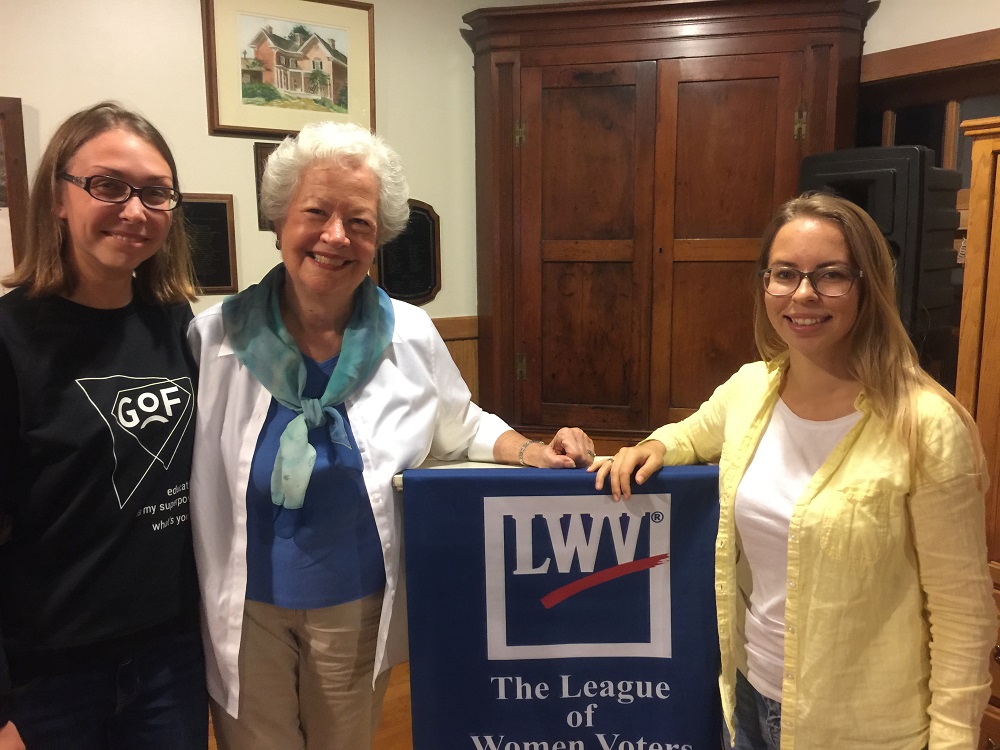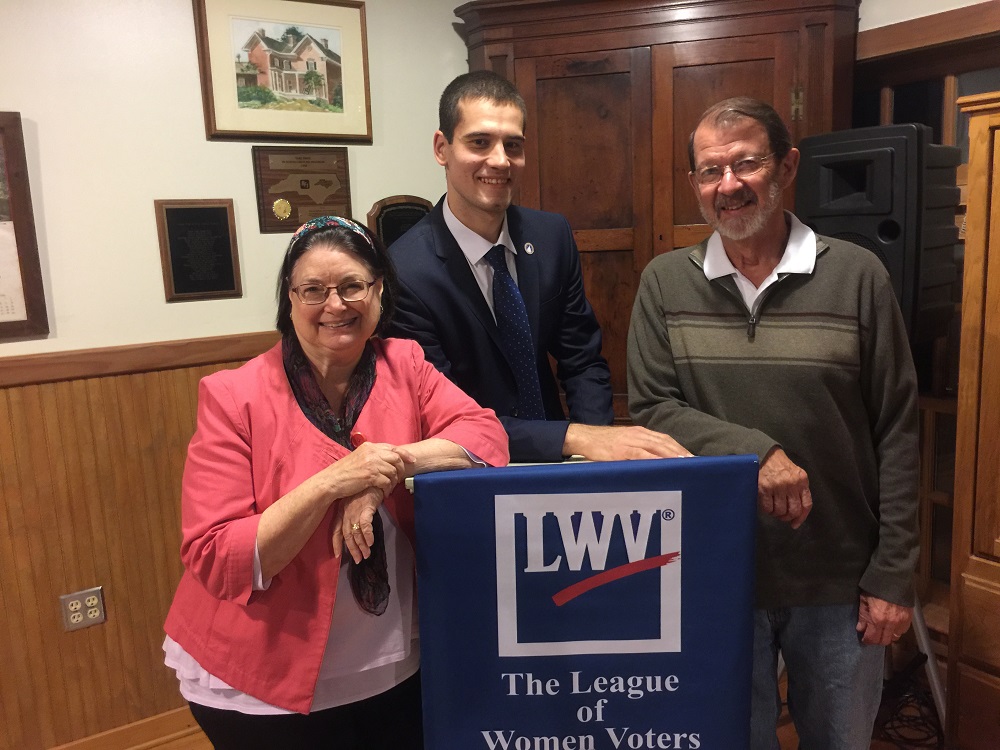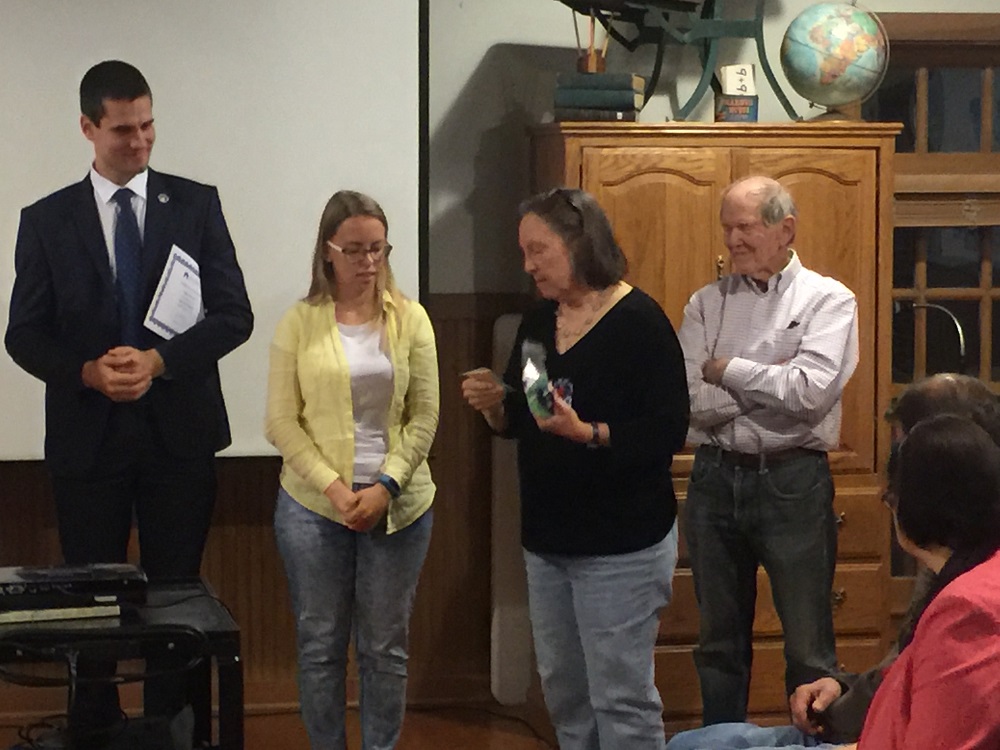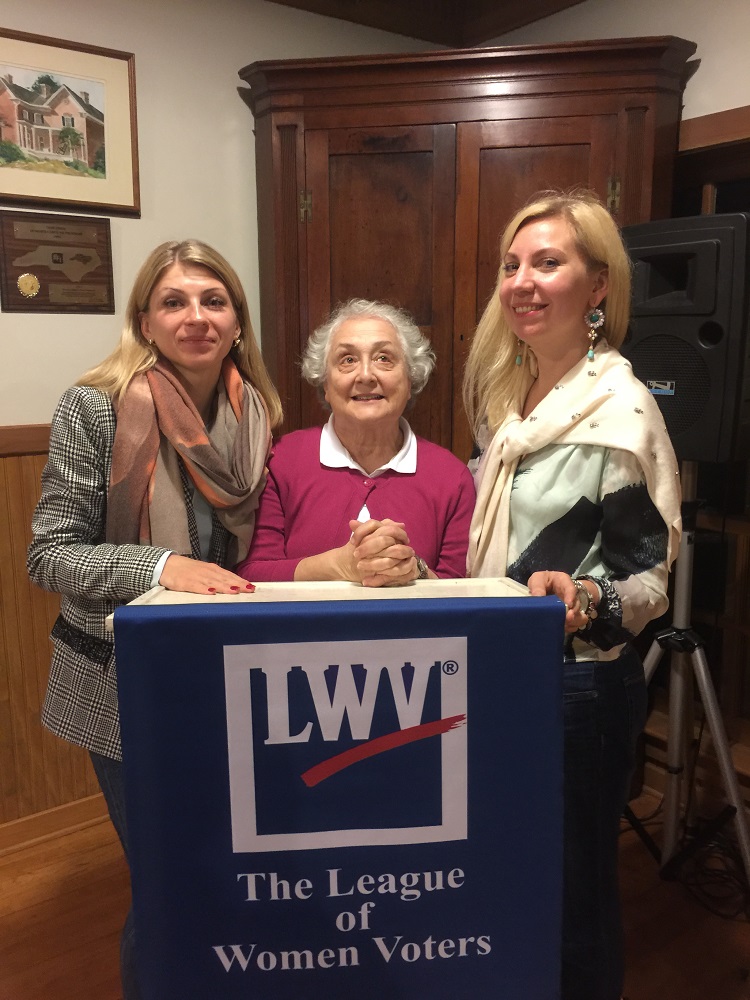 ---
Candidate Forum – September 25, 2018
Standing Room Only didn't hinder candidates or attendees from engaging in a lively exchange of ideas on issues critical to NC and Henderson County.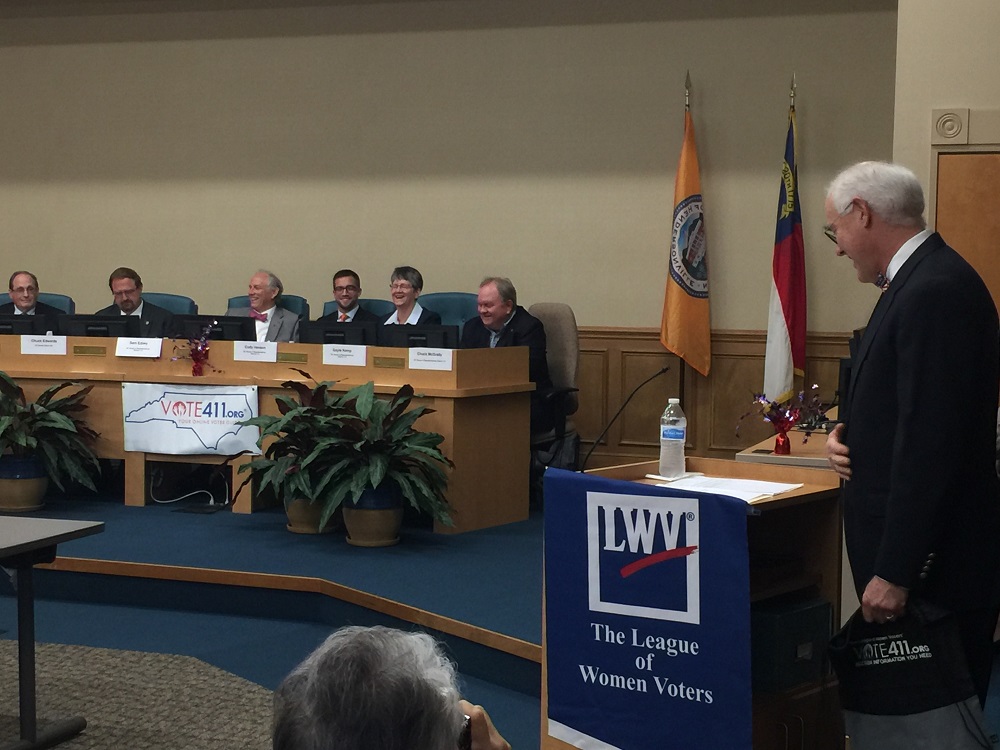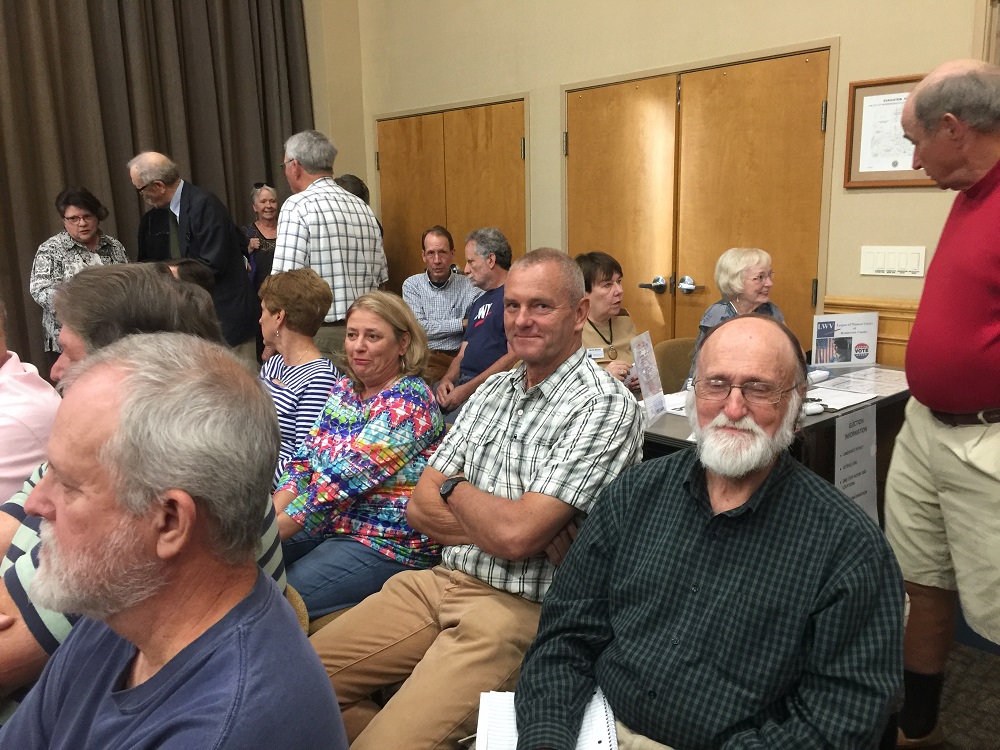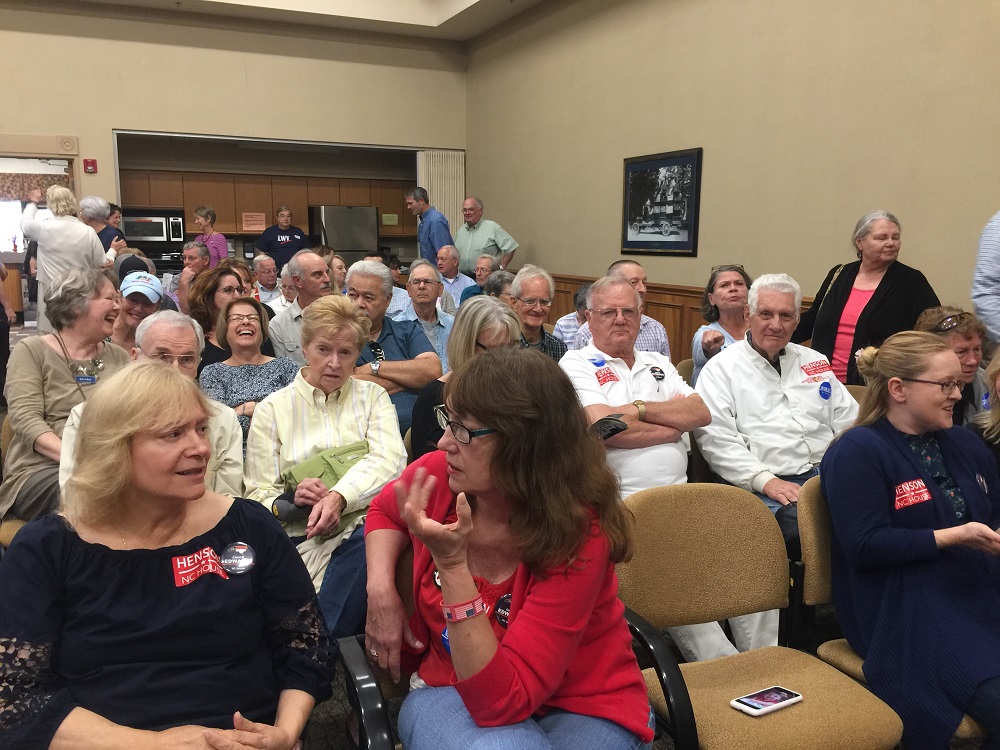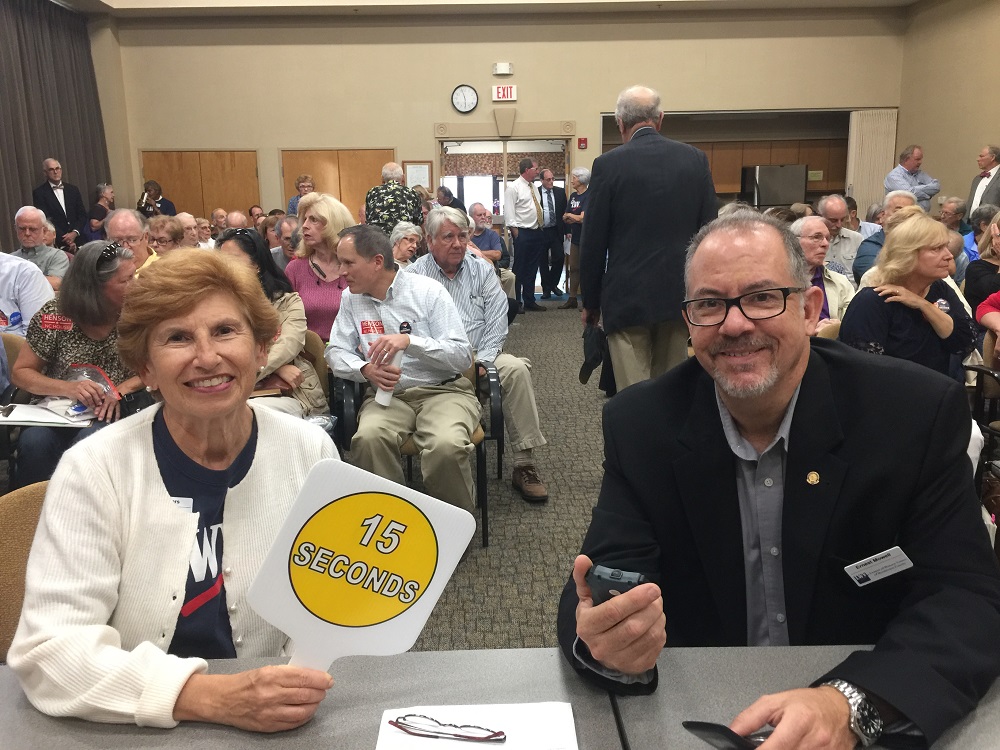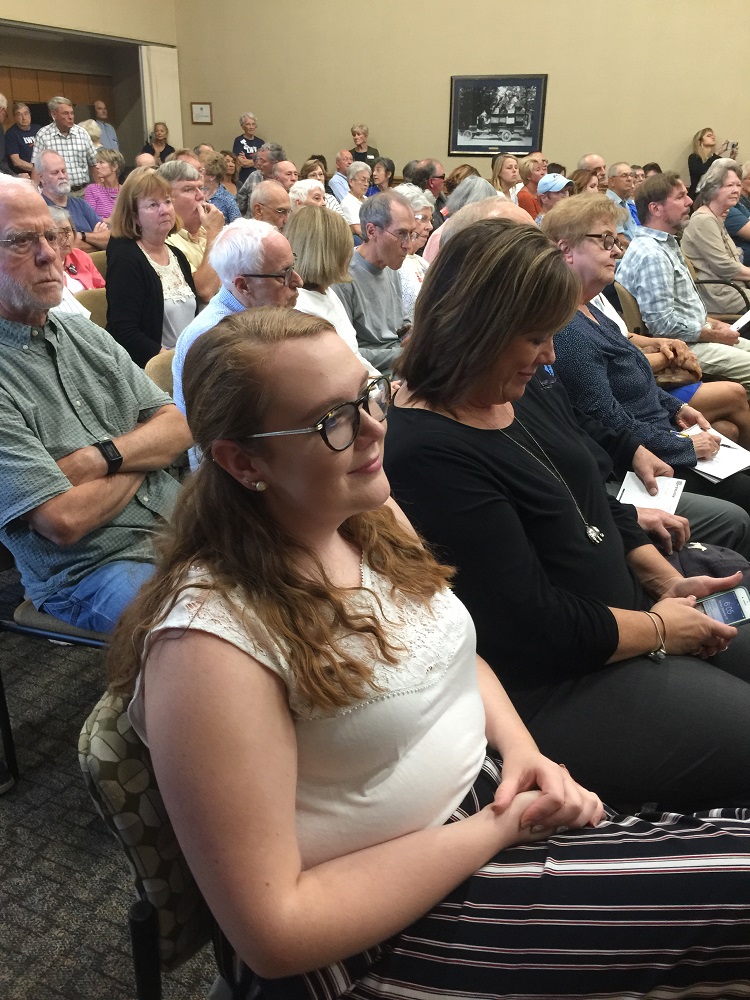 ---
What's on the Ballot – September 20, 2018
With co-sponsorship and information provided by DemocracyNC, attendees got the nitty-gritty on the NC Constitutional amendments on the November ballot.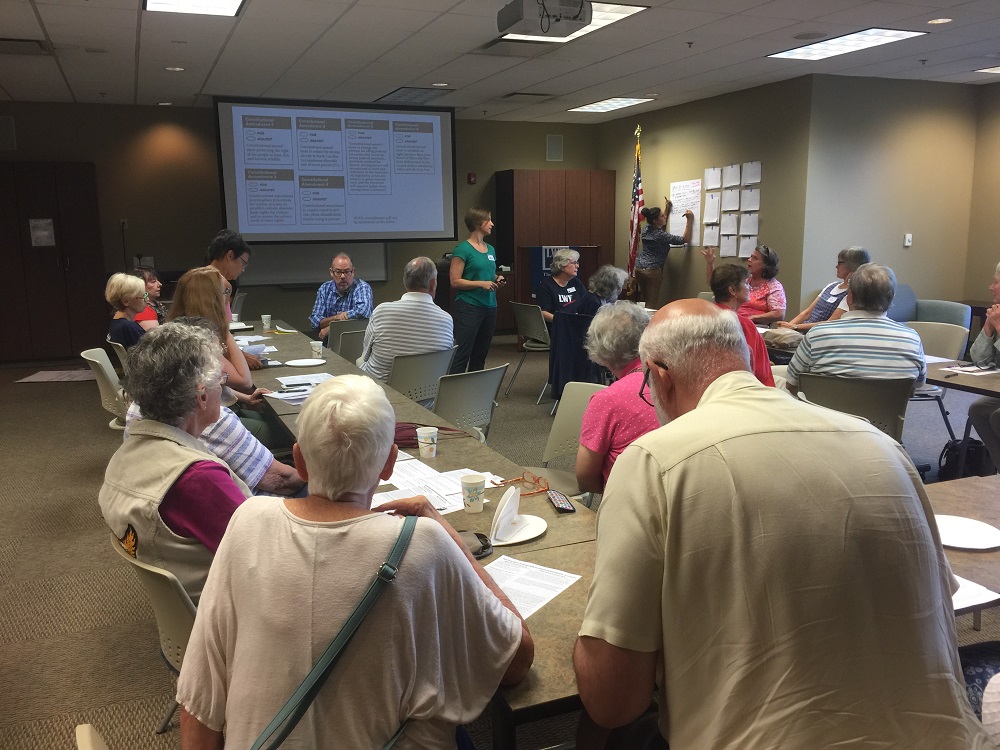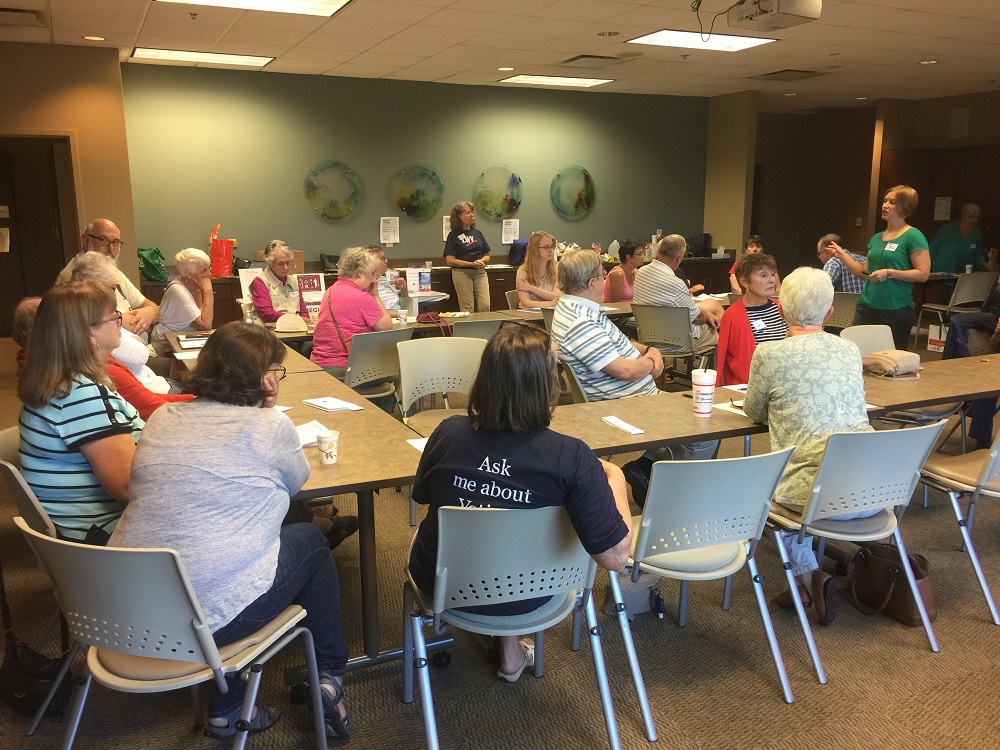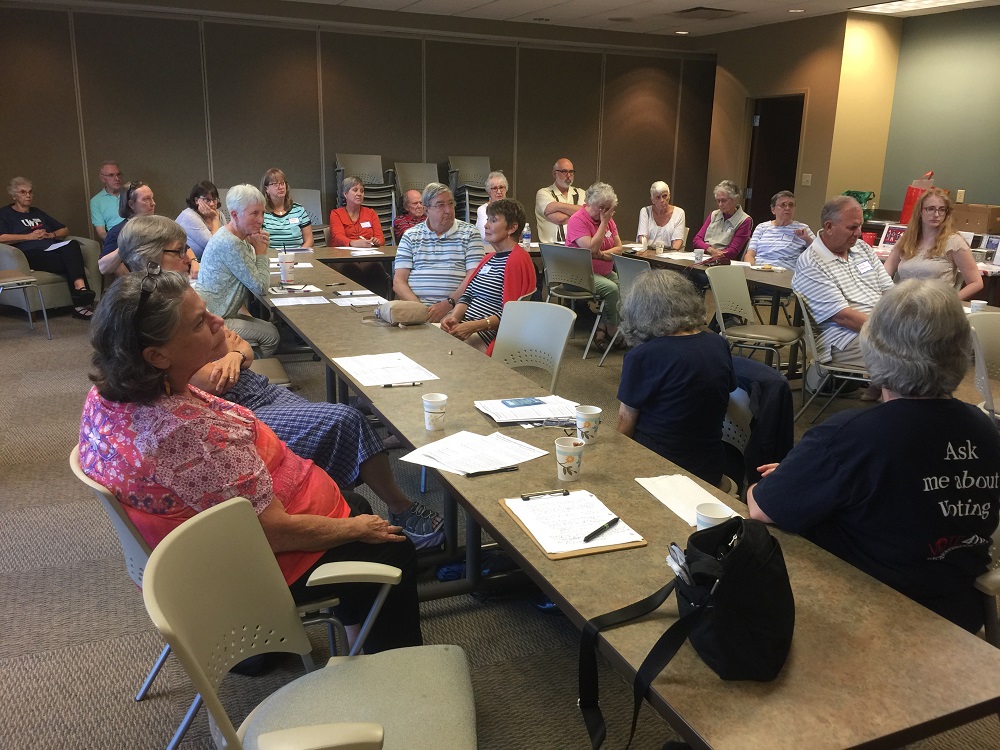 ---
Candidate Meet & Greet – September 13, 2018
Every candidate on the ballot was invited to participate, and attendees took the opportunity to speak one to one with candidates.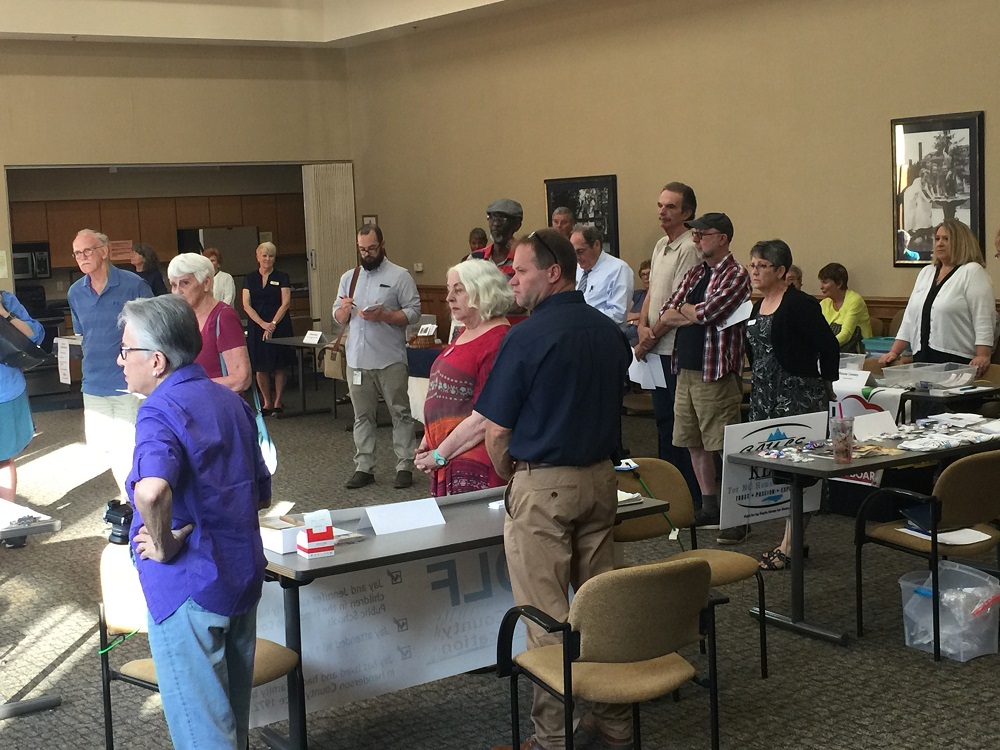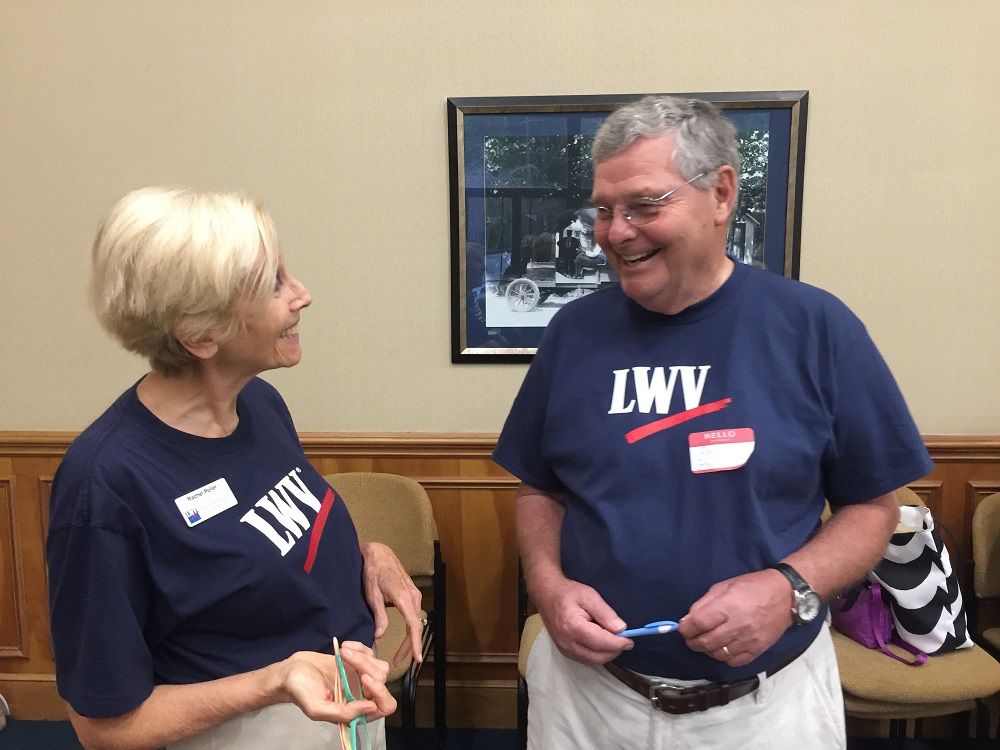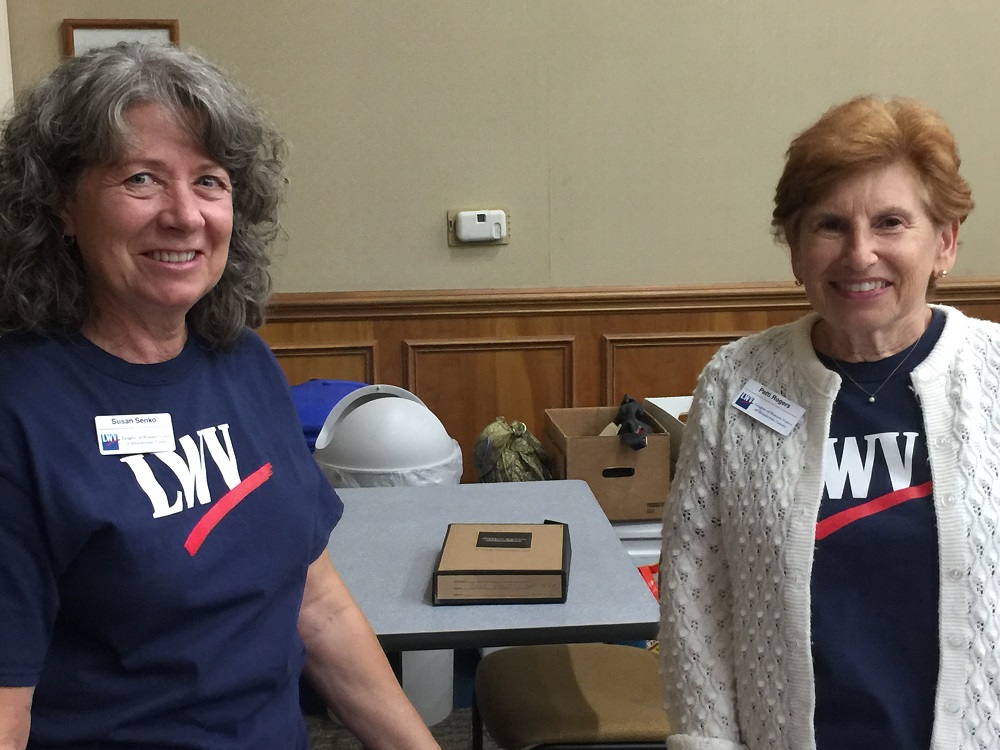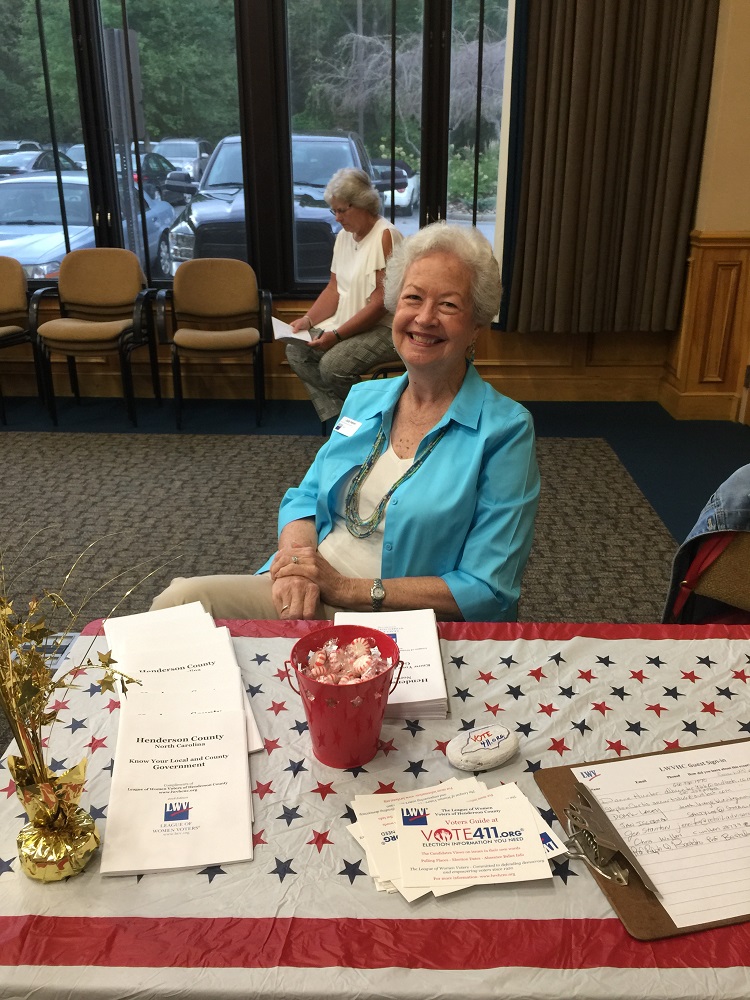 ---
Apple Festival – September 1, 2018
Hundreds of thousands of visitors had the opportunity to stop by, register to vote, and get information at our LWVHC booth staffed by Voter Services Team. Marching in the parade was an additional treat for us!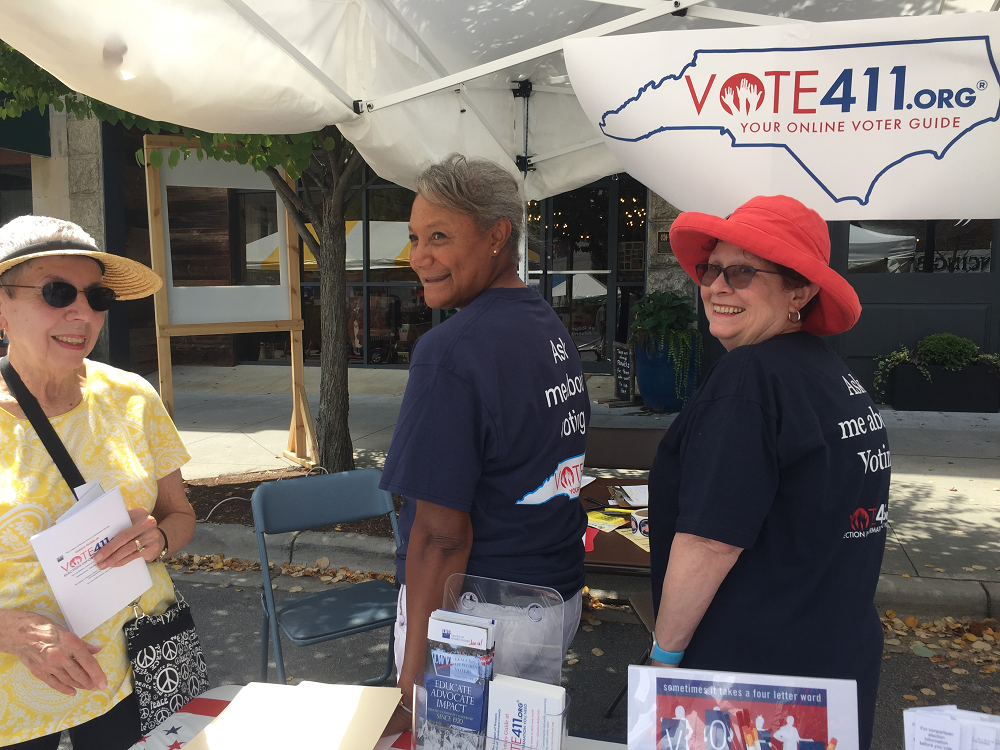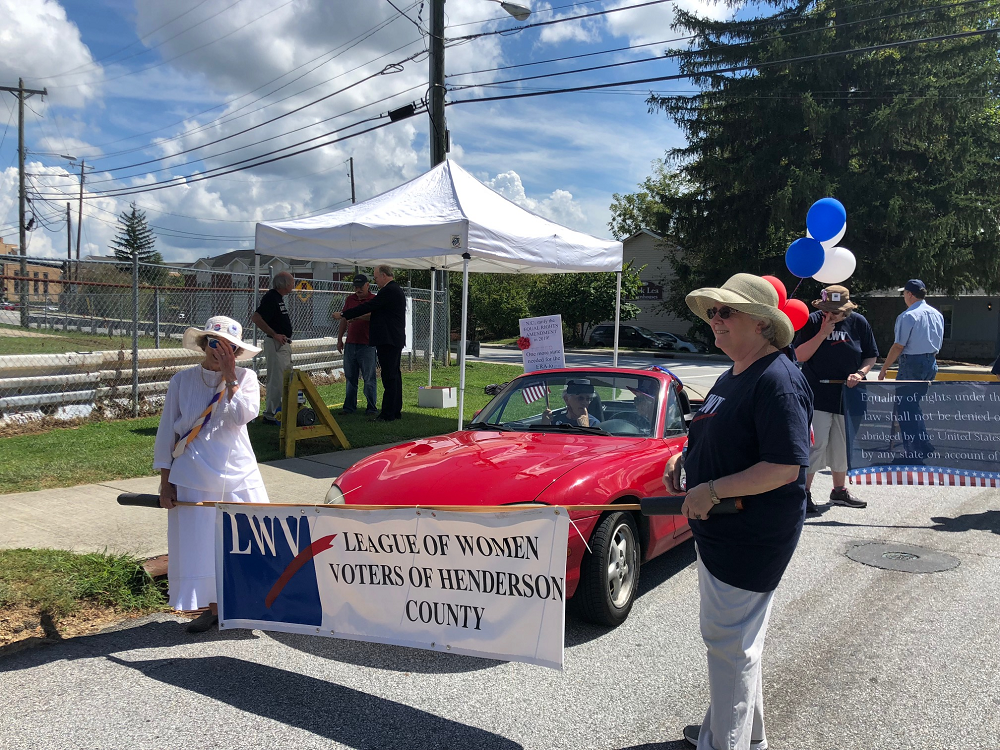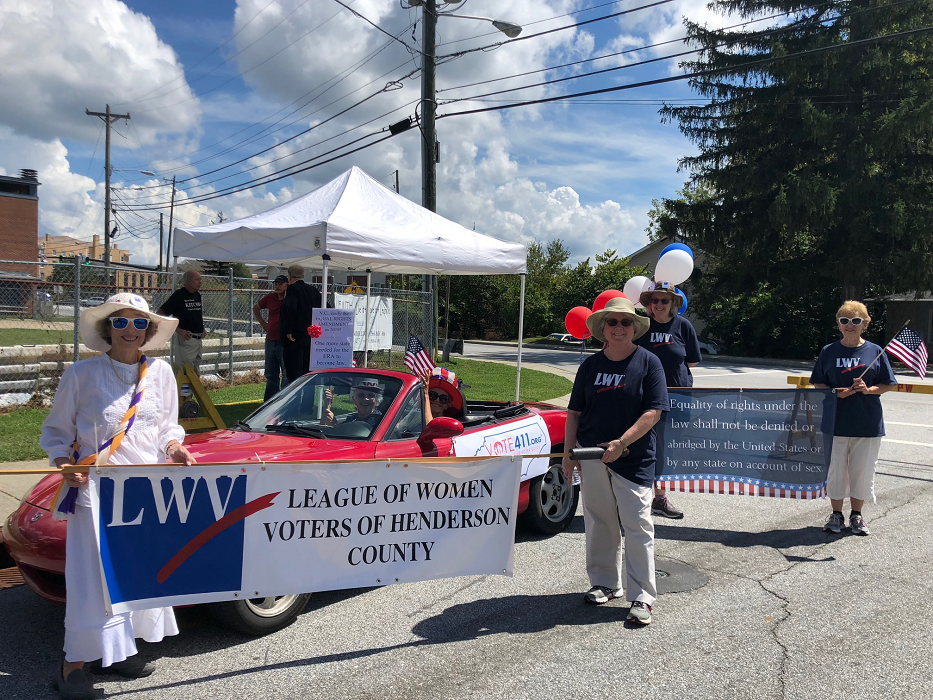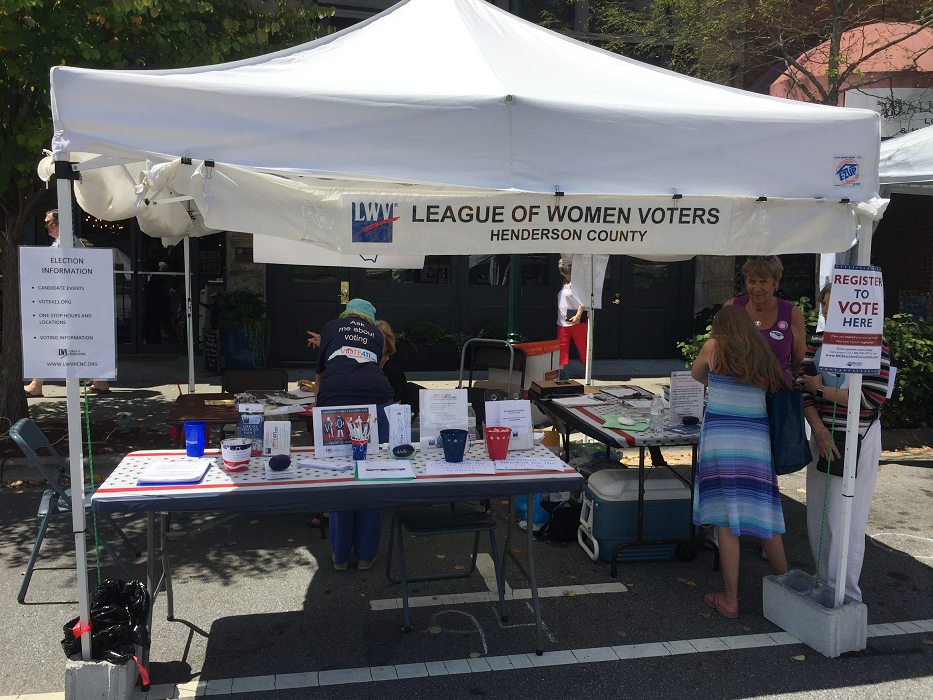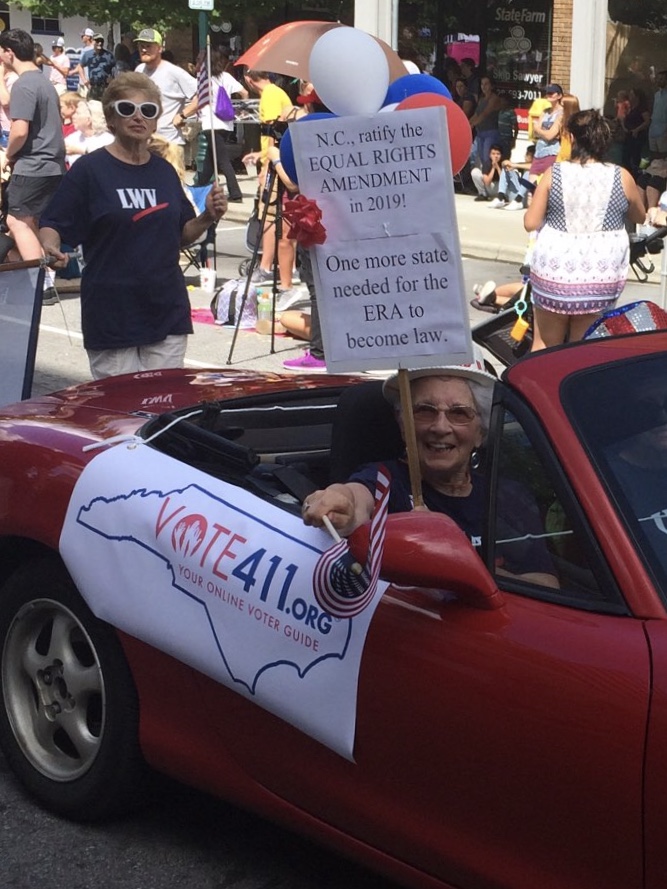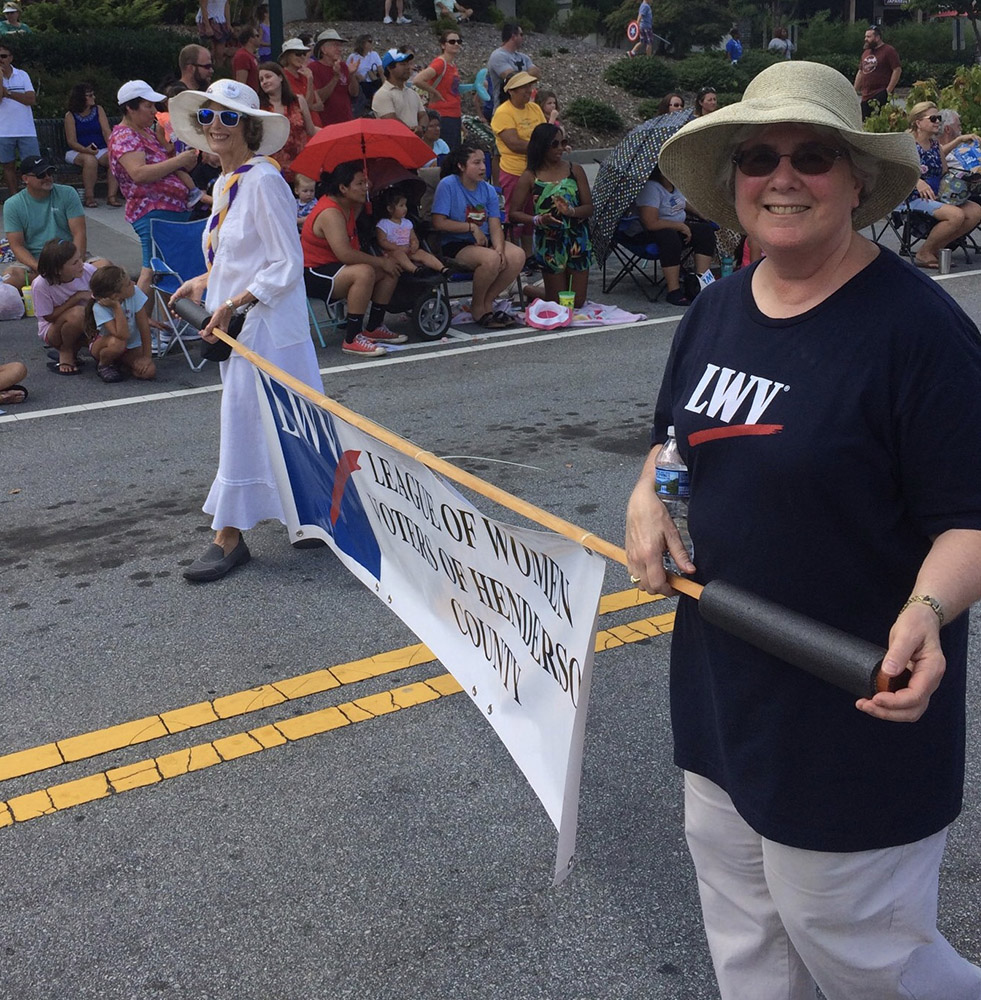 Apple Festival parade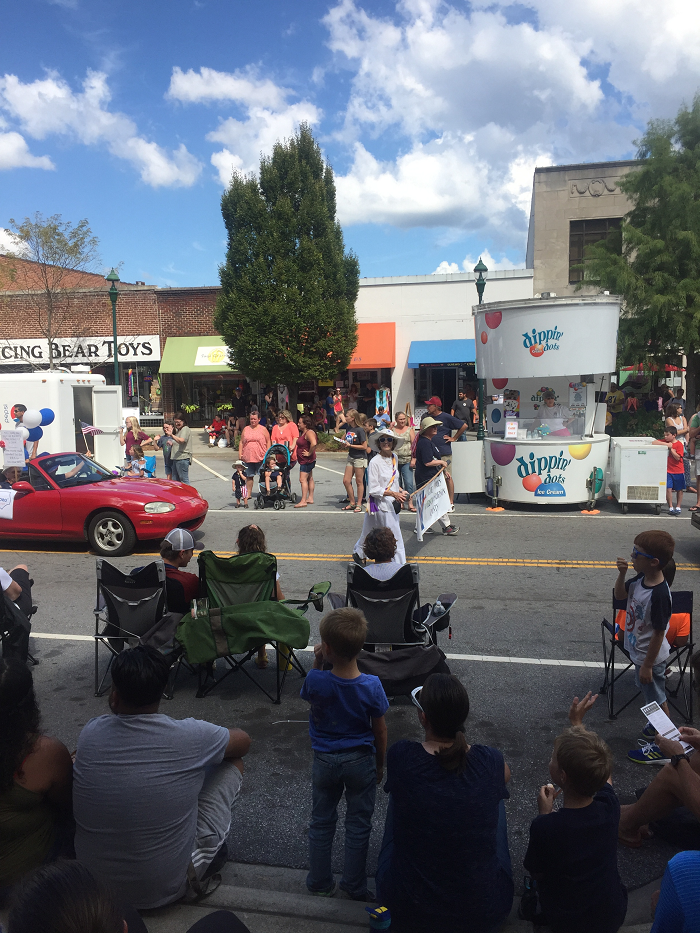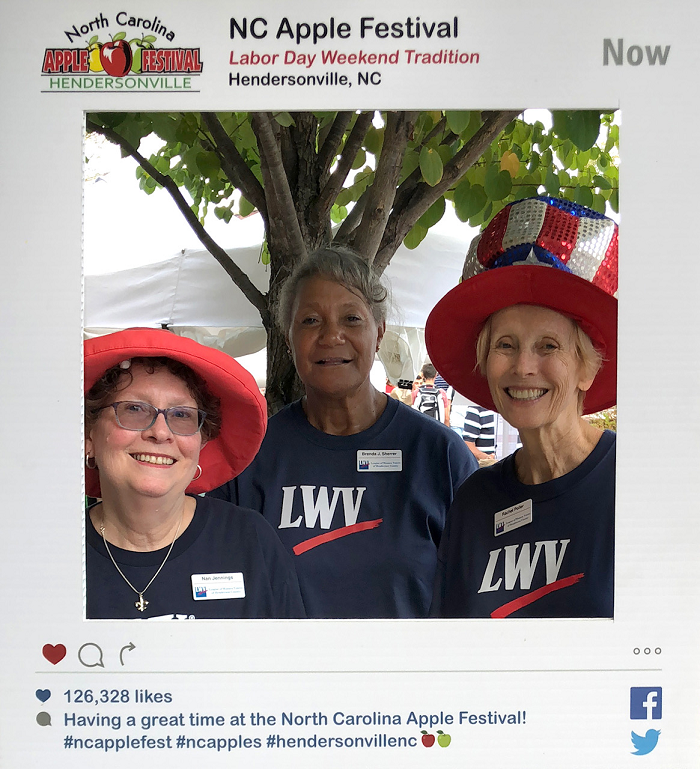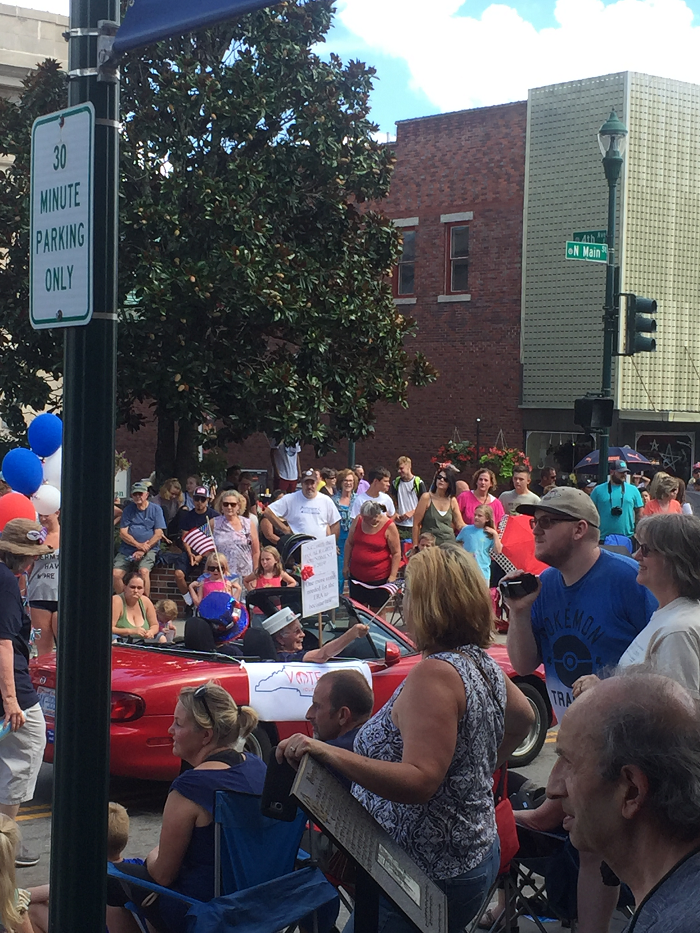 ---
What's Cooking – August 26, 2018
Our August social started off the year with rock painting, apple pie and ice cream, and an opportunity to get engaged.